You've just cut your beard, you're going to do your hair to finalize your bad boy look, but you need to change clippers. Let's unplug, put away the first one with all its accessories and take out the second one to tackle the hair.

Annoying, isn't it?

With a quality electric hair and beard trimmer, no more problems! In a few seconds, you can fit it with the cutting shoe adapted to the desired length, the motor is powerful enough for your hair but also your goatee hair. It even allows you to do (just right) the finishing touches and contours for your beard and head.

Pretty useful and complete, don't you think? Let's discover the best hair and beard trimmers now!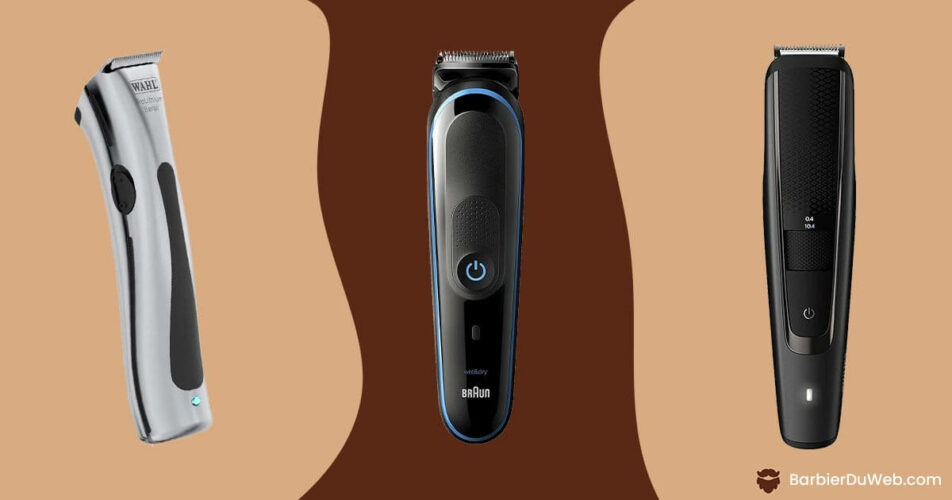 The comparison of the top beard and hair clippers
Braun 5 MGK5280 All-in-One Electric Trimmer 
Electric hair clippers Braun MGK5280
You probably know Braun and their fabulous beard trimmers (or shavers). Well, you should know that they also offer an "all-in-one" trimmer for the body, beard and even the hair of the man.

It's no surprise that the MGK5280 is in this top list, it's a true flagship of technology for an affordable price!

Benefits
Electric shaver included for a closer shave
Waterproof
Kit of 7 accessories
Cordless (battery operated) + Quick charge

Disadvantages
Not usable when charging
Do not shave blank (0 mm)
Tends to discharge when not in use
Philips MG7745/15 Multi-styles trimmer Series 7000
Promotion
Philips 7000 Series MG7745/15 Multi-styles trimmer
Philips is in the game with its versatile and inexpensive clippers! The MG7745 from the 7000 Series is an all-in-one face, hair and body trimmer that meets the expectations of many users.
The set is extremely complete with 14 accessories that allow you to go from haircuts to beard finishing in seconds.

In short, an excellent value for money for the mower and all the accessories included in the package.

Benefits
Very complete mower kit with 14 accessories
Versatile: beard, body and hair
8 shoes for any size cut
Comfortable to use
Storage kit

Disadvantages
The mower cannot be used while charging
A little big for precision
A little noisy but acceptable
Hatteker 5-in-1 Trimmer - Beard, Hair...
Hatteker Multifunction Mower
Still little known among the bearded ones, The Hatteker brand offers very good clippers for beards, but also for hair, body or even nose and ear hair.
Delivered with no less than 12 accessories, you can equip it with the desired shoe (between 3 mm and 15 mm) for all your needs. It is also equipped with an adjustable shoe from 1 mm to 10 mm for a precision mowing (but not too much).

Benefits
Interesting pack of 12 accessories
Very versatile (beard, hair, body, nose and ear hair)
Adjustable shoe
Rather light
Disadvantages
Accessories can become cumbersome
Plastic can look cheap
Not very effective for close and precise shaving
Braun 7 MGK7220 All-in-One Electric Trimmer: Hair, beard,...
Braun 7 MGK7220 All-in-One Electric Trimmer
The 7000 Series is in the spotlight with the MGK7220 model. More powerful than its little sister, this electric trimmer will take care of your beard, body and hair. 8 accessories are included, with all the necessary attachments and the motor that automatically adapts to your hair thickness.

Benefits
Automatically adapting motor power
Electric shaver included
8 accessories for the whole body
13 length settings
Fast charge and good autonomy
Disadvantages
May have difficulty on large volumes or very thick hair
The body shoe is not very well designed
Sometimes lacks precision
Braun 3 MGK3221: the entry-level model
Braun 3 MGK3221: the entry-level model
Braun has no place among men's accessories. With the MGK3221, you will be able to trim the hair of your beard, your hair, your face but also your ears or your nose.
Thanks to its various accessories (shoes and heads), you will be able to get rid of all the hairs on your face but also on your body.

Its wide range of accessories and its small price make it a very good value for money!

Benefits
Not expensive
Easily interchangeable heads
Useful for short beards and neck design
Disadvantages
Low battery life
Not waterproof
Accuracy to be reviewed
How did I choose the best clippers for your beard and hair?
To find the best electric clippers available on the market, I :
Scoured the web to collect consumer reviews
Met barbershop owners for professional advice
Analyzed, listed and compared dozens of different models
Consulted tests of hairdressing professionals and beard enthusiasts
Read hundreds of user feedbacks on forums and social networks
Requested advice to my favorite barbershops
Listened to advice of specialized salespeople in stores
Watched videos YouTube of pogonophiles from around the world
After this extensive research, I've compiled a list of electric lawn mowers that stand out and are definitely worth buying.
In my comparison, I present you the top electric clippers to help you make the best choice!
My criteria for a wise purchase
Functionality and ergonomics
Power adjustable motor, LED display, long battery life... I have compared the best features to present you the ones that are really useful for a quality mowing.
Ergonomics and ease of use are also crucial for a smooth shaving experience.
Power and versatility
A clipper adapted to all types of hair and cuts (curly, disheveledthick, short...) is an essential criterion for purchasing equipment that will be useful for years to come. The power of the engine is important: choose a model capable of mowing quickly and easily!
Accessories included
Accessories (cutting shoes and heads, razors, maintenance oils(e.g., brushes, etc.) are very useful for styling your haircut according to your desires. Close cutting, clipping, contouring: they increase the versatility of your mower tenfold!
Superior quality
When you invest in equipment, you want the best quality. Not a product that will fail you after a year or that doesn't meet your expectations for excellence.
The electric lawnmowers featured in this test are the best in their field. We only offer models that are worth buying!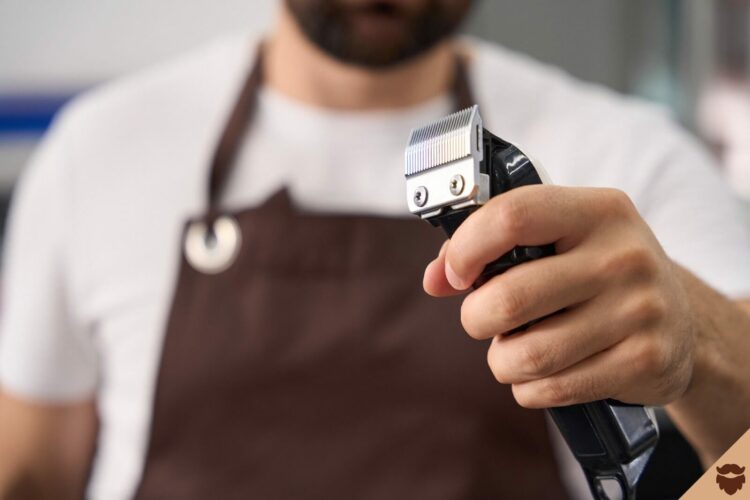 What is a hair and beard trimmer?
This type of electric trimmer for men is specially designed to trim your beard and hair. Its powerful (and sometimes automatically adjustable) motor, the many included accessories and its precision are worked to trim and style your beard and hair in a flash.
Its ergonomics and its functionalities are thought so that you can quickly cut your short beardlong and your hair.

For you: The best brands of electric lawnmowers on the market!
How to choose a quality hair and beard trimmer?
To invest wisely and buy the right accessory, I advise you to check a few purchasing criteria before you check out. Generally, you prefer a good value for money mower This allows you to be sure of the performance for the price invested!
Here are the important criteria before buying your electric hair and beard trimmer:
Powerful motor (and adjustable if possible) for a comfortable shave that doesn't pull hair and doesn't require multiple passes.
Numerous and qualitative accessories to have a maximum of cutting heights thanks to the adjustable or not adjustable shoes
Precision and cutting speed to be able to reach the constraining parts (behind the ears, neck line...) and to make your finishes quickly.
Multifunction: waterproof, battery operated (cordless) or equipped for precision shaving and finishing
By paying attention to these points, you can be sure to buy a quality hair and beard trimmer!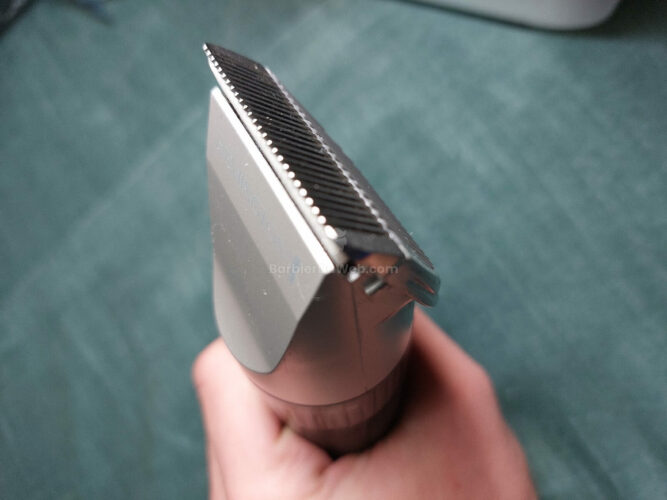 Maintain your 2-in-1 hair & beard trimmer
Investing in a lawnmower is great. Maintaining your lawnmower so that it lasts over time and does not lose its efficiency is even better!
By regularly practicing a proper maintenance of the moweryou will increase its life and improve its performance.

Here are the two tips I suggest:
Wash and clean your mower properly! This will keep it in top shape and prevent it from clogging. Let your engine breathe and don't wear out your blades unnecessarily.
To read: How do I clean my lawnmower?


Lubricate your blades to avoid friction and wear. In fact, the oil will improve the cut of your beard: it will cut even better than before!
To read: Oils for hair and beard clippers
If your trimmer is cutting poorly, pulling out hair or not working, read our guide to repair of hair and beard clippers !
Alternatives for shaving your hair and beard
To complement your shaving experience or even replace the trimmer, it is possible to equip yourself with other accessories to trim your beard.
This allows you to have a completely stylized beard, from the rough work to the finishing of your contours for example. By the way, I recommend the precision mower which is perfect for this type of mowing.
To shave with other accessories than the clippers, I advise you to opt for :
Manual mower,
Shavette
Cabbage cutter
Razor
Budget-wise, these accessories are generally less expensive than clippers and really serve to work your beard with precision.
Care to use after shaving
Trimming your beard is a little aggressive for your skin, especially if you shave (very) short.
Thus, it is customary to use skin care products for men in order to reduce the risk of inflammation, irritation or the appearance of pimples.
Apply products after using the electric mower to avoid this type of problem:
Oils and after shave oils for the beard : it's a bit of a "magic elixir" for the bearded ones
Balms which are a real care for your beard hair
Gel aftershave or foam to soothe
Serums, lotionssprays, creams: to provide the best possible comfort
By using these treatments after trimming your beard, you are sure to have a healthy, strong beard that will perform at its best.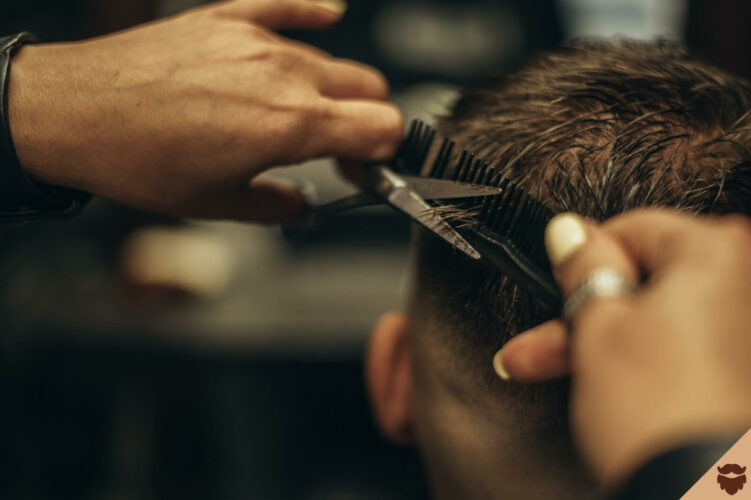 Buy a hair and beard trimmer: a very practical accessory!
If you are tired of going to the barber shop or find it inconvenient to change clippers to trim your hair and beard, the 2-in-1 electric mower is the right accessory for you !
In seconds, you can change the shoe, vary the cutting height and get a great look.
Useful for both precision and heavy-duty work, these mowers are true technological feats. Combining these two types of mowing is rather complicated when you know the differences between a hair trimmer and a beard trimmer.
Frequently asked questions