Essential oils for beards are beneficial to a healthy goatee and provide many benefits to both the hair and the skin.
Each of them are different and bring various effects to your beard: anti water retention, antibacterial, antioxidants, anti-itching, improvement of blood circulation... They can even help to reduce dandruff or flakes.
You will find in this article a selection of the best essential oils for the beard such as eucalyptus oil, Atlas cedar, mustard oil or lemongrass.
But first, you will learn what an essential oil is and how it works on your beard.
What is an essential oil?
The essential oil is a liquid extract obtained by steam distillation from a plant.
It is the concentrate of the quintessence of a plant and has many active substances that provide various benefits.
Moreover, it is very aromatic and allows to bring a smell or a perfume during its use.
Essential oils are generally very effective to clean your pores, eliminate blackheads and whiteheads, stimulate blood flow in your beard, making it smooth and preserve hair loss.
They can cure almost any type of skin condition, and for many people, these are the essential oils that can treat the most common problems, such as eczema, dandruff, itching, psoriasis, and even acne or acne scars.
The great thing is that it is 100% natural and organic and often it is also very economical compared to other natural beard care products.

They excel when mixed with vegetable oils.
If you don't have ano beard yet or your shoot is not up to par, these oils can also be used to boost the growth of your beard.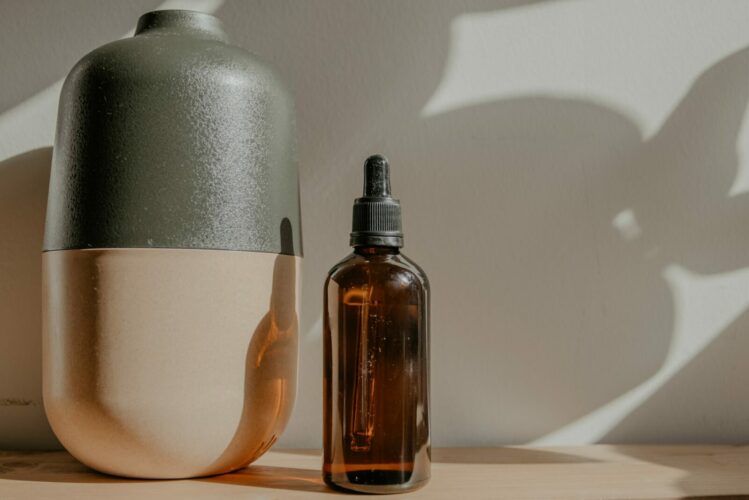 Benefits and effects of essential oils on the beard
Essential oils are very useful in many areas: cooking, health, well-being ... As we have seen, they can be a very powerful ally for your beard:
Top hygiene thanks to purifying and cleansing effects You must maintain good hygiene to keep your beard healthy, soft and shiny. Essential oils generally contain antibacterial, antifungal, antiseptic, antiparasitic or antiviral properties, all of which make them essential for a healthy and shiny beard. maintenance of the beard.
Helps grow beards Some oils like Ylang Ylang or Bay Saint Thomas have anti-alopecia properties, which stimulate hair growth. By mixing them with other oils that promote beard growth, it will work a miracle on your beard hair and mustache.
Useful for shaving and after shave You can also use essential oils on your beard to provide a care before and after the beard and after shaving. Because of their benefits, your skin will be much less irritated: goodbye to red patches and itching and make way for a soft and healthy skin! Some oils can even form a protective layer against the cold and humidity that attacks your beard after shaving.
No more itching, dandruff or flakes! Some oils are known to slow down the formation of dandruff, flakes or simply the itching that can become a daily problem. By regulating your sebum or moisturizing your beard in depth, oils will be useful to get rid of those little white bits of snow that come from your beard.
Many varied benefits: softening, moisturizing... Depending on the oil you use and its properties, the result will not be the same. For example, you can use Eucalyptus oil for greasy hair, Ylang-Ylang to grow beard or citronella to cleanse and purify your hair.
Thus, you will be able to
mix essential oils for beards
to each other for different results and to maintain your beard naturally. They are even excellent when they are
used with beard balms
.
The Barber's advice
First of all, don't try too many oils at once. Mix no more than two or three oils in equal proportions and see the result on your beard (and mustache).
Try the essential oils over a period of at least a week to see the results and get a before and after idea on your beard.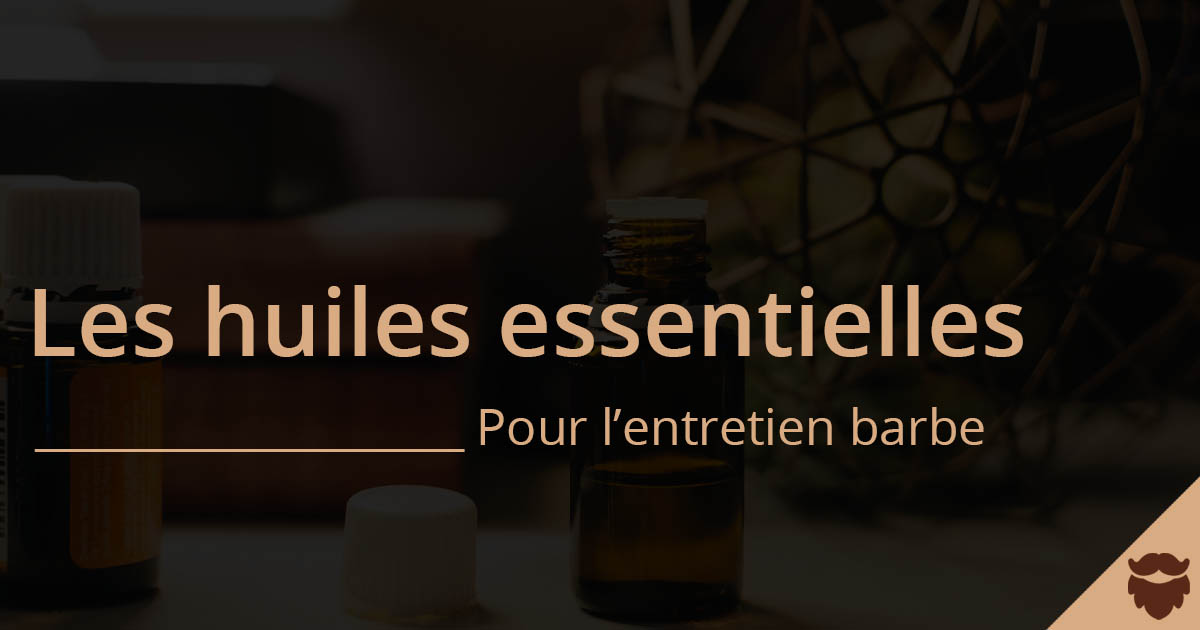 The best essential oils for your beard
I'm going to introduce you to the most effective essential oils that bring real benefits to your goatee.
Among the most known, we will find the oil of cedar of the Atlas, the Eucalyptus or the Ylang-Ylang.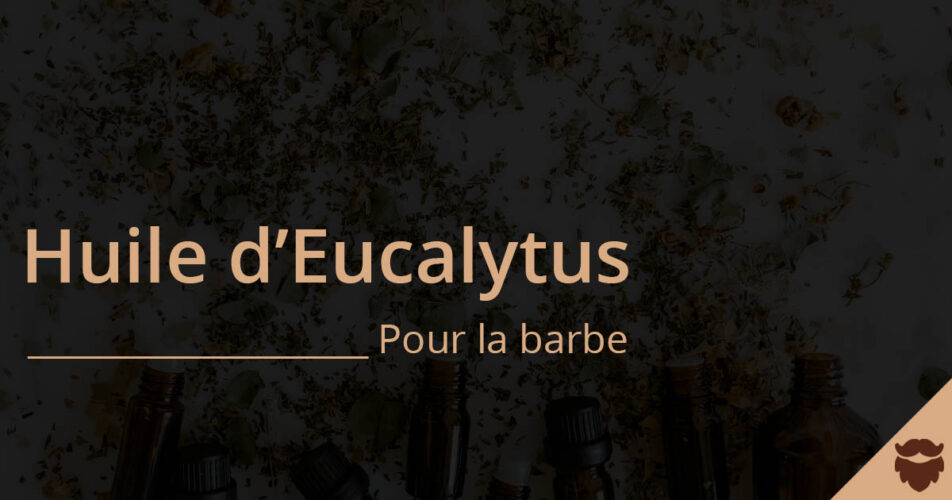 Eucalyptus essential oil: excellent for the beard, tightens the skin and pores, regulates sebum and cleansing
Eucalyptus oil (Eucalyptus radiata) comes from Australia (Tasmania region, yes the same place as the little devil).
She is known for control sebum production in your scalp and beard.
If you have problems with oily skin or beardIt will be ideal for you.
In addition to giving you a fresh perfume, eucalyptus oil acts as a natural astringent that can tighten the pores of the skin and prevent beard hair from growing too quickly.
It will also help to moisturize your beard and hair.
Every time you wash your beard, it dries out and gets scabbed over, so for a healthy beard, be sure to use an essential oil like eucalyptus regularly.
It is therefore often found in beard shampoos or in oil blends (it is often combined with castor oil)
Eucalyptus oil is useful for :
Oily skin and hair
Tighten the skin and pores
Controlling the overproduction of sebum
Anti-inflammatory
Antibacterial and antiseptic
Healing
Astringent
It can be mixed with :
Propolis,
Burdock,
Jupiter's beard,
Arrow root,
Ravintsara,
Clove,
Tea-tree
Which eucalyptus essential oil to choose for the beard?
TOP 3 Eucalyptus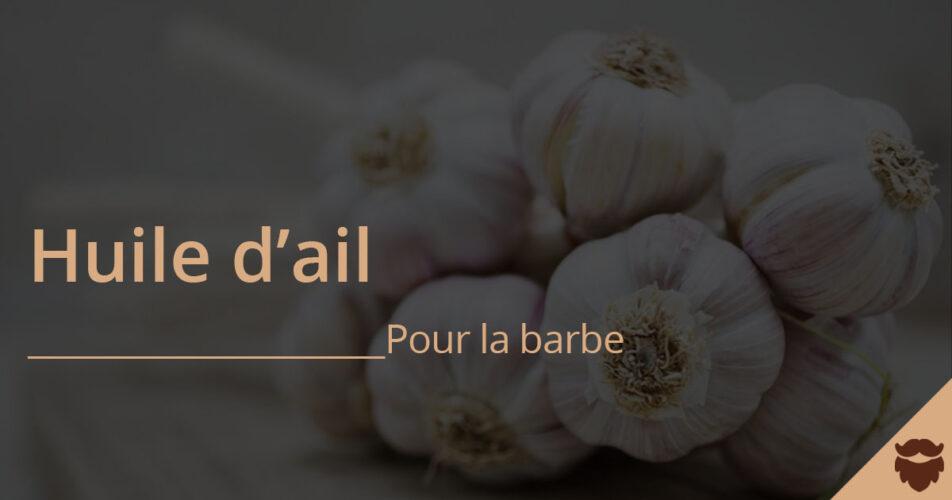 Garlic essential oil: grows beard, tones and protects
If you didn't think you'd see garlic in this top essential oils for beards, it's the same on my end!
Garlic oil grows beards and brings a protective, toning and antibacterial effect to your beard. It is therefore very complete and will be useful in addition to other products such as themustard oil or thecoconut oil.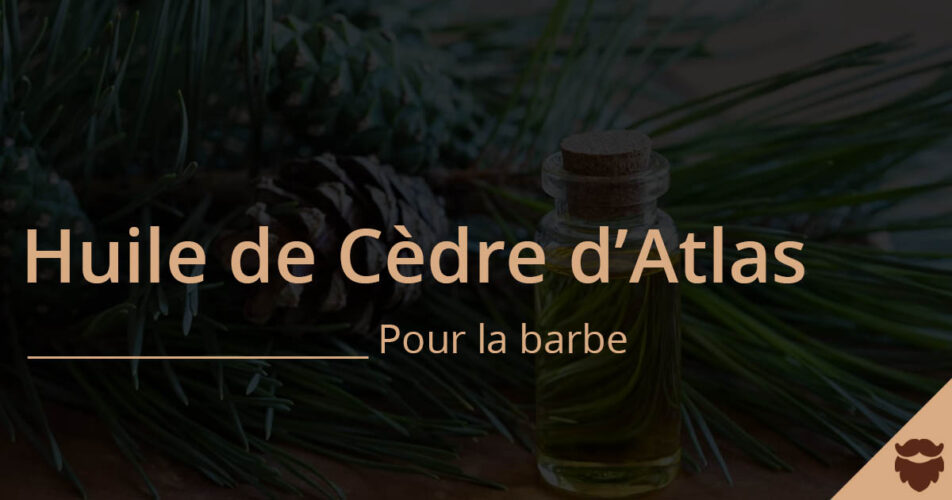 Essential oil of Cedar of the Atlas: useful for dandruff, itching or eczema
Cedar oil (Cedrus atlantica) is at the top of the list, because of its many benefits for your skin and beard.
It has many benefits and can be useful for itching or irritation (red patches, pimples, etc...).
It is especially known for its soothing and toning properties. Indeed, it will tone your beard and mustache hairs while regenerating them.
Moreover, where cedar essential oil is used, microbes are killed: it is purifying, antifungal and antiviral.
Atlas Cedar is also rich in vitamin C and E, which is important for beard growth, and its woody scent is widely used in oil blends, or as a complement to vegetable oils.
The oil of Cedar of the Atlas is useful for :
Oily skin and hair
Reduce water retention
Reduce flaking, dandruff and itching
Eczema and psoriasis
Maintain the integrity of the skin with antioxidants
Helps restore collagen in the skin
Improves blood circulation
Which Atlas Cedar essential oil to choose for the beard?
TOP 3 Cedar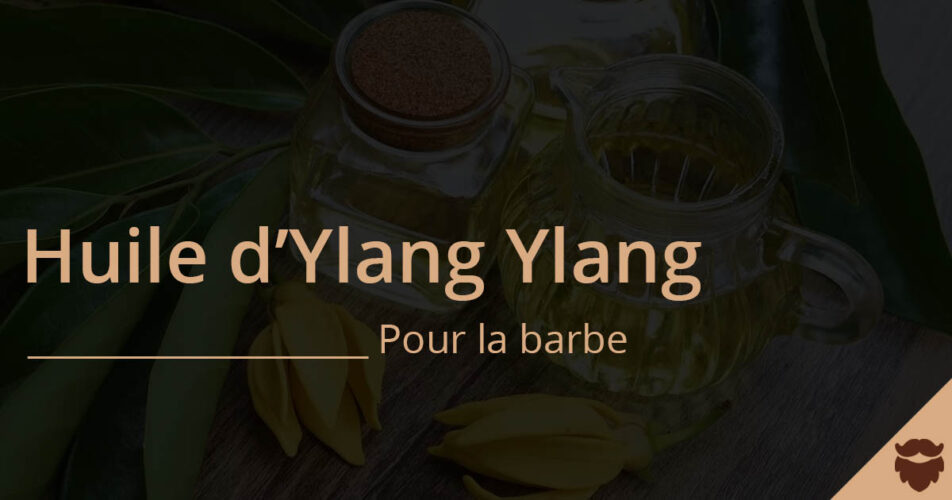 Ylang Ylang : grows beard, anti-inflammatory, useful for oily hair and skin
The essential oil of Ylang-Ylang (Cananga odorata, a sweet name for an oil with hair!) will bring benefits healing and anti-inflammatory. A bit like lemongrass oil also presented in this article.
Ylang Ylang is considered an extremely useful essential oil for the beard, and it also promotes the growth and growth of beard hair.
She is also known for act against stress and agitation : it is a ZEN oil.
It has a floral and exotic fragrance powerful, which would be even famous as aphrodisiac.
In addition, it will help pimpled skin to clear up and can be used for beards with brittle and dry hair.
Ylang Ylang oil is useful for :
Helps grow beard
Oily skin and hair
Anti-inflammatory, Anti-parasitic and Anti-infectious
Tones the skin and hair
Purifies
Regulates sebum
Fragrance
Can be mixed with :
Clary sage,
Grapefruit,
Atlas Cedar
Which essential oil of Ylang-Ylang to choose for the beard?
TOP 3 Ylang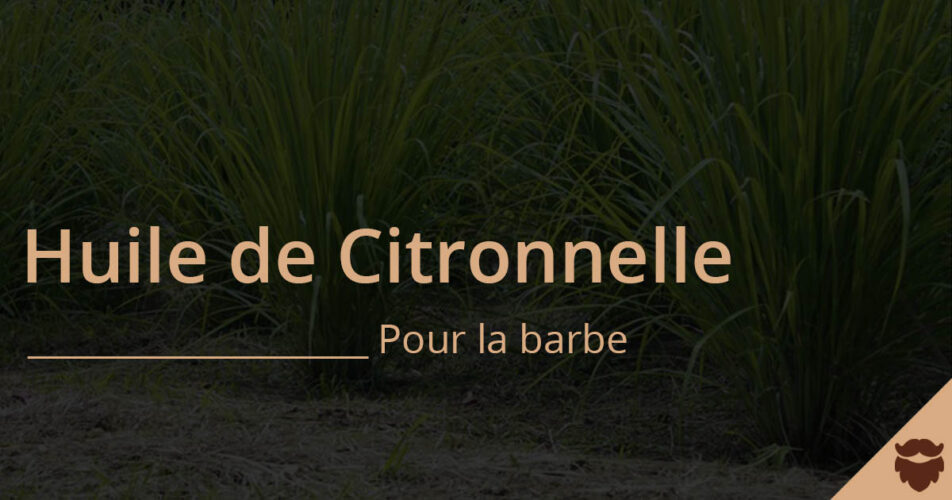 Lemongrass essential oil: perfect for sanitizing and cleaning the beard
Lemongrass essential oil (Cymbopogon winterianus Jowitt) is an organic and non-toxic essential oil. It is therefore safe for the beard although it is very well known as a massage oil.
This essential oil is anti-inflammatory and has mild antiseptic, anti-inflammatory and antimicrobial properties.
Lemongrass oil, which is also aromatic, helps to reduce inflammation of the beard follicles and to soften and clean the beard.
It also increases blood circulation, and as you can imagine, this is very important for a healthy beard.
Lemon essential oil can even help treat lice infestations, fight dandruff and strengthen hair.
Lemongrass oil is useful for :
Antifungal, antiseptic, antibacterial and anti-inflammatory properties
Helps to eliminate dead skin cells
Makes the beard soft and smooth
Which essential oil of Citronella to choose for the beard?
TOP 3 Lemongrass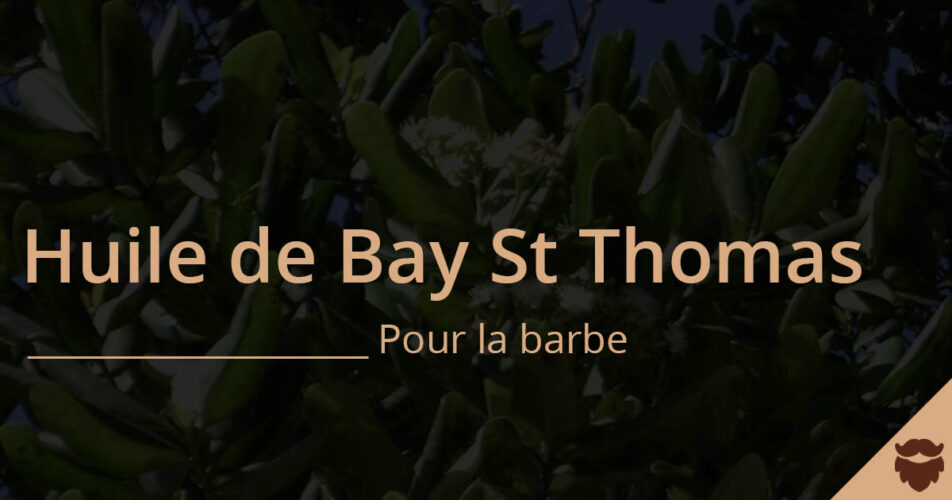 Bay St Thomas: promotes growth, fights dandruff and restores hair tone
Bay Saint Thomas oil (Pimenta racemosa) is reputed to slow down hair loss. It will be useful to stimulate the growth and to make push your beard thanks to its tonic virtues.
It will also improve the blood circulation of the scalp and even has antiviral, antimycotic and antibacterial properties.
Bay Saint Thomas oil is effective for :
Grow a beard (anti-alopecia)
Anti-dandruff and anti-itching
Restores tone to fine, oily hair.
Hair tonic
Regulate sebum production
Antibacterial, antimycotic and antiviral
Which Bay Saint Thomas essential oil to choose for the beard?
TOP 3 Thomas
How to apply the essential oil on the beard?
To use the essential oil on your beard, just follow these 3 simple steps:
Wash and dry your beard

Use a good natural beard shampoo to wash your beard and then dry it with a soft towel or a mini hairdryer adapted to beard hair.

Brush and detangle it

Using a beard brush or comb, brush and detangle your beard to aerate it and make it more manageable.

Apply your essential oil

Take a few drops in the palm of your hand, rub your hands together to warm the oil and apply it from the roots to the tips, evenly.
Do not hesitate to massage for a few minutes to make well penetrate the oil in your roots and your skin.
Essential oils for a strong and healthy beard
As you have understood from this article, there is not just one type of essential oil for beard care. The good thing is that all of these oils are 100% natural and will be useful for your beard care.

In short, all these oils are excellent used alone but become essential when mixed with other essential or vegetable oils. This allows you to add their benefits and create elixirs for each of your needs: growing a beard, oily skin, dandruff, itching...
We therefore advise you to test one by one, testing the effectiveness on your facial hair.
F.A.Q. of essential oils for the beard
You will find here the few questions that we did not have the opportunity to answer during this article, or that we often hear.
Which essential oil for the beard?
There is no "better" oil than another: each one has its properties and benefits! Thus, you will be able to adapt your use for your case and use the right essential oil(s).
Which essential oil to grow a beard?
The best essential oils for growing beards areYlang Ylang and the Bay Saint Thomas, which have stimulating properties and are useful for combat alopecia. They will therefore promote the growth of hair on your face (and your entire body) as well as your hair.