Talking about an oil that keeps your hair from growing on the blog is not common. Usually you prefer when I talk about oils that help with beard growth.
In any case, you will see that Tiger Nut oil is effective on your beard hair. Fortunately, it has other properties such as hydration and nourishing care beyond compare!
Come on, I'll let you discover Tiger Nut oil and its effects on beard hair...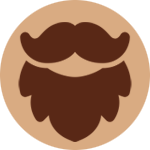 My opinion on Tiger Nut Oil for beards
The very principle of Tiger Nut oil is to stop hair growth. For this, we can only give it full credit: it does its job well!
Besides, its moisturizing and nourishing benefits are excellent and it is perfect for dry and mature skin.
I recommend it to bearded men in search of a stronger, more vigorous beard without necessarily having more hair. Quality before quantity they say!
To read: Oils for a dense beard
What is Tiger Nut Oil?
The vegetable oil of Tiger Nut comes from Niger. Extracted from the fruits of a rhizome plantIt is also known as "Ground almond", "Tiger nut" or "Chufa".
Yellow nutsedge itself is also edible. It has been used for hundreds of years in food and cosmetics.
It is very rich in vitamin E, iron and potassium which makes it very nutritious. Its essential fatty acid content makes it a moisturizing and nourishing treatment for your skin, beard and hair.
What is the use of Tiger Nut oil for the beard?
Tiger Nuts Oil is mainly used for its anti-hair growth action but it has other benefits:
Feeds a lot the skin and hair to moisturize the bulb and the hair fiber
Antioxidant, thanks to its vitamin E and will slow down the aging process
Restores vitality, radiance and power with damaged and fragile hair
Brings suppleness and softness to your beard while improving the elasticity of the skin
Smoothes and softens the hairs
Thus, you can use it on fragile, dehydrated beards to bring them shine and power. It is particularly effective on dry, very dry, scaly and mature skin.
Generally, bearded people don't look for oils that do NOT grow beards. That's why Tiger Nuts oil is a bit special. In fact, it is the ingredient in another oil that slows hair growth: ant oil.
Does Tiger Nut oil make my beard grow?
No, and this is the first reason why it is used: its anti-hair growth action.
It will therefore be useful for skin prone to ingrown hairs, for example, or beards that are too dense or too "scattered".
If you want to try oils that grow beards, look at: thecastor oil, cobra, cod liver, or of fenugreek.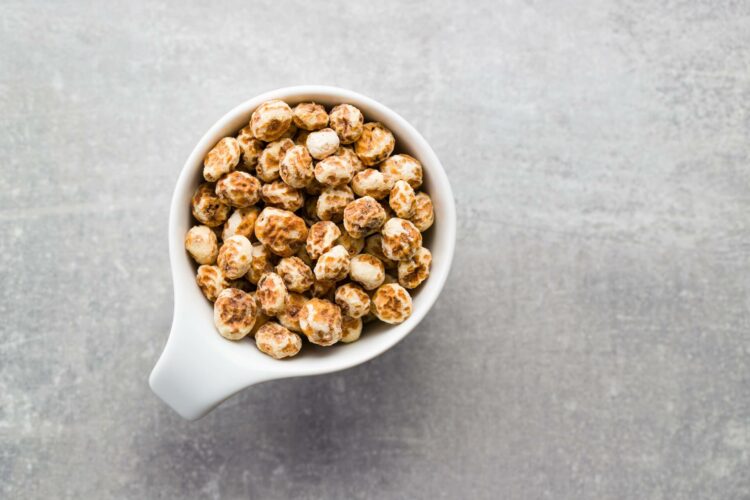 How to use Tiger Nut oil for your beard?
Since it is an oil that prevents your hair from growing back, we will use it differently than traditional vegetable beard oils.
In any case, if you wish to use it to prevent your hair from growing, prefer an application after a waxing.
Otherwise, using Tiger Nut oil for beards is simple:
Collect a few drops of the oil in your hand, warm it by rubbing your hands
Apply the oil to the desired areas or to the entire beard
Massage thoroughly and stretch the oil from the roots to the tips
No need to rinse, unless you have greasy hair!
To increase its nourishing and hydrating care, mix it with other oils : Linseed, Wheat germ, Jojoba
If you want to protect your beard and soothe it, use lavender oil orargan.
To take advantage of its anti regrowth effects to the maximum, use it daily or every other day for 1 to 2 months. You can then use it less often because you should see your hair grow less quickly.
Apply it to your hair or your skin: it makes an essential care
Although you can only use it on your face, you can also take care of your skin and hair. Use it for example to weaken the areas of hair that you find disturbing on your body.
In short, Tiger Nut oil for hair is used to :
Nourish and moisturize hair and hair fiber
Give strength, shine and power to fragile and damaged hair
Soften, smooth and shine your hair
For maximum hydration, try it in combination withcoconut oil, d'sweet almond orolive
On the skinYou can use it for :
Prevent your hair from growing
Nourish and moisturize the skin
Slowing down the premature aging of the skin thanks to the antioxidant vitamin E it contains
Make your skin soft, supple and elastic
As you can see, Tiger Nut oil works very well for the whole body and it is possible to find many uses for it.
Yellow nutsedge oil is useful for the whole body and especially for limiting hair growth
If you want to prevent your hair from growing too much on certain parts of your face or body, Tiger Nuts oil is the answer. Of course, that's not the only benefit it provides: it nourishes, moisturizes, strengthens and softens the hair. Not only that, but it restores shine and luster to your beard while making the skin supple.
Tiger Nuts oil is a complete beard care not to be neglected for perhaps less hair but stronger and more beautiful.
In any case, what is certain is that it can never be part of the oils for a bigger beard !