In this article, we will explore the benefits of cedar essential oil on beards, whether using it can help grow beards, how to apply it and other health uses of cedar oil. Yes it's not just your beard that matters!
Cedarwood essential oil is one of the most effective ways to keep your beard healthy and beautiful. It's a natural solution that can solve everything from dandruff to split ends.
Let's start with a little presentation of the Atlas Cedar oil!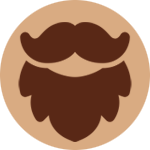 My opinion on Atlas cedar oil for the beard
It is a complete care, with properties that are not found in all oils. For example, it is perfect for oily skin and beards and helps to tone your scalp.

In addition, it brings a relaxing side while promoting the growth of your beard. In short, it's all good: I recommend it!
What is cedar oil?
The essential oil of Atlas Cedar (Cedrus Atlantica) is an oil extracted from cedar wood. Known for its properties both soothing and tonic, it even purifies and brings a very sweet woody smell.
It is traditionally used in many cultures for a variety of purposes. It is becoming increasingly popular as a skin and hair product, and its use as a beard oil is on the rise.
What are the benefits of cedar oil for the beard?
The oil extracted from Atlas Cedar is very well known as a hair care product. It works very well on your hair and the same goes for your beard.
Indeed, its properties are numerous because it :
Is perfect for oily hair and skin because it helps eliminate fat
Tones up the scalp and therefore your beard hair
Helps fight against water retention
Provides regenerative and restorative care
Is antifungal: it fights fungi, mycosis, etc...
It is therefore widely used for :
Getting rid of dandruff
Reduce the "greasy" effect of the skin, beard and hair
Growing hair and therefore... goatee hair!
Sanitize your hair and beard after shaving for example
Does cedar oil make my beard grow?
You will often hear that cedar oil will help you achieve a thicker, fuller beard. This is true, but it should be taken with a grain of salt.
Indeed, as for other oils (castor oil, coconut, mustard, black seed) that promote the growth of your precious hair, it will have no effect on areas where follicles have already stopped growing (or never grew for that matter).
However, if your beard has uneven areas, sparse areas, or holes in it, it can help you fill them in.
In any case, its properties make it a perfect care for the bearded ones. It will only bring positive points that will improve the health of your beard and your skin.
How do I apply cedar oil to my beard hair?
It's pretty easy to apply cedar oil to your beard. All you need to do is:
Get your bottle of Cedarwood oil
Put a few drops in a container of hot water (this will help your pores to open up)
Dab a little oil on a cotton ball or washcloth and apply it to your face and beard.
Then, massage your hair (and skin) to diffuse the oil evenly
Simple, fast and efficient. No ? You will say to me, that does not change much from the use of other oils for your hairs. The difference is that it is diluted in hot water because it is an essential oil and especially that the heat will open your pores.
Other health uses 
As if that weren't enough, it turns out that cedar has not finished surprising us.
It already works like magic on your beard, but it also excels on your hair, skin and even in your diet.
For the body in general, it is often used to treat :
Parasitic or fungal skin diseases
Eczema, psoriasis: it will be easier to get rid of them
Coughs, colds, hay fever: thanks to its antifungal and antiviral properties
Joint pain and rheumatism
On your hair, you can count on it in the same way as for the beard of the man:
It fights hair loss
Reduce dandruff
Eliminates greasy hair and skin
Regenerates and repairs the scalp
To tell you the truth, it is even used in broadcasting for its relaxing and comforting properties and it makes a very good mosquito repellent.
I don't know about you, but I find that it makes it a very useful and varied oil.
Conclusion on cedar oil for your beard hair
As you've seen in this article, Atlas Cedar and the oil extracted from it will help keep your beard healthy and once you start using it... it's hard to stop. Beware: it may become part of your beard routine for life, I warned you...
In this article dedicated to Atlas cedarwood oil, you have learned a little more about this "unlike any other" essential oil. You now know how to apply it to your beard and skin and you even know its other uses for the body and health.
And you, have you ever used cedar oil?