En général, lorsqu'un barbu est à la recherche d'une huile pour prendre soin de sa barbe, ce n'est pas l'huile de fourmi qu'il va rechercher. Pourquoi me demandez-vous ? 

Les hommes recherchent des huiles qui font pousser la barbe, qui en améliore la croissance. L'huile de fourmi quant à elle vient empêcher le poil de pousser en agissant directement dans le bulbe.
This can be useful for men who are tired of shaving or who are victims of ingrown hairs for example.

Voyons d'un peu plus près ce qu'est l'huile de fourmi et comment l'utiliser pour votre barbe…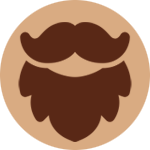 Mon avis sur l'huile de fourmi pour la barbe
Si vous recherchez un moyen naturel de limiter la pousse de vos poils, vous avez trouvé : l'huile de fourmi excelle dans ce cas d'utilisation.
Ce qui est bien, c'est que ça ne demande pas plus d'effort qu'une autre huile et qu'elle ne présente aucun danger pour la santé. Testez tout de même sur une petite partie de votre corps, au cas où une allergie surgit.
Qu'est-ce que l'huile végétale de fourmi?
Comme vous vous en doutez, l'huile de fourmi n'est pas extraite de l'insecte. Ce serait plutôt bizarre, non ? Bon d'accord… Il semblerait que nous utilisions de réelles fourmis pour produire cette huile à une certaine époque.
But don't panic: it is now industrially manufactured and designed. Responsibly and 100% organically.
From now on, we will rather mix natural vegetable oils like yellow nutsedge, Pumpkin seed and clary sage.
These 3 oils have benefits and the mix of the three adds up very well the properties that can act on your beard.
Elle est très connue pour son action anti repousse de poils d'où son slogan "Stop Poil" ! On l'utilisera donc beaucoup après des épilations chez la femme mais aussi chez l'homme.
For your beard, it can help your hair to be less invasive
What are its benefits and effects on the beard?
La plupart des barbus cherchent des soins de barbe qui boostent la croissance des poils. L'huile de fourmi vient faire exactement le contraire : elle empêche vos poils de repousser.
Mais ce n'est pas tout, l'huile de fourmi comporte d'autres bienfaits :
Anti-growth action: your hair will grow less quickly
Améliore l'élasticité of the beard and the skin
Moisturizes a maximum grâce aux acides gras qu'elle contient
From exfoliating propertieswhich makes it excellent after a scrub or a waxing
Fights ingrown hairs
On ne dirait pas à première vue, mais c'est une huile qui peut s'avérer utile pour les barbus qui souhaitent garder la short beard for example.
Est-ce que l'huile de fourmi fait pousser la barbe ?
No. In fact, it does the opposite: it limits hair growth by preventing your hair from growing back.
Elle est à l'opposé d'autres huiles comme l'castor oil, mustard or black seed which they are used to make grow the beard.
How to apply it on your hair and face?
Pour l'utilisation de l'huile de fourmi sur la barbe, c'est tout simple. On ne va pas déroger à la règle des 4 étapes qui consistent à appliquer l'huile de fourmi en massage sur le visage.
Please note: Évitez de l'utiliser après le rasage car l'huile ne pourra pas bien pénétrer dans le bulbe. Si vous le pouvez, utilisez la plutôt après une épilation à la cire par exemple.
Pour appliquer l'huile de fourmi sur votre barbe :
Versez quelques gouttes d'huile dans votre main et frottez-les pour la réchauffer. Cela la rendra plus malléable et facile à appliquer. Elle est assez grasse donc c'est même très utile !
Massez les zones où vous souhaitez l'appliquer (ou la barbe entière)
Répartissez l'huile sur votre barbe et votre peau tout en continuant de masser pour bien faire pénétrer l'huile et exfolier votre peau
Vous pouvez la garder sur le visage ou la rincer au bout d'une heure si vous le souhaitez
Appliquez l'huile de fourmi 3 à 5 fois par semaine au début afin qu'elle fasse bien effet puis réduisez la cadence.
Vous pouvez également faire un gommage après l'utilisation de l'huile, qui elle vient déjà exfolier votre peau.
What oils should I mix it with?
Vous pourrez aussi mixer l'huile de fourmi avec d'autres huiles pour lui donner plus d'effet sur votre peau.
It is good to know which oils to mix to add or maximize the effects:
Otherwise, see d'autres huiles à barbe on our blog!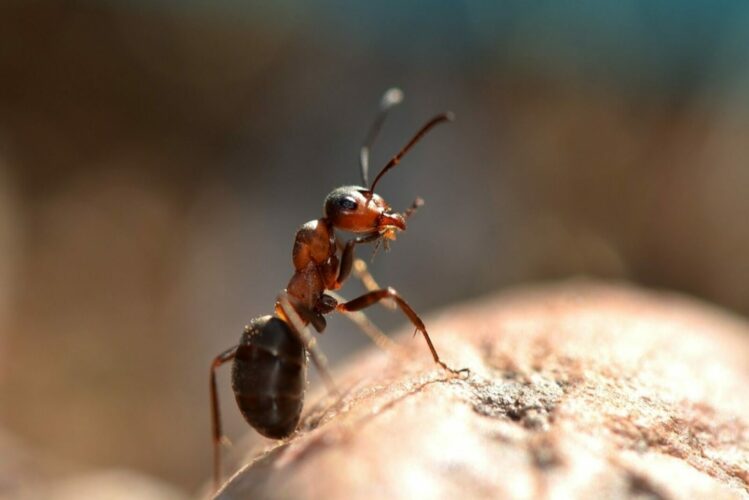 L'action anti repousse ne fonctionne sur tous les poils du corps
Ce qui est bien avec des huiles qui limitent la pousse des poils, c'est qu'on peut l'utiliser sur des zones complètement différentes que les oils that improve beard growth.
Generally, men (and women) use oils on hair, beard, eyebrows to help them grow.
L'huile de fourmi quant à elle est plutôt utilisée dans des zones où le poil est dérangeant, disgracieux ou qu'il provoque des poils incarnés par exemple.
It is often used after waxing on :
The legs
The buttocks
The back
The shoulders
Vous l'avez compris, cette huile est la grande amie des esthéticiennes ! Quoiqu'à cause d'elle, les client(e)s reviennent moins souvent donc je n'en suis pas si sûr…
L'Huile de fourmi : un excellent soin pour limiter la repousse des poils de barbe (et du corps entier)
Comme vous l'avez compris au fil de cet article, ce mélange d'huiles permet de dire non à la repousse des poils et de faire durer l'épilation à la cire plus longtemps.
Pour que cette huile fonctionne, il faut l'utiliser régulièrement (comme les huiles avant épilation) et de préférence après une épilation à la cire.
L'huile de fourmi est un véritable soin pour limiter la repousse des poils de barbe. Elle est bon marché et vous permettra de ne pas avoir à vous raser tous les jours ! Si c'est plutôt pour une raison de poils incarnés ou autres soucis de santé, elle sera également d'une grande aide.
Elle hydrate et nourrit votre peau et agit encore mieux lorsqu'elle est massée et qu'on l'aide à pénétrer dans le bulbe des poils.