A rather strange name and an oil that promises to make your hair grow? Yes, it is indeed Fenugreek. Still unknown among men, fenugreek is very useful for the beard. Well, not only because it is very used by women for hair care or skin care.
What is this oil? What can it do for your beard? Does it help hair growth?
You will learn all about the oil extracted from Fenugreek seeds, and especially how to use it in your beauty routine.
Come on, let's go!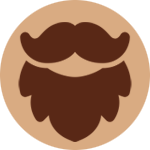 My opinion on Fenugreek for the beard
The fenugreek oil is a very good care for the beard which will know how to bring a boost of growth to fight against the alopecia of beard. Moreover, it will nourish your hair fibers and your skin while bringing vitality to your hair.

I particularly recommend it to bearded men with hair that is still hesitant, dull or lacking vitality. It is even known to give color and strength to your hair and excels in skin care.
What is Fenugreek vegetable oil?
Fenugreek oil is pressed or extracted from the seed of the fenugreek plant, a species of herbaceous plant in the Fabacaceae family. It is also known as Trigonella foenum-graecum and comes to us straight from Southeast Asia.
It has been used for thousands of years in various medicines, particularly in North Africa, thanks to its unique properties and benefits.
It has become popular in the West and throughout the world in recent years because it is versatile: massage, skin care, hair ...
What are its benefits for facial hairs ?
Now I'm going to tell you about the magical effects of this beauty ingredient for your hair!
Fenugreek oil has interesting properties:
Stimulates beard growth and fights against alopecia (hair loss)
Nourishes and coats hair fiberswhich will strengthen your beard hair
Brings vitality and strength with hair
Thus, it will often be used for :
Fight against beard holes, sparse beard or not growing
Beard hair that is dry, brittle or losing its vitality
Restore color and strength to dull, limp hair
As I told you, it is a vegetable oil that is quite versatile and offers interesting properties for beard care.
Does Fenugreek Oil make the beard grow?
It is known for stimulating growth and boosting the growth of hair. Its revitalizing actions will strengthen your hair, from the roots to the tips, and give them the renewed vitality they need.
Of course, it won't magically make hair grow where you never had any, but it will be a real ally in strengthening the existing one.
To read: Oils to boost my beard growth 
How to apply it on your hair and face?
You can use fenugreek on your beard in different ways:
Massage of your hair and skin
Oil bath
In hair cream
In conditioner (hair and/or beard)
The uses are diverse and vary according to your needs. I advise you to use the quickest and simplest method: massage.

Here's how apply fenugreek oil to your beard and massage it in :
Take a few drops of the elixir in your hand, rub and rub to warm it up
Start applying it to your hair (don't skimp on the skin)
Massage evenly throughout the beard, pulling from the roots to the tips
Leave on for 30m to 1h, wash with a mild shampoo and rinse with clear water!
Simple, quick and effective. Do not hesitate to repeat this routine several times a week to get all the benefits.
It is not only useful for the beard!
In general, if an oil is good for the beard, it is also excellent for the hair and skin.
Fenugreek is no exception to the rule and has the same benefits for your hair:
Stimulates growth: as for your facial hair, its properties will improve the growth of your hair and fight against hair loss
Strengthens the scalp: by sheathing the hair fiber, fenugreek brings its benefits from the roots to the tips
Powerful, vibrant hair
More volume for the hair that lacks it!
On the skin side, the benefits are just as numerous:
Antioxidant : fights against free radicals and against the first signs of aging (wrinkles, damaged skin...)
Nourishing and especially regenerating: perfect for devitalized skin
Restores elasticity to the skin thanks to its softening properties
It tightens the skin and it is even often used on the breasts to increase the curve.
In short, whether you are still in the prime of life or the first wrinkles are starting to appear, it will make all skin types happy.
It is widely used on mature, dry (or very dry) skin and will therefore be used in the prevention of aging.
Fenugreek oil: an excellent care for beard and hair
Although fenugreek has a rather particular name, its benefits are diversified and all more useful than the others. It will be useful as a beauty ingredient for the beard (and the skin underneath!) if you have a beard that struggles to grow, that has holes or that lacks vitality (dull color, limp hair...)
You have learned where it comes from, how to use it in massage on your beard but also its various benefits on the body and health.
For hair as well as for skin, it is widely used by women and should become more common among men quite soon.
It can be excellent to mix with other oils as theArganthe prickly pear or theoil of Chebe or Snake which is best known for its growth boost.