Have you heard of snake oil? Probably, but did you know that it's actually a great product to use on your beard? We're here to give you the details.

First of all, did you know that cobra (or snake) oil has nothing to do with reptiles. In fact, they are in fact oils cleverly mixed to make an explosive cocktail!
In this article we will talk about the benefits of cobra oil for beard and whether using it to grow your beard is useful.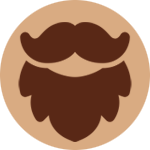 My opinion on snake and cobra oil
I would simply say that it has the merit of being tested on the beard. It is very much used in some alternative medicines or on women's hair. As you can imagine, if it is effective on hair, it is also effective on beard hair!
What is snake oil?
Cobra oil is in fact a mixture of several oils. It has nothing to do with a snake and none of them were used to make it.
Its name comes from Greek mythology: Poseidon seduced Medusa in a temple dedicated to Athena... Very angry, Athena transformed Medusa's hair into snakes... As we know it today.
It has in fact been used for centuries in the East as a medicine to treat various ailments, including joint pain, cardiovascular problems and even diabetes!
In recent years, it has become popular in the West because of its many benefits for skin and hair, including beards!
The benefits on your beard
Snake oil is full of vitamins, fatty acids and nutrients thanks to the various oils it contains.
What does this mean for your beard?
Here are some of our favorite benefits:
It relieves skin irritations: Since snake oil is an anti-inflammatory, if you are prone to problems like acne or psoriasis, you will find that regular use can help reduce breakouts and redness.
It promotes hair growth: If your beard is thin and uneven, snake oil can help by encouraging the follicles to grow faster and more densely.
It is effective against dandruff, fights dead skin and softens the hair!
Why is snake oil good for the beard?
The benefits of cobra oil for beard growth are undeniable. It has been shown to increase blood flow, stimulate collagen production and reduce inflammation; all of which can lead to faster beard growth.
It is known to be a great source of fatty acids. Fatty acids are essential for the growth of the beard because they are the building blocks of cells. They help build new cells faster and with a better structure.
It also contains antioxidants that protect against free radical damage.
How do I apply snake oil to my beard?
You may be asking yourself, "But how can I use snake oil on my beard?"

This is the easy part! Just follow these steps:
Take a few drops of the oil in your hands.
Rub them together until they are slightly warm.
Gently massage the oil into your beard, being careful to avoid contact with skin or eyes.
Gently brush your beard to style it the way you want it and apply the oil to all your hairs.
For skin and hair
When applied to the skin or hair, snake oil provides long-lasting hydration.
It helps repair damaged skin and promotes cell regeneration, which means it also helps heal scars and marks on your face.
Snake oil also helps keep wrinkles at bay, as it keeps the skin nourished and healthy for longer.
Otherwise, to take care of your skin, your hair and your hair, I recommend keratin or even Tiger Nut Oil which are two marvels! Caution: Yellow nutsedge oil slows down hair growth.
Should I use cobra oil on my beard?
In a word: yes. Snake oil is great for your beard, and it's also great for your hair and skin if you want to use it there too.
With all these benefits in mind, what are you waiting for? Try cobra oil today!