If you've ever wondered how actors get such a perfect beard without doing an implant, you now have the answer: the beard pen.

Easy to use, quick to apply and inexpensive, it will make the happiness of the bearded men with undecided hair, who do not have a full goatee as the male virility wants.
The best beard pencil filler kits
As usual, I scoured the web to find the best products in terms of value for money and number of reviews
The beard filler pencil sets contain the pen (thankfully) as well as a brush to "blend" the coloring and give a natural effect.
We are therefore looking for a product :
Skin friendly (does not cause allergies or irritations)
In shades as close as possible to your hair color
Waterproof and sweatproof
With an excellent quality-price ratio
What is a beard touch-up pencil?
The filler pen distributes a product of the color of your hair in your beard thanks to a micro-tip and a brush specially designed to make a natural look. Often compared to mascara for women, it is used to correct imperfections (holes, white spots, scars...).
The pencil beard can be used on the beard as well as on on hair, eyebrows and even the mustache. Its use is purely aesthetic and will fill the holes at bearded people with little or no beard. It is a bit like a beard filter on social networks but in real life.
It's up to you to draw your beard the way you want!
Good to know: Whatever your beard type (smooth, frizzy, shaggy, thick...) this tool will work wonders!
Why use a pen for beard filling?
PenBeard is designed to adhere to the skin of the man like a natural "glue". Very easy to use and especially quick to apply, it has various uses:
Make the contours to make them perfectly outlined or to help you shave (using the line as a ruler)
Correcting a beard (filling it) so that it is homogeneous, full, without holes and full.
Adding thickness to make the beard more dense and visually thicker
Drawing a "fake" beard to see how your face would look with a certain style.
The pencil will also be useful for hair, mustache or eyebrows (eyes). You can give yourself a dark look, correct the shape of your eyebrows or camouflage a scar.
There are different types of beard pencils: thin, thick, more or less greasy and even waterproof to be beautiful even if it rains or you sweat.
As you can imagine, natural hair colors are available: brown (black), chestnut, grey, white, blond (yellow)...
Please note: Sometimes, the man's beard can have a patchy beard overnight. The pen is useful to correct this problem in a few minutes.
How to draw my beard with the pencil?
Wash your beard with an adapted shampoo and dry it carefully with an electric beard dryer : it must not be wet,
In front of your mirror, start to use the pencil on the contour of your beard to delimit the lines,
If necessary, apply the product to areas that are not well covered or that are lacking,
Use the small brush provided to "blend" for a natural application.
Directions for use:
Don't press too hard, it's useless!
Make the lines in the direction of the hair, it will look more natural
Do not use cream, gel or oil on the beard before application, your skin and hair must be perfectly dry.
Here are two videos that will be useful for the application:
To remove the beard pencil, you will need to clean your face with a shampoo or a suitable soap.
The product applied by the beard pen is very durable. In addition, it is waterproof: it resists water, perspiration and other factors that can make it run or shine.
On the other hand, do not dive into the pool: I am not sure it will hold
Before and after using the beard correction pencil
I have found photos and videos of results after using the beard pen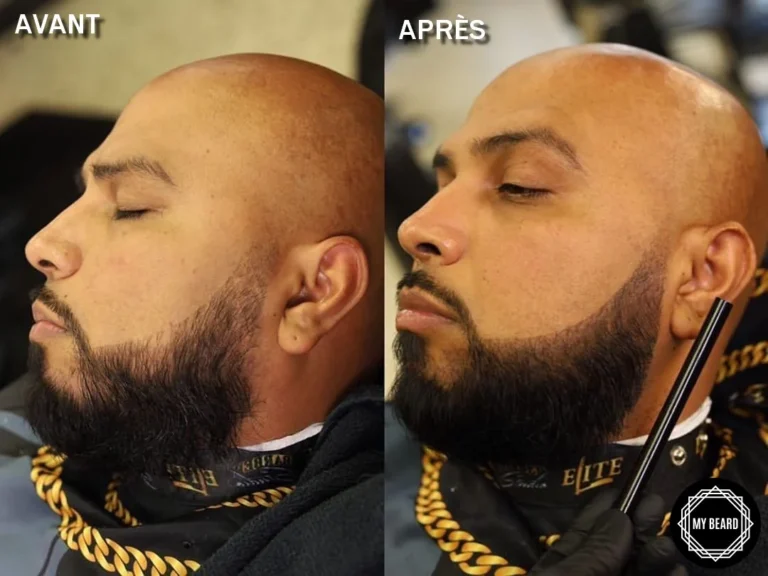 The correction pencil : a simple and affordable solution to fill your beard!
You now know all the details about the beard pen and its use. For irregularities, holes or imperfections of the beard, the pencil will be a good solution for the short term. It will also be useful for the mustache, eyebrows or hair.

They are affordable, easy to use and quick to apply, making them the perfect accessory for bearded men looking for a full beard.
In addition, you can use the pencil in addition to other accessories to fill or color the beard such as coloring wax, dye or mascara.
Frequently asked questions
You can get your beard pen online, on marketplaces like Amazon or on websites specialized in makeup. Otherwise, go to stores like Sephora or Nocibé which sometimes offer them.
Designed to stick to your skin, the product used is indeed greasy and waterproof, which is particularly useful. The pen will therefore stick to your skin (and hair) to give a natural, non-fading look.
If the tip is cracked, the pen is almost unusable since the lines will not be natural anymore. Try it out on your beard and comb through for the "natural" effect. If you notice that it is not the same as usual, buy a new one.