It has become a classic men's shaving accessory, the electric beard trimmer is a must for every bearded man. Its efficiency, its speed of shaving and its multiple uses make it a a very versatile tool.
Whether it's for trimming, styling or shaving your hair, the clippers are an ally you can't live without. Say goodbye to shaky beard cuts or sloppy finishing touches: make way for a real, well-groomed gentleman's beard!
Let's get right to the buying guide for trimmers to shave your beard hairbut also body and hair for some models ...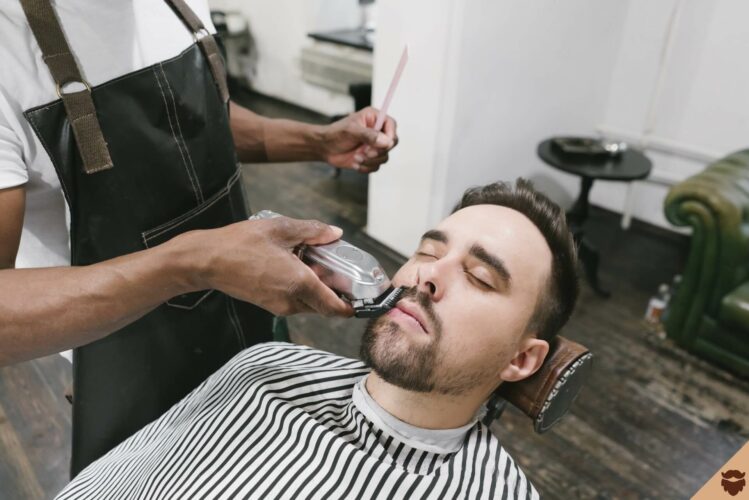 Comparison of the best beard trimmers: the best of the best
I scoured the web, searched hard and compared the best electric beard trimmers for you.
These models are excellent choices: their quality is superior, their functions are multiple and above all: they are extremely efficient! I sorted through a multitude of criteria, but also the opinions of thousands of bearded people on the web to determine models that (really) stand out.

No need to search anymore: the top mowers are present in this ranking!
Philips MG7745/15: 14-in-1: The Rolls-Royce of multi-functional clippers!
Promotion
Philips MG7745/15 14-in-1 Multi-style trimmer: Face, Hair and Body with 14 attachments
Philips is in the game with its versatile and inexpensive clippers! The MG7745 from the 7000 Series is an all-in-one face, hair and body trimmer that meets the expectations of many users. The set is extremely complete with 14 attachments that take you from haircut to beard trimmer in seconds.
In short, an excellent value for money for the mower and all the accessories included in the package.

Benefits
Very complete pack with 14 accessories
Very versatile (body, beard and hair)
8 shoes to cut to any length
Comfortable and easy to use
Storage case
Disadvantages
Mower unusable when recharging
A bit "big" if you want a precise cut
May seem a bit noisy
Braun 7 MGK7220: All-in-One (Beard, Hair & Body) + 8 accessories
Braun 7 MGK7220 All-in-One Electric Trimmer for Men (Beard, Hair & Body) + 8 accessories
With the MGK7220, straight from the 7 Series, you've reached the top of the line of clippers. Its motor even adjusts to your hair thickness and length!
Supplied with a Gilette Fusion 5 ProGlide precision razor, it will also allow you to work with precision for finishing touches. With its quality and numerous accessories, the MGK7220 is one of the best facial trimmers.

Benefits
Automatically adjustable motor
Gilette ProGlide shaver included for precision
Can be used underwater (waterproof)
8 accessories for trimming body hair
Good autonomy and fast recharge

Disadvantages
May be less effective on long and/or thick hair
The trimmer may lack precision but the razor makes up for it
Hatteker - Multifunctional mower with excellent price-performance ratio!
Hatteker - Beard, Hair, Body, Nose and Ear Trimmer (The Total Package!)
Although the Hatteker brand is not yet very popular in the European hairdressing market, it is a real hit on the web. Their electric clippers are affordable, high quality and above all very versatile. With just one model, you can shave your hair, trim your beard, and even remove hair from your nose, ears and even your private parts.
Benefits
Very versatile
Waterproof
A large number of accessories (12 in total)
Adjustable shoe
Rather light
Disadvantages
Many accessories = less easy to store
The finish may look a little "cheap".
Not designed for precision
Braun 5 MGK5280: The All-In-One at an affordable price!
Braun 5 MGK5280 All-in-One Electric Trimmer (Hair, Beard & Body)
Brun's Series 5000 continues to amaze us with the MGK5280, a true benchmark in the world of bearded shaving. Supplied with 7 accessories, an adaptive motor and an electric shaver, it is the perfect pack for shaving the body, hair and of course the beard.
The Wet & Dry technology is appreciable and the clipper allows for precision clipping as well as heavy duty work. It can even be used for ear and nose hair.

Benefits
Electric shaver included for a closer shave
Waterproof
Kit of 7 accessories
Cordless (battery operated) + Quick charge
Disadvantages
Not usable when charging
Do not shave blank (0 mm)
Tends to discharge when not in use
Wahl Corded Beard Trimmer #9918-6171: a great professional trimmer!
Promotion
Wahl Wired Beard #9918-6171
If you don't know the brand yet, Wahl manufactures clippers dedicated to hairdressing professionals. The Model 9918-6171 is an excellent clipper for its beard and hair trimming capabilities, its price and the accessories included in the kit! As far as quality is concerned, you clearly have nothing to worry about as this is equipment designed for the long term (barbershops, hairdressers...).
Affordable, it is perfect for trimming beards and hair. I especially recommend it if you are looking for a high quality model at a reasonable price!
Benefits
Excellent value for money
Hair + Beard
Powerful and durable engine
Accessories + mower maintenance kit
Small comb included in the box
Disadvantages
The blade can be small depending on the volume to be mowed
Plastic" finish
Philips BT5515/15: the 5 Series enters the top of the clippers!
Promotion
Philips BT5515/15 Waterproof Electric Beard Trimmer with Dynamic Pro Cutting Guide
Another Philips trimmer in this comparison of waterproof trimmers for your beard hair. The 5000 Series, more affordable than the 7000, offers excellent models. 100% Waterproof, the BT5515/15 is water washable, perfect for a thorough cleaning. It has a good autonomy and offers 40 cutting heights. For the price, it is one of the best models available on the market.
Benefits
Good value for money
Wahl finishing/precision shaver included
Dynamic cutting guide + 40 cutting heights (from 0.4 mm to 20 mm)
Good autonomy
Cleanable under water
Disadvantages
No battery level display
Can be temperamental depending on hair type
Moser 1400: German Qualitat precision mower!
Promotion
Moser 1400 Corded Precision Mower
Moser is another brand that is very well known for their hair and beard trimmers. The Moser 1400 is multi-functional, which means it will trim your beard and hair. It has a trendy finish, a durable motor, a comfortable and fast clipping and a very competitive price.
I recommend it to small budgets who want one of the best quality/price ratios on the market.
Benefits
Cheap, excellent value for money
Lubrication and cleaning kit included
Solid materials and no "plastic" finish
Disadvantages
Not designed for precision
A bit noisy
Heats up quickly
Wahl Clip Magic - The classic barbershop trimmer!
Promotion
Wahl - Red and Silver Cordless Magic Clip Trimmer
Wahl is extremely well known for its high-end hair and beard trimmers. The Cordless Magic Clip is a true classic among the best cordless clippers on the market. Used by professionals, it is of above average quality (and price).
Supplied with 8 shoes (from 1.5mm to 25mm)The Cordless from Wahl allows you to trim both short beards and longer hair. The only thing this model lacks is the 0 mm shear, which allows for a clean shave.
You will be able to recharge quickly from the mains and even use it at the same timewhich makes a real difference from many other models.
Benefits
Professional quality
8 shoes : 1,5mm to 25mm
Beautiful design
Disadvantages
High price (professional product)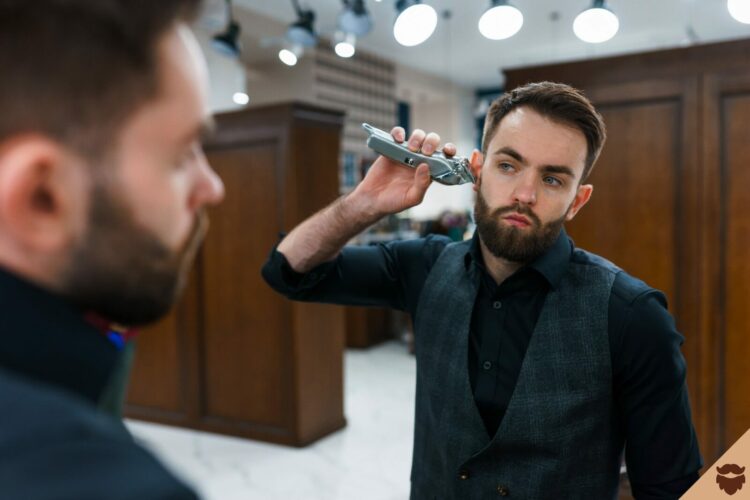 What is a beard trimmer?
Electric clippers are used to trim your beard (or hair) with a motor and blades. The mechanism comes to "slice" your hairs at a certain height which is defined by the shoe used. The shoe is used to adjust the length of the cut.
How to choose a beard trimmer?
For make the best choice of beard trimmerIt is important to pay attention to some criteria that will define the quality of the model. Choosing your lawnmower is a well thought out purchase that will not disappoint you!

So when you are about to before you buy a new lawnmower, I recommend that you check the following points :
Motor power (adjustable as an option)
Precision, speed and cutting height
Quality materials and blades, durable and easily purchased
Wired (on power supply) or wireless (on battery)
Electric or manual?
Comfort and ergonomics of use
Easy to maintain and clean
Size and weight of the mower
Additional features (LED display, waterproof, vacuum system, "mini" design, etc.)
Accessories included: shoes, combs, maintenance and cleaning kit, lubricating oils...
Of course you can! While it may take longer to trim your hair with a beard attachment, it's definitely possible. Indeed, the reduced size of the blades slows down the cutting time.
The best is to opt for a multifunctional trimmer (beard and hair) or to use a trimmer that offers various accessories for all sizes of cuts.
More info :

Indeed, it is possible to trim your beard with a hair clipper! It should be noted that the blades of hair clippers are larger and therefore less precise. In addition, they can cause irritation to the skin because beard blades are softer and more pleasant to shave.

More info : Can I use a hair clipper to trim my beard?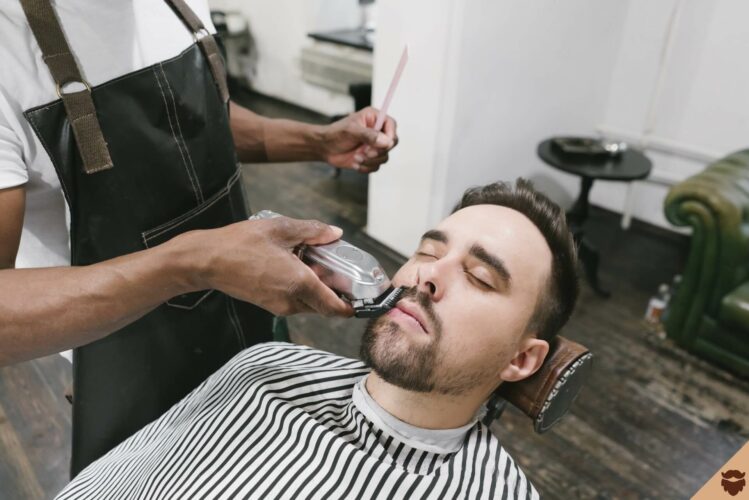 Maintenance of the beard trimmer
Maintaining your lawnmoweris to take care of it frequently. You can easily take care of your equipment in two steps:
Cleaning the mower, blades and body
Lubrication of the blades with oils or other products
Clean and wash
It is important to clean your clippers so that they are not clogged with your invading hair. This blocks the cutting body and the clipper does not do its job as it should.
Thus, clean your mower once every 1.5 to 2 months if you use it once or twice a week. Otherwise, wash it more frequently: about once a month.
Here are the steps to follow to clean your lawnmower:
Remove the cutting head and brush with a small brush to remove hair and particles, then blow out with a hair dryer.
Use a cleaner to finalize the deep cleaning of the blades
Get a damp cloth and wash the body of the mower (where you catch it)
This is the complete tutorial for cleaning your lawnmower !
Original Syprin : Hair and Beard Trimmer Cleaner
The Original Syprin is simply the fastest and easiest way to clean your hair and beard clippers.

This best-selling professional cleaner is used daily by thousands of salons worldwide, and can be used on all types of razors and electric clippers.

Its universal application makes it easy to use and its professional grade cleaning power ensures that your beard and hair clippers will always be clean and in perfect condition.
Lubricate with oils
Once your equipment is all clean, it's time to finalize its maintenance!
Lubricating the blades with oil will allow them to move smoothly and prevent wear. It will also keep the blades sharp and prevent rust and corrosion.
In short, only good things for your lawnmower!

Equip yourself with a lubricating oil and :
Remove the blade guard and rinse the blades with water if not already done and your mower is waterproof. Wipe the blades clean.
Put a drop of lubricant between the blades of the mower, in the center and at the ends.
Start the mower and let it run for a few seconds.
Finish applying the oil with a rag to the entire blade and wipe off the excess oil.
This is the complete tutorial to lubricate your lawnmower with oil !
Promotion
Oster: Universal lubricating oil for maximum efficiency
Looking for a reliable lubricating oil for your beard trimmer? Look no further than Oster Universal Lubricating Oil! This 118ml dropper bottle is perfect for keeping your clipper blades and bearings lubricated for maximum efficiency.
Refined white mineral oil is of the highest purity and approved as a lubricant by theUSDA (United States Department of Agriculture).
When used regularly, it will maintain a light film of oil between the upper and lower parts of the blades, keeping your mower running like new.
How do I trim my beard with an electric trimmer?
A few tips before you start trimming your beard :
Shave against the direction of the hair (generally upwards, except for the if your hair grows horizontally,
Don't cut too short from the start and use your mower shoes for safety,
Start with the bulk of the work and finish with the contours and finishes
Place the flat part of the trimmer on your face and "slide" it
Remember to brush your hair between each step to see the result.
3 simple steps to trim your beard:
Start by shortening and de-thickening with a long hoof
Trim the outside: define the shape of your beard
Trim the inside: define and outline the contours for a perfect finish
Read our complete tutorial for trimming your beardor watch this video
The best brands of beard trimmers for men
There are many brands on the market for men's clippers. Between the various brands, models and ranges, it is sometimes complicated to know where to buy your future shaving accessory.
Here are the best brands, or at least the most famous ones:
Going further: Find the best brands of electric lawnmowers here !
Here are some of the hottest brands on the market: Philips, Braun, Wahl, Panasonic, Babyliss, Moser, Remington, Hatteker...

What's important to understand is that there is no "best brand" when it comes to beard accessories. It all depends on your shaving needs, hair type and accessories.

For example, some clippers are designed for professionals (barbers, hairdressers ...) while others are for the general public. Thus, the most important thing is to choose a model adapted to you.
Alternatives for shaving and trimming your beard
As you can imagine, bearded men haven't always had electric clippers. While it's very handy, you can trim, shave and style your beard with other tools.

In reality, each tool has a distinct functionality and has its own advantages and disadvantages.
Your choice will depend on your needs, your beard type, the sensitivity of your skin and your budget.
Here are some alternatives and accessories to use in addition to the mower:
Razors
Manual mowers
Cabbage cutter
Shavette
Here are the differences between clippers, razors, shavers and hair clippers to learn more!
Electric, straight, safety razors...
The razor is the perfect accessory to combine with a trimmer. When the trimmer is not precise enough, or does not shave clean, it will trim your hair very closely.
Their sharp blades excel in cutting your most stubborn hairs. Hard, thick, fine or even those who push in the wrong direction No more worries with a razor!

You will find this accessory in different forms:
Electric,
Manual,
Safety,
Right...
Although it depends primarily on the size of cut desired, it is worth noting that these two shaving tools can be used together:
To trim your beard, you will use the clippers which allow you to quickly achieve a satisfactory result,
To shave it and work on your finishing touches, you'll use a razor that offers a clean shave.
These are two very different accessories that serve to trim your beard in their own way:
The clippers are used to "trim" the hair to style a beard
The electric shaver "shaves" your hair to leave no hair and have a very smooth skin.
If you like to take care of your beard and maintain it, I recommend investing in both accessories so you have the right tools to trim it!



The beard trimmer will mainly be used to work on the "bulk" of your hair and will be more suitable when there is material to cut.
The One Blade is designed to trim short beards with precision and ease. It will be preferable to trim your 3-day beard for example or to make your contours.
Manual beard trimmers, old fashioned
Manual (or hand) clippers for your beard are part of the "vintage" accessories of the bearded man. Used by men at the time, it has remained fashionable for some barbershops that offer an "old-fashioned" shave.
The more precise you are, the better your hair will be cut! But beware: if used improperly, it can be a disaster for your beloved hairs.
To read: Manual vs. electric beard trimmer
Cabbage cutter for a (very) close shave!
The cabbage cutter (or straight razor) is the ultimate shaving accessory to get a very close shave. Although its use requires a little learning (to avoid skinning yourself), it is very useful to shave and leave no visible hair (or almost)!

It is a very good accessory that you will surely need in addition to the clippers to work all your contours (cheeks, neck, nape...) with unmatched precision.
Shavette for a barber-style shave
The shavette is a type of razor often used by barbers. Composed of a replaceable blade and a handle, it is simpler to use than a shaver.
The blade being removable, it is possible to use it for shaving but also for cutting. Indeed, the blade can be adjusted either perpendicular to the handle or parallel.
I highly recommend it to shaving enthusiasts to fine-tune your contours and work on areas such as the mustache, cheeks and neck line.
To trim your hair without using a clipper, you can use :
A razor (straight, safety, manual...)
A cabbage cutter
A shavette
From scissorsbut it may take a while!
Whichever alternative you use to trim your beard without a trimmer, it will take longer, although the result is usually more precise.
It's best to have both accessories to wear as they each have their own benefits for caring for your hair.

Indeed, the beard scissors and the mower are two very different accessories:
The scissors will allow you to cut and trim small hairs with precision.
The mower will be useful for the overall mowing and the clean and precise finishing of the contours.
My beard trimmer doesn't work anymore: what can I do?
A lawnmower that breaks down is a real concern! Torn hair, blades that turn in a vacuum, battery that no longer charges or motor that heats up...
Your lawnmower may stop working overnight or have minor technical problems.

Fortunately, it is not good to throw away! Not right away, at least.
Indeed, before you get rid of it and have to buy a new one, try these little tips:
Check Google to see if other users have had this type of problem
Check the user manual to see if the problem is listed there
Watch videos on Youtube or other video platform to disassemble it and then clean it thoroughly for example.
This is our complete guide to repairing lawnmower problems and breakdowns !
Buy a beard trimmer: the perfect choice for men!
Nowadays, you will rarely find a bearded man who does not use an electronic trimmer to trim his beard. Became a classic of the modern man's grooming equipmentThe beard trimmer is present in many bathrooms.
Versatile, powerful and above all very efficientit allows to mowing, shaving and styling your facial hair. Once you've tried it, you can't do without it, unless you've had a (very) bad experience.
There are many models and it can be easy to get lost in the many features offered. For you, I have scoured the net in search of best beard trimmers for men and you will tell me about it!
Frequently asked questions
Bring your lawnmower on the plane during your trip is allowed under certain conditions:
In the hold, the battery must be removed to avoid the risk of ignition
In the cabin, you can take it with you without worries!
Simply because it is extremely useful and very versatile! With this type of shaving accessory, you will be able to trim all the hairs on your face, from the beard to the nose, passing by the ears, the eyebrows or the forehead.

This is an opportunity to buy a quality product that will serve you in many situations and that (in general) is easy to carry!