Known for its scent and relaxing properties, lavender oil is equally useful for beard care. This essential oil is unique in its kind thanks to its soothing and repairing properties.
It goes well with many oils and other cosmetics for beard care such as creams, balms and shampoos.
In short, it's great and you'll find out how to use it on your beloved hair!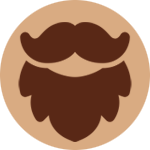 My opinion on lavender for beard
If you suffer from skin that is often irritated, attacked by redness or scars... Take the plunge and try lavender oil! Its antiseptic and healing properties will get rid of skin affections in the blink of an eye.
It will make an excellent after-shave (like these oils) because it is also anti-inflammatory and soothing for the skin and the hair. I recommend it to sensitive and damaged skin.
What is lavender oil?
Lavender oil (Officinal or True Lavender) is a essential oil enormously used because its benefits are very numerous. For a long time, it has been known for its repairing and soothing properties and is perfectly suited to sensitive skin and beards.
Moreover, it brings relaxation and calm while providing a feeling of serenity and well-being. It is a rather particular oil, like most essential oils. Of course, we will also like it for its sweet smell which makes think of the South and its lavender fields...
It is usually transparent to purple through yellow-green.
Shall we move on to the benefits it can bring to your favorite body hair? Yes, I'm talking about your goatee.
What are its benefits for facial hairs ?
The primary use of lavender oil on the beard comes from the following properties:
Soothing : it will soften the skin
Anti-inflammatory : to soothe irritation and redness
Healing and regenerating : if your skin is damaged, it will come to comfort it
Antiseptic and antibacterial : fights infections and skin diseases (for example after shaving)
In short, it is a real elixir to help damaged skin, which has difficulty healing or which is even painful due to irritation. It will regenerate, purify and repair your skin which is the base of your beard. Your hair follicles will never have been so well taken care of.
It would even soothe the nerves and cause a feeling of well-being ... So be zen with lavender essential oil 😉
Other oils that take care of your beard: Wheat germ, Argan, Ant or the Chébé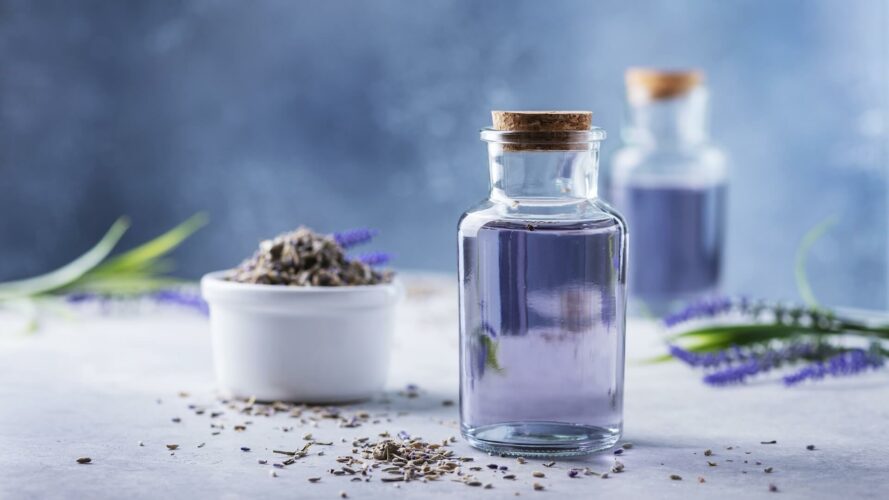 Does lavender oil make my beard grow?
No, lavender oil does not make your beard grow. Instead, it will protect, revitalize and regenerate your skin and hair. This clearly promotes healthy, long-lasting beard growth that won't have to fight skin infections or dryness.
These are important factors because an unhealthy skin will inevitably cause an unreliable beard, which will have various problems such as soft, lacking vitality or brittle and fragile hairs.
How to apply it on your beard and skin?
As it is an essential oil, its application is a little particular. Contrary to the vegetable oils that we apply pure for the most part, it must be diluted.
Thus, for the use of lavender oil on the beard:
Take your cosmetic preparation (mixture of vegetable oils, cream, shampoo, balm ...) and mix up to 2% of lavender oil in. Yes, it's very little, but it's enough. Don't overuse it: essential oils can have tough side effects.
Take a few drops of your mixture in your hand, warm the oil by rubbing your hands together
Apply directly to beard (and surrounding skin), massaging evenly so that the oil is from the roots to the tips
Here are some mixing ideas with lavender oil :
Just do your own tests, but if it is dosed correctly in your care, it will be beneficial in all cases.
Note: Do not put more than 2% of lavender oil in your composition.
Excellent for the beard but also for the skin, hair and general well-being
Essential oils, like vegetable oils, are indispensable for health care. They have various properties, all more useful and diversified, which when used properly are a considerable asset.
It is good to note that the sweet and suave smell that lavender oil offers is very pleasant.
For example, true lavender oil brings: a relaxing, calming and balancing effect and a purification with its antiseptic properties.
It will therefore be used for :
Skin conditions such as eczema and psoriasis or scars and stretch marks
Digestive spasms, nausea, migraines...
Cramps and muscle contractions
High blood pressure and rheumatism or chronic pain
To help inspire through the harmony it creates
Facilitate the process of falling asleep faster
On the hair, it will bring similar benefits as for the beard hair:
It soothes
It fights irritation and redness
Heals and regenerates wounds, infections...
Fight against psoriasis and eczema of the skull
Antiseptic and antibacterial
You got it: it makes an essential care for your beard but also for your health in general. Try it and you'll love it!

Lavender oil: soothing, regenerating and healing, it has it all
As you have seen throughout this article, lavender extracted in the form of oil offers a thousand benefits for the human body. Whether it is directly on health, hair or beard, it brings amazing properties, quite unique in their kind.
If you have never tried it before, I clearly recommend it. Don't forget to mix it with other vegetable oils or to combine it with your usual care products (balms, shampoos, creams...).
You now know what lavender oil is, what its uses are for the beard and how to apply it to your hair.
And you, do you use lavender oil?