If you have not yet trimmed your beard and mustache hair with a suitable scissor, you have missed something ! Easy to use, comfortable, sharp and versatile, beard scissors are perfect for maintaining your hair.
You'll never hear again about hair sticking out or growing out of place: it's gone! Poof, your hair is sliced off with a touch of your fingers.
All the scissors presented in this buying guide are of professional quality and are even used at the Barbershops.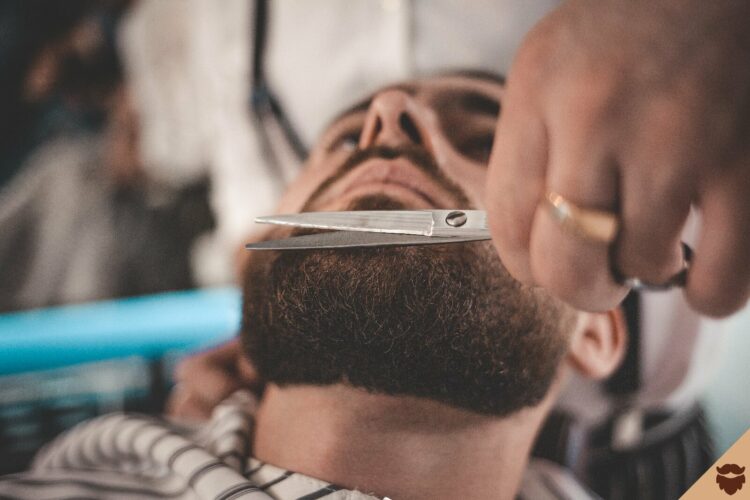 Shears designed to trim beards and mustaches
Sharp, comfortable and of excellent quality, beard and moustache scissors are a must-have for a neat cut. Say goodbye to those stray hairs that don't want to settle down, that give your goatee that "unkempt" look.
Generally smaller than hairdressing scissors, they offer improved ease of cutting thanks to their versatility and different blades and tips.
Types of scissors for beard and mustache
As for many accessories, you will find different ones on the market:
Pointed scissors: to trim stubborn hairs with precision
Round-tipped scissors: useful for cutting close to the skin without hurting yourself
Tapering scissors : useful for thinning your hair and aerating your beard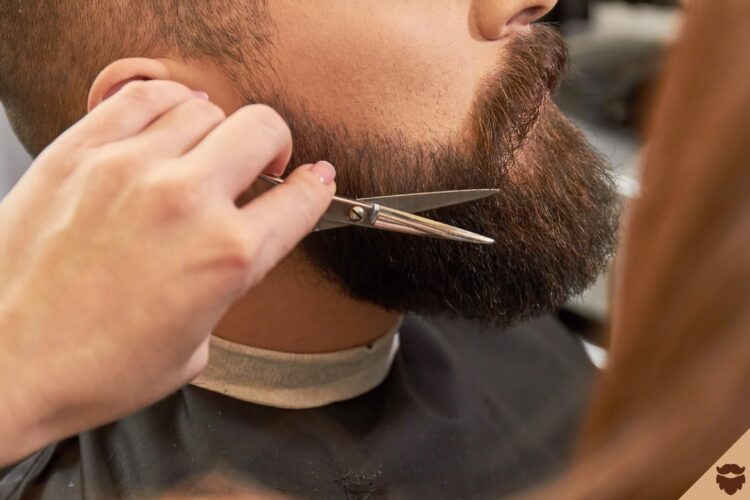 The best scissors for your beard and mustache
It's time to buy your next pair of scissors! But be careful: it's not just any scissors... These scissors I found are from professional quality and are even used by the barbers themselves.

Here are the best scissors selected by me :
Purple Dragon comb and scissors kit with razor, storage bag
Purple Dragon offers us a very complete beard trimming set. Armed with your two scissors (one for trimming, the other for thinning), your combs and your razor, you will take care of your hair you have never done before!

Made of Japanese 440C stainless steel, the blades are ultra-resistant, sharp and powerful. Perfect for a clean cut, which will not damage your beloved hairs by pulling them. You can adjust the tension thanks to a screw and the end of the blades is rounded, so you won't get hurt.

The storage kit is a huge plus, so you don't have all your gear lying around and you can take it with you when you travel.
Sanguine - Professional mustache and beard scissors
Sanguine has a solid reputation in the field of hair care accessories!
Excellent quality, recognized worldwide for their durability, these ultralight scissors are handy, very small (11.5cm) and handmade. The Japanese steel used in their manufacture makes them strong and durable over time.

I especially recommend them if you are looking for quality and especially for scissors that you can keep for a long time!
Ontaki - Professional Japanese beard and mustache scissors
Ontaki, a Japanese brand par excellence, has designed some excellent beard scissors. Really classy in the silver finish with some golden parts, they are among my favorites without any doubt. The Japanese steel is obviously of high quality, hand forged and sharpened, as for the swords.
Versatile, sharp and precise, all the Japanese art and craftsmanship can be found in these ergonomic and very efficient scissors. Be careful not to hurt yourself by pricking or cutting yourself!

The pack contains a storage case and a comb suitable for cutting your beloved fleece. An opportunity not to be missed!
Candure - Scissors for beard, mustache, nose, ears...
A true flagship in the concept of small scissors to trim your mustache and nose hair, Candure offers us stainless steel scissors, with an easy and ergonomic grip.

With these, you can shape your mustache style, finish your beard and trim those pesky hairs that stick out of your nostrils.
Pafason - Kit of 3 mustache, beard and facial hair scissors + safety cover and leather pouch
If you're looking for the ultimate pack for trimming your mustache and cutting facial hair, you've found it! Pafason has made a pack of 3 scissors, with different shaped tips. This allows you to multiply the uses, to go from the ultra-precise to the safety scissors to avoid injury.

The blades are sharp and have unparalleled precision. The ergonomic design of these scissors makes them comfortable to use.
The pack comes with a storage case as well as a small plastic safety tip to avoid getting pricked.
Olivia Garden - Left handed hairdressing scissors in Japanese steel
Olivia Garden's SilkCut left-handed scissors are of superior quality.
With its convex and very sharp Japanese steel blades, this scissor will get rid of your stubborn hair in no time! If the size seems too big, don't hesitate to get the smaller 5 inch version.

These scissors are my first choice for trimming your little hairs and whiskers with peace of mind.
Sanguine - Left handed beard scissors (14cm)
Sanguine, very well known for their professional beard tools have designed beautiful left-handed black scissors made of Japanese J2 steel.
The extremely sharp blades are perfect for getting a precise cut that won't damage your beloved hair.
If you want more or less tension in your scissors, a screw is present to make a more advanced adjustment.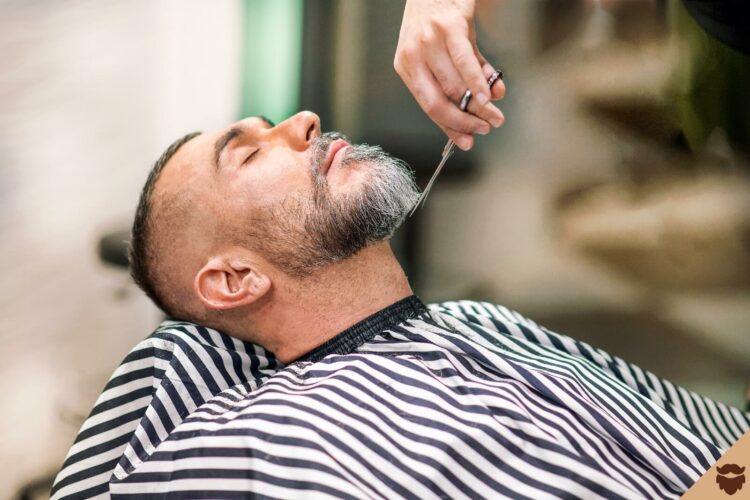 How do I trim my beard and mustache hair with scissors?
Here is a video to learn how to trim your beard with scissors :
What are beard and mustache scissors used for?
Thinning the beard: your beard is thick and you want to thin it out? Then use thinning scissors, which reduce the density of your hair. This will allow you to comb it more easily and to prevent it from getting any closer to.
Trim the finishes: if you want to have a beautiful beard and a perfectly trimmed mustache, beard scissors are the perfect accessory! No more hair growing out of place and giving your style a "sloppy" look.
Working the contours: The contours of your beard say a lot about the maintenance of your beard. It is therefore essential to take good care of it so that your cut is perfect.
Tip: Once your hair is trimmed, protect it with the beard durag !
Everything you need to know about beard and moustache scissors
To trim a moustache, I recommend precision mini scissors like the
Sanguine - Professional mustache and beard scissors
that are designed to come in and cut your hair with precision. Comfortable and versatile, moustache scissors are a real asset for your hair care.
Trim your beard with scissors or with the electric mower are two very different things. The mower will excel at doing the "heavy lifting" while the shears will be useful for finishing and contouring. It's kind of like comparing a hedge trimmer and a shears when it comes to trimming plants.