Are you starting to have a long beard that requires some maintenance or do you just not like the shape of your beard? Get a hair dryer and your worries will disappear: a dry beard in a few minutes, styled and maintained thanks to the hot-cold action.
In this beard hair dryer buying guide, I'm going to introduce you to what you can expect from a hair dryer, which one to buy for your beard and also how to use it to blow dry or dry your hair.

For my part, my favorite is the Remington Mini Folding Hairdryer for Travel - 1400W which stands out for its compact design and ease of use.
Let's go!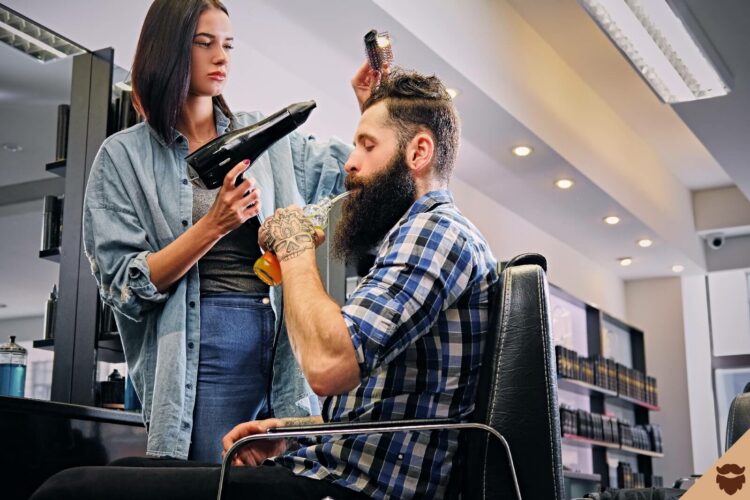 What you need to know before choosing a hair dryer
The hair dryer is an accessory that has a lot of features or options that are more or less useful. For example, there are some with diffusers in the form of a nozzle that allow you to target the hot air on your hair. Rather effective if you want to blow-dry your hair with a brush for example.

It is good to know that all hair dryers have a heat setting and come in different sizes!
Hairdryers are quite versatile and adapt to all types of beard hair :
Curly, curly, straight...
Blonde, brown, redhead, white...
Short, long
Thin, thick...
If you are concerned that your thick hair will not stiffen, you can still check that the power (in watts) is sufficient.
In general, you'll notice that most are multi-functional. But this term can mean many things.

So, here are some features that may interest you:
2-in-1 beard and hair for a top efficiency!
With diffuser tip to target the heat
(Ultra-)Light and "mini the mini hairdryer can easily be carried in a hand luggage in case of travel
Muffler so as not to disturb madam or wake up the children in the morning
Waterproofto play with the elements in the shower
Ionic and/or ceramic : technologies that enhance the experience
Some brands do not hesitate to offer accessories for special use.
For example with some hair dryers, you can more easily :
Curl your hair
Smooth your beard
You will even find some especially "Viking", "Vintage" or even in gold, for the most bling-bling among you!

Technically, you can still smooth your hair with any of them and a good brush.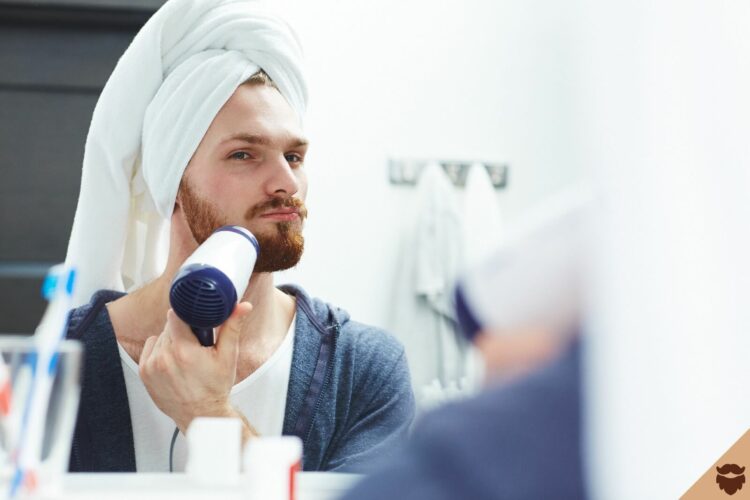 The best beard dryers
What we are most interested in are the purchase criteria:
Power: to do its job, even if it is on a Viking beard without damaging your hair
Price: cheap, even if you can find them at a higher price, it is not synonymous with superior quality
The opinions of the bearded ones and hairs that have tested it before to have a precise idea on the use
The brand professionalismdurability and quality of the materials used
As you can imagine, there are a number of hair dryers that can be used on your hair. Most of them can be used on your beard but also on your hair.
Remington Mini Folding Hairdryer for Travel - 1400W
Promotion
Remington Mini Folding Hairdryer for Travel - 1400W
You want a mini hairdryer, light and portable ? Turn to the Remington D2400 which excels in "compact" design with its foldable handle.
Equipped with its heat diffuser tip, it is powerful enough for your beard hair (1400W) and offers 2 temperature settings.

He is one of my favorites and seems to be ahead of almost all of these competitors!
Remington - powerful & light with 3 accessories - 2200W


Remington - powerful & light with 3 accessories - 2200W
Remington offers us an excellent hair dryer for a reasonable price.
Power, comfort of use, accessories, everything is there. The product promises a fast and powerful drying, armed with its ceramic ionic grid for a uniform and antistatic heat.

Its light weight and "mini" design make it a simple to use and devilishly effective accessory!
Philips BHD500 5000 Series with ThermoShield technology - 2100W
Babyliss Turbo Smooth 2200 + accessories with ionic and ceramic technology - 2200W
Promotion
Babyliss Turbo Smooth 2200 + accessories with ionic and ceramic technology - 2200W
With a power of 2200W, this hair dryer will straighten your beard in no time!
As for drying, legend has it that it will emit steam when you spray the hot air from this hair dryer.

Although its blast seems a little less powerful than advertised, it is still a good choice, really inexpensive that has its assets for tighter budgets.
Here is a video of the unboxing of the beast:
Xculpter : Smoothing and styling hair dryer with 2 brushes - 1050W
Xculpter : Smoothing and styling hair dryer with 2 brushes - 1050W
The Wild from Xcuplter is pretty versatile: it acts as a mini hairdryer, brush and comb. Yes, all in the same product and in the palm of one of your hands. Pretty awesome!

Very handy and light, it remains less powerful (1050W) than the hair dryers mentioned in this article. According to many tests on the web, it is very recommended for bearded people.
The big strength is probably its accessories and its compact size that will allow you to be beautiful anywhere there is electricity! !
Universal heat diffuser nozzle for hair dryers
If you already have your hair dryer, but are missing the famous air diffusing tips, here are two universal models that fit universally (remember to check the size and compatibility though):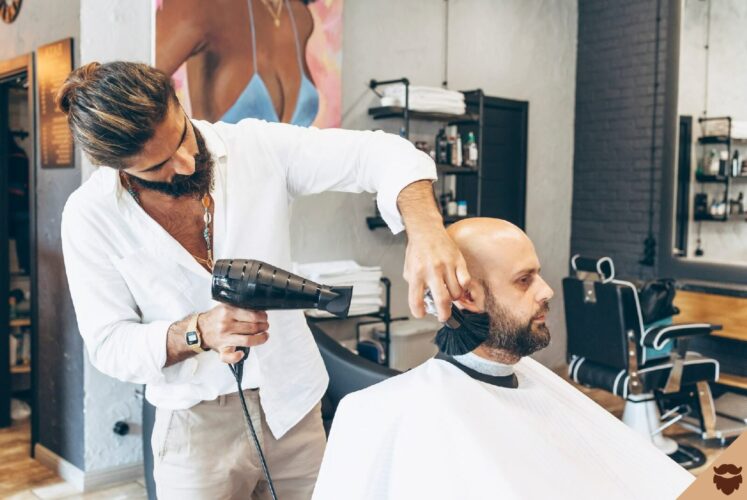 Things to know before you start using it
As you might expect, improper use of this accessory could cause damage to your beard. Burn, smell of burnt, very dry beard...
All these little worries can easily be avoided:
Don't heat the same place for too long
Set the heat low enough (but not too low)
Do not use it too close to your face
How to dry your beard with a hair dryer? Instructions on how to use it properly
Now we get to the heart of the matter!
First of all, you need a hair dryer. Doesn't that make sense? If possible, you also need an air diffuser nozzle.
It concentrates the heat from the dryer, protecting the rest of your beard from unnecessary heat exposure.
Wash, rinse and dry your beard with a towel until it is barely damp.
Optional: Apply your favorite beard oil thoroughly.
Brush your beard in the direction you want to style it. This helps to distribute the oil more evenly throughout the beard and "prep" it for styling.
Brush or comb your beard in the direction you want while using the hair dryer at 15-20cm from your beard.
Follow the brush or the comb in the beard while you spray the air, concentrating the heat only on the hairs to be styled.
Now use the "cold" setting on your hair dryer! The cold air reforms the hydrogen bonds, which allows your new cut to hold better.
Make way for care! Apply any other products you want to use, such as beard oil or a balm.
If you use products, whether you use them before or after heat is different for every person and every style.
For long and thick beards, I recommend using the styling wax *after* the application of heat for a better hold.
As usual, here are some videos that will explain how to use it:
Using a hair dryer on the beard
Note: You can see that this man is using his hands to shape his beard. Even if the technique is a little different, it's just another way of doing it that is just as effective!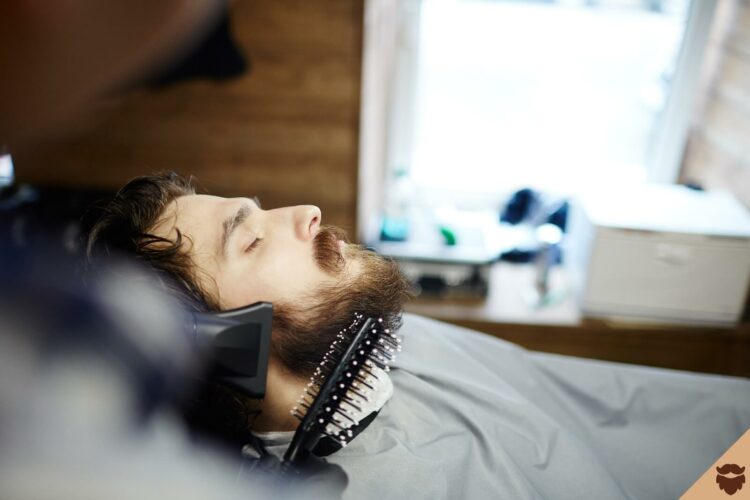 How to blow-dry your beard with a hair dryer?
To straighten your beard with a hair dryer, you'll need a brush and your hair dryer! So far, nothing too complicated...
Wash your beard with a suitable shampoo
Dry it and start shaping your beard with your hands to the desired shape
Moisturize with a beard oil and detangle your beard carefully (optional)
Take the hair dryer and a boar bristle brush to "roll" your beard down.
Use broad strokes from the roots to the ends. The hair dryer follows the movements of the brush and vice versa.
Gently brush your beard with your boar bristle brush or a comb
Use your favorite care (oil, balm...) to bring a finish!
This will stiffen and straighten the hairs in your beard that don't want to go anywhere... If not, the best is to get a beard straightener, it's faster and more efficient!
Small video tutorial:
To remember to handle the hair dryer like a professional
Anyway, here's a little list of things to remember when you go to use your hair dryer:
Use a diffuser tip to concentrate the sprayed heat
Test different techniques and take the one that suits you
Apply beard oil before and/or after blow-drying to make sure that the hair is take care of your hair
Keep it at a minimum distance of 15cm from your beard
Don't leave it still: keep it moving to avoid burns and do not damage your hair!
A cheap and very useful accessory for the beard? I ask for the hair dryer!
Choosing a good beard dryer is not that easy ! But as you have seen through this article, despite the different options and features of the models offered on the market, your choice is quickly reduced. Indeed, we choose the products presented thanks to quality criteria such as material design, power and user reviews.
And you, do you use this accessory to dry or smooth your beard? Which one do you have?
Frequently asked questions