In France, 92% of men aged 25 to 34 have a beard. To take care of all this hair, you need to use good products.
Is your beard not growing well? You wonder how to make it more beautiful and silky?
In this article, we are going to talk about castor oil for beards. Is it a myth or reality? You will learn how to choose the right one and which one to buy.
Get ready to learn more about the best oils to buy.
Castor oil: what is it?
Castor oil (Ricinus Communis Seed Oil) is a non-edible vegetable oil native to tropical Africa.
It comes in a translucent, yellowish liquid with a very oily and viscous texture and has a smell that I would describe as "present".
It has many virtues and benefits for the whole body.
Composed of many acids (palmitic, stearic, oleic, ricinoleic) and vitamins A and vitamin EIt will act as an excellent care for your beard and mustache.
In addition, it is rich in omega-6 and omega-9 fatty acids which are useful for repair damaged skin, hair, nails and hairwhile ricinoleic acid has the potential to promote beard growth. It will make the happiness of the bearded and moustached!
Good to know: In the ayurvedic medicineCastor oil is considered the ultimate medicinal plant.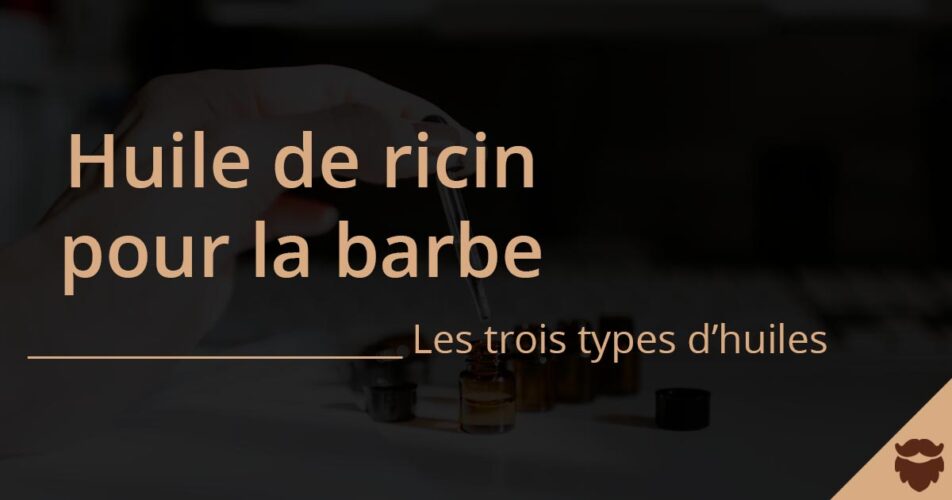 Three types of castor beard oil
Castor oil: the seeds are cold pressed, and the oil is extracted under extreme pressure (as for juice)
Black castor oil (or carapate oil): the seeds are roasted and then heated before extracting the oil
Jamaican castor oil: the seeds are roasted, crushed, heated in water until boiling and then pressed
Jamaican castor oil would be the most beneficial of the three, as it is usually unprocessed and its dark color, which results from the roasting process, can also make your beard darker.
Related: Discover castor oils by Man's Beard.
Note We often call it "beaver oil" because of the English faux-ami "castor oil".
Let's move on to the effects of the so-called "magic oil" on your precious beard.
Let's move on to the effects of the so-called "magic oil" on your precious beard.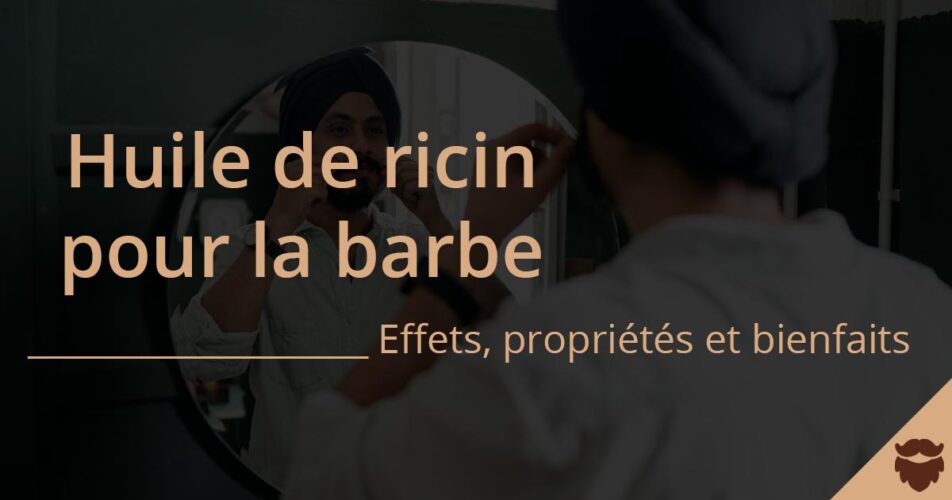 The effects of castor oil on the beard: properties and benefits
Growing a beard
One of the most talked about benefits for the beard is of course: " castor oil grows beards ".
This statement is true, but it should be taken with a grain of salt.
Indeed, if you do not have any hair yet, and therefore no bulbs, castor oil may be useless because its objective is precisely to penetrate your hair follicles (hair roots).
By nourishing and moisturizing the base of your hair, castor oil will boost growth thanks to its many properties.
Effect: promotes beard growth
Deeply moisturizes
Thanks to the fatty acids it contains, the oil will moisturize your hair, your mustache but also your skin. We often hear about the beard, but don't forget: your skin is underneath! And it is from this skin that your hairs will come out and grow.
Effect: No itching, dryness or dandruff.
A very nourishing care
Castor oil's multiple nutritive properties will nourish your beard with vitamins A and E as well as the many nutrients it contains.
Effect: A soft, dense, shiny and thick beard.
Good to know: Castor oil is known to bring benefits to the whole body: skin, face, acne, hair, eyelashes, nails...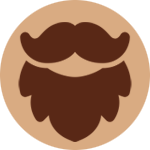 The opinion of the BarbierDuWeb
For me, castor beard oil is an essential vegetable oil for a healthy beard! Its properties make it the ideal ally to promote hair growth thanks to its nourishing action and its benefits on blood circulation.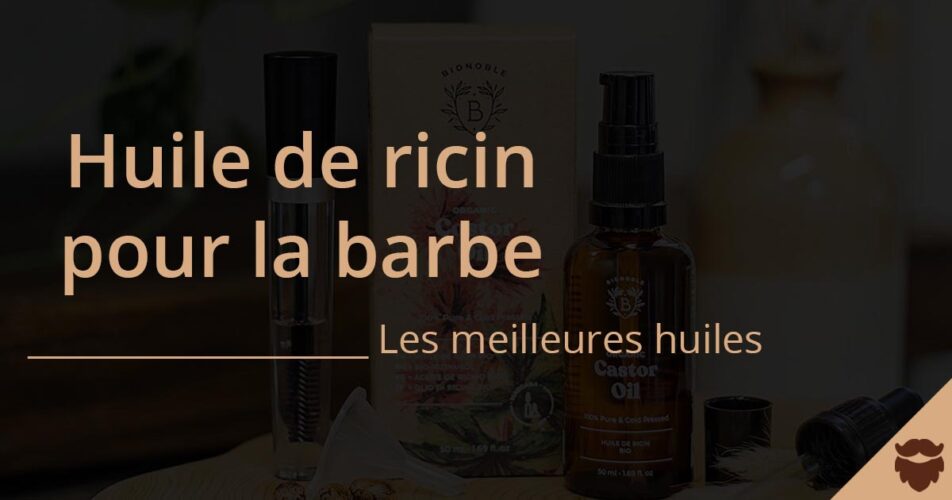 The best beard castor oils
If you are wondering where to buy and where to find castor oil, look no further! You've come to the right place.
You will find the best oils tested and approved by myself and thousands of bearded men.
To make your choice easier, we have chosen some relevant criteria:
Rating and number of reviews
Quality/price ratio
A strong point of the oil
Before you start reading about the best oils, you should know that all the oils presented here are cold-pressed and unrefined. This is a guarantee of quality and a criterion that must be (for my part) necessarily respected.
I would also inform you about their origin and composition, because it is important to know that a good oil is (very generally) mixed with other oils, essential or vegetable oils to maximize their benefits. I will therefore present "mixed" oils and pure castor oil 100%, so that you can make the best choice.
I would like to take this opportunity to introduce you to some organic and vegan castor oil (but not only), which to my taste have totally their place in this top.
100% French 🇫🇷
Complete kit: Glass Bottle + Pipette + Pump + Mascara Kit
Overall score
4.6/5 (more than 8200 reviews)
Quality/price ratio
4,5/5
Description:
Bionoble is a famous French brand in the field of organic and natural vegetable oils. The organic castor oil is an excellent quality and organic.
It will make your beard massive and dense like the beards of yesteryear
The oil is cold pressed in India and is 100% pure. You might as well say that it is a concentrate!
Ingredients:
Organic Castor Oil - 100% Pure and Cold Pressed (Ricinus Communis Seed Oil)
Highlights:
Complete Kit (Glass Bottle + Pipette + Pump + Mascara Kit)
Easy to use
Organic, Pure and Natural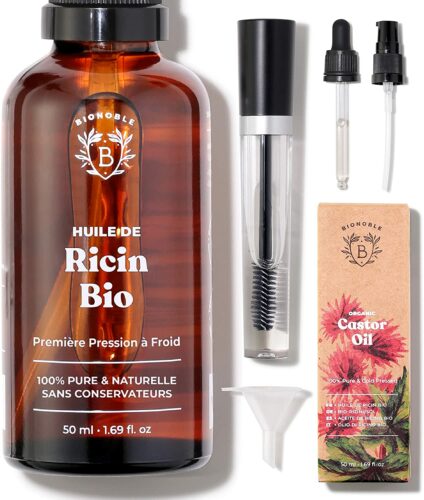 Good to know:
The French brand refunds you at 100% if you are not satisfied with the product.
Promotion:
Bionoble offers two coupon codes: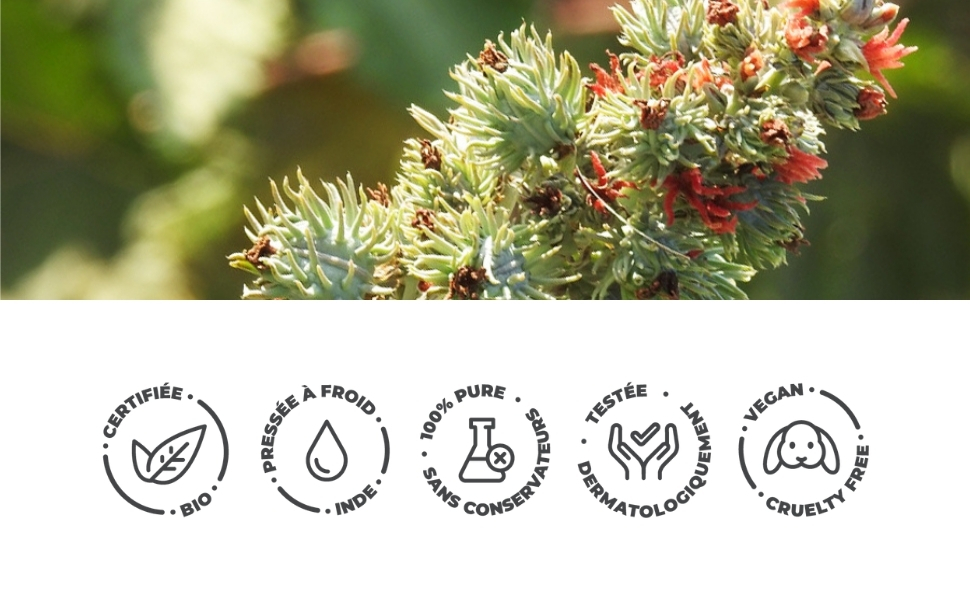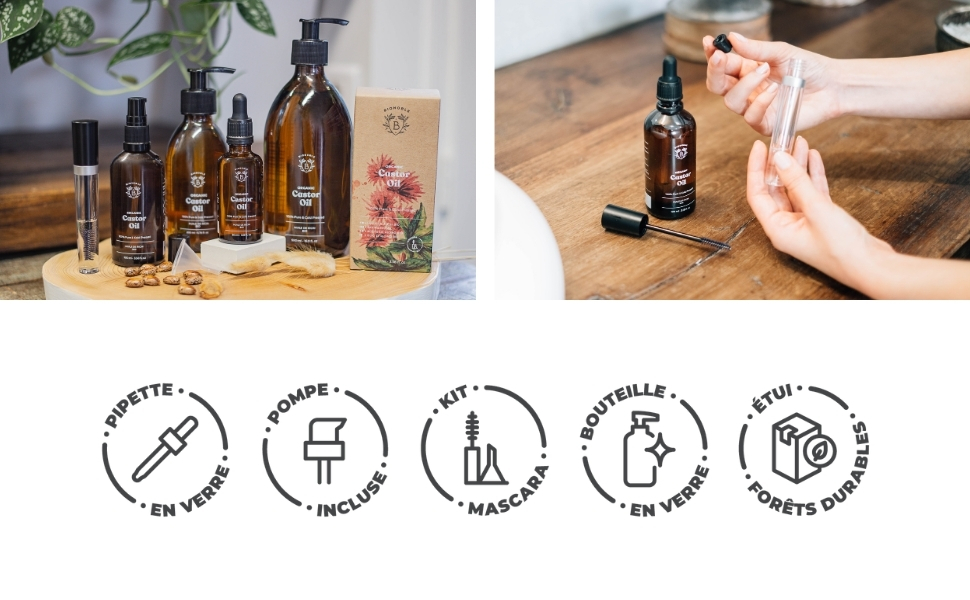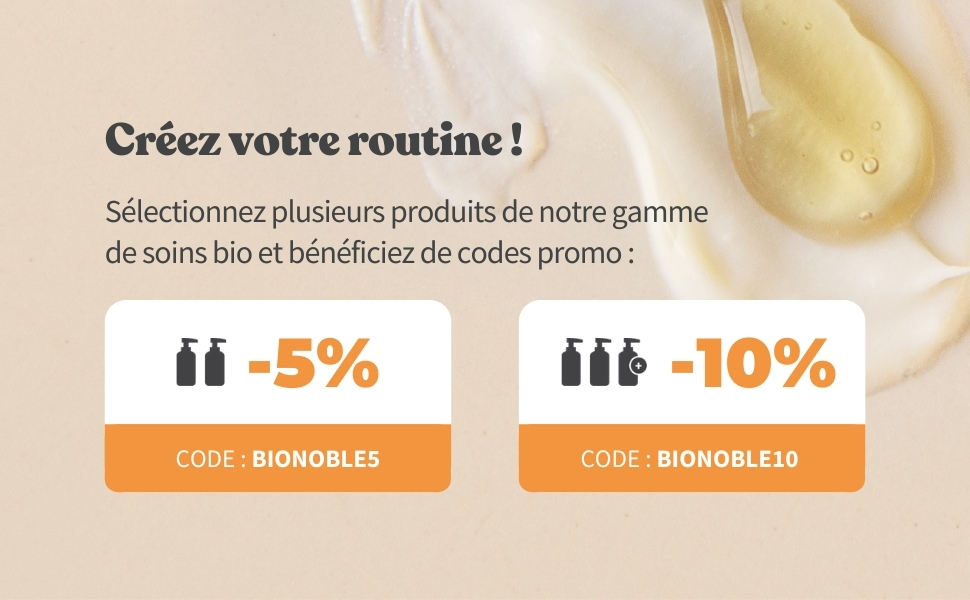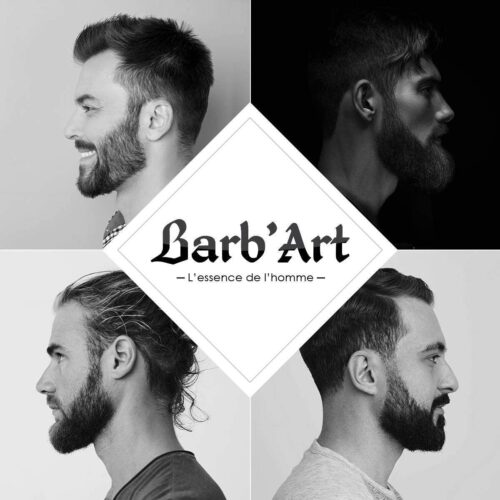 Barb'Art: French excellence for beards (organic)
Overall score
4,2/5 (more than 1350 reviews)
Description:
Originating from the South-West of France, Barb'Art is a brand that offers a range of oils specialized in the care of your goatee.
The booster serum L'Allié de Barb'Art will strengthen, repair and nourish your facial hair. Completely organic and 100% natural, its benefits are real.
Highlights:
Mixture of several organic vegetable oils for maximum benefits
Pleasant scent 
Environmentally friendly and locally manufactured
Perfume: "Woody (notes of cedar wood, lily of the valley and bergamot)
Ingredients: Organic castor oil, organic sweet almond oil, organic baobab oil, organic jojoba oil, organic sunflower oil, perfume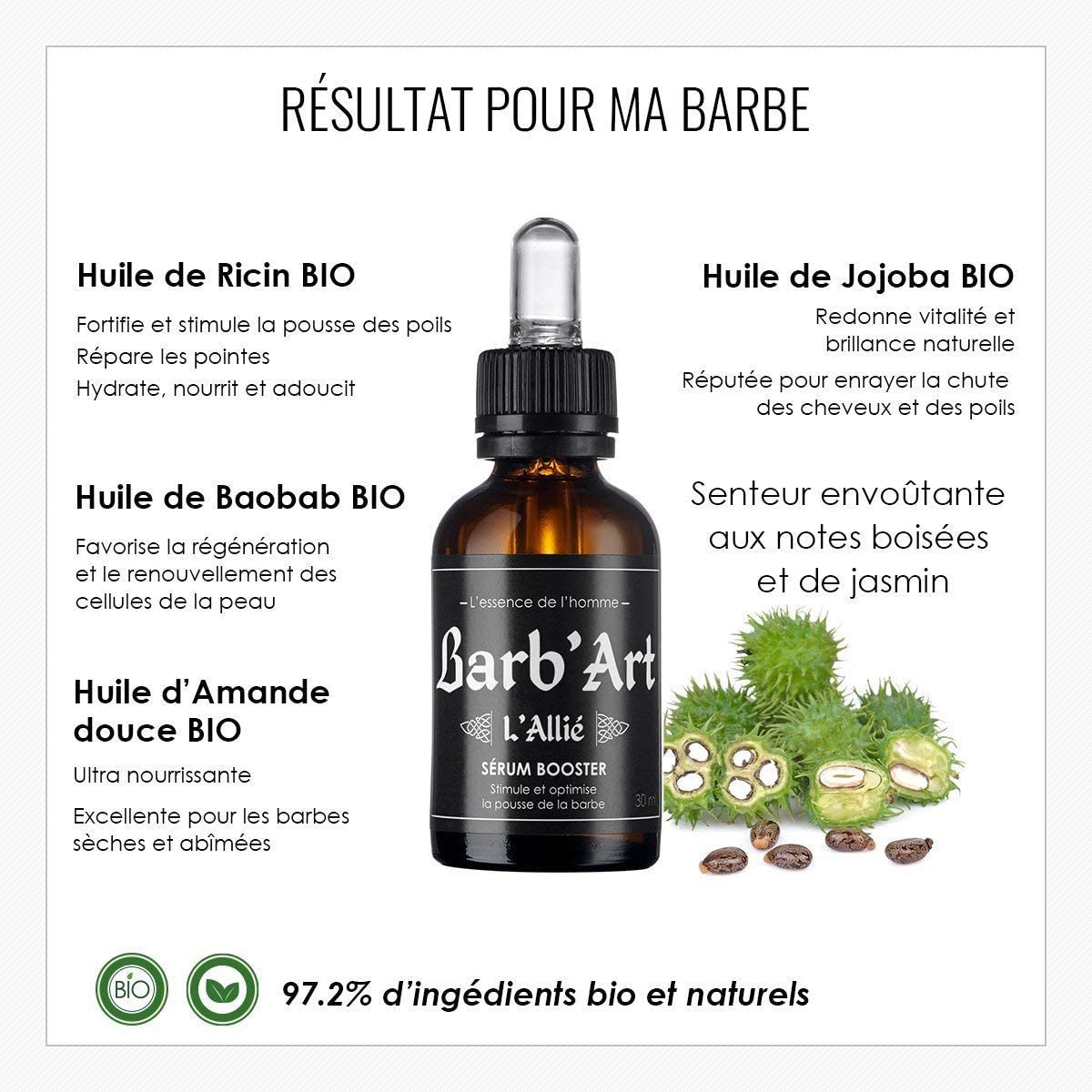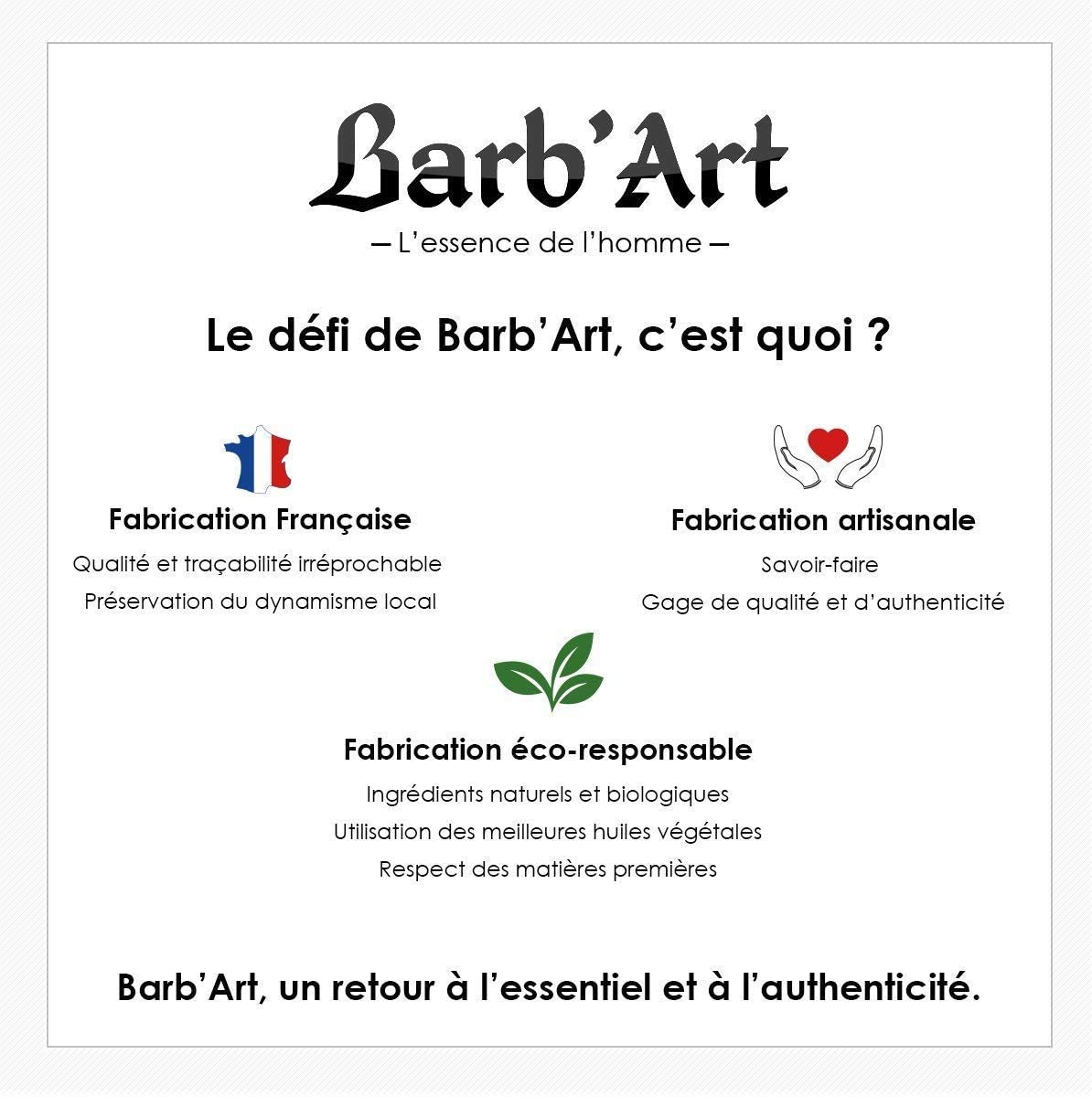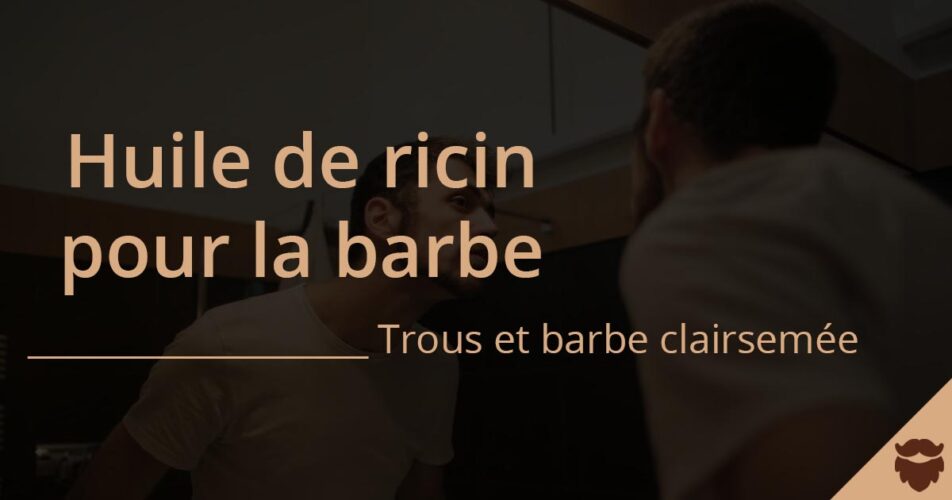 Castor oil: the miracle secret for holes in the beard?
We are here to demystify the true from the false and what you will find on the web, forums and other sites.
The oil of castor oil brings a real efficiency and really works for beard growth.
Indeed, it will be without useful for sparse beards, holes in the beard or for those who only have fuzz.
But we will also note its great effectiveness for the already provided beards, where it will bring more density, brightness and softness.
And for the beardless?
No luck for the hairless (well, those who don't have hair yet, don't blame me):
As explained at the beginning of this article, beards that have not started growing will not see magic hairs come out overnight after using castor beard oil. If you don't have a beardCastor oil will not be magic!
On the other hand, don't forget that castor oil has very good effects on the face and skin.

Learn More : Use castor oil for beard holes, fuzz and beardlessness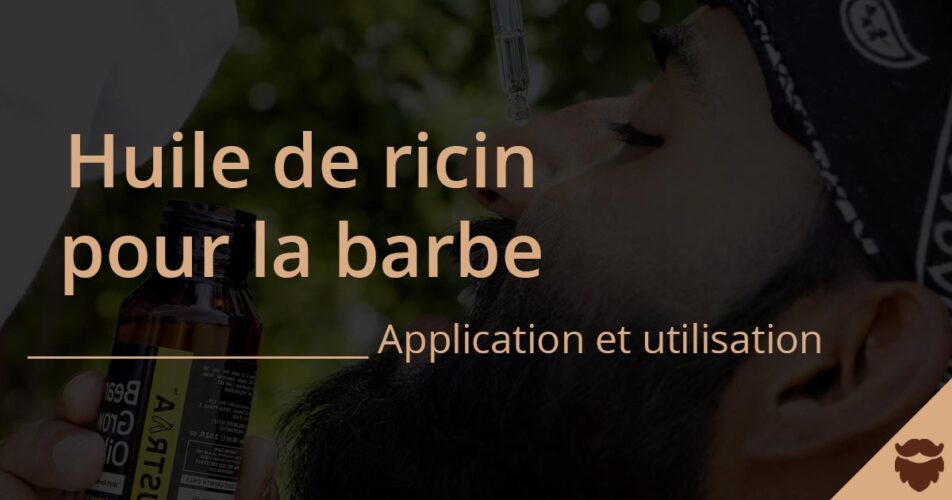 How to use and apply castor oil on your beard?
Once again, we will unravel the words of Internet users about his use and application.
When to apply castor oil (Frequency)
It is good to use it two to four times a weekpreferably morning or evening. It is possible to apply it every day if you feel that your beard is not nourished enough.
How long should I leave it on?
If the rendering is not bold, you do not have no need to rinseIf not, rinse 10 to 30 minutes later or the next morning.
How to apply it on the beard?
The application of castor oil on the beard is not so different from other vegetable oils found on the market:
Wash your beard
Use warm water and a good beard shampoo This will help the follicles (hair roots) to open up.
Dry and detangle your beard
Dry your hair with a small hair dryer for beards or a clean towel.
With the help of a beard comb or a beard brush in order to aerate it and make it more malleable.
Apply oil and massage
Put a few drops in the palm of your hand, warm it up and gently massage the oil into your beard from the roots to the tips.
Optional: Pat your beard with a dry towel to remove excess oil.
Optional: Wait 10 to 30 minutes (during the day) or the next morning and rinse your beard with clear water or shampoo.
Conservation of castor oil
Castor oil is considered a "stable oil" and is keeps for about 12 months. Don't forget to keep it away from light and to read the label on the bottle!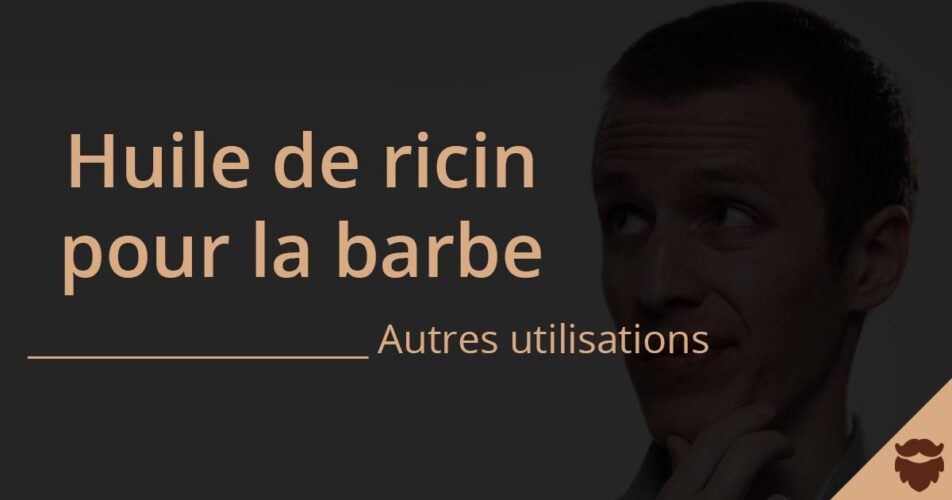 Other uses of castor oil on the body
As we explained above, castor oil has a lot of benefits and not just for the beard!
Indeed, it is also excellent for the face, the skin, the nails and all the hairs of the body like the lashes and the eyebrows.
For the face
Acne: Castor oil's antimicrobial and anti-inflammatory properties make it useful for reducing acne.
Texture: Castor oil is also rich in other fatty acids, which improves the smoothness of the skin on the face
Complexion: The fatty acids in castor oil promote the growth of healthy skin tissue, making it useful for restoring uneven skin tones.
Sensitive skin : Thanks to its low "comedogenic" score, it is unlikely to clog pores and reduce the risk of developing blackheads. the oil is unlikely to clog pores and reduce the risk of developing blackheads.
Cheap: Castor oil is relatively inexpensive.
For the skin 
Anti-inflammatory : Thanks to its anti-inflammatory properties, it is useful for treating irritated skin.
Antimicrobial It protects the skin from bacterial infections by preventing microbes from causing disease.
Moisturizer : Thanks to its triglycerides, the oil will maintain moisture in the skin, making it a useful treatment for dry skin and itchy areas.
Hydration With its humectant properties, it can draw moisture from the air into the skin to keep it hydrated.
Cleaning: The triglycerides present in castor oil are also helpful in removing dirt from the skin.
For hair (eyelashes, eyebrows, etc...)
All the benefits it brings to the beard are true for the hair of the whole body.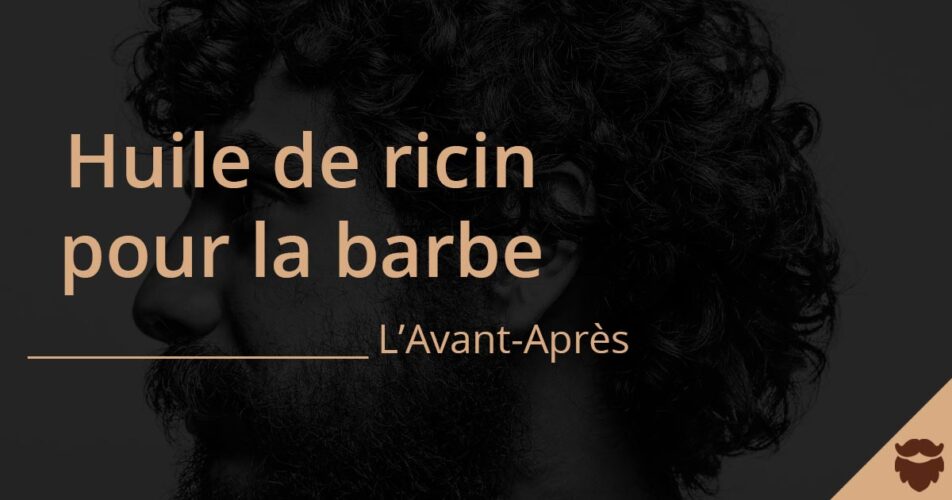 Before and after: evolution and results after using castor oil on the beard
Scouring the net for reviews "before and after"I was able to find some interesting feedback: after 3 weeks of almost daily use, castor oil is working!
The benefits can be felt, especially when mixed with argan oilwhich seems to be an excellent ally.
Castor oil alternatives and blends
Although I don't call them alternatives but rather complements to castor oil, here you will find the different oils that are also known for a healthy and powerful beard:
By combining these oils with castor oil, you will get even better results as you maximize the combinations of the various benefits.
To finish our complete guide of purchase...
Through this comprehensive article, we have answered various common and not so common questions about castor oil for the beard.
You have learned what it is, the benefits it brings to your body but also that it is really useful to promote beard growth.
By the way, did I tell you about our selection of oils to grow a beard ?
I then presented the best oils, those that in my opinion, the Barber Of The Web are of better quality and will present maximum effectiveness on your facial hair.
Finally, you learned how to use it, apply it and combine it with other vegetable and essential oils to get the maximum benefits.
Of course, I took the opportunity to give you my advice on castor oil for beards as well as the before and after and the concrete results it brings.
Still some questions about this magic beard oil?
We hear certain questions often come back to our ears like the fight between Minoxidil and castor beard oil or details about its use and purchase.
Thus, you will find some answers:
Should I use castor oil every day?
It is possible to use it every day, but its texture is rather greasy, so we recommend using it only 2 to 4 times a week.
Where to find and buy castor oil?
It is possible to find castor oil in pharmacies, parapharmacy, in shopping malls like Carrefour, Leclerc or Auchan and on the Internet.
It is easier and usually cheaper to buy it directly from Amazon for example.
This is our complete article on where to buy the best castor oil.
Which essential oils should I mix castor oil with?
The following oils are known to be beneficial for the beard and we therefore advise you to mix them with castor oil:
Tea Tree
Eucalyptus
Bay St Thomas
Black pepper
How much does castor oil cost?
Castor oil is not very expensive and is even cheap: you can find it between 5€ and 50€. according to qualities, quantities, compositions and origins.
Avoid (as in many areas) oils from China, they have a reputation for poor quality.