Si vous êtes ici, c'est que vous souhaitez savoir à quoi vous ressembleriez sans barbe, chauve ou justement avec une grosse barbe !

Thanks to the beard filters on TikTok, Instagram and Snapchat, il est devenu un jeu d'enfants de retirer sa barbe ou d'en faire pousser une en quelques secondes.

In this guide, find and learn how to use these famous filters and have fun!
If you ever asked yourself where to find and how to use beard filters on Tiktok, Instagram or even Snapchat, look here !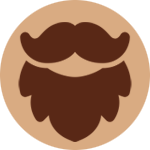 Apps that remove beards online are making the buzz
As you probably know, when an effect or music hits the top trends, it is then used by hundreds of thousands of users around the world.
Recently, you must have seen a lot of men (and women) with filters of all kinds:
No Beard
With Beard
No beard and no hair
Without hair and with beard
Baby with Beard
To make your life easier and use them on all your favorite social networks (Instagram, TikTok, Snapchat, Facebook or others), I have listed them below with links to access them directly on the Snapchat app.

Please note: All these filters are only available on Snapchat, thanks to the Lens, a system of filters created by users around the world. You will have to use the Snapchat application, create your effect, export it and use it on your favorite application (TikTok, Instagram, Facebook, Whatsapp, Youtube...)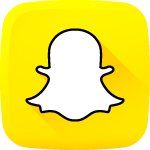 No beard filter on Snapchat
To find your favorite filter on Snapchat, you have two solutions:
Utiliser l'un des liens ci-dessous pour directement avoir celui que vous souhaitez
Search for the filter you want in Snapchat
Après quelques recherches sur Snapchat, je vous ai dégoté les meilleurs effets pour retirer votre barbe et l'ajouter. J'en ai même trouvé où vous pourrez avoir des cheveux et no beard or beard and bald.
Ce qui est vraiment bien, c'est que vous avez le choix ! Pour les utiliser, il vous suffira de cliquer sur le filtre que vous souhaitez ci-dessous :
Find your beard and hair filter on Snapchat
If you did not find what you were looking for among the filters above, I invite you to search for yourself in the application:
Launch the Snapchat application and click on the "Face" icon
Cliquez sur "Explorer" (situé en bas à droite de l'écran)
Access all the community filters and search for yours!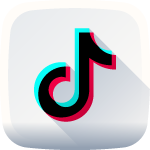 How to get the no beard filter on TikTok?
On TikTok, you will have less choice in terms of effects than on Snapchat! But fortunately, the filter also exists, here is how to access it:
Ouvrir l'application et cliquer sur "Publier"
Ensuite, cliquez sur "Effets", situé en bas à gauche de l'écran
Click on the magnifying glass to find your filter
Écrivez "No beard" ou tout autre filtre souhaité
Testez l'effet sans barbe sur TikTok et publiez votre photo ou vidéo !
Here is the tutorial in photo: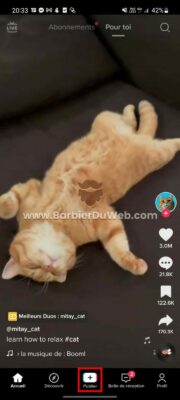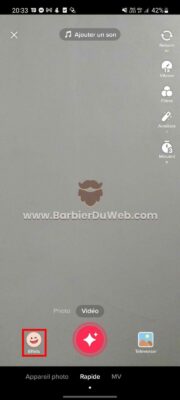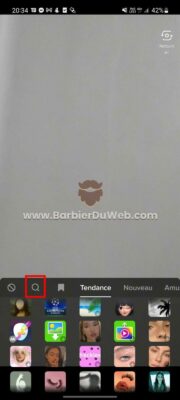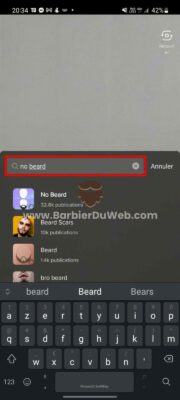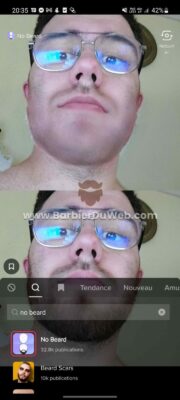 Vous pouvez également créer votre photo ou vidéo sur Snapchat et l'importer sur TikTok :
Use Snapchat to create the photo or video
Export it to your photo gallery
Import it on TikTok, add other filters if desired
Publish your photo or video with the "no beard" effect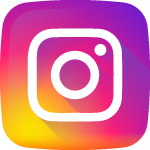 No beard filter on Instagram, Facebook, Messenger or Whatsapp
Instagram and Facebook do not offer filters without beards or hair. Thus, you will also need to:
Create the effect on Snapchat using a Lens
Export the photo or video to your phone/tablet gallery
Upload it to Instagram or Facebook to use it
Publish your video or photo without a beard
Please note: some brands such as Nivea offer filters with beard on Messenger/Facebook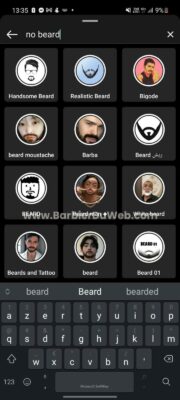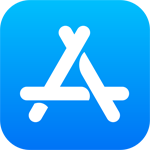 How to get the beardless filter on iPhone?
To get the beardless face filter on your iPhone, you can :
Use the "Snapchat" application that offers the beardless effect
Download an application on the App Store that removes beard and even makes you bald (depending on the application)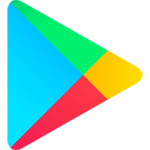 How to find the beardless filter on Android?
In order to use the "no beard" effect on your Android phone, you can
Use the application "Snapchat" which offers the effect without beard, accessible in the "Lens".
Download an app from the Play Store that removes beard and can even make you bald (depending on the app). Here's an example of an app: Photo editor beard
Does the "no mustache filter" exist ?
Pour ma part, je n'ai trouvé que des filtres qui "ajoutent de la moustache". Essayez tout de même de rechercher « No Mustache »  ou « Pas de moustache » dans les Lens Snapchat et vous tomberez peut-être sur des filtres pour  retirer la moustache à votre visage.
Frequently asked questions