Having a blonde beard is stylish, but wearing a blonde mustache is even better.
From natural blond mustaches to bleached blond mustaches, there are many ways to wear your moustache to highlight these light colors.
That's right: if you wear a short mustache, it may not show. But if you wear it longer and fuller, it'll stand out on your face.
Whether it's for inspiration or to copy a style, I've made a compilation of most beautiful blond moustache styles. Well, I'm not saying that they are all there, but you will be able to get a small idea of the choices available to you blondies.
If your mustache is blonde, very light or even Venetian blonde, you're in the right place to find the style that will suit you. But beware: it will be necessary to dare to have the long and thick hair !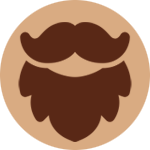 The "Blond Mustache" as they call him
When we talk about blonde moustacheI often hear that you can't do anything with it. No styling, no trimming, no style would suit the copper dye on it.
This is not true. The blonde moustache goes with many styles of beards and moustaches and it is my pleasure to prove it to you!
Here are some of my favorite blonde mustaches: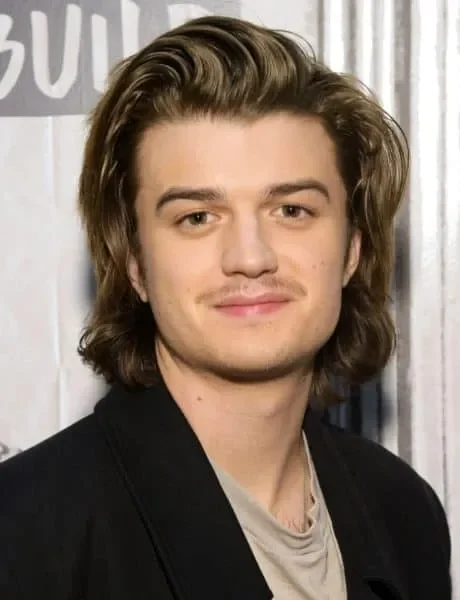 1. Blonde "pencil" moustache
Ah, the Steve. He won us over in the Netflix series "Stranger Thingsnot only because of his incredible ability to kick a Demogorgon's ass, but also because of his hair - and mustache - which are simply incredible.
Directly inspired by the Italian mustacheThis style rocks and is still very classy!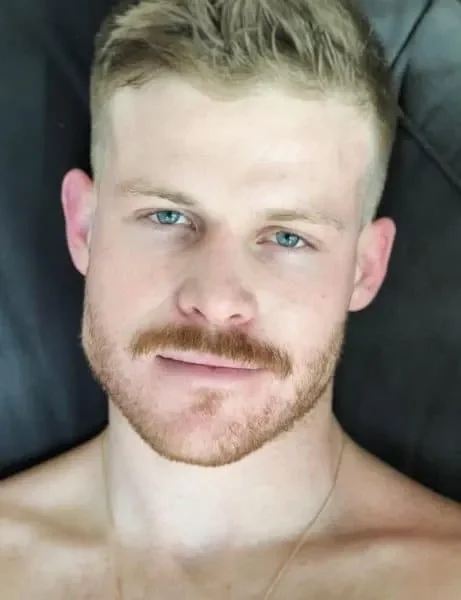 2. The blonde moustache "in herringbone".
One of the thickest mustaches you can grow is the herringbone mustachea bit like the one in Tom Selleckthe famous American actor and director.
From light to dark blonde, these whiskers go well with a " five o'clock shadow "or a clean-shaven, crisp jawline.
Please note: The blonde herringbone mustache looks best when it is thick.
3. Blonde moustache "à la Française
A full and dense mustache? Yes, you recognized it: it is the French style mustache. The one of the country people, the real ones. The ones who eat their moustache hair at every meal and keep some soup in reserve for later (in their hair for those who didn't understand)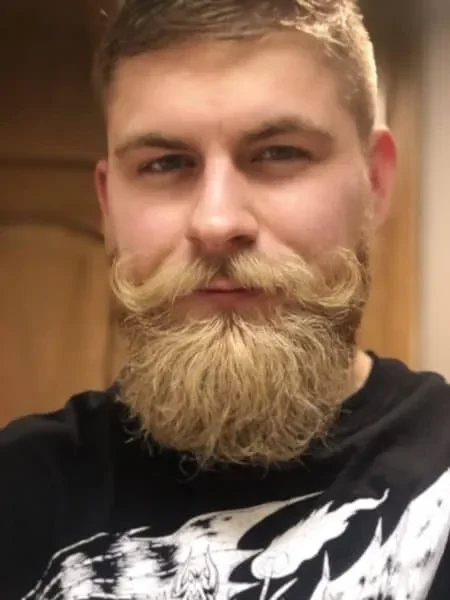 4. The blond handlebar moustache
The handlebar mustache requires trimming and daily use of mustache wax to get the ends curled.
Beard oil is also effective and can maintain all to obtain the perfect result.
Please note: The blonde handlebar whiskers look great with a thick blonde beard.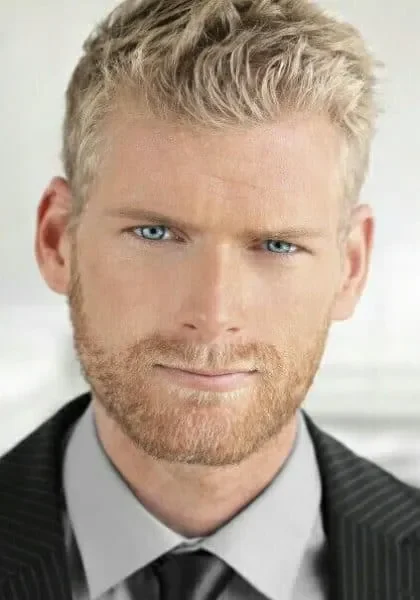 5. Short blond mustache and beard
When growing a moustache, blond men often notice light to dark red highlights, even though their hair ranges from dark blond to light brown, which usually lightens in the sun.
This combination of a neatly trimmed blond mustache and a well-groomed beard make a perfect combination.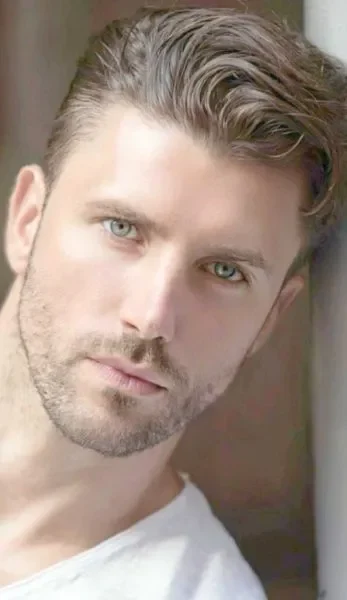 6. The short blond moustache
If you don't have the time or inclination to style your moustache, opt for a short moustache beard.
The advantage of the short moustache is that it adapts to a lot of beard styles and can even be worn without a beard. It is often found in the Parisian fashion, very popular in the world. Moreover, I discovered a nice little blog (Panamisienne) in Paris, don't hesitate to visit it!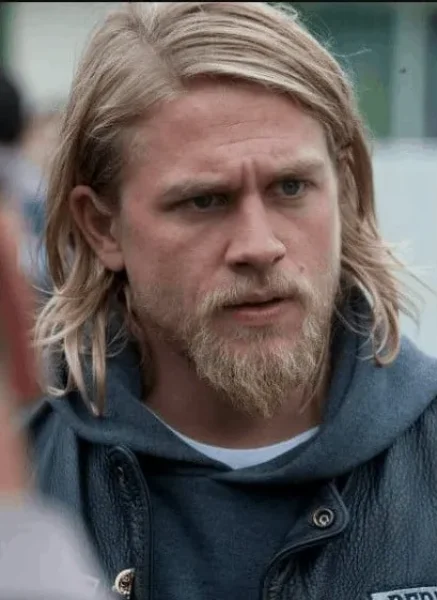 7. Blonde moustache with a little goatee
Charlie Hunnam has probably one of the most iconic beards.
You will find him in " Sons of Anarchy "the famous series of bikers where he wore this long goatee.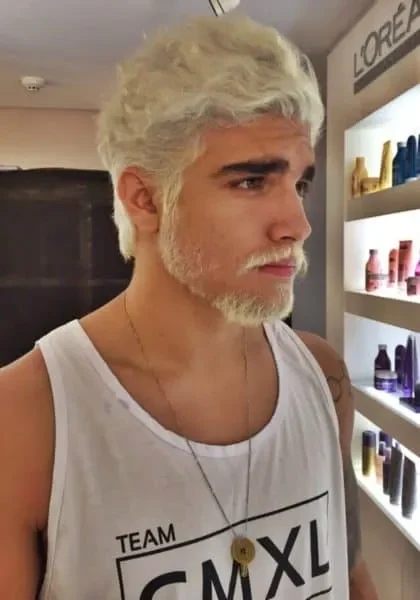 8. Bleached blonde mustache
It's the fashion: teenagers and young adults love to bleach their moustache blonde!
You must remember to Zayn Malik Who dyed her hair blonde in 2018.
After all, we already bleach our hair, why not our mustache and beard?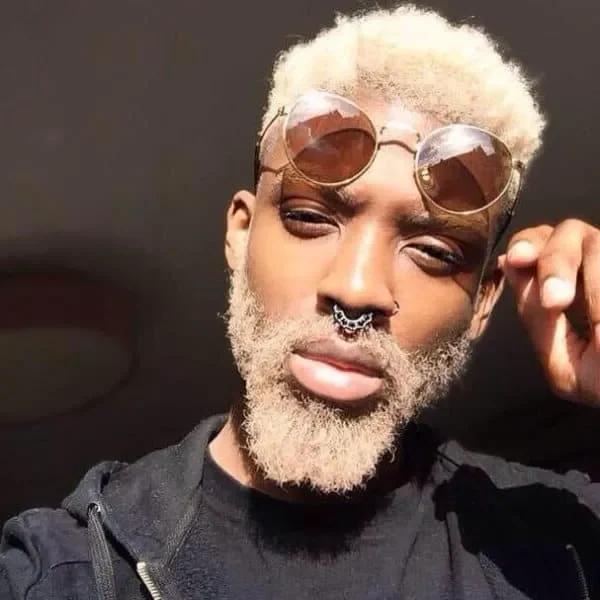 9. The tinted blonde mustache
After all, why not experiment and try new things, new looks?
Often, black men love to rock this somewhat... Bleached look! Then we won't lie: it works well on Instagram...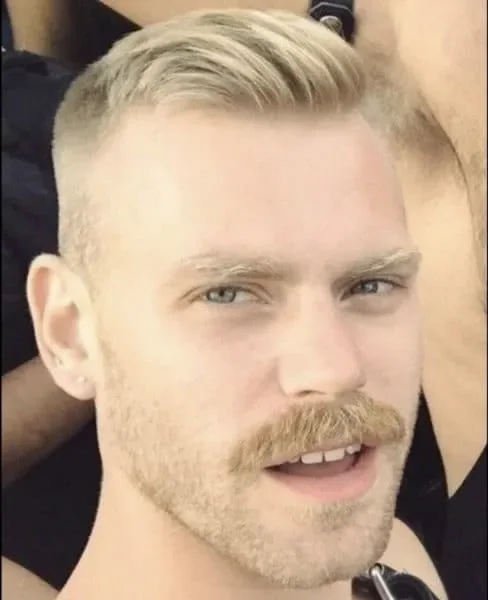 10. Walrus" blonde mustache
This style of blond walrus mustache is very particular but complements the blond perfectly. Please note that you will need a full moustache that has had time to grow and take its mark before being trimmed in "walrus".
Bonus: stars with blond mustaches
I couldn't help but pick up a few other celebrities with blonde facial hair or showing off their naturally light mustaches.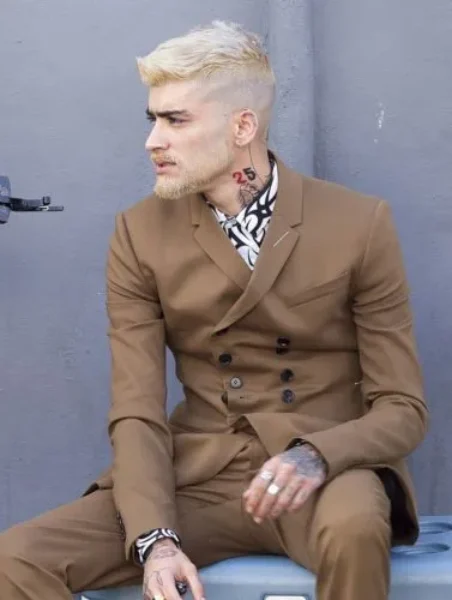 Zayn Malik's blonde mustache
Zayn Malik poses for GQ in 2018, shocking everyone with his beard and blonde mustache.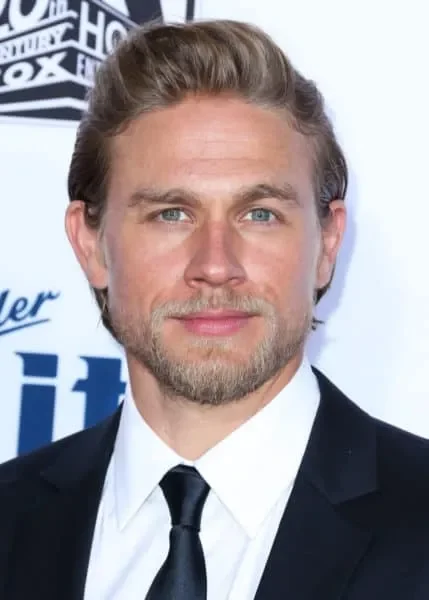 Charlie Hunnam's blonde beard
Here is Charlie Hunnam again with his natural blonde goatee style extended.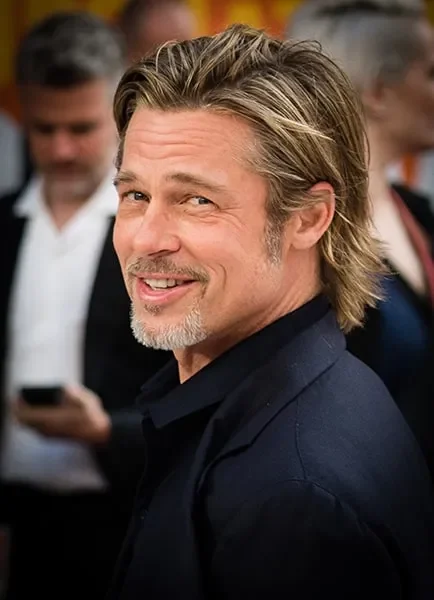 Brad Pitt's blonde mustache
Brad Pitt has aged well, and he frequently shows off his blonde mustache and goatee.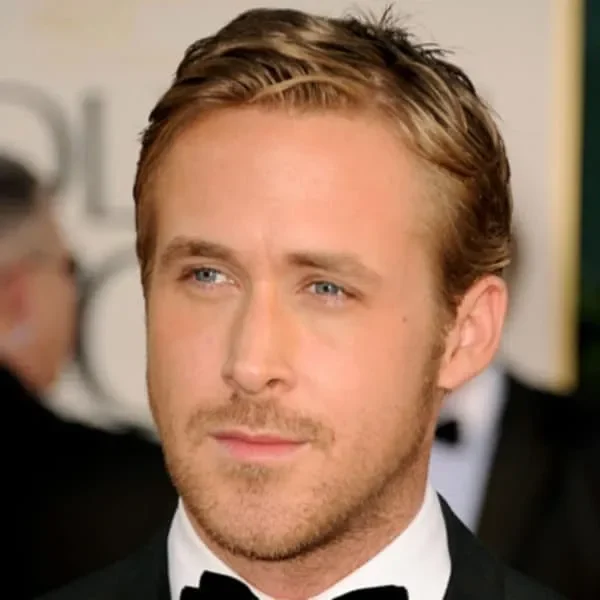 Ryan Gosling : blond hair on the face
Ryan Gosling continues to be one of the best lead actors in any role, and his blond facial hair enhances his natural look.
The blonde mustache can be dressed up in many styles, but the pencil, chevron and French mustache stand out.
Otherwise, it goes very well with a goatee that adds the final touch.
If you want to dye your moustache blonde, you will need to use beard dye or coloring wax.
You can brown it or wash it out completely for example.