If you are wondering how to smooth your beard efficiently and very quickly, the beard straightener is the solution. Sophisticated, easy to handle and inexpensive, it is the ideal accessory for bearded men who want a neat cut in all circumstances.
It will be very useful for frizzy, tangled, curly or even curly beards and excels at thick hair. So, you get the idea: the heated straightening brush is what you need if your beard hair is rebellious.
Let's go! We'll see what it's all about, how to choose it and especially which one to buy. Then, you will learn how to use it and especially see the before and after results of some bearded men who have used the heated comb.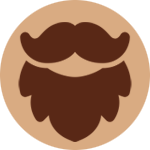 My opinion on the beard straightener
The beard straightener is an almost indispensable accessory for bearded men. Whether you have a long, short, frizzy or thick beard, your beard will be styled in seconds.
In short, it is time saving for a perfect result. No more stubborn hairs or that feeling of having a messy beard.

It is the perfect accessory for men who want a clean and tidy beard in all circumstances!
The best beard straighteners: which one to choose?
If you are here, it is because you are looking for the best beard straightener. And as usual, the BarbierDuWeb has gone to find the best products to make a comparison and offer you the best of the best.
Here are some of the criteria I used:
Price: it is quite possible to have a professional hair straightener for cheap. We will target the best quality-price ratio.
Quality: indispensable, the quality of the heating comb is not to be put aside. We want it to heats up quickly and that the materials are of good quality.
Customer reviews: feedback from other bearded men, that's important!
Vikicon : Comb straightener for modern Vikings
Vikicon: quality is the name of the game!
What's the point of having a beard straightener if you can't use it everywhere you go? Vikicon literally cut the cord so you can slip it into your bag or suitcase with ease.
Charge it with your USB cord and take the multiple heat levels and quick heat with you.
The Vikicon hair straightener is one of the best options for getting the right equipment once and for all!
Highlights:
Wireless (battery operated)
Heats up quickly and offers 9 heat modes
Lightweight and easily transportable
Fayleer : A 2-in-1 hair and beard straightener for the happiness of bearded men
Promotion
Fayleer: an excellent straightener for beard and hair
Fayleer offers us a high quality product at a very affordable price, which is effective on beards but also on hair! At least you know that your smoothing comb will be useful at all times.
With its fast heating technology in less than 60 seconds, it will take you only a few minutes to pamper your hair.
This comb is suitable for all types of beard and hair: just set it to the right temperature!
Highlights:
2-in-1: works on beard and hair
Technology that heats up in less than 60 seconds
Suitable for all types of beard and hair
Anlan : Hair and beard straightening brush
Promotion
Anlan : Hair and beard straightening brush
Another brush that wants to be versatile!
If you're looking for an option that allows you to straighten your hair along with your beard hair, you can turn to the Anlan Straightener!
CNXUS: Ceramic hot-smoothing brush with ionic technology
CNXUS: Ceramic hot-smoothing brush with ionic technology
More upscale than the other smoothing brushes featured here, CNXUS offers us an Ionic technology heating brush with LED display. Of course, it features the fast heating technology and has a burn protection system to avoid damaging your pretty face. !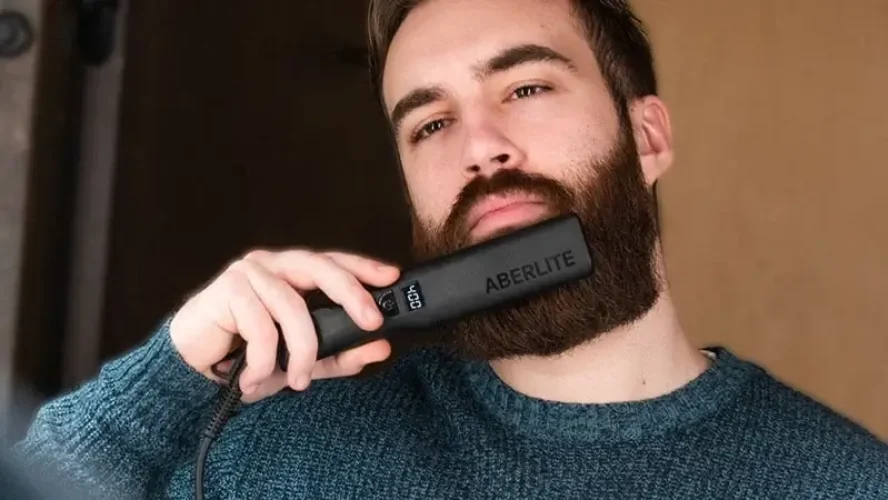 How to choose my beard straightener?
Here are the important criteria that you should pay attention to before making a purchase:
The temperature
It is very important to choose the right temperature range that your straightener offers. A straightener that doesn't get hot enough won't straighten the hair properly and if it gets too hot, it will damage your hair!
The size
First of all, it would be cumbersome to have a huge straightening comb for storage as well as for transport. But moreover, depending on the size of your hair, it is possible that a mini hair straightener is more suitable. Handling and comfort of use, all nestled in a thinner and more pleasant product!
The type of beard: short or long?
The choice of your straightening comb may depend on your beard: is it short or long? Is your hair thick, curly, frizzy or curly (afros, I see you!)? Some brushes specialize in one type of hair, and that can play a role in your choice!

To read:
Comparison of straighteners for long beards
The features of the beard straighteners
In general, we prefer the multi-functional straightening brushes, which offer a lot of options, each one nicer than the other:
Beard and hair
Wireless
Temperature modes
Digital display
Fast warm-up time
Rotating cord
Storage bag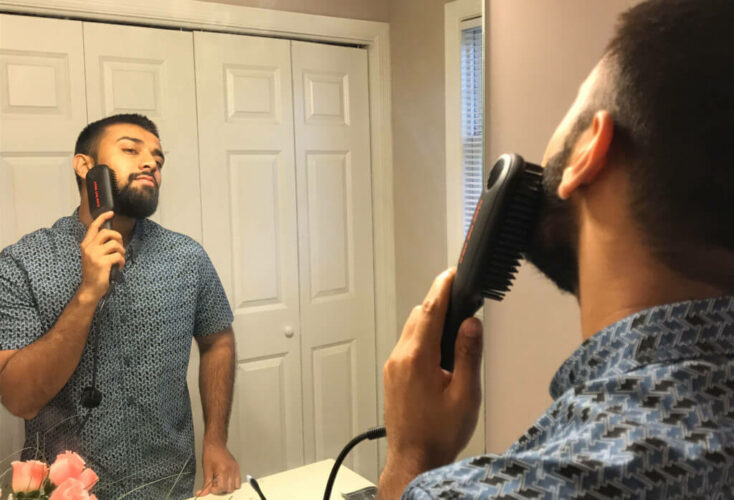 Why buy a heated brush for my beard?
The reasons for buying a beard straightener are quite apparent:
Fighting the shaggy beard (disheveled or spiky): a problem that affects many bearded people and that is rather constraining
A neat and tidy beard in all circumstances! No need to worry about stubborn hair trying to embarrass you
Detangled and smoothed hair with a net result
More hairs that go in all directions, and this is a nugget!
Saves time when styling your beard: in a few seconds, you smooth your beard and the result is there, if not beautiful.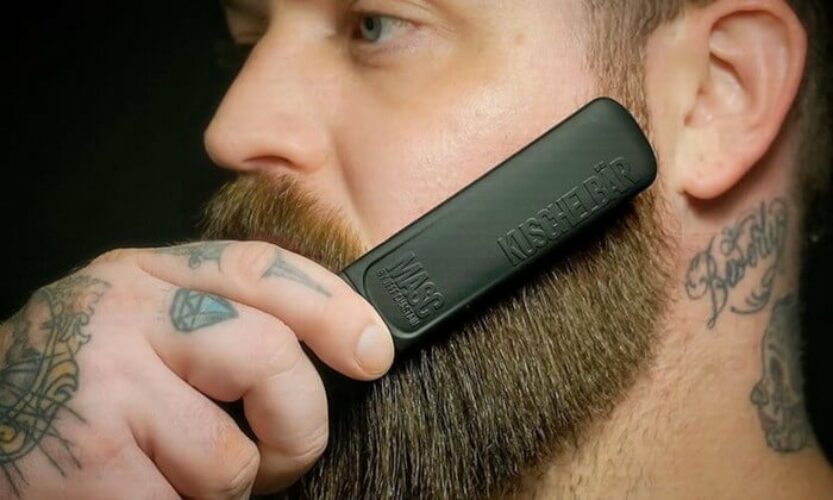 Straightener, heated brush, smoothing comb... What are the differences?
Before you move on to buying to smooth out your barb, here are the "differences" between these products:
On the side of specific terms to know before you buy, we have :
Infrared, porcelain, ceramic : It is the material of construction, the technology of the heating element. These materials offer uniform heat conduction. The absence of specific hot spots means a better smoothing experience.
Ionic : By releasing negative ions that neutralize the positive ions on your hair, ionic straighteners will remove static electricity from your beloved hair. On top of that, the ions will better protect your beard from heat and reduce the dryness that using a straightening comb can cause.
Tourmaline : Tourmaline increases the production of negative ions, which means these models evaporate water from your beard even faster than other options.
Electric beard straightener: before and after on beard hair
Let's see the results and the efficiency of the heated brush! With these pictures, there is no doubt: the accessory does its job well.
Thanks to the straightening comb, we have a beard :
A smoothed and detangled beard
A well-trimmed and defined cut
A clean and sophisticated look
Here are some before and after photos of using a hair straightener :
So, not so bad the result, what do you say?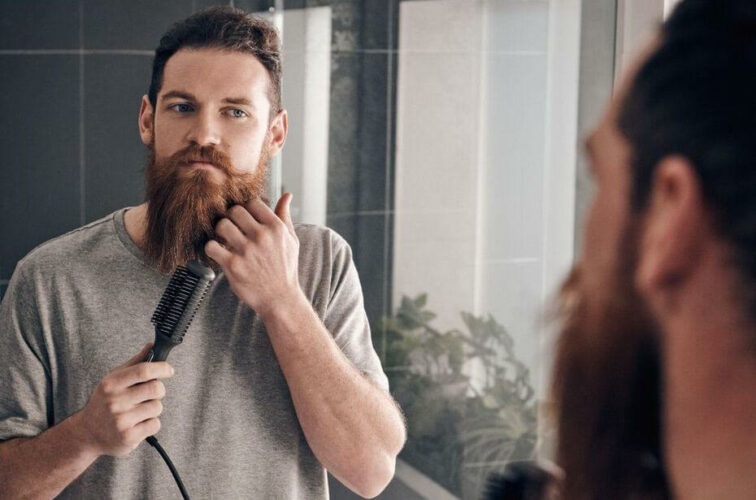 How to use a beard straightener?
Before you start, there are a few things you need to pay attention to
Don't get burned: Use the smoothing brush only on a long enough beard or you will burn your face
No wet or damp beards: Dry your beard well before straightening! You can use a mini hairdryer for bearded men.
Don't damage your hair: use it sparingly if you find that it damages your hair
The temperature to choose: Start at 140° for a fine beard; 180° for a normal beard and 200° for a curly beard with frizzy, curly or wavy hair.
You can brush your beard to remove knots
You can apply oil or balm for beard to moisturize and nourish your hair and skin that will be attacked by the heat.
Use of the straightener on the beard:
Plug in the heated brush or turn it on if it is battery operated,
Set the desired temperature and let it warm up for one to two minutes
During this time, brush your beard to avoid tangles. You can also use your favorite oil or beard balm on your hair.
Once the straightener is at the right temperature, start straightening your hair from the roots to the tips.
Unplug the heated comb, let it cool and store it in its storage bag.
Here is a video explaining how to use the heated brush on your beard:
What products should I use with my beard straightener?
Taking care of his beard rarely involves the use of a particular care or accessory. For example, I strongly advise you to use products to moisturize and comfort your beard after the heat you applied to it.
Oils
Oils are the number one ally of a beard healthy and visually stunning. If you're not already using them: start today! If they're already part of your grooming routine, use them after you straighten your hair and it will thank you.
I advise you to use oils known for their moisturizing power:
Balm
Apply beard balm to comfort it after brushing. Your skin and beard will be better hydrated and nourished. Plus, the balm smells pretty good, so you might as well enjoy it!
Where can I find and buy my beard straightening comb?
The good thing is that it is a product that is rather well known thanks to hair straighteners. Many brands make them -of different qualities- and there are many stores and other retailers:
Amazon, Cdiscount... : the choice is vast, prices vary and the returns of bearded men are numerous. In my opinion, this is the simplest and best way to choose your heated brush.
Barber stores (in your city or online): generally a little expensive but offers good products
Big box stores : average quality products, prices depend on the brand (Darty, Carrefour, Boulanger, Auchan, Leclerc, ...)
In some Barbershopsnear you! Ask your barber directly if he offers this type of accessory for sale.
You know all about beard straighteners: which one did you choose?
Over the course of this comprehensive buying guide on straightening combs to smooth your goatee, you learned:
How to choose it and on what criteria?
Why is it worth buying one?
Which one to choose?
How to use it?
Where to buy it?
What care to use with your smoothing brush
Now you know everything about this useful accessory to take care of your hair, smooth it and style it in a few minutes.
Of course, to smooth your beard, you can also :
Use a comb or brush
Apply oils
Test the beard balm
And you, how do you smooth your beard? With an electric comb or simply with your boar bristle brush?
Questions about beard straightening and heating brushes