Have your shaving brush and razor on hand, in a suitable holder, while you shave? Yes, it's possible! Whether you are looking for a shaving brush or not, with a razor or not, there are many accessories available.

For you, I have scoured the web and selected the best shaving brush and razor holders to adorn your sink with a new accessory that is much more useful than you might think!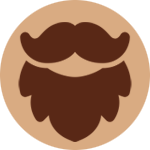 The best razor and shaving brush holders to buy
To know: In general, you will find mainly 2-in-1 razor AND shaving brush holders. This is good to note because I know some of you just want a shaving brush holder or razor holder.
The holder with shaving brush, razor, brush, and soap: the total to be totally equipped
Shaving set with shaving brush, razor, brush, soap and holder by Haryali London
The holder with shaving brush, razor, brush and soap: the total to be equipped to the teeth.
Here we are talking about a complete pack with a shaving kit that contains:
a shaving brush holder + shaving
a safety razor
a shaving brush
a black shaving brush
a bowl
a shaving soap
So you have everything you need to equip yourself once and for all. We don't talk about it anymore!
Shaving brush holder + shaving brush + bowl and soap
Promotion
Shaving kit with brush, bowl and soap by Anbbas
For the very complete shaving kit from Anbbas, we find :
a shaving brush with Fraxinus Mandschurica wood handle
a vertical brush holder
a cup
A shaving soap
If you already have the razor, this is a great choice. Plus, the wooden handle of the shaving brush is really nice and of very good quality!
Shaving brush holder + shaving brush
As its name indicates, the shaving brush holder is a small accessory that will act as a support. Very useful during shaving, it allows you to put your shaving brush. It is usually made of stainless steel, wood or plastic.

You will also find shaving brush holders with a bowl, a cup or dedicated to shaving brushes.
If you already have the razor and just need the shaving brush and holder, here are the products you need:


Shaving brush and razor holder with bowl
If you want to enjoy the convenience of a bowl stand, you can use one of these two that do the job perfectly and are very classy:
Shaving brush and razor holder
Only the shaving support
You're already well equipped! The razor holder (mechanical, manual, electric or safety) will be used to store your razor safely. So, no more injuries or dangers that you could simply avoid.
Adhesive wall mount for razor
More useful than you might think, the adhesive wall mount is just as useful as for toothbrushes! No more hair that accumulates where your razor sits.
Wall bracket with suction cups for razor
If you prefer to vent your wall mount, this is my favorite of the many available:
Electric shaver wall mount
It doesn't look like it, but hanging your clippers on the wall is a real advantage. Indeed, your favorite shaving accessory does not drag any more, does not take any more space and you can even put away the storage case!
Razor blade holder
If you are looking for a blade holder for travel :
Brands that manufacture shaving aids
When it comes to brands that offer shaving brush and razor holders or any other wall-mounted or suction cup equipment, you have the choice! Whether your razor is electric, mechanical or straight, there is something for everyone. Do you want old-fashioned manufacturing or a funny razor holder? We have what you need in stock!
Here are some brands that offer this type of support:
In addition, you will find them in different materials and types such as:
Wood that gives an "antique" effect
Stainless steel to be modern and distinguished
Plastic: simple and effective
Suction cup: useful and space saving
Hanging on the wall with a double-sided adhesive
With a cup or a bowl: almost essential
In short: you can find the right razor and/or shaving brush holder for your needs!
As you've seen in this article, if you need a complete shaving kit with the brush and razors or just the brush and razor holder, you'll get your money's worth.
The good thing is that in general this accessory is not expensive and easily adapts to your equipment if you already have it. The materials are diverse and the brands numerous so do not hesitate to make your choice properly. The most important thing is that you like it and that it suits your needs.
For my part, my favorite medium is the complete kit with razor, shaving brush, soap and brush which does the job very well and allows you to get equipped in one go.
And you, which support do you use? Will you try one of our selection?
Frequently asked questions
In addition to being extremely efficient at storing your accessories instead of leaving them lying around, racks help limit the growth of bacteria. In fact, your razors and shaving brushes will dry much faster if they are hung up rather than placed on your sink. In addition, it prevents hundreds of small beard hairs from being scattered on the sink.
Although you can find this type of accessory in department stores, it is better to go to your favorite barbershop or directly on the web on Amazon. You will have an almost infinite choice and you will be able to find THE support you need!