For those of you who proudly wear your bare skull as a sign of virility, it's time to add an extra dimension to your natural charisma. Are you skeptical? Let me convince you otherwise!
Whether you're as smooth as a mirror or simply sparse, a well-chosen beard is the passport to a unique, assertive style. Every face has its beard, every beard has its color... So what are you waiting for? THE style to match your expectations and personality ?
Let's find out more about best beard styles for bald and shaven-headed men !
What's the best beard style for bald men?
The best beard style depends on your face shape, your desires and, of course, your style. ! But there are a few popular cuts for men with shaved heads: the goatee, the short beard and the full beard.
If you are determined to make a change, you have to find the best goatee possible. Some people think that the shaved head beard design is adaptable at will. However, even with a bald head with a beard, you have to be careful.
Your choice depends above all on your facial morphology and preferences!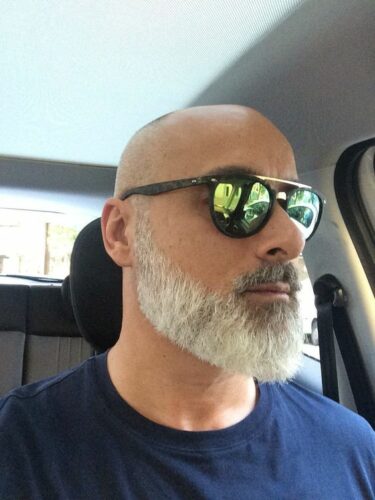 3-day beard
The good thing is that the 3-day beard is quick to grow and easy to maintain. You just have to be a little rigorous!
Plus, it goes well with a lot of face shapes in no time. Perfect for a sleek and stylish look!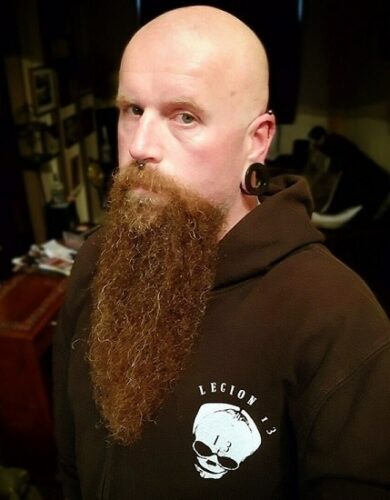 Viking Beard
If there is one thing Vikings are well known for, it is their big beards. Often it is worn with a shaved head. Perhaps this creates fear in their enemies.
It's almost too simple: you just have to remove the hair from the head and not touch the hair on the face. Well, it's not that simple, I admit.

This is our complete guide to growing your viking beard. Be careful to always clean and cut the rebellious strands.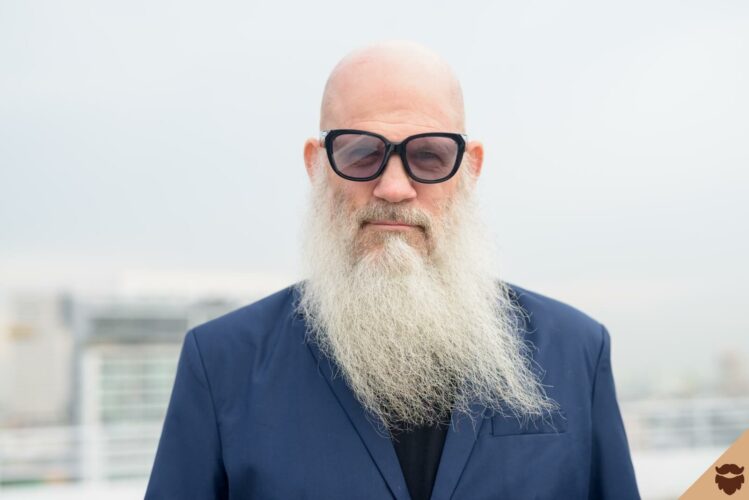 Hipster beard
Being bald with a beard often means having a vintage look. Hipster style fits the bill perfectly!
Its modernity will make the difference. You can also opt for a gradient beard, even if it is not mandatory.

The criteria are not numerous: to adopt the bald hipster beard, you just need to have a strong hair.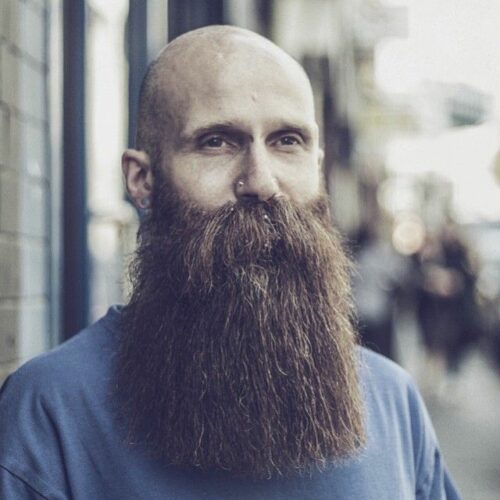 Big long beard
The big shaved head beard is often the prerogative of strong men, especially the chubby ones. It corresponds to the personality and morphology of round-faced gentlemen. It is usually found among bikers, with a very distinct style.

But be careful: everyone can wear it and it is still necessary to take care !
The good thing is that there is no maximum size and it does not require a visit to the barber only every one and a half to two months or so.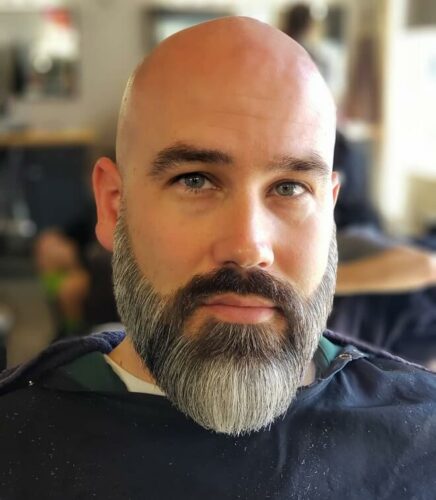 Ducktail beard
If you want a dandy look, the Ducktail beard is the choice par excellence. It's also called "queue de canard" in French, in relation to its shape, as you've probably gathered by now.
The ducktail is distinguished by the density of the beard, the tip at the end and the edges that are perfectly trimmed.
It is ideal for oval faces, rectangular and the square morphologiesIt adds considerable length to the face.
Bald with a classic or thin goatee
Bald and chic - that's what the classic and slim goatee styles are all about! The classic goatee, concentrated on the chin, emphasizes your jawline, while the slim style adds a refined subtlety to your look.
Bald with short beard
The short beard is an aesthetically pleasing solution for bald men. It brings balance to the face by emphasizing the jawline, compensating for the absence of hair on the crown of the head. What's more, it's low-maintenance, making this style both practical and handsome!
Beardstache for bald men
The Beardstache offers a bold, singular look, ideal for the man with a shaved head who wants to stand out from the crowd. With a full mustache and slightly shorter beard, this style draws attention to the center of the face. Perfect for balancing out the lack of hair on the head!
Full beard styles for bald men
A full beard is a great choice! It adds volume and definition to the lower face, contrasting with the softness of the skull. Well maintainedA full beard can give a powerful, virile appearance!
Long beard and handlebar moustache
A bold and distinctive choice! The combination of a long beard and a handlebar moustache adds character to your face. The long beard provides visual balance, while the handlebar moustache draws attention to the center of the face. This look emphasizes masculinity and offers a focal point that draws the eye away from the absence of hair.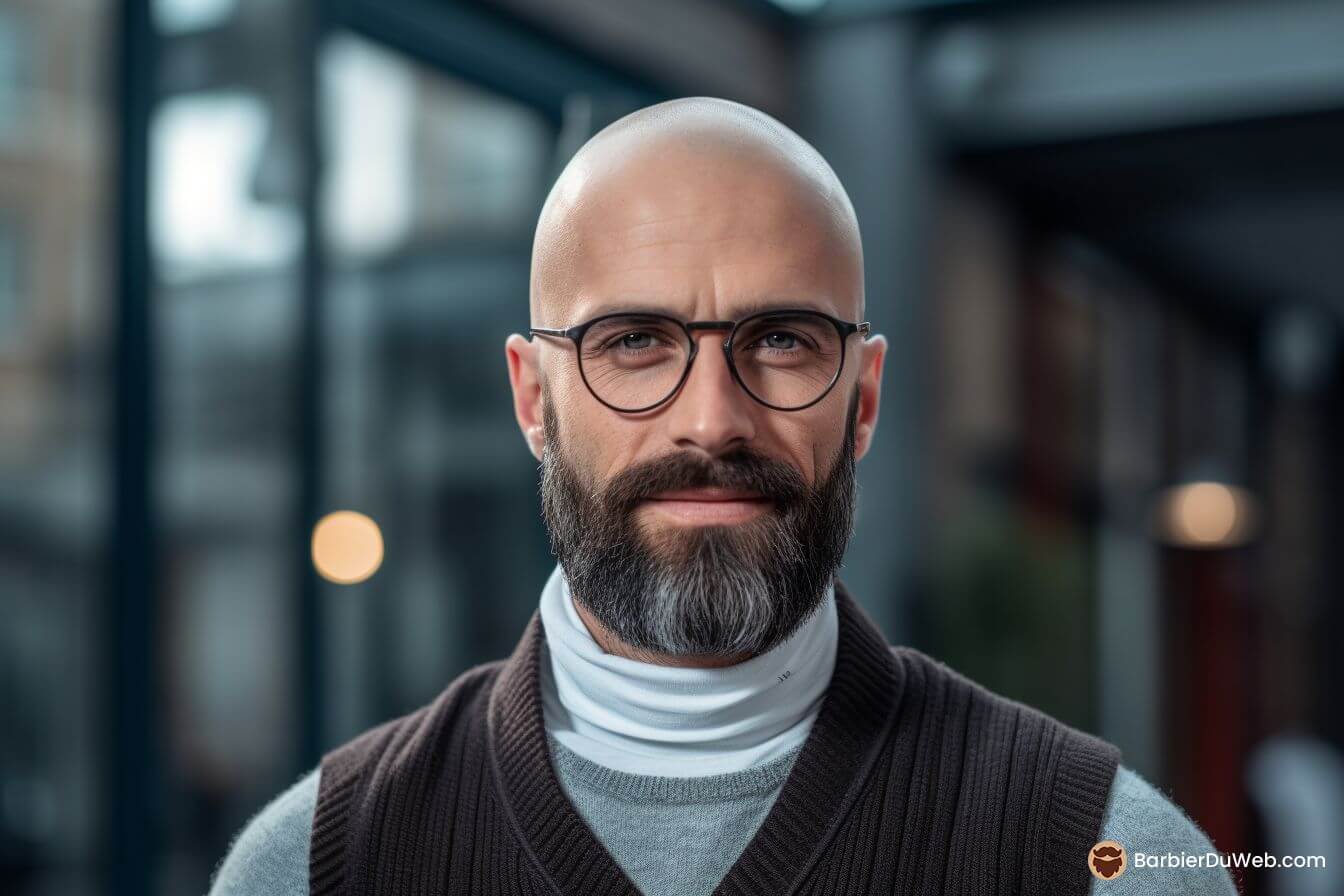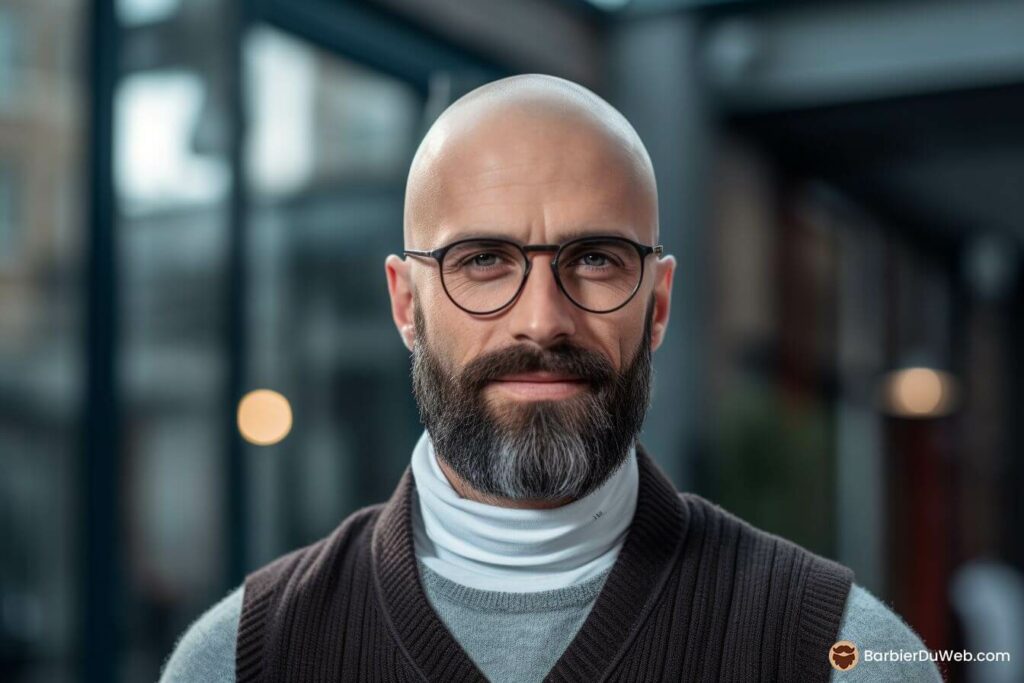 Corporate Style
For the professional bald man, the Corporate style is an excellent choice. It's a short, well-groomed beard that conveys a polished, professional image. This style can help soften facial features and bring balance to the overall appearance, compensating for the lack of hair with a discreet but noticeable presence on the face.
The beard in a circle
An elegant choice for the bald man! This style combines a beard that encircles the mouth and a moustache, adding some definition to the face. It draws attention to the middle of the face and helps balance the absence of hair. This beard style is perfect for those looking for a modern yet classic option.
The Chin Strap
If you're looking for a bold, modern look, the Chin Strap is an interesting choice. This thin strip of hair that follows the jawline at chin level visually reinforces the jawline and adds structure to the face, offering a welcome contrast to the softness of the skull.
Anchor style
Anchor or beard worn by Iron Man is an elegant goatee combined with a fine moustache. It's ideal if you're looking to add a "focal point" to your face. The name "anchor" comes from the shape, reminiscent of a ship's anchor, with the goatee representing the lower part of the anchor and the mustache, the anchor's arms. This style helps to balance the face and add a certain sophistication to your look!
The Soul Patch
The Soul Patch is a discreet but stylish choice for the bald man. This is a small section of hair under the lower lip. This style subtly draws attention to the lower part of the face, shifting the focus from the top of the head. It offers balance without stealing the show, making it an excellent choice with a minimalist beard.
Shaggy or scruffy beard
The Scruffy or Shaggy" style is ideal for a relaxed, natural look. This untrimmed, slightly bushy beard offers a bold contrast to the softness of the skull. It brings a raw look and a certain virility!
Balbo style
The Balbo is the subtle combination of a disconnected goatee and moustache. This style helps structure the face, shifting attention to its well-defined areas around the lips. What's more, this style adapts to a wide range of looks. many face shapes flexible and attractive.
Moustache alone
A classic, timeless look, the moustache alone is a simple but effective choice for the balding man. It creates a distinct focal point on the face and can help balance your facial morphology. Whether you opt for a finely trimmed or fuller moustache, this style can add a touch of sophistication to your appearance.
Square Beard
The Carré style, with its straight lines and pronounced angles, adds structure to the face. It emphasizes the jawline and helps to visually balance the whole. And there you have it: a neat, professional look, perfect for any situation!
Degraded beard
The Gradient (or "Ombré") style is a trendy choice for bald men! The gradual transition in beard density gives a natural, elegant look. This style helps to soften the face and provide an aesthetic balance that contrasts with the softness of the skull.
Dutch style
If you want a bold, imposing look, the Dutch style, which is very similar to the Amish beard is ideal. Thick, full and moustache-free, it offers a marked contrast with the skull. But be careful: this style requires maintenance!
Pointed beard
The pointed beard offers a dynamic option for the bald man. Its sharp shape tirelessly directs the eye down the face! It elongates the face and enhances your facial features. It's a satisfying option for a bold, well-groomed look.
Swashbuckler style
The Swashbuckler style combines a full beard with a heroic moustache! Thanks to the volume added to the lower part of the face, it contrasts majestically with the skull. It's a real visual balance! It's a bold, adventurous style that can add a certain presence to your appearance.
Well traced
The "well-styled" beard is an elegant and distinguished option. With its clean, precise lines, it adds structure to the face and highlights the jawline. With a neat, professional look, this style can help balance the proportions of your face. It's a perfect option for those who want a clean, refined aesthetic.
Why wear a beard when you are bald or shaving your head?
The bald beard style is very fashionable. This is easily explained: the goatee is too!
Here are some good reasons to adopt a beard style with your shaved head:
Everyone wears it because it fits everyone
The beard with the bald head concerns young and old alike. In fact, it is even the ideal style to hide a baldness.
You won't need a wig to feel good about yourself or to improve your physical appearance. Just choose the bald beard style that suits you and adopt it!
Morals have evolved
Being bald with a beard is nothing to be ashamed of or weird. It even makes you stand out from the crowd. Many Hollywood stars opt for bald beards for this reason. Check out Jason Statham or even Bruce Willis !
This style even improves your self-perception. It will increase your self-esteem and self-confidence!
The look of others changes for the better
A beard thickens your face and defines your look. The proportions of a bald head with a long beard are no longer the same.
In addition, the hair with sideburns fills in the cheeks and prevents the skull from looking naked.
Bonus: women appreciate originality, even without any hair!
Being bald with a beard, it looks adult!
The beard has always been a mark of virility. By opting for a bald style beard, you will be more modern and you will even look more mature. You have become a real man!
Beards, face types, age and accessories for bald men
For bald black men with beards
Black men and men with mixed skin can have a beard and a shaved head. It has nothing to do with skin color or hair type.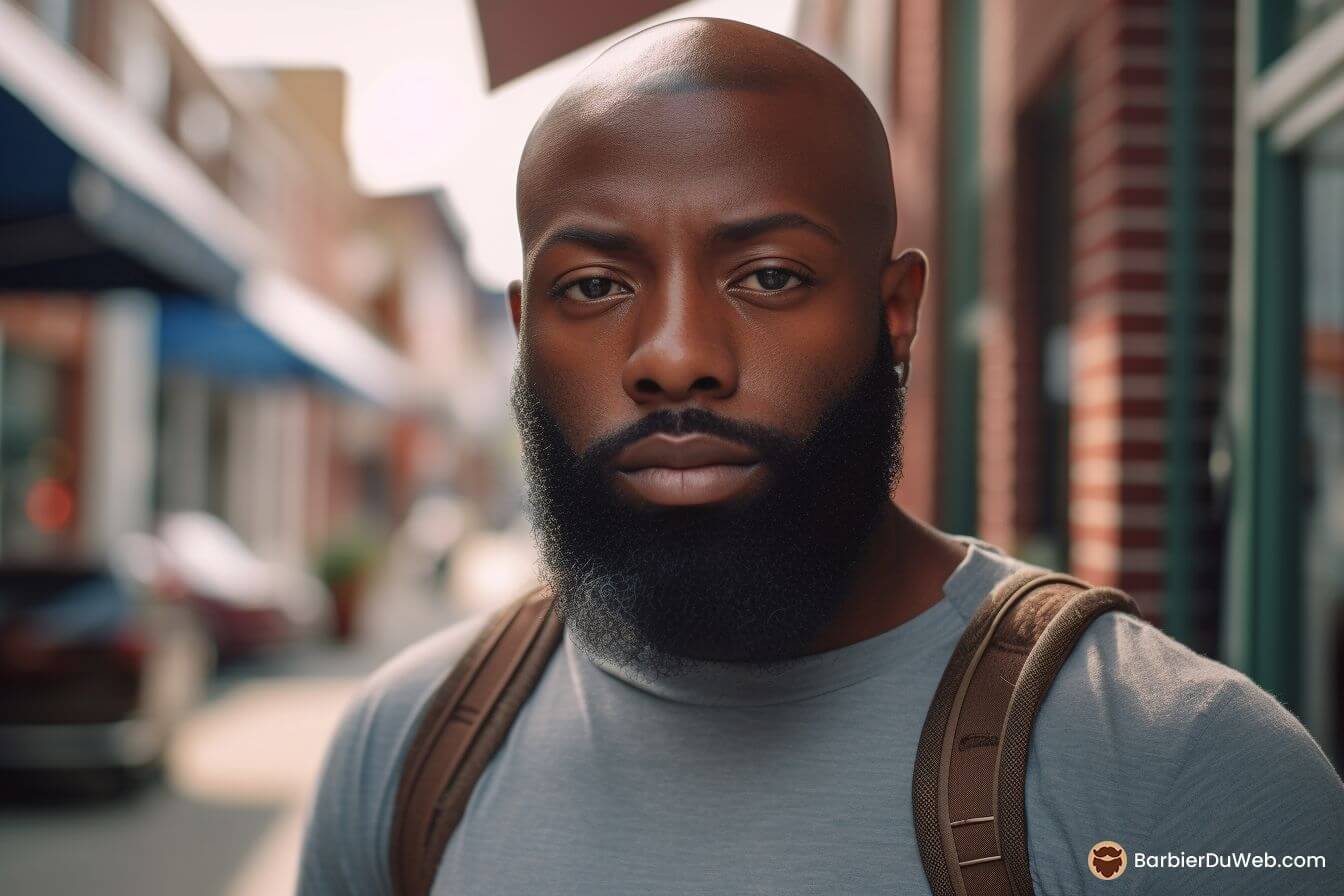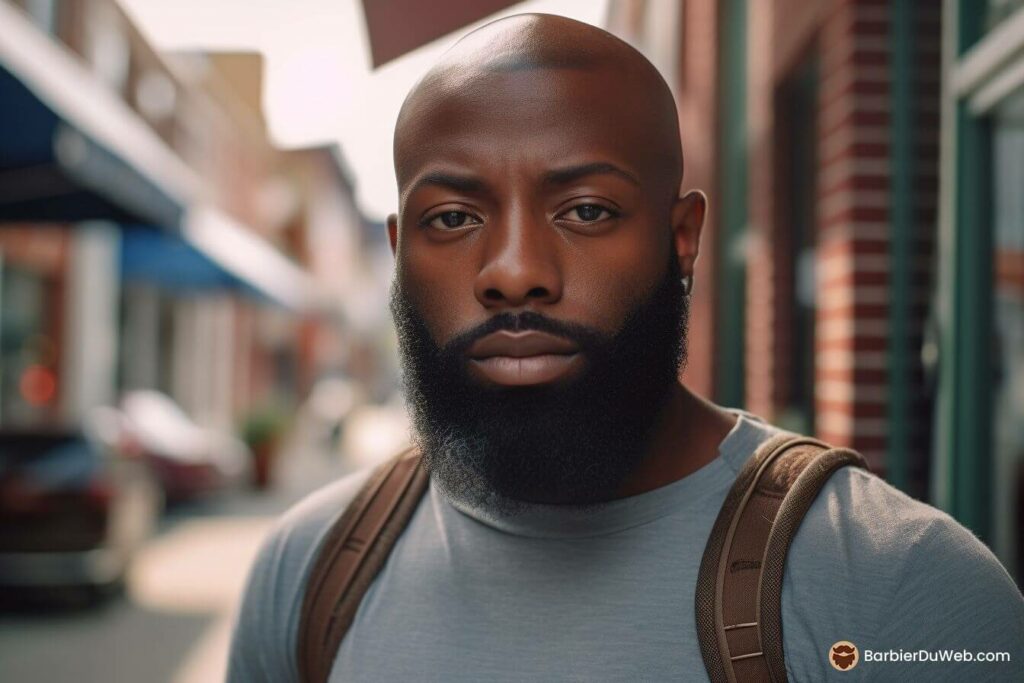 In fact, it's simple: everything is based on facial hair and geometry. So you can shave your head and match your beard to your face for a whole new look!
For a wild look in bald-with-beard mode, opt for a long beard, while a short beard will give you a wild look. short style will make you look younger!
For older men with white beards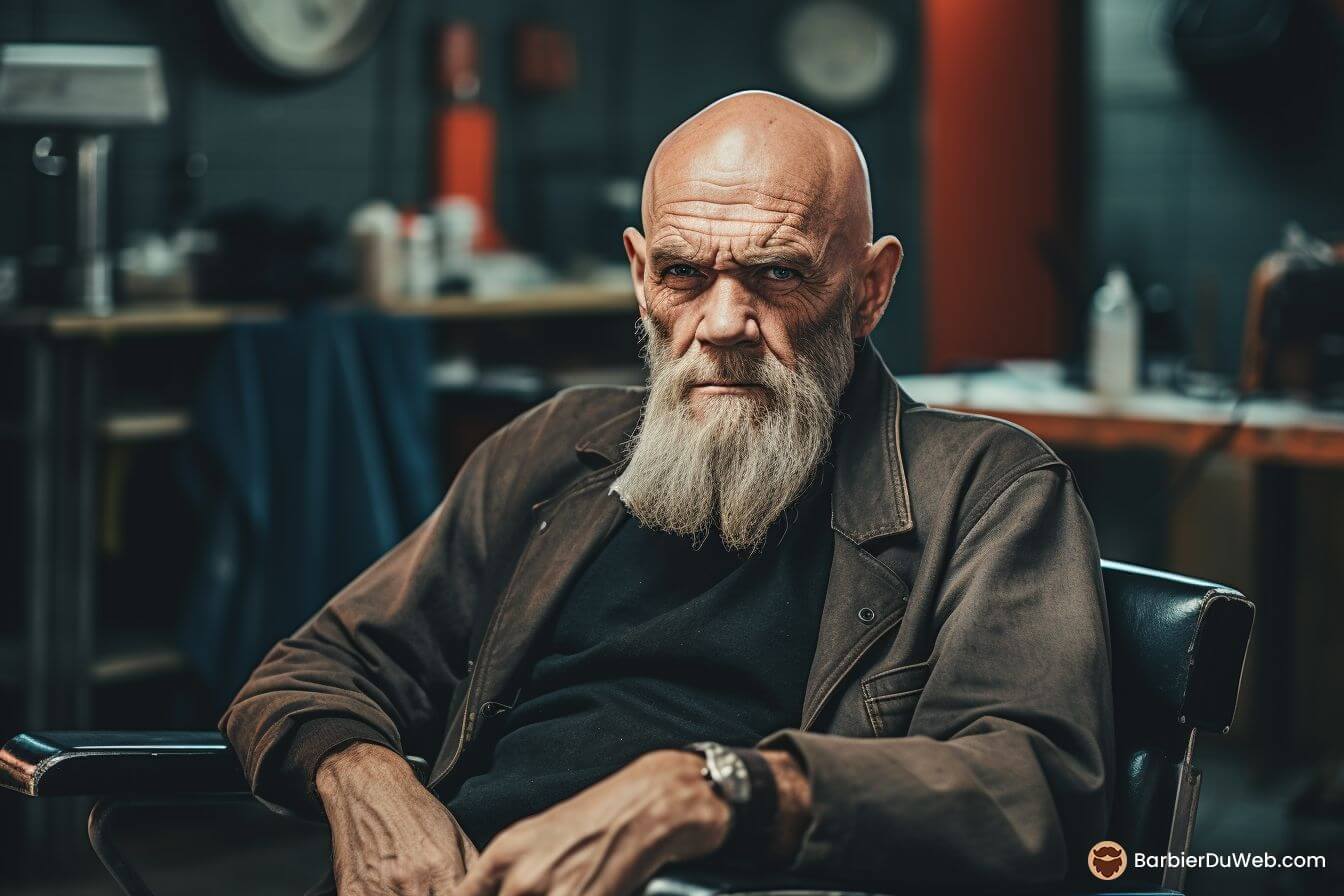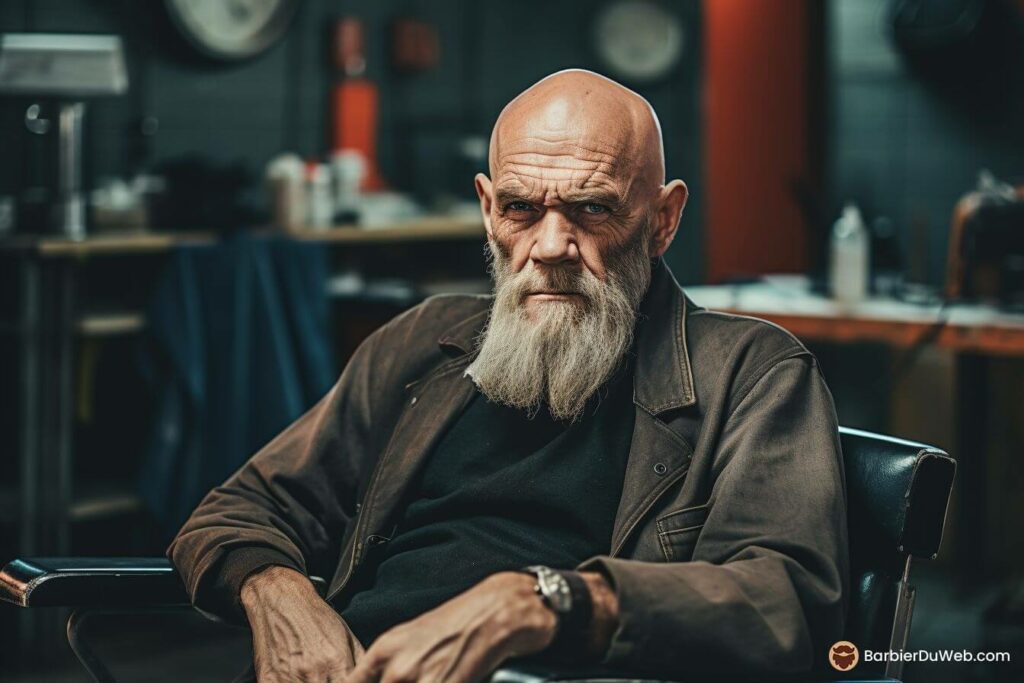 Other origins and ethnic groups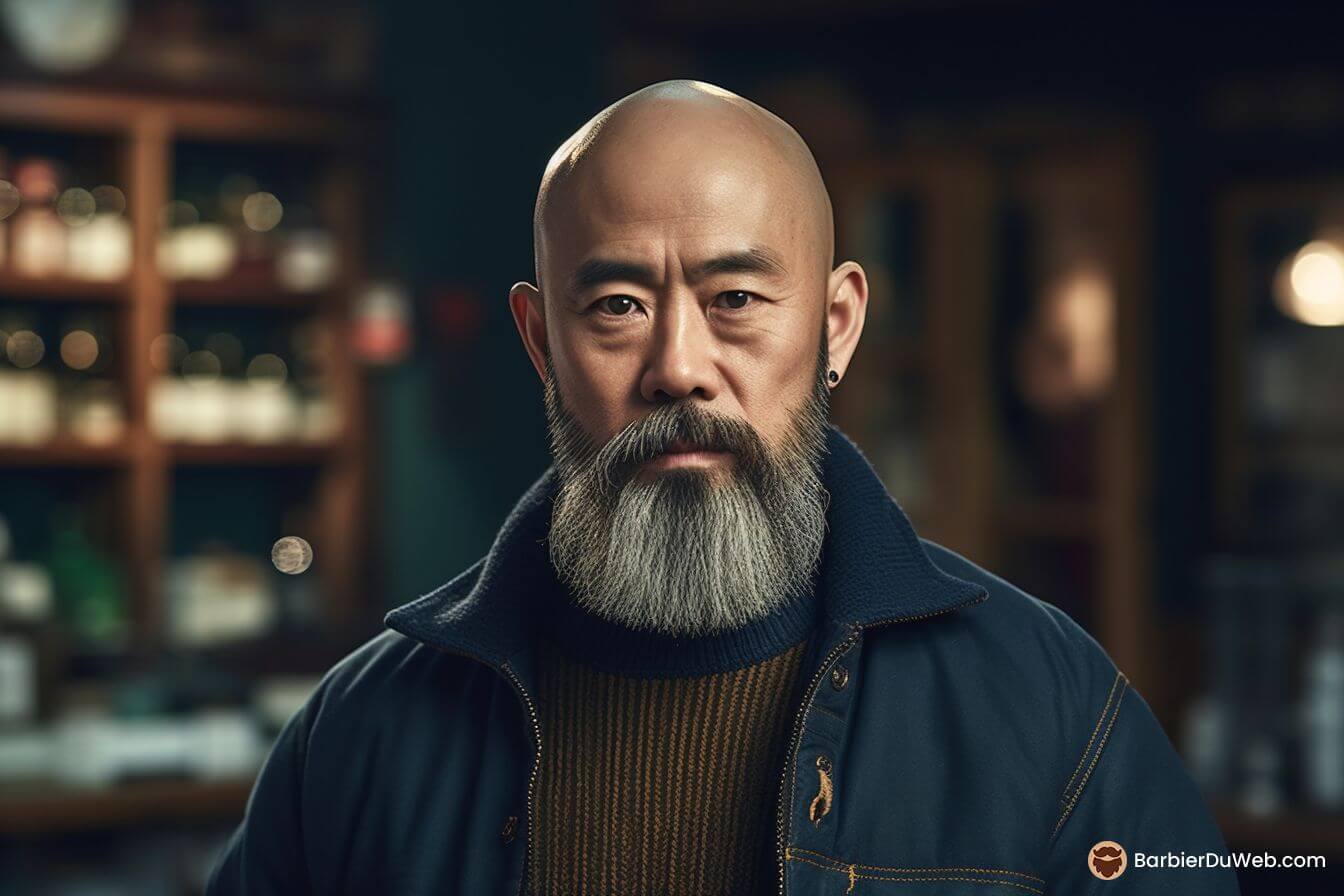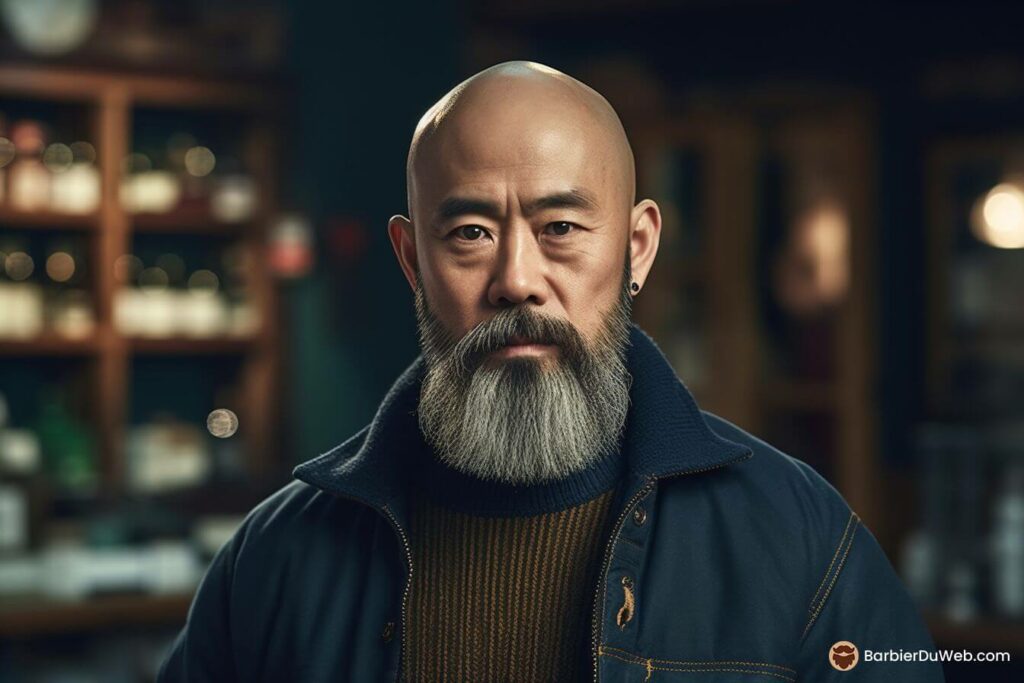 To read:
Bald men with beards and glasses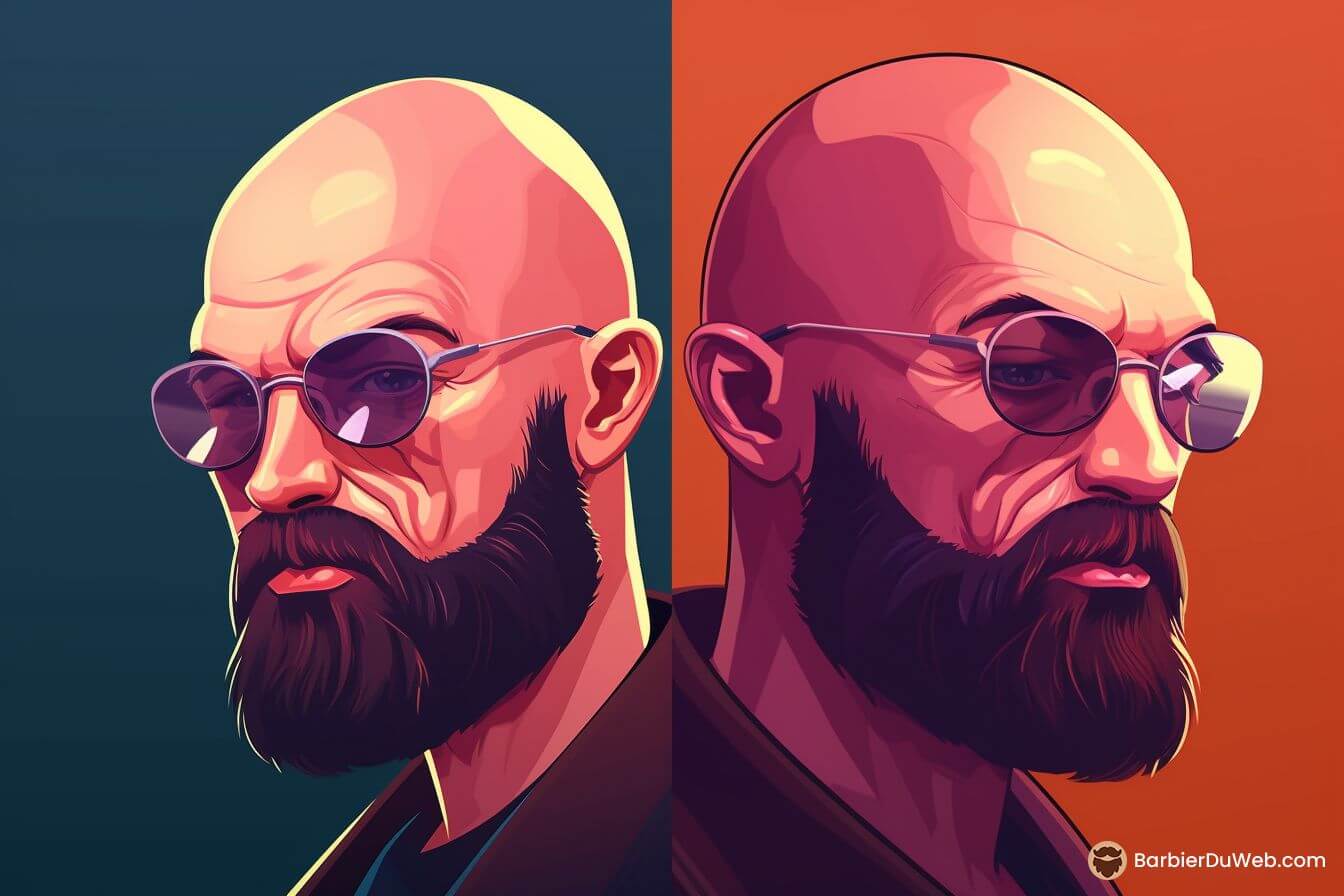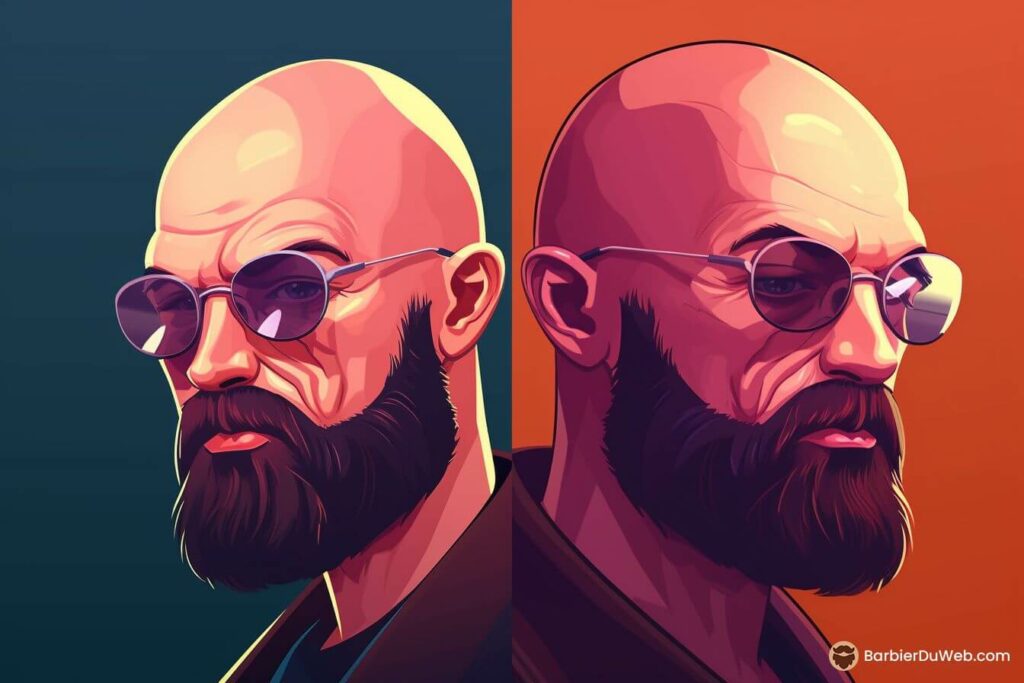 Your bald look is about to become irresistibly intellectual! Add a stylish pair of glasses to your well-groomed beard and you'll look both sophisticated and trendy (get the pun?).
Whether you prefer a retro, classic or modern style, this combination is the perfect equation for a style that pops!
Depending on face shape
Beard for a bald man with a round face
For the round-headed menWhen it comes to beards, playing with length can be a real boon. Choose a long, neat beard on the chin and a shorter one on the cheeks. It's the ideal way to elongate your face, adding a touch of virility to your look!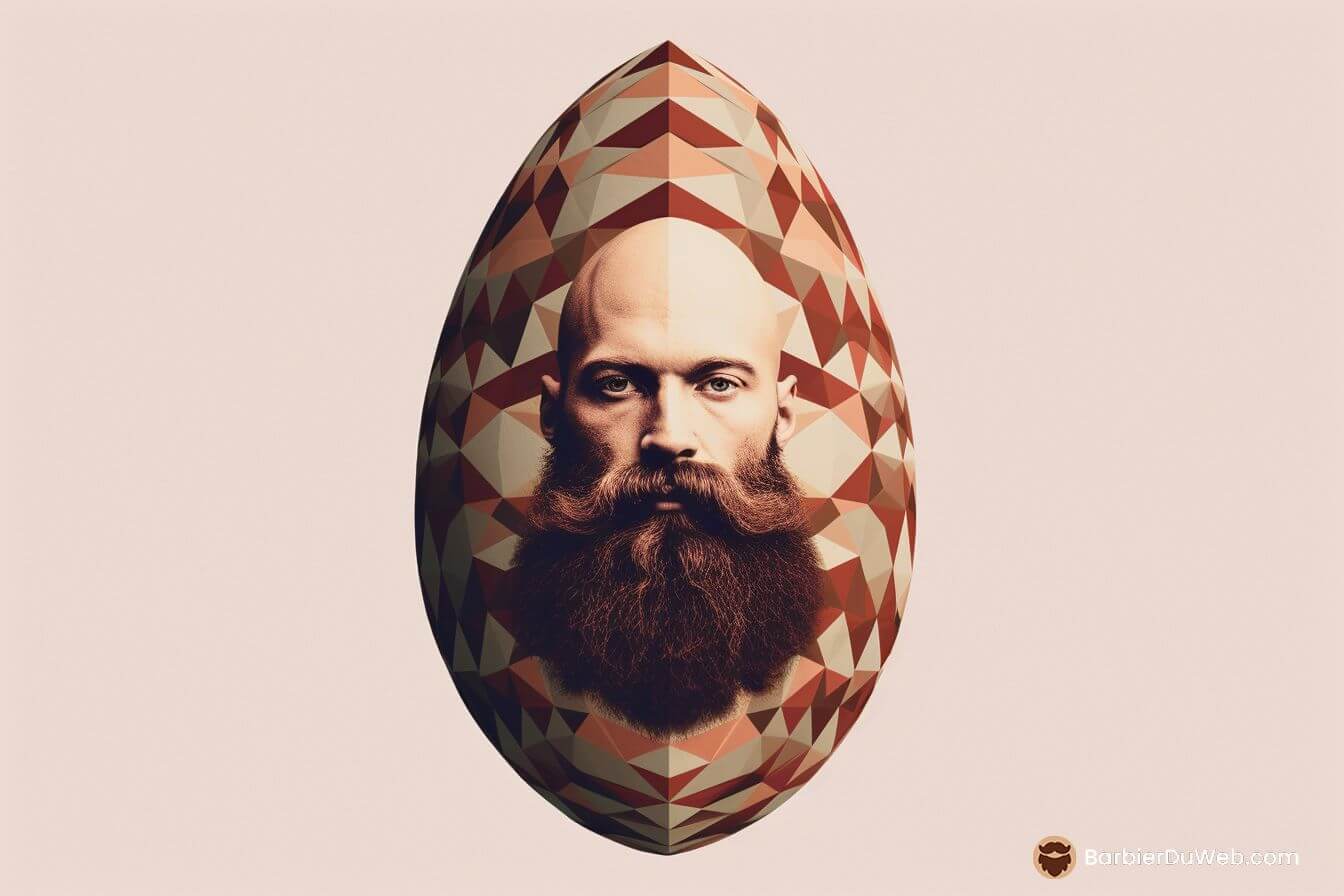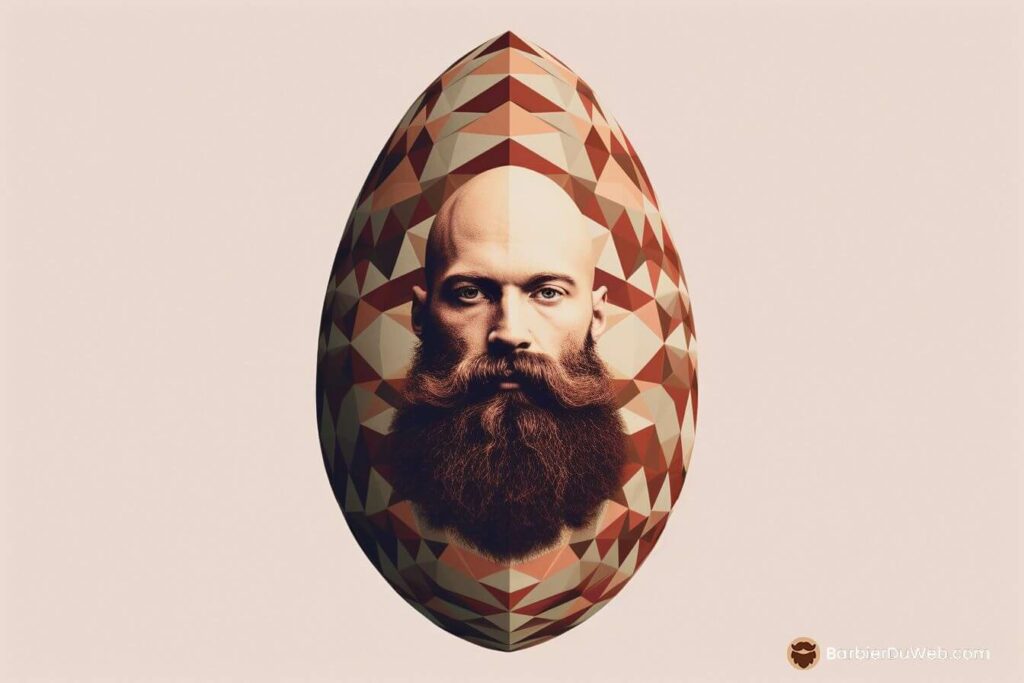 Beard for a bald man with an oval face
Are you bald and bearded, oval-faced ? Congratulations! You've hit the beard jackpot! With your balanced face shape, almost any beard style will suit you. Whether you choose a full beard or an elegant goatee, your look is sure to turn heads.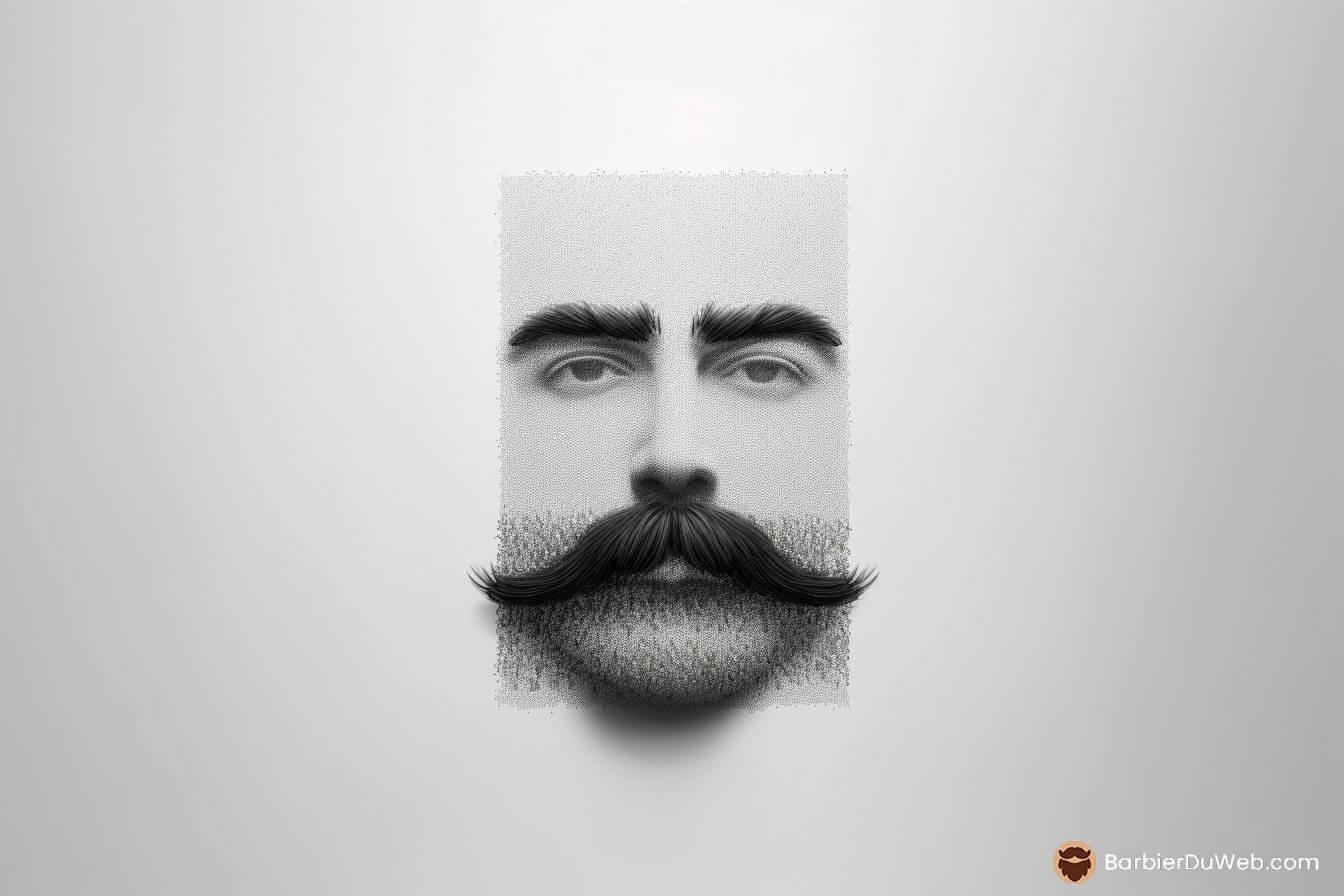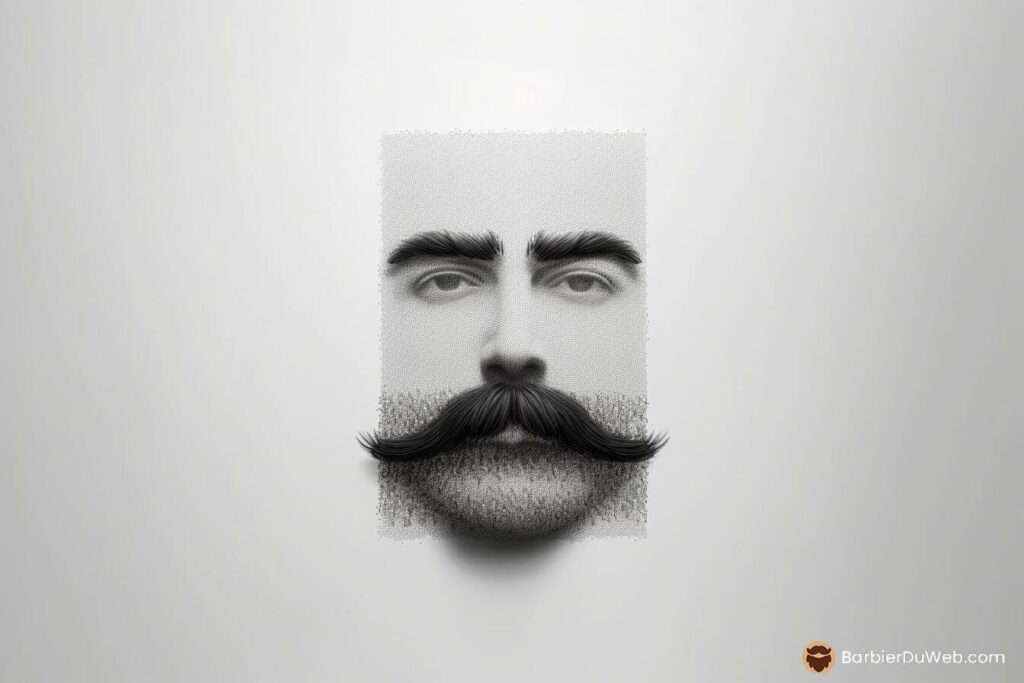 Beard for a bald man with an oblong face
If you shave your head and you have a beard and an oblong facedon't worry! Opt for a full beard on the sides, but keep it shorter on the chin. This trick gives the illusion of added width to your face without lengthening it further. Get ready to become a real stare magnet!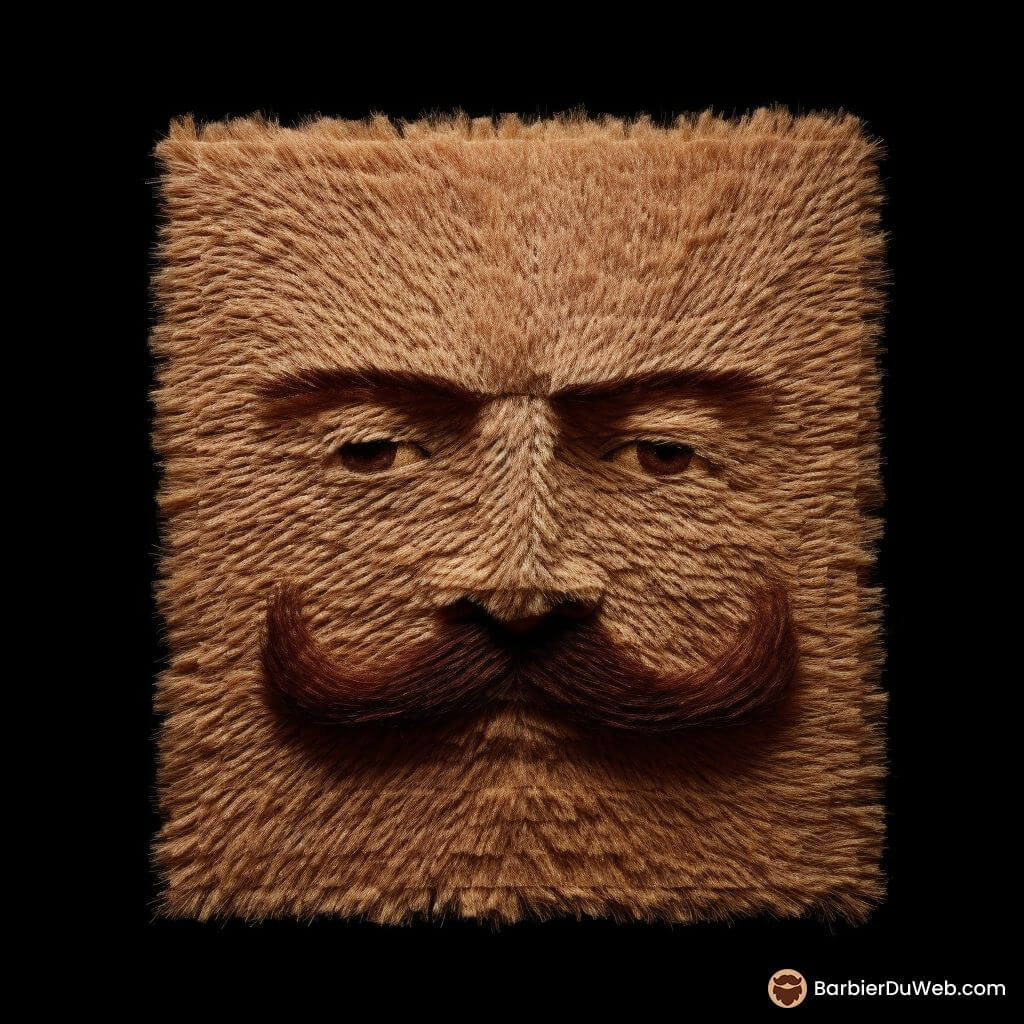 Beard for a bald man with a square face
Bald men at square, bearded facelisten up! Choosing a full beard or elongated goatee can soften your pronounced features. The result is a unique, chic look that perfectly matches your style.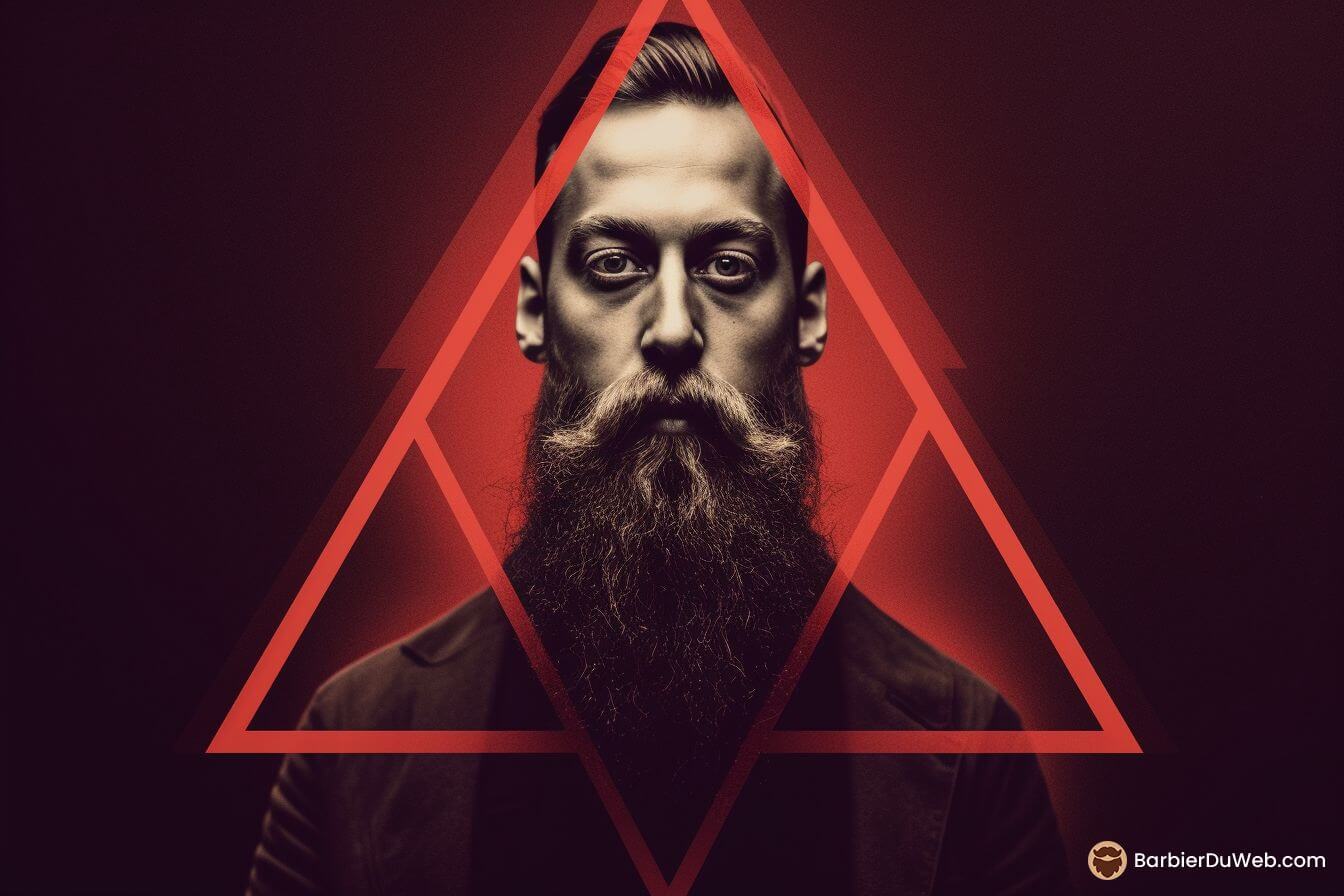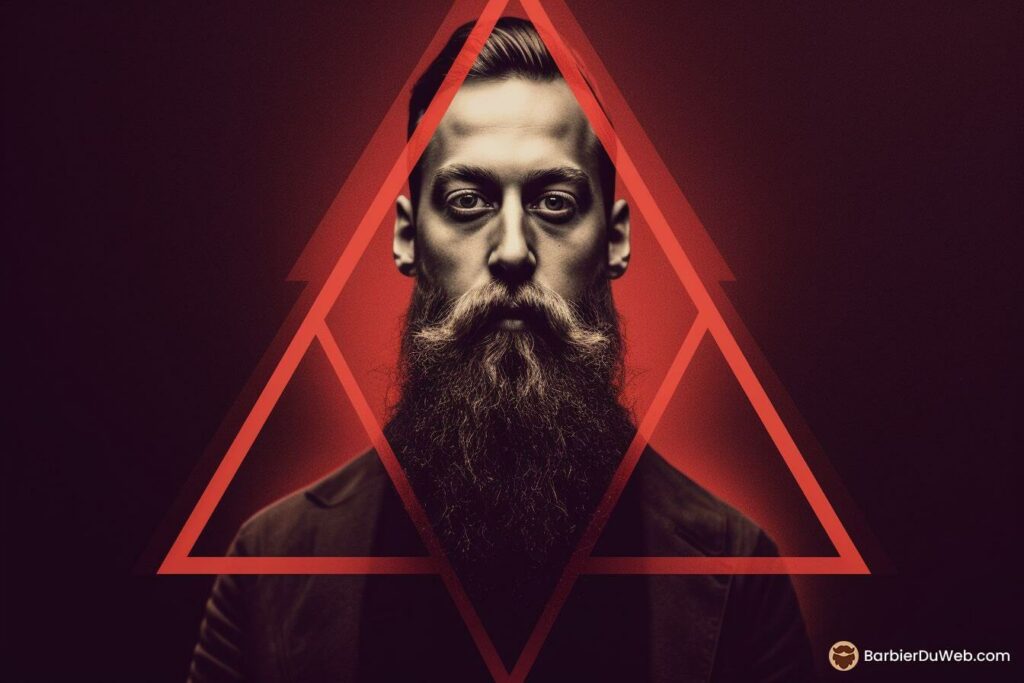 Beard for a bald man with a triangular face
For bald men with triangular headA fuller beard on the cheeks, tapering towards the chin, works wonders. It helps balance the width of the forehead, adding a touch of sophistication and elegance to your bald look.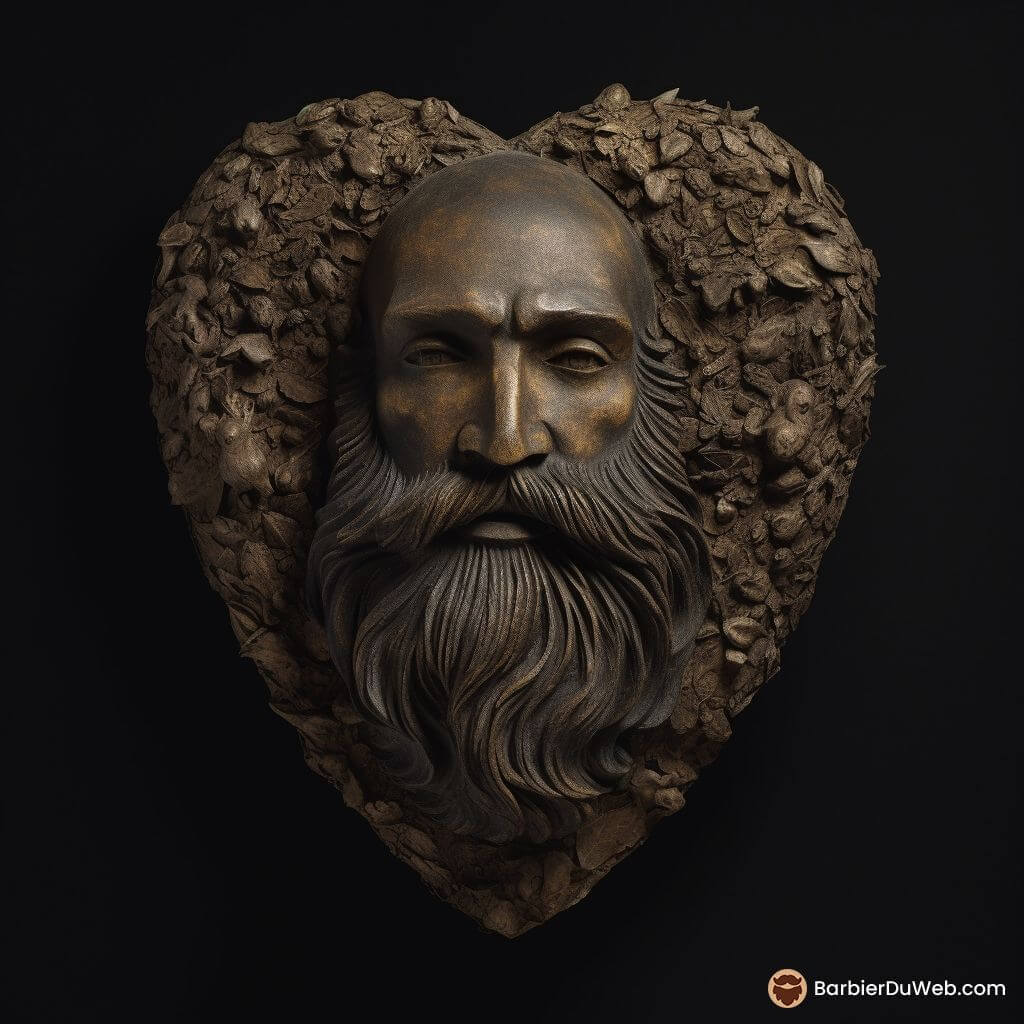 Beard for a bald man with a heart-shaped face
With a heart-shaped faceA short, well-groomed chin stubble can give presence to your lower jaw, balancing out your naturally soft features. It's the ideal way to add a touch of virility while remaining elegant.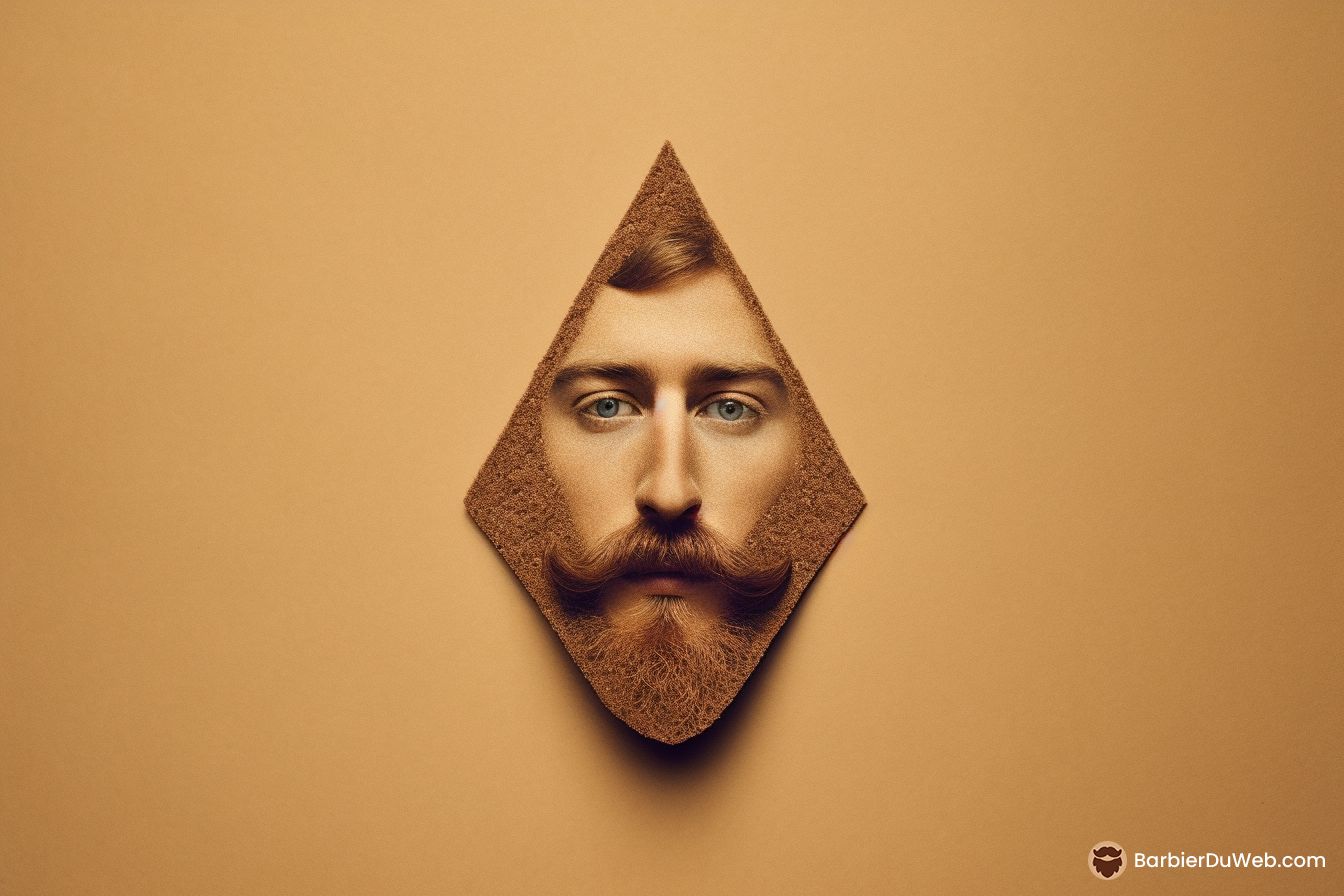 Beard for a bald man with a diamond face
If you have a diamond faceA beard that's longer on the chin and shorter on the sides helps soften angular features. You're ready to dazzle the world with your unique look!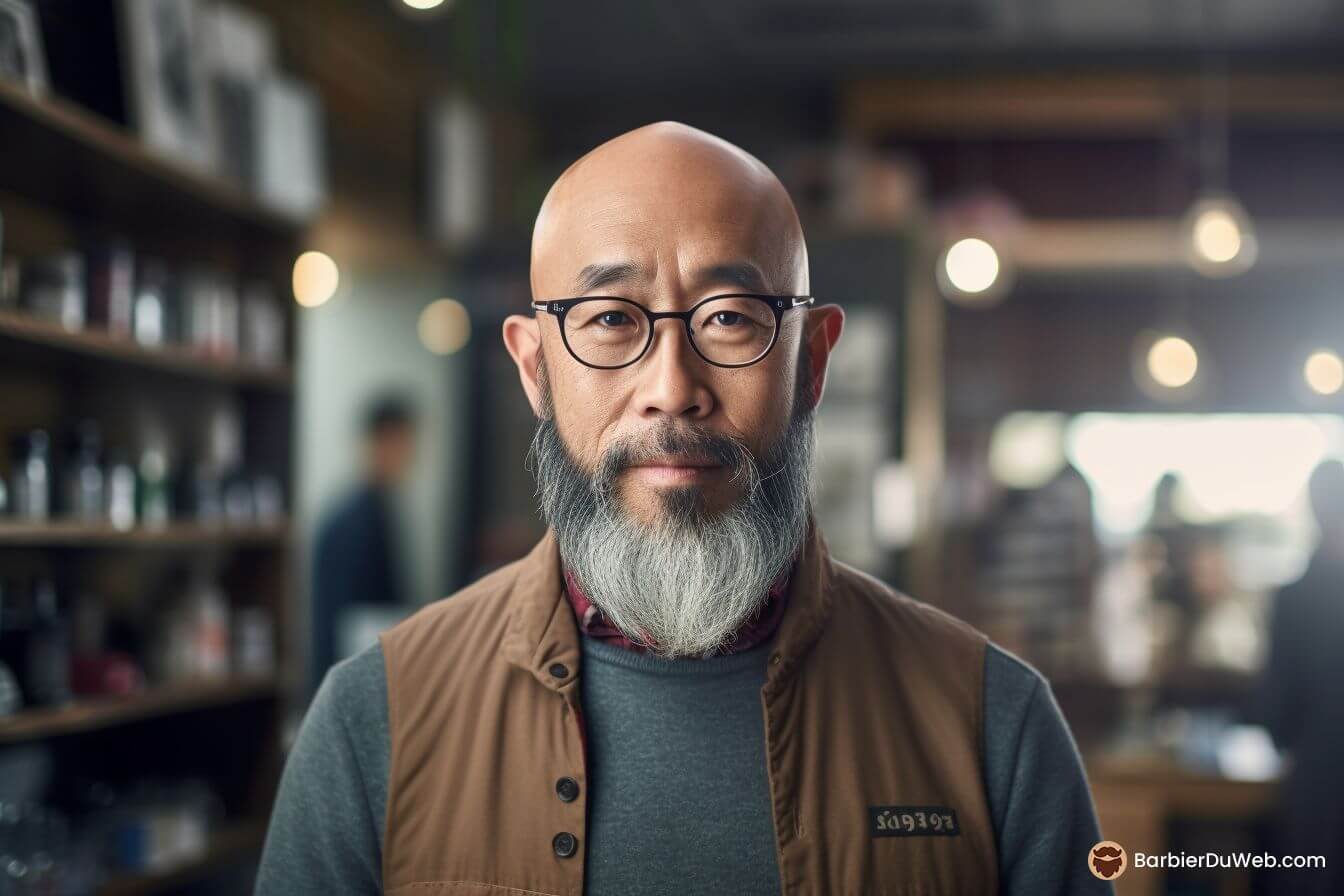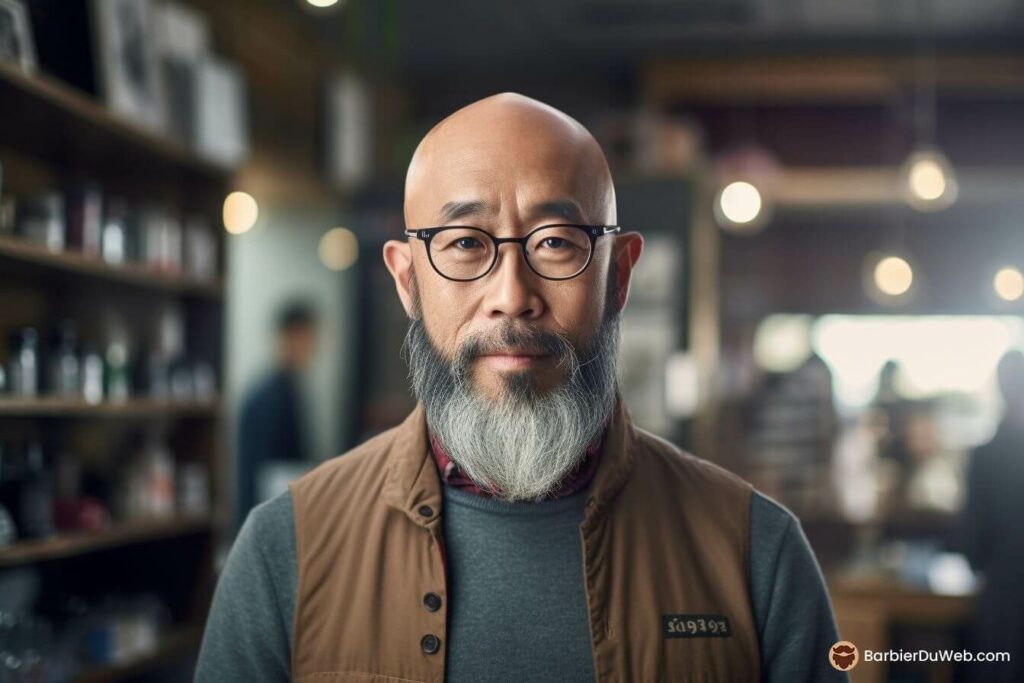 Beard for a thin-faced bald man
For the slimmer facesA full beard on the sides will add width to your face. It's time to make way for your rugged new look!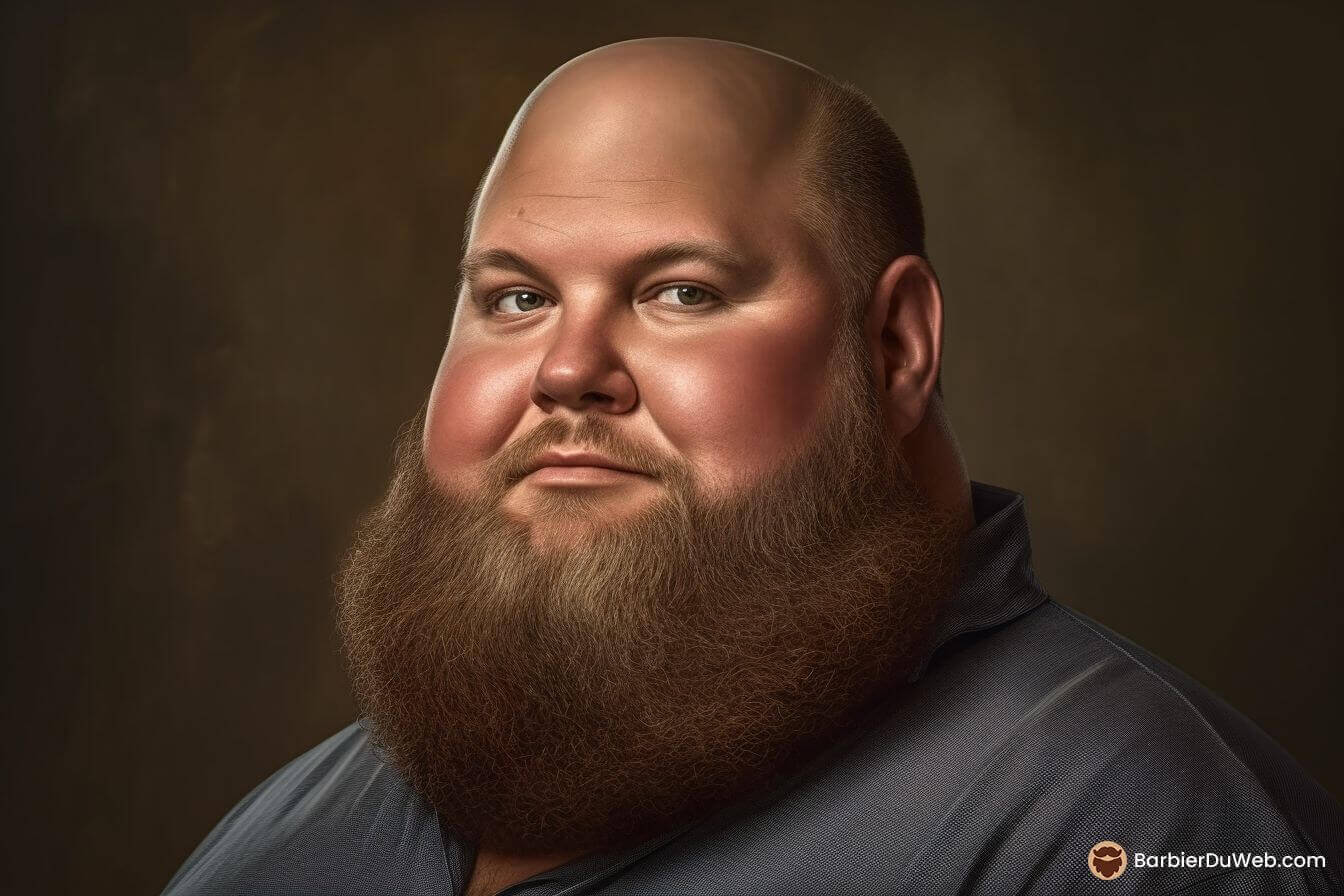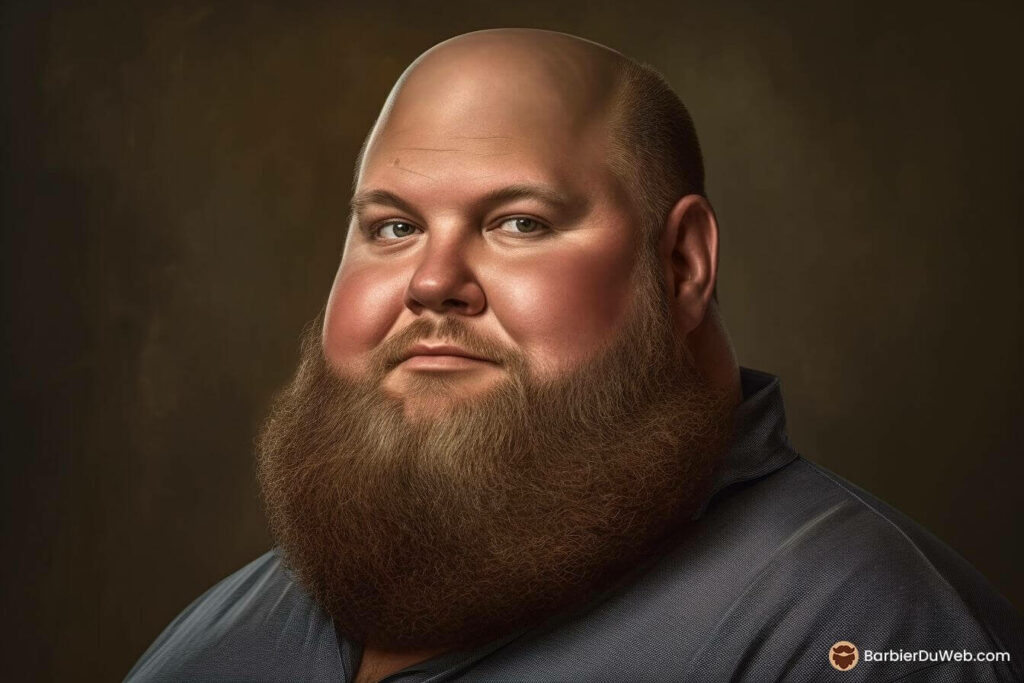 Beard for a bald man with a large face
For bald men at wide faceA beard that is shorter on the sides and longer on the chin can elongate the face.
Note: I've mentioned a few suitable styles, but I encourage you to experiment to discover THE style that adapts to your face and, above all, to your personality!
Does beard color make a difference?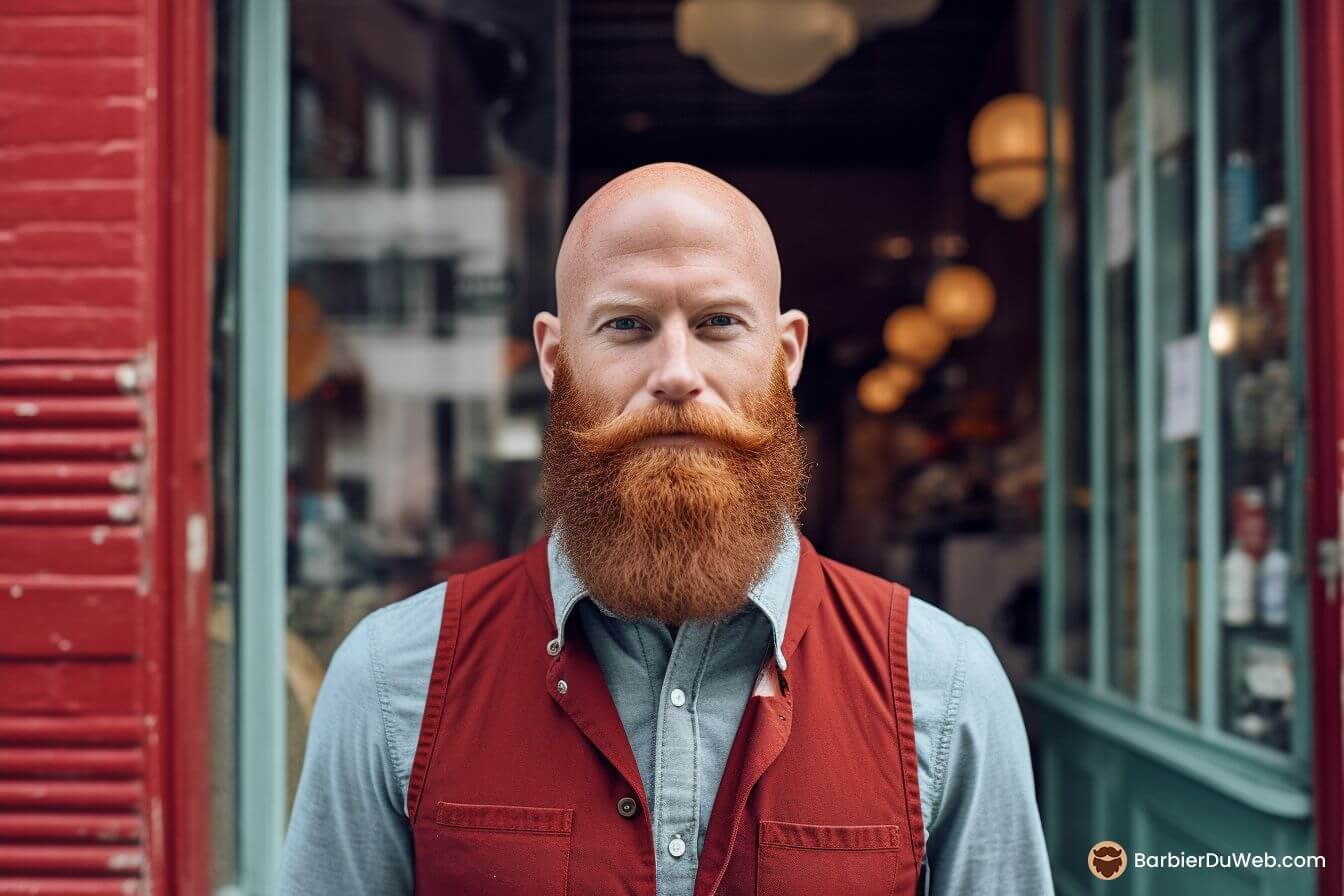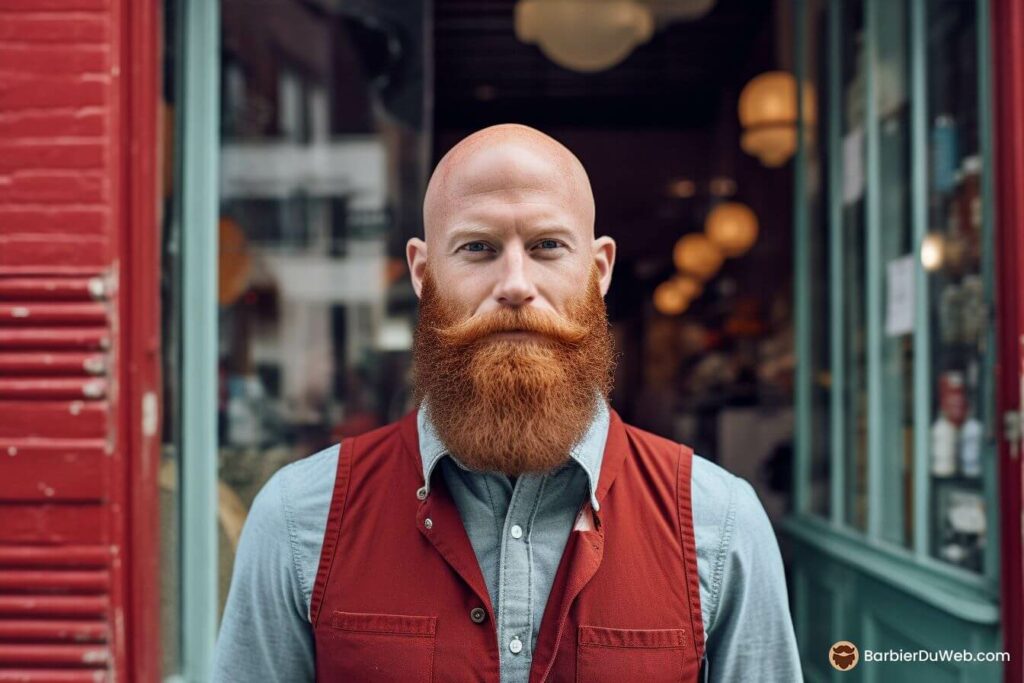 Red Beard for bald men
Show off your wild side with a bold ginger beard that perfectly complements your bald look. Whether flamboyant or more coppery, your ginger beard is sure to attract attention and add a touch of uniqueness to your style.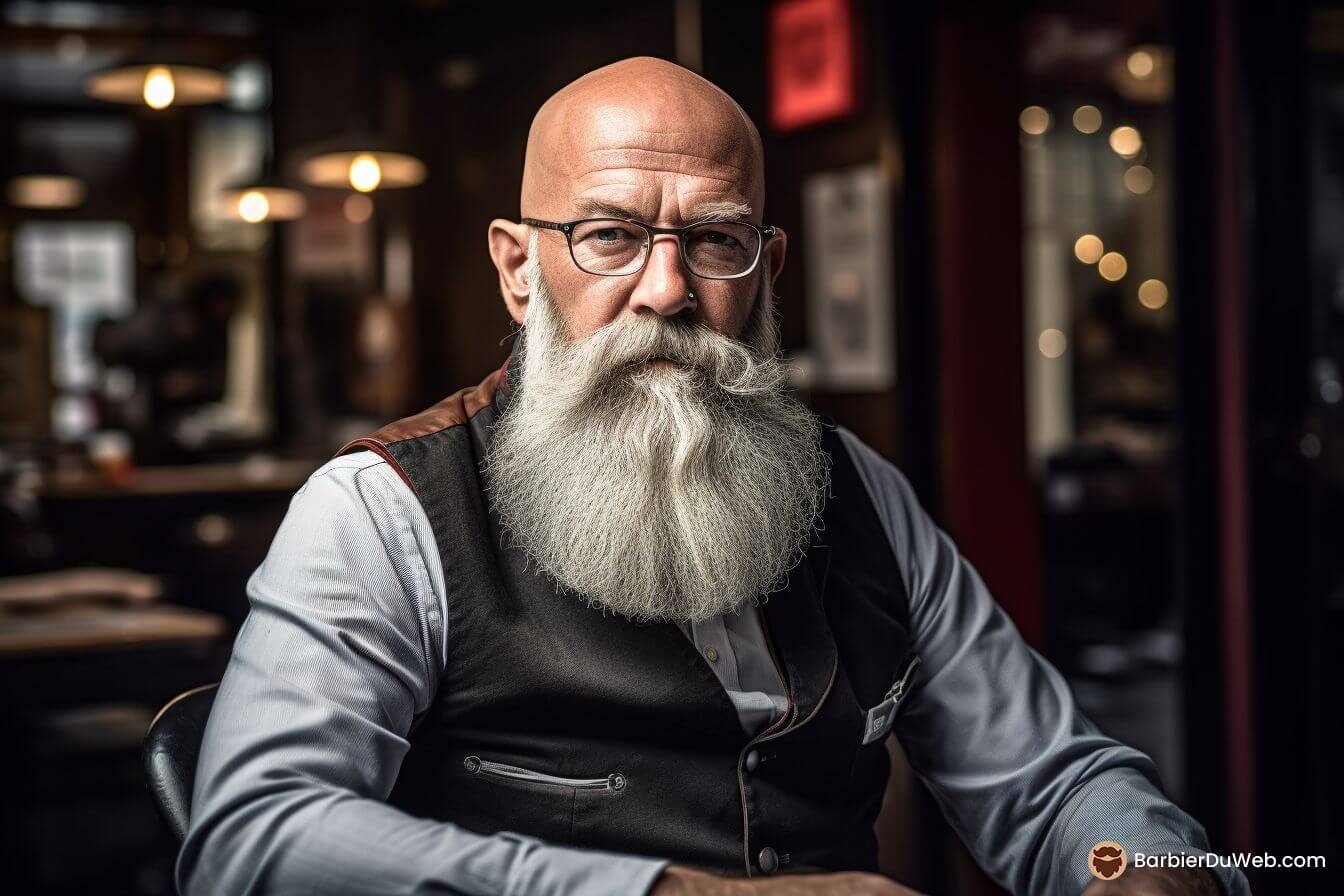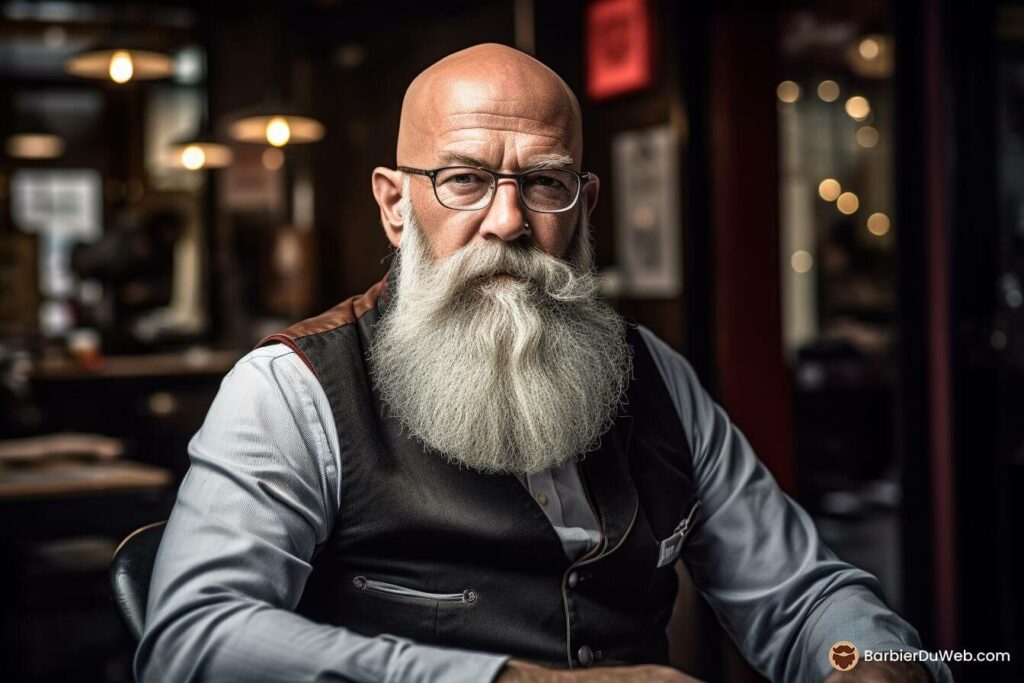 White Beard for bald men
Give way to an aura of elegance and distinction with a well-groomed white beard. Combined with your skull, it symbolizes wisdom and refinement. Like a fine wine. The white beard is more than a sign of maturity, it's a true state of mind. Bald with a white beard? Welcome to the Gentlemans Distingués club!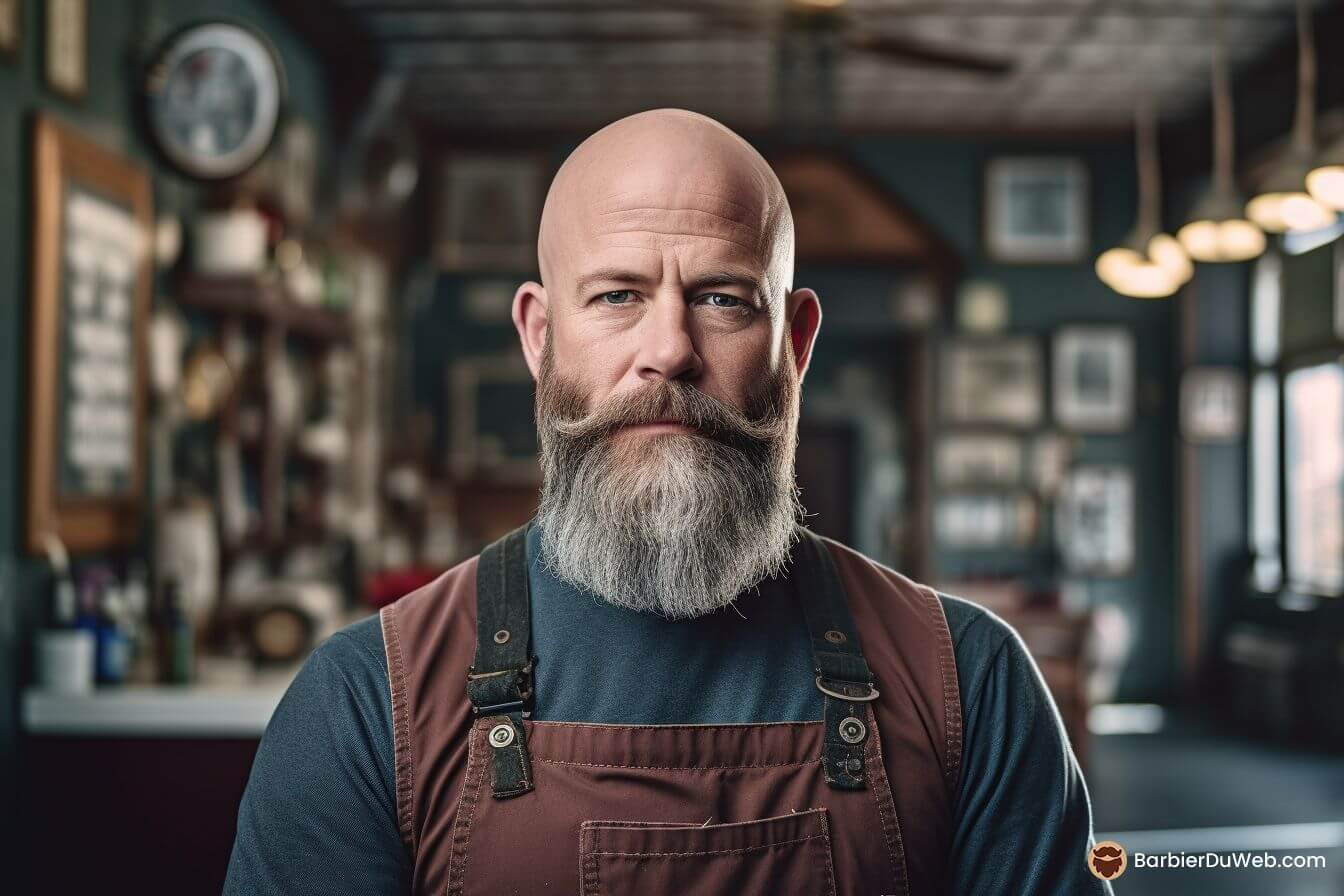 Salt & Pepper
The Salt & Pepper option offers a distinctive, rather mature look for the bald man. The natural alternation of gray and black hairs creates a sophisticated look! By softening the skull and adding focus to your majestic beard, it looks like... royalty.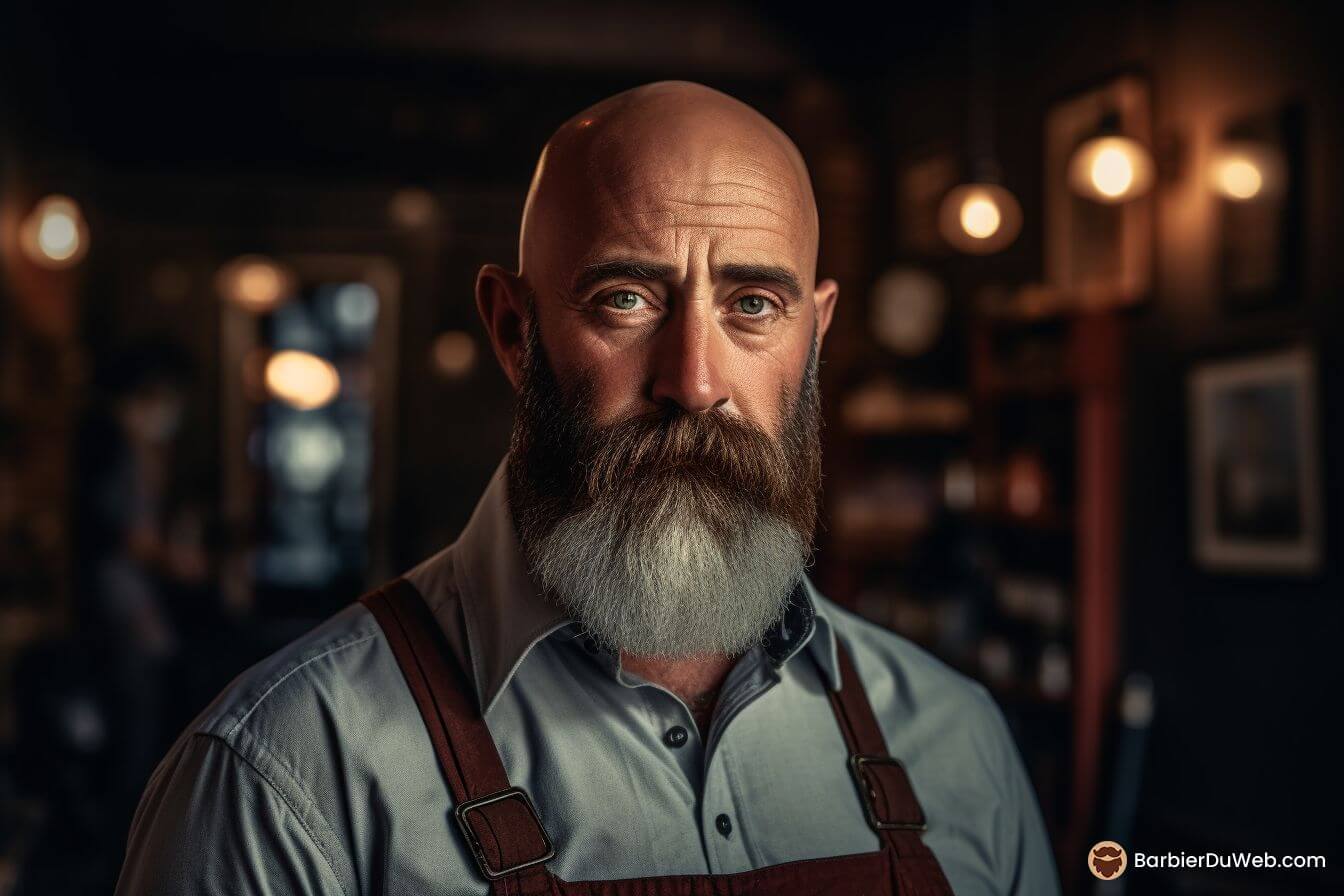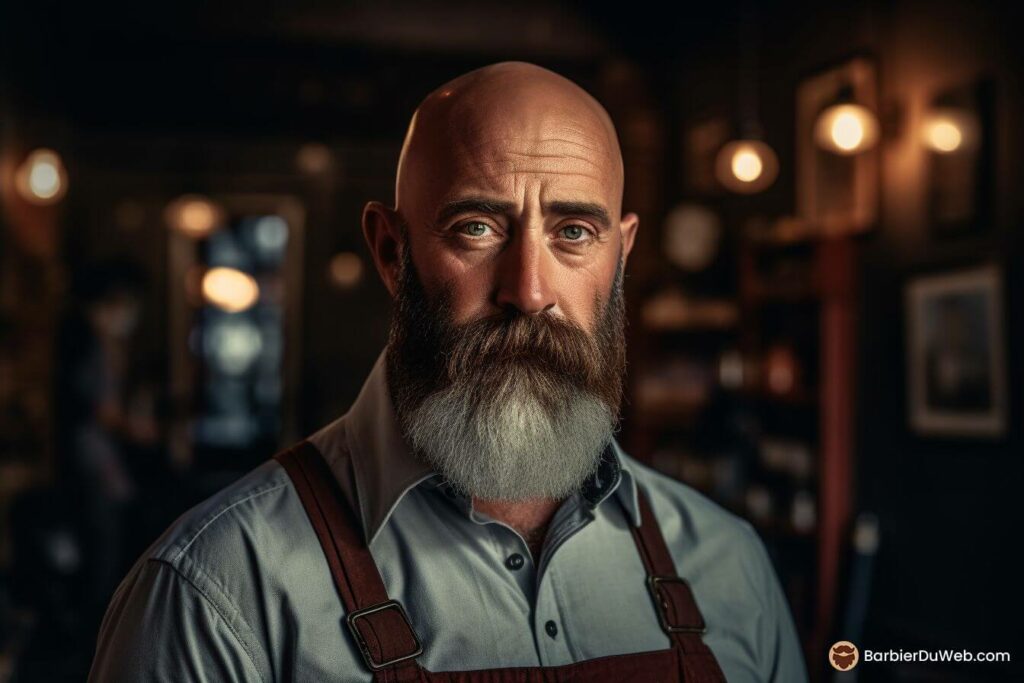 Gray Beard for bald men
The combination of a gray beard and a bald head evokes wisdom and sophistication. Transform your look by making your gray beard a symbol of refined maturity and effortless charisma. You're the modern Sean Connery!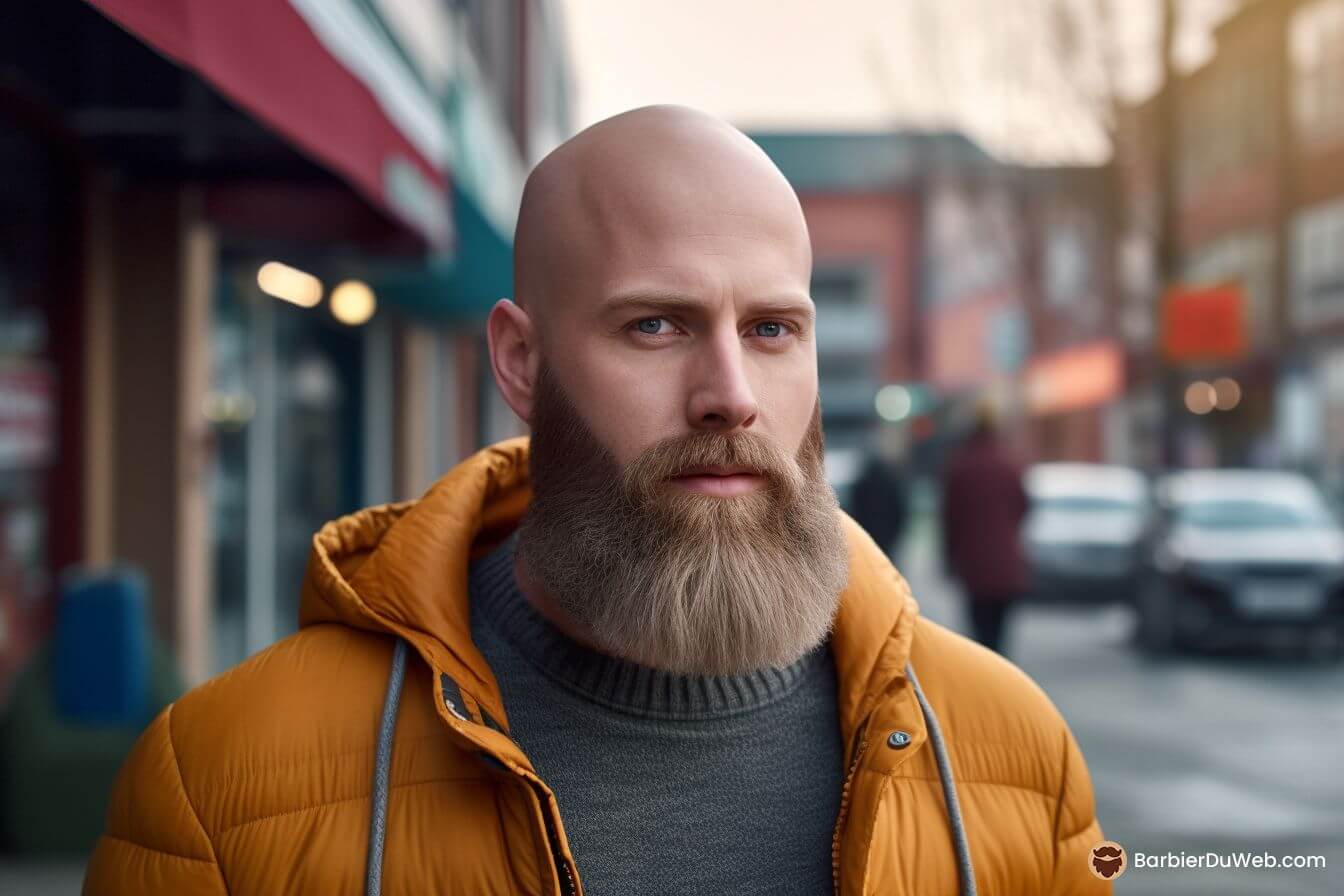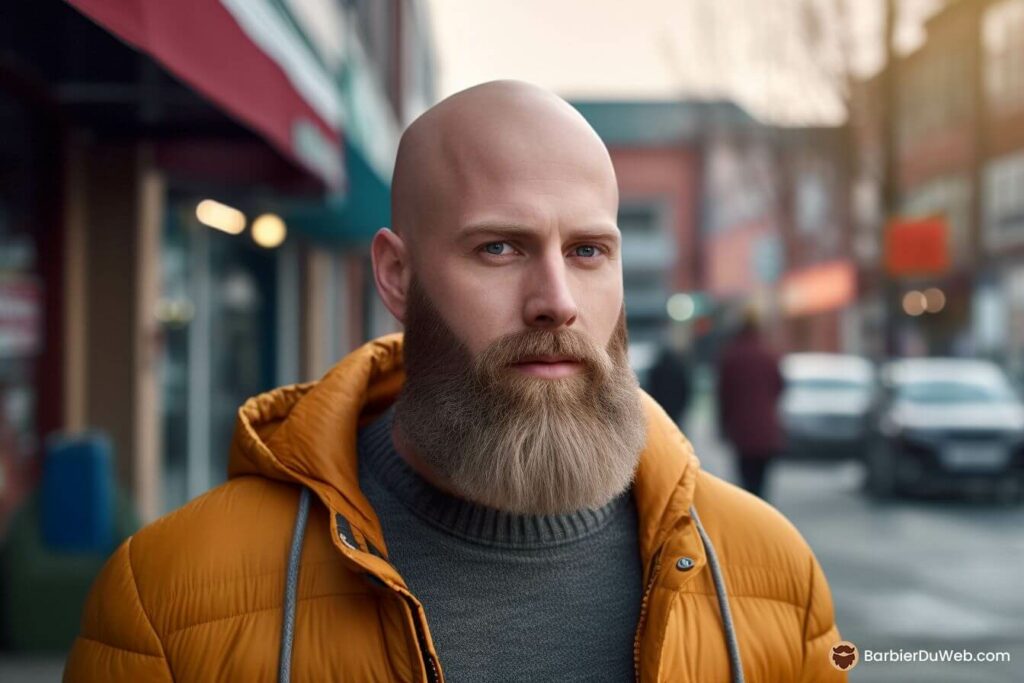 Blonde beard for bald men
Your look takes on a bright, attractive twist with a blonde beard. Whether light or dark, it adds a certain softness to your bald appearance. It's a real eye-catcher! Of course, you can also combine it with a beautiful blond moustache.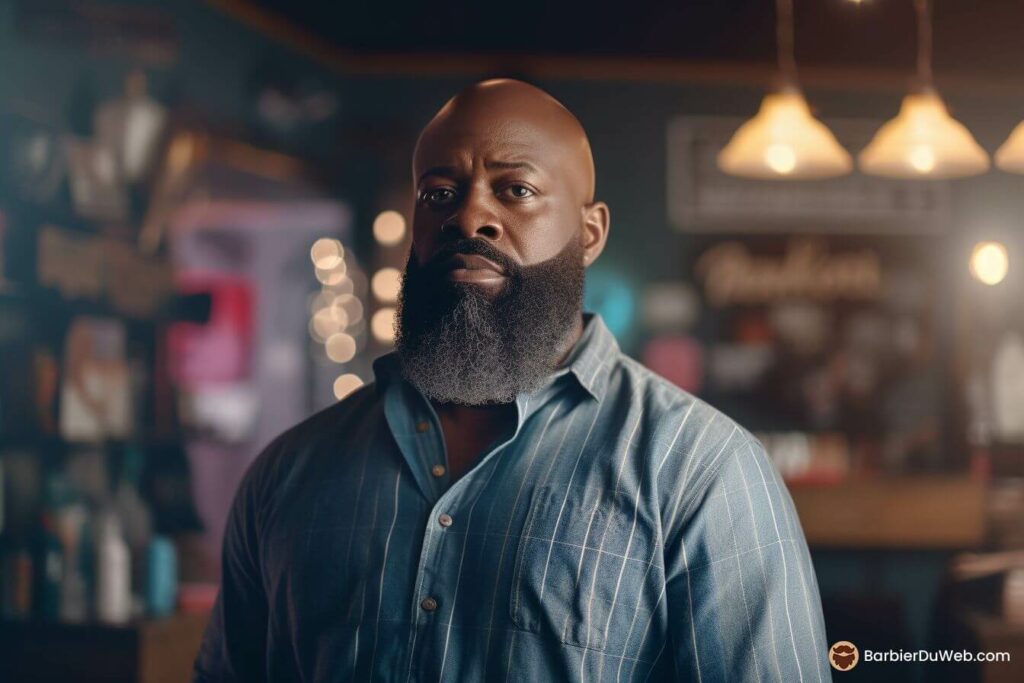 Brown beard for bald men
The brown beard evokes raw virility! Short or long, it adds character and recalls our favorite action movie heroes!
Famous bald and bearded actors and characters
Beard or No Beard? Bald Men Take the Lead!
The beard is much more than just a facial attribute for men. It's an art, an expression of self. Whether gray, white or redhead, each color adds a unique nuance to your look. Whether you have a round, oval or square face, no problem! There's a a multitude of styles that can perfectly fit your face and highlight your shaved head.
Whatever your age, background or look, a beard is a great way to add a touch of sophistication to your look.

Don't forget The perfect beard style depends as much on your personality as your body type. Here's how, experiment, have fun and show off your beard with pride !
Ultimately, being bald means having the opportunity to reinvent your style and try out new trends.
FAQ
What is the ideal beard length for a shaved head?
The ideal length of beard for a shaved head varies according to face shape and personal preference. However, an average length (1 cm 2 cm) is often recommended to balance the look.
Should you have a beard if you're bald?
Wearing a beard when you're bald can help balance your face and accentuate your features. It's a personal aesthetic choice that can add character and definition to your look.
Is a beard a style for a shaved head?
Yes, a beard can be an excellent complement for the bald man. It provides visual balance, accentuates facial features and adds tremendous charm!
How do you wear a beard when you're bald?
To wear a beard when you're bald, it's important to trim it regularly to keep it well groomed. In addition, choose a beard style that complements the shape of your face.
Why do some men go bald but have beards?
It's because of the differences in androgen receptors on hair follicles. Hair follicles on the scalp are more sensitive to Dihydrotestosterone (DHT)a hormone that causes baldness, while those of the beard are resistant to it.
Can bald men grow beards better?
There is no direct link between baldness and beard growth. However, it is possible that balding men may have a thicker beard due to the same hormone (DHT) that causes hair loss.
Why do bald men have thick beards?
This isn't the case for all balding men, but those with thick beards may have greater sensitivity to androgens in the beard hair follicles, stimulating hair growth.
Where can I start my beard if I'm bald?
In general, the beard should start at the edge of the face and scalp, where hair would normally have started to grow.