Want to look stylish with your shaved head? Choose a beard style that is suitable for bald people!

It is the essential style for modern men to be elegant and casual at the same time. And you don't even have to change your wardrobe!

To put it simply, simply adapt the size of your beard to your face. If you have an incipient or permanent baldness or a hair problem of any kind, the bald cut with a nice beard is perfect.

We will see what are the best beard styles for bald men with shaved heads !
Why wear a beard when you are bald or shaving your head?
The bald beard style is very fashionable. This is easily explained: the goatee is too!
Here are some good reasons to adopt a beard style with your shaved head:
Everyone wears it because it fits everyone
The beard with the bald head concerns young and old alike. In fact, it is even the ideal style to hide a baldness.
You won't need a wig to feel good about yourself or to improve your physical appearance. Just choose the bald beard style that suits you and adopt it!
Morals have evolved
Being bald with a beard is nothing to be ashamed of or weird. It even makes you stand out from the crowd. Many Hollywood stars opt for bald beards for this reason. Check out Jason Statham or even Bruce Willis !
This style even improves your self-perception. It will increase your self-esteem and self-confidence!
The look of others changes for the better
A beard thickens your face and defines your look. The proportions of a bald head with a long beard are no longer the same.
In addition, the hair with sideburns fills in the cheeks and prevents the skull from looking naked.
Bonus: women appreciate originality, even without any hair!
Being bald with a beard, it looks adult!
The beard has always been a mark of virility. By opting for a bald style beard, you will be more modern and you will even look more mature. You have become a real man!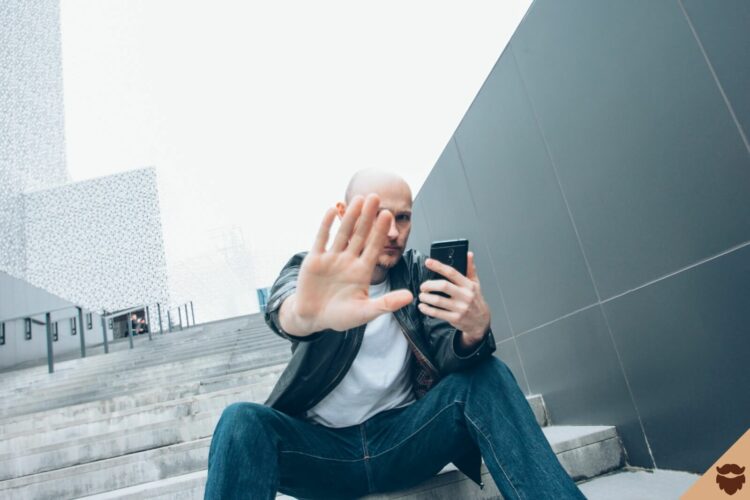 Beard styles for bald men or men with shaved heads
The visual and aesthetic appeal changes with a beard. Your face is no longer the same when you wear your hair. And neither is the man you are!

If you are determined to make a change, you have to find the best goatee possible. Some people think that the shaved head beard design is adaptable at will. However, even with a bald head with a beard, you have to be careful.

Your choice depends on your facial morphology and your preferences above all!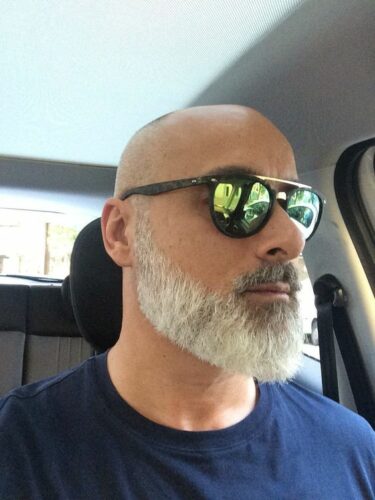 3 day beard
The good thing is that the 3-day beard is quick to grow and easy to maintain. You just have to be a little bit rigorous!
Plus, it goes well with a lot of face shapes in no time. Perfect for a sleek and stylish look!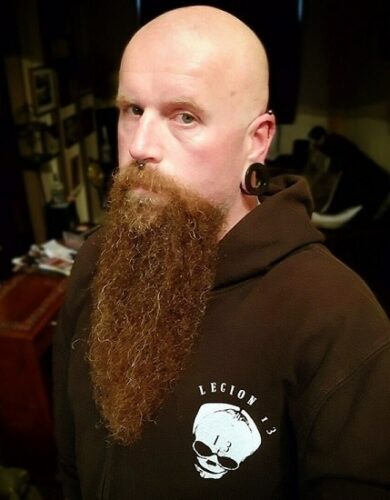 Viking Beard
If there is one thing Vikings are well known for, it is their big beards. Often it is worn with a shaved head. Perhaps this creates fear in their enemies.
It's almost too simple: you just have to remove the hair from the head and not touch the hair on the face. Well, it's not that simple, I admit.

This is our complete guide to growing your viking beard. Be careful to always clean and cut the rebellious strands.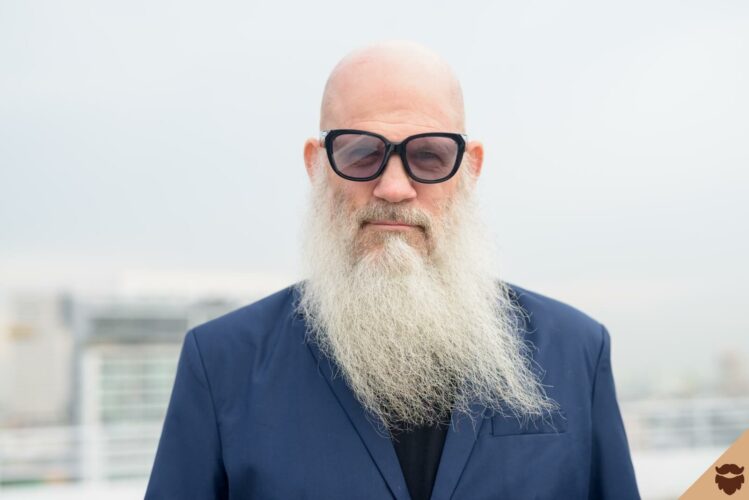 Hipster beard
Being bald with a beard often means having a vintage look. Hipster style fits the bill perfectly!
Its modernity will make the difference. You can also opt for a gradient beard, even if it is not mandatory.

The criteria are not numerous: to adopt the bald hipster beard, you just need to have a strong hair.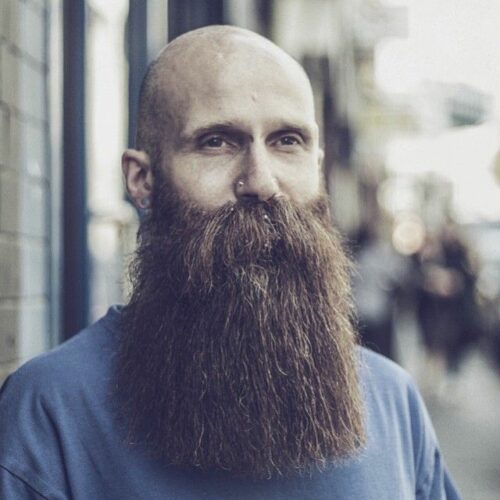 Big long beard
The big shaved head beard is often the prerogative of strong men, especially the chubby ones. It corresponds to the personality and morphology of round-faced gentlemen. It is usually found among bikers, with a very distinct style.

But beware: everyone can wear it and it is still necessary to take care !
The good thing is that there is no maximum size and it does not require a visit to the barber only every one and a half to two months or so.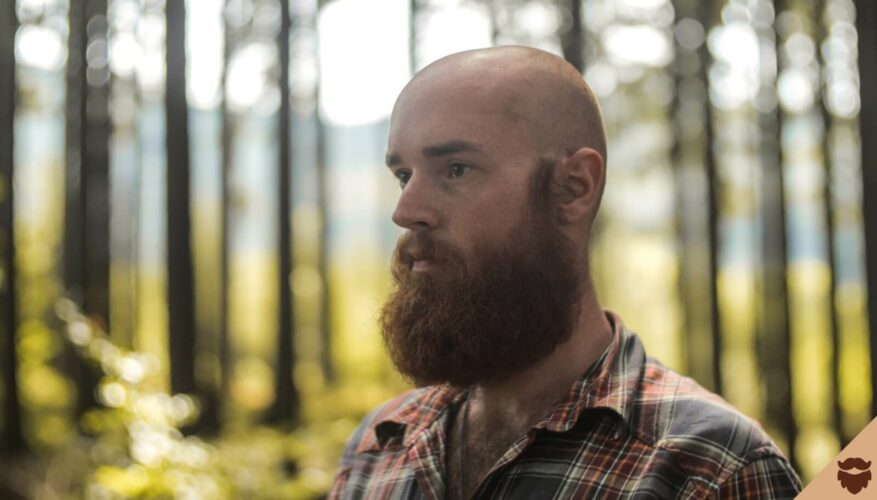 Redbeard
Having brown hair and a red beard is normal. Being bald with a red beard is just as important. To tell you the truth, it is genetic. And genetics, there's nothing we can do about it!
The ideal haircut for the bald beard style varies depending on the shape of your face.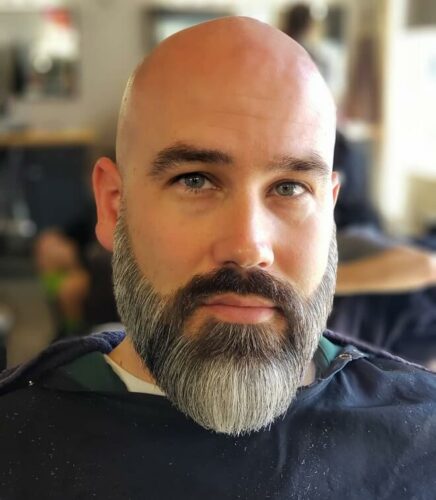 Ducktail beard
If you want a dandy look, the Ducktail beard is the choice par excellence. It is also called "queue de canard" in French, in relation to its shape as you may have understood.

The ducktail is distinguished by the density of the beard, the tip at the end and the edges that are perfectly trimmed.
It is ideal on oval, rectangular and square faces because it adds a lot of length to the face.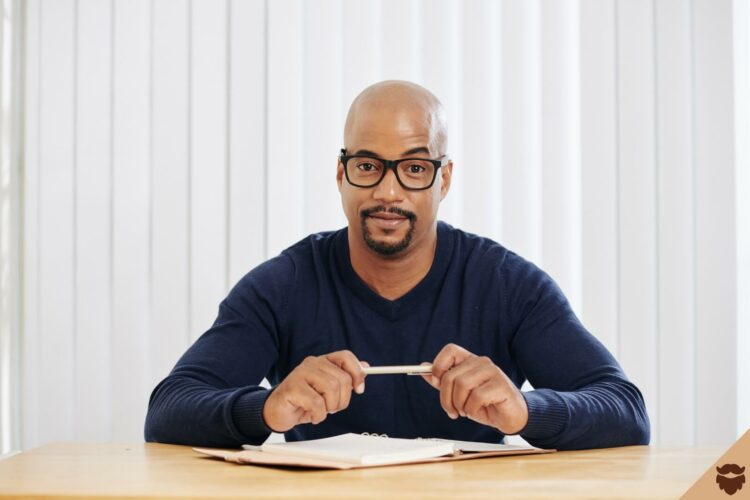 Beard and glasses: the handsome style
It's true that a shaved man with a beard looks great. If you don't agree, I don't really know what you're doing here... But you look even better with vintage sunglasses, round or rectangular.

The same goes for short goatee style of 1 cm, a one month beard or any other style that fits with a shaved head.

Again, the choice is very much based on the shape of your face. Once you have the beard, just do your tests and adjust with your glasses!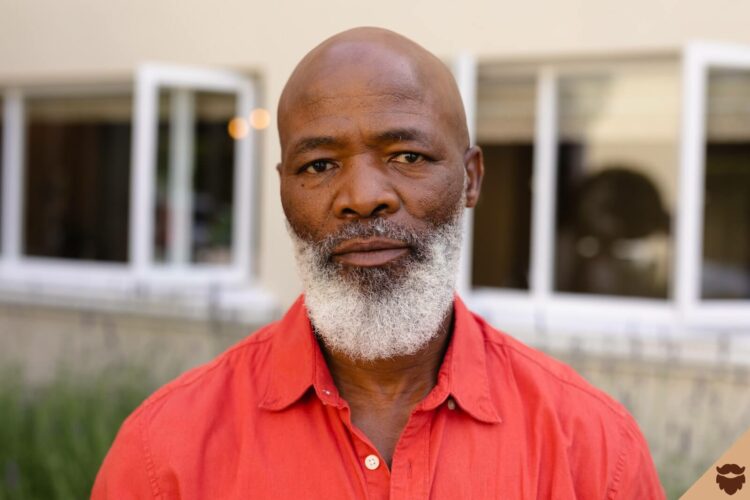 For bald black men with beards
Black men and men with mixed skin can have a beard and a shaved head. It has nothing to do with skin color or hair type.

In fact, it's simple: everything is based on facial hair and geometry. So you can shave your head and adapt the beard with your face to change your look!
For a wild look in bald-beard mode, opt for the long beard, while a short style will make you look younger!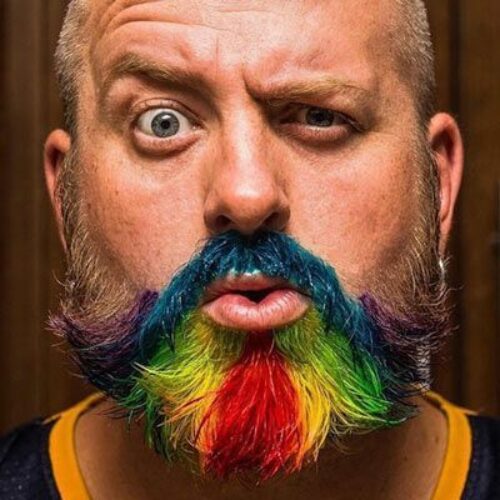 The color of the beard: does it change anything?
The color of your beard doesn't matter. Let your beard be black, whitered or grey, all existing variations are perfect.
The bald beard style you choose does not depend on the color of your beard, but on the shape of your face and the type of beard you have.
Conclusion on beard styles for men with shaved or bald heads
Wearing a beard with a bald or shaved head is a choice that can make a difference.
Your choice on which style to make depends on :
your expectations,
your personality,
your hairiness
the shape of your face.
Of course, it is also possible (and even advisable) to adapt your mode of dress to your beard and your face shape.
If after reading this article, you still don't know which beard to adopt, go to a barber hairdresser in Perpignan for example. Barbers and hairdressers are very well placed to advise you and help you find the perfect look.

To continue on the subject: Top benefits of dating a bald guy by Topito
And you, what style of beard do you wear? We are waiting for your answers in comments!
I still have questions about what to wear with a shaved head or my baldness
It depends on your hair, your preferences and the shape of your face. The beard can be as short as long, it all depends on what you want from the beard and your look!
The style varies depending on the thickness of your beard and your personal expectations, but the main factor is your facial morphology.