The short beard is in fashion and it is very chic. As a proof, many celebrities wear it and even our politicians start to wear it... 

But which cut to make? How to cut it? With what accessories and care to maintain it? 
Whether you're a new bearded man or have been wearing it for years, these are questions every man has, and the barber is there to answer them!

Let's start by defining the short beard and see some styles you could adopt right now!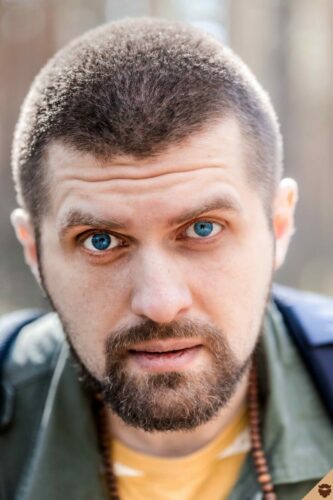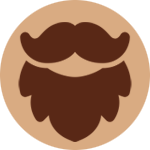 What is a short beard?
The short beard is a small beard with a length of 2 mm to 10 mm (1 cm). It is very fashionable among men of all ages and all backgrounds (white, African, black, Indian ...).
We find it a lot in the professional world where it is very well accepted. This was not the case a few years ago!
In addition, it adapts to a wide range of beard styles (hipster, goatee, spiky...) and moustaches, from face shapes (rounds, squares, ...) or hairstyles (shaved headlong hair, man bun...).
It is very versatile and remains beautiful in all imaginable shades, from the most classic (brown, salt and pepper, white, red, blonde) to the most original (pink, fluorescent yellow ...)
The small beard allows you to grow facial hair quickly and without much maintenance in contrast to a long Viking beard or that a braided beard for example.
Well, I'll tell you right now: you don't have the Santa's white beard.
Photos and examples of short beards
For ideas or just inspiration, I've collected a lot of short beard styles. There is something for everyone: gradient, with a goatee, square, pointed or conical.
We often talk about 3-day beard orone weekwhich remains relatively short, even ultra short.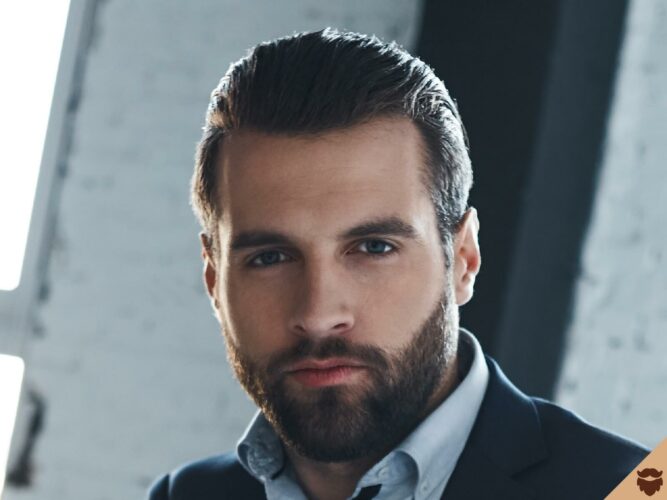 How to trim a short beard? The tutorial
To make a short beard, even ultra-short is not very complicated. Indeed, you need to:
Do not cut too short to avoid unpleasant surprises,
Work carefully with lines and contours (neck, Adam's apple, cheeks),
Maintain your hair with oils and balms to make them supple, soft and shiny.
I would also advise you to equip yourself with basic bearded accessories if you haven't already done so.
1. Let your hair grow
Although it may seem logical, you're going to have to grow a beard. However short it may be, it will take a few days before you have more than a "shadow" of hair on your face.
Of course, to be able to style it and make a cut, it will be necessary to wait between 2 weeks and 6 weeks in order to have material to cut.
You can also keep the (very) short beard of 3 days until 1 week.

Hair growth varies enormously among men: genetics, lifestyle, diet... Many factors can accelerate or slow down the growth of your beard, even if it is short.
Therefore, I advise you to adopt a healthy lifestyle, to do sports and especially to use oils that help the beard to grow to make it stronger and more dense.
2. Trimming a short beard with clippers
It's time to get to the heart of the matter: trimming your (ultra) short beard with the help of two essential accessories for every bearded man: the scissors and the mower. For a clean result, you can also use a beard stencil to draw lines like a pro.
Here we go:
Set your mower with the desired shoe (usually between 1 mm and 10 mm). If you are not sure of the result, start with a longer length and reduce little by little.
Pass the clippers on your entire beardBe careful not to leave any area untrimmed: it looks very unkempt.
Check that both sides are uniform and that the lines are roughly drawn.
3. Finish with clippers without a shoe or with a razor and scissors
Now, remove your trimmer's shoe or take your razor and draw the lines:
Start with the neckFrom top to bottom, paying attention to your Adam's apple.
Switch to cheeks and start drawing your lines symmetrically.
To help you, it is possible to be equipped with a beard stencilwhich allows you to have clean lines like at the barber's.
Finally, equip yourself with your beard scissors and get rid of protruding hairs and are not aesthetically pleasing.
Hop, you now have a short, stylish, chic and very clean beard! To you glory, women and money.
Depending on the size you want, I advise you to prune 2 to 3 times a week. This way, you can keep your beard clean and well trimmed.
Although I advise you to take a trip to the barber shopYou can do it yourself at home. To do this, Equip yourself well and pay attention to the beard cut you want so as not to spoil your long beard!
Unfortunately, genetics sometimes plays tricks on us and beards are often the victims. An uneven beard is not a problem and can be fixed quite simply: let it grow longer and even it out to a smaller size.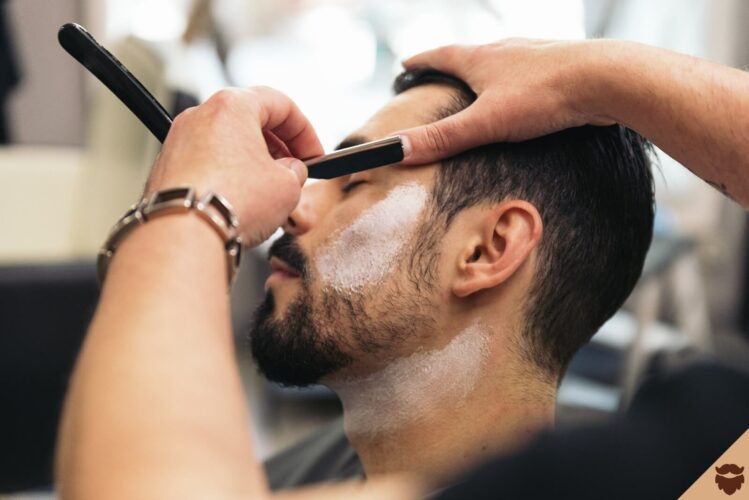 Maintain your short beard with products, care and accessories
Now that you've trimmed your best short beard, it's time to maintain and care for it. take care ! But how, you might ask? Well, it's pretty simple.
In reality, all you need is the right care and accessories and your beard will be sublimated.
Maintenance kits for short beards
In fact, all of the maintenance kits are suitable for both short and long beards. Just choose the kit that suits you with the tools YOU need.

If you don't have any equipment yet, I advise you to look at the Starter Pack" beard kits that contain everything you need to get started!
Here are some boxes for you, short-haired bearded men:
Oil to discipline, moisturize and soften the hair
Oils are the first ally of a beautiful beard in good health. They are so useful that we could call them a magic elixir.
If your beard does not growIt stings and scratches, frieze or has dandruff, oils will surely come to your rescue!
With properties all more amazing than the others, I highly recommend using them on your hair (and your skin) to beautify your beard and make it stronger. In addition, they will soften your short hair and make it silky.
Balm for a neat short cut and protected skin
The balm is excellent applied in the morning, before starting your day, going to work for example. Generally, they smell extremely good, moisturize and protect your skin and hair from the aggressions that await them outside.
I especially recommend them for short beards to add another layer of softness to your hair that can become prickly or dry. It would be a shame to cause irritations on your girlfriend's skin.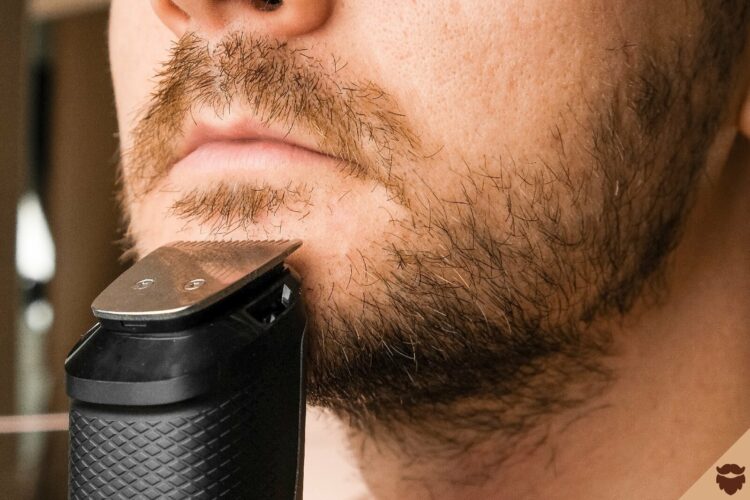 Trimmer to keep your beard (very) short and stylish
Do I really need to explain to a bearded man the usefulness of a lawnmower?
Used frequently on your short beard, it will serve to maintain your shaved hair. This way, you won't have an unkempt and unkempt beard!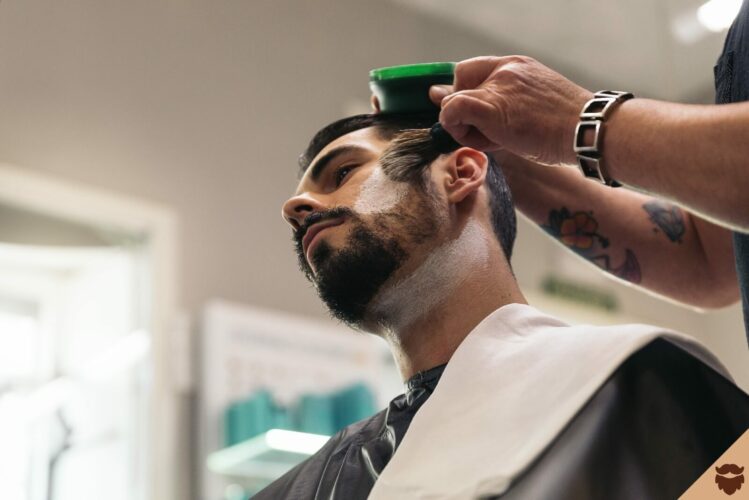 Razor for a close shave (blank)
As for the clippers, the razor is a must for the bearded man. This is especially true for short to ultra-short beards since they require cheek lines and a well-defined neckline.
Brush to discipline and soften it
Even if you have a small beard, brushing it will exfoliate your skin, discipline your unruly hairs and moreover it feels great! It will also help to combat possible shaggy (bristling) beardsAnd that's a nugget.
How do I brush my short beard? The answer in video: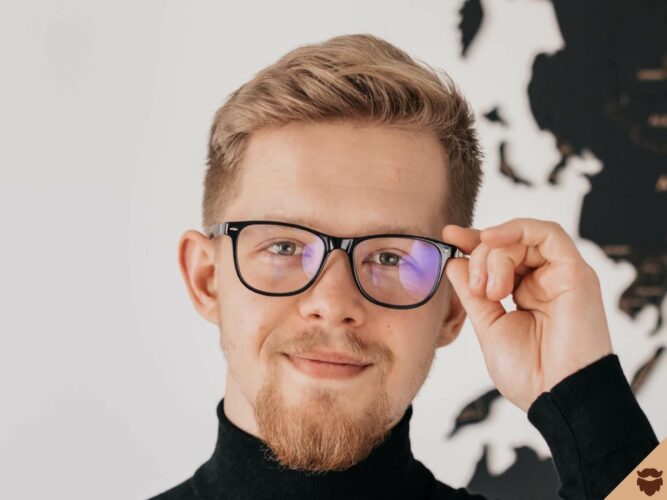 Rings - jewelry
Unfortunately for you, short beards and beard jewelry are rather incompatible. Except if you manage to fix a bead or a ring, I advise you to pass.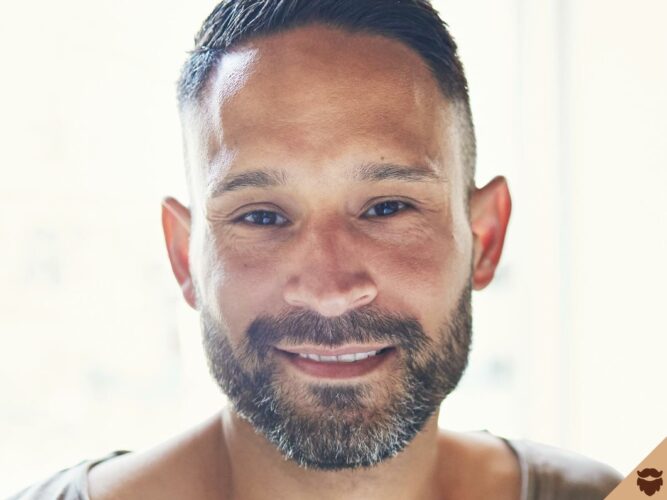 Tips and advice for short-haired beards
Here are some tips to keep in mind when you have a short beard:
Trim it frequently to keep it clean and looking good
Use care products such as oils and balms to take care of them
Equip yourself with accessories such as a trimmer, razor or brush to maintain it
The short beard is in fashion, take advantage of it: it's chic and easy to grow!
As we have seen in this complete guide to the small beardit is rather easy to grow, to prune and even to maintain.
In a few days, you can grow a beautiful beard and be inspired by the styles and looks I've posted above to style it.
Remember to bring a razor, clippers, brush and oil, which are the basis of all good hair care for bearded men. Of course, that's not all and you can also use scissors, straighteners and even dyes to improve the appearance of your beard.
Still have questions about the short beard trim?