Gone are the days when men hid their white hair by dying it.

Today, white beards are worn with originality and pride. It's true: with proper trimming and maintenance, white hair gives confidence and a virile, robust sex appeal.

Let's take a closer look at what a white beard is, what causes it and how to keep it nice and trim.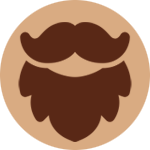 What is the white beard?
White beards usually grow on the chin or cheeks, with a mixture of white, gray or silver colors. This is a sign that your beard is starting to fade to white.

The bleaching of hair, beard and hair in general is due to a decrease in melanin with age.
Beard hair needs special care for a complete growth because it is more fragile than the hair on our head.


The benefits of having a white beard
Letting your beard grow its natural color is liberating. No more need to buy dyes, which saves you money, increases your self-confidence and most of all makes you age gracefully.
As you know, beards are warm and comforting, especially on cold days. It protects your neck, chin and cheeks from the cold. In summer, it also acts as a protection against the sun, which is very aggressive to the skin.
Why is my beard turning white?
Beards usually only turn white with age, but some people develop white hair prematurely due to stress, nutritional deficiency, vitamin B12 deficiency, thyroid disease, smoking and genetic factors.
Don't panic: in general, it's genetics that chooses at what age you will have your white beard. Personally, at 26 years old, I already have white hair on my face... Look to your grandparents to find out at what age they had it.
Pictures of men with white beard style
So that you can get some inspiration to adopt the best white beard style or you just want to know what a (beautiful) white beard looks like, I have made a collection of pictures for you:
Promotion
Beard kit with 9 treatments and accessories by FullLight Tech
This beard kit extremely complete is composed of 9 essential elements to accompany your beard routine and maintain it .
Of course, all the ingredients used in the care are natural and the materials are of excellent quality.

This beard set contains: Oil, Balm, Shampoo, Comb, Boar bristle brush, Stainless steel scissors, A very useful storage bag, A gift box, An E-Book "The beard care guide
How to grow a white beard?
1. Assess your facial hair growth
As mentioned earlier, not everyone can grow a beautiful beard.
Some people have thick, bushy beards, which is ideal for growing beards.
However, in other men, facial hair is very sparse and patchy, which may not result in a beautiful beard or require unique products to stimulate hair growth.
To read for those who do not have a big beard:
2. Let the hair grow
Let your hair grow naturally for a few months.
Meanwhile, eat a healthy diet, get enough sleep and massage the beard area with natural hair growth products such as castor oil, aloe vera or coconut oil to promote faster, thicker and healthier hair growth.
3. Keep it clean and trimmed
As your beard grows, it's essential to keep it clean by washing it with a mild cleanser or conditioning shampoo.
It is better to use shampoos especially for the beard because they are less aggressive than the classic shampoos for hair. In addition, it is necessary to trim the beard frequently as it grows to keep it neat and clean.
How to style a white beard?
If you want to avoid the barber and do the job yourself, you will need several tools to trim it:
razor,
electric mower,
scissors,
comb
Promotion
Philips OneBlade QP2630/30: the best electric shaver on the market
Rechargeable, 100% waterproof, 4 clip-on adjustment shoes, unparalleled precision... Do I really need to introduce you to the Philips OneBlade shaver?
Shaving and trimming your little hairs has never been easier than with this technological gem.

If I were to advise you an inexpensive, high quality electric shaverI would choose this one!
Promotion
Philips BT5515 - The versatile, waterproof and adjustable beard trimmer!
A true flagship in terms of versatility, the BT5515/15 from Philips is the perfect trimmer for bearded men looking for a simple and efficient shave.

With more than 40 height settings and a great autonomy, it is one of the best beard trimmers. 100% waterproof, you can even use it in the shower!
And even then, you don't have all the gear you need for your desired beard style. For more simplicity, look at the maintenance kits, they are complete and contain everything you need!
1. Grow your beard to the desired length
You need to have a style in mind before doing anything to your beard. Let it grow for a few weeks by following the tips above before trimming and styling it.
2. Trim the edges first
Trim and clean the edges using your natural hairline as a guide
Trim your cheeks and neckline with a professional beard trimmer.
Some stray hairs may stick out: this is where beard scissors come in!
3. Choose a style that suits your face shape
The best beard style is the one that matches your facial features:
If you have a square jawline, keep the sides longer and round out the cut in the chin area.
The rounded faces will look better with trimmed sides and a longer beard.
Oval faces can adopt the popular goatee style.
If you don't know what style to adopt, visit all our beard cuts or discover our guide to choose your beard look according to your face shape !
Boar bristle comb + beard brush + scissors by Viking Revolution
Armed with the 3 most useful accessories to maintain your beardI mentioned the comb, the brush and the scissors, no more worries about trimming and styling your hair!
Designed with excellent materials (bamboo and pear wood) 100% natural and stainless steel scissors, this set is a small revolution.

Viking Revolution offers us a complete package for a very reasonable priceI think you will hardly find a better value for money.

The little extra? The storage box and the travel bag are very useful!
Things to remember for a man with a white beard
To do
Wash and clean your beard as often as necessary to prevent bacteria build-up, especially after eating.
Always give your beard time to grow before trimming, as not all areas grow at the same rate.
Use a good quality beard oil or moisturizer to keep the hair healthy.
What not to do
Do not let the beard grow under the Adam's apple; always trim it and let your neck show.
Do not try different hair growth products without consulting a professional to avoid irritation, skin burns and other adverse effects.
Don't neglect your face and take care of your facial skin as much as your beard.
Tip: The white Shenandoah beardIt looks great!
The white beard is actually fashion
People no longer perceive white and grey hair as dirty: that was before.
To tell you the truth, even celebrities wear white hair on the red carpet.
In this article, you have learned what a white beard is, why it's good to grow it but most importantly how to trim it.
I have also put together a gallery of photos of men with beards that have been whitened by time but who wear them very well.
What about you, do you have a white beard or one that is starting to turn white? Tell us all about it in comments!
Promotion
Castor Oil Booster Serum by Barb'Art with almond, jojoba, sunflower and baobab oils
I present you the booster serum designed by Barb'Art which is of excellent quality and completely organic!
Its assets to make (re)grow the beard are not to be proved anymore
and that's not all, this oil :
Strengthens and protects the hair
Gives a more vigorous and powerful look to your beard
Nourishes and moisturizes in depth
Gives a bright and shiny appearance
Comforts the skin under the hair
In short,
I highly recommend it
if you want to increase the growth of your beard and mustache hair!
FAQ about the white beard