Looking for a beard style that will enhance your chubby face? Finding the right style can be tricky. Depending on the type of haircut you choose, you can make your face look thinner or fatter...

And that can be problematic, can't it?

In this article, you will find out what the beard styles for strong men and how to slim your face. Let's choose a beard that will refine your features and enhance your look! Are you ready to turn the heads of the ladies?
10 beard styles to enhance and slim your generous face
---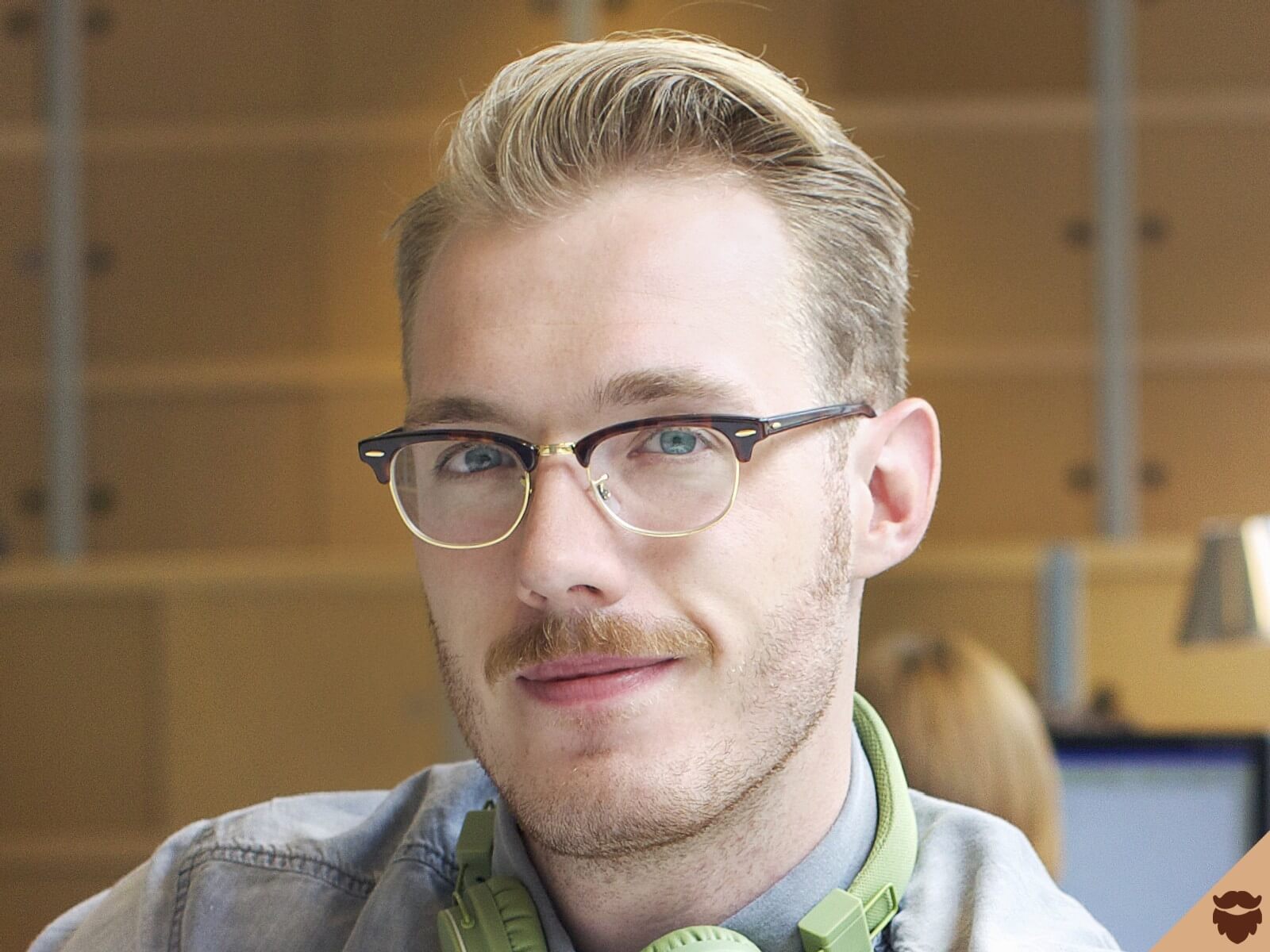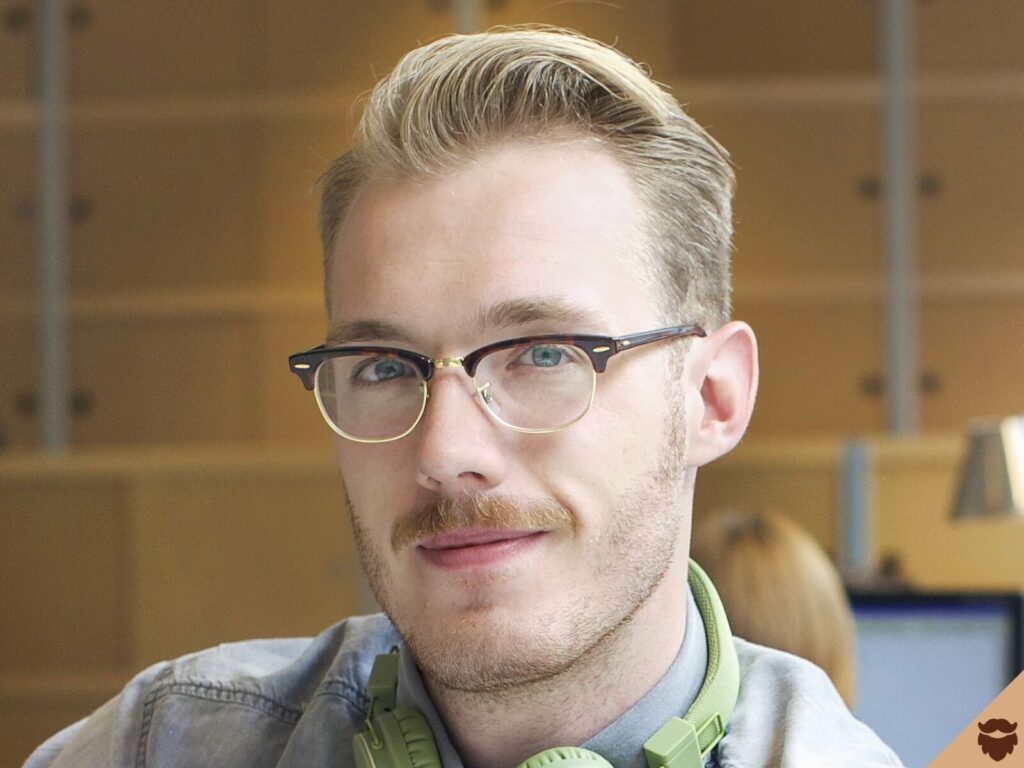 La Barbe Courte
Imagine a well-trimmed, short and neat beard, that gives your strong face an irresistible charm. With its clean structure and precise definition, it gives your face an irresistible charm. elegant square profile, enhancing your features while remaining subtle.
---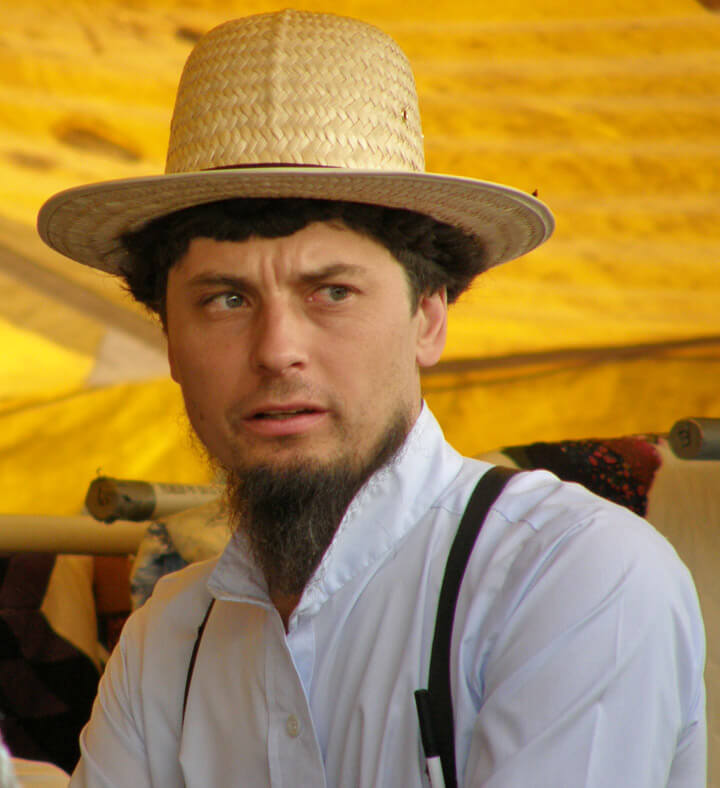 La Barbe en Pointe
Here's a great tip: the pointed beard. This beard, sculpted to perfection, draws the eye to the chin, creating an illusion of length and elegance. It transforms your corpulent face into a work of art with your chin as the focal point.
---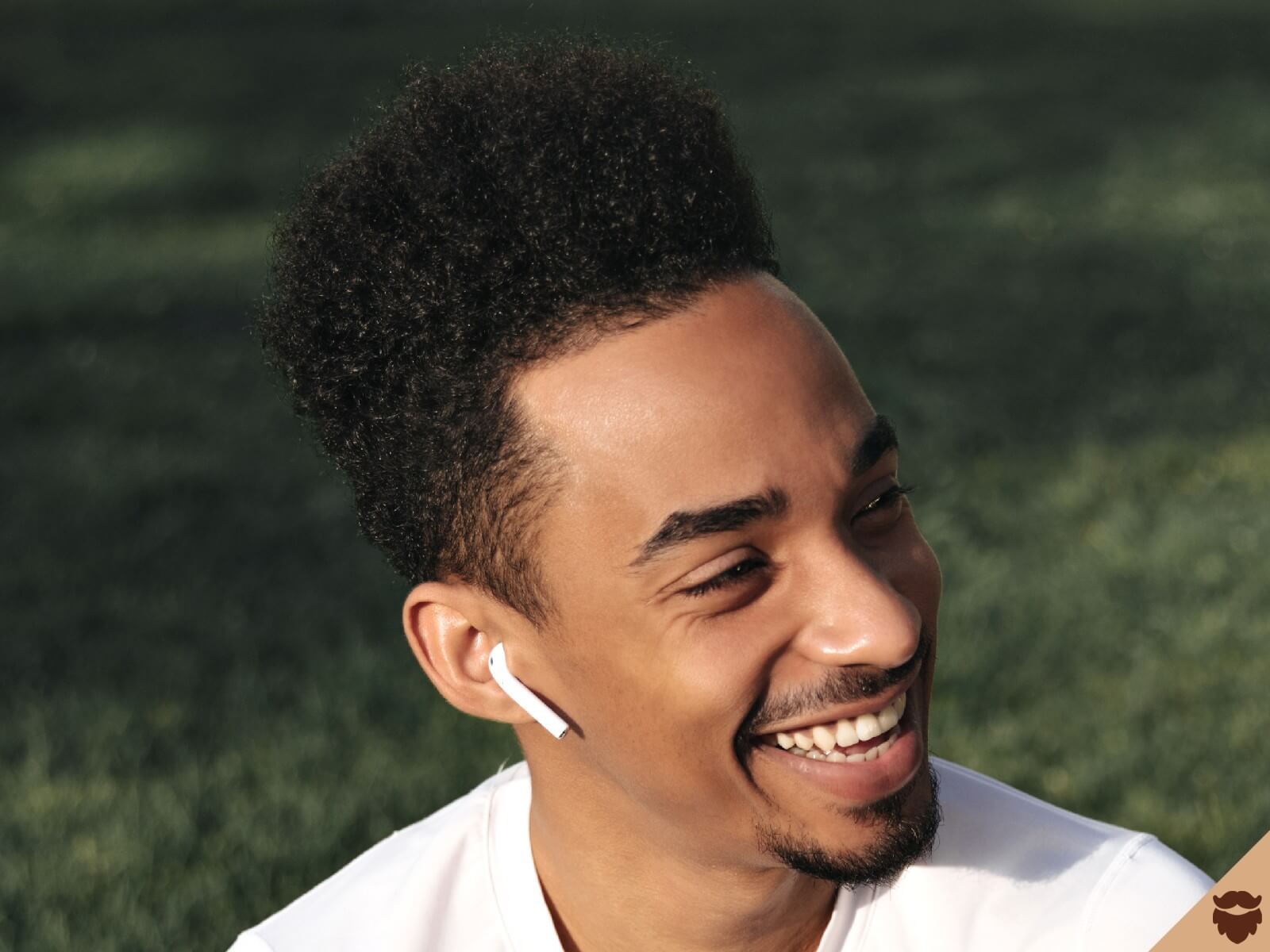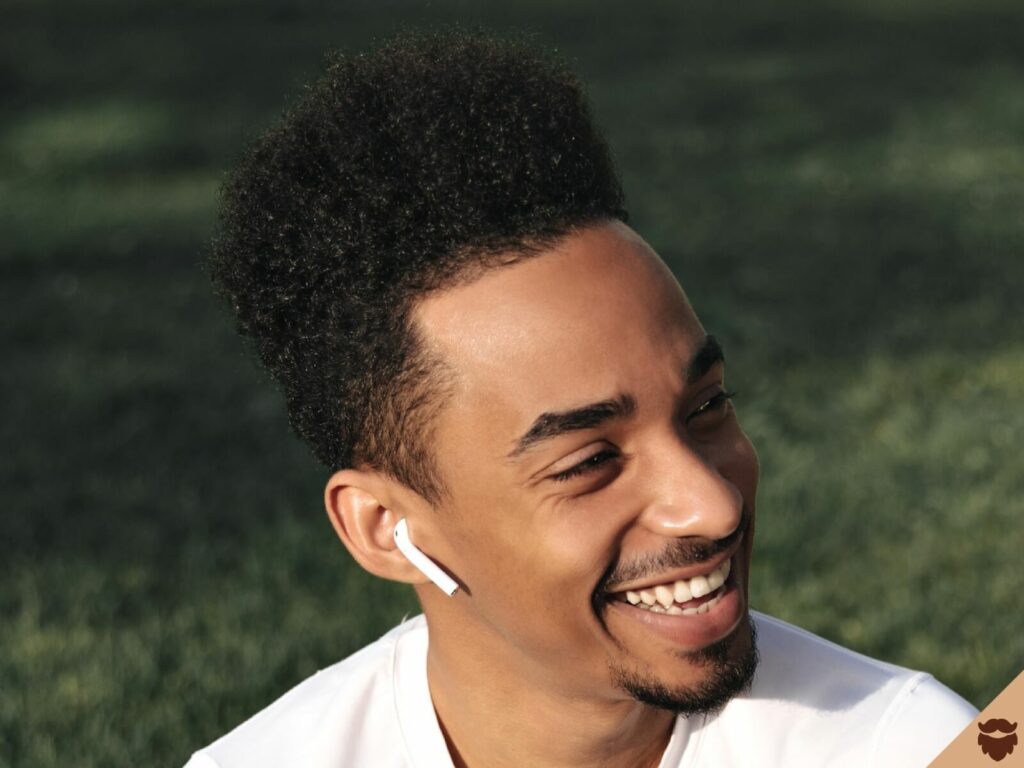 La Barbe en Bouc
The goatThis beard classic is perfect for adding depth to your coated face. With its ability to accentuate the chin, it adds structure and transforms your face.
---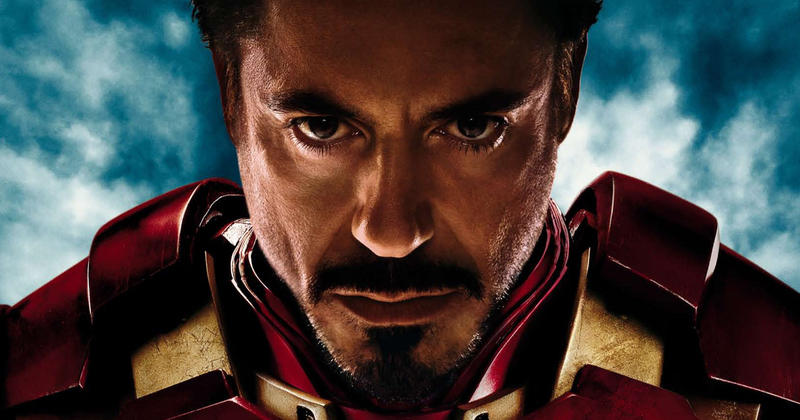 The Anchor Beard
The anchor beard is the stunning combination of a goatee and a moustache. This style refines the face by enhancing the chin and upper lip. It's the cup of beard worn by Tony Stark a.k.a. the famous Iron Man.
---
La Barbe Balbo
The Balbo beard is composed of a moustache and a pointed beard. Its strength? It adds structure and stretches the face with extraordinary finesse.
---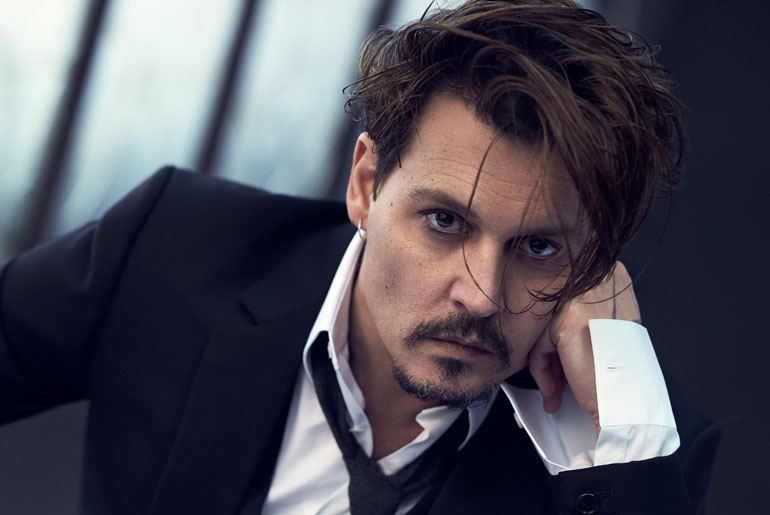 The Van Dyke Beard
A classic style that's still relevant today: the Van Dyke beard. Combining a moustache with a pointed goatee, she adds length to the face while maintaining a regal allure.
---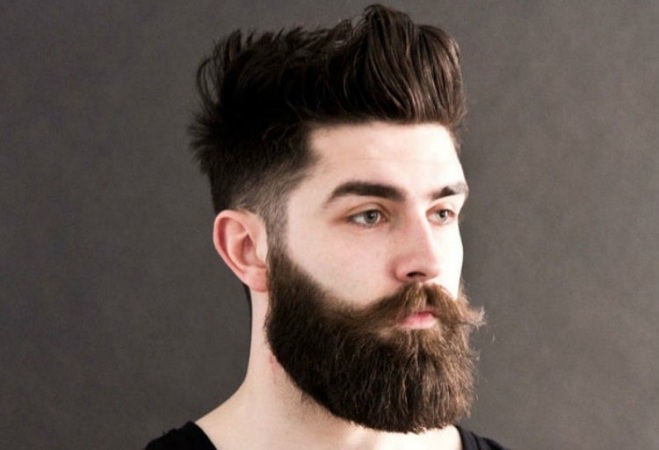 Garibaldi beard
The Garibaldi style is perfect for men with plump faces! It creates an impression of length and balance. This full, wide beard draws attention downwards, helping to visually elongate the face, which is basically quite wide. It also sculpts the contours and gives a more defined, masculine appearance.
---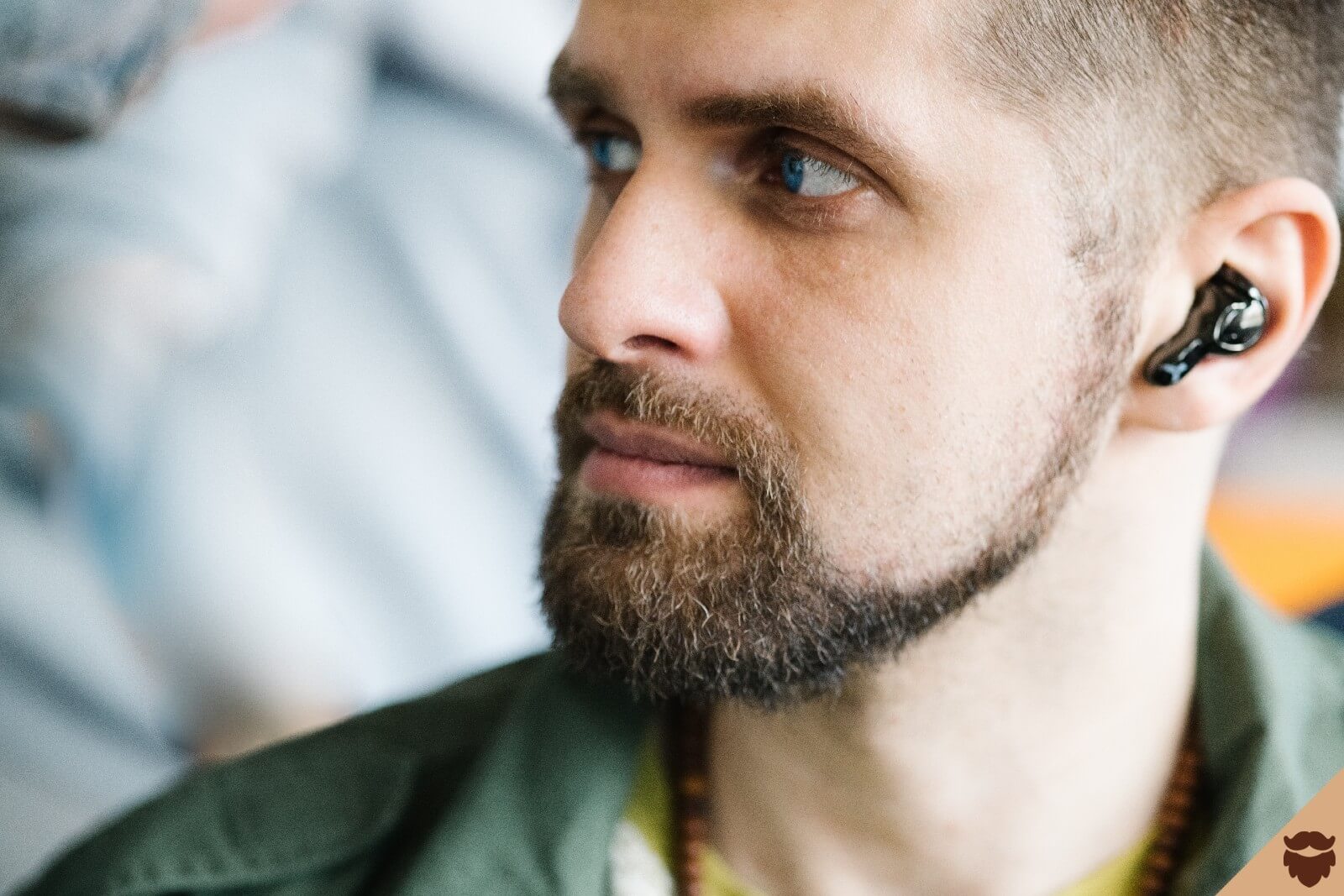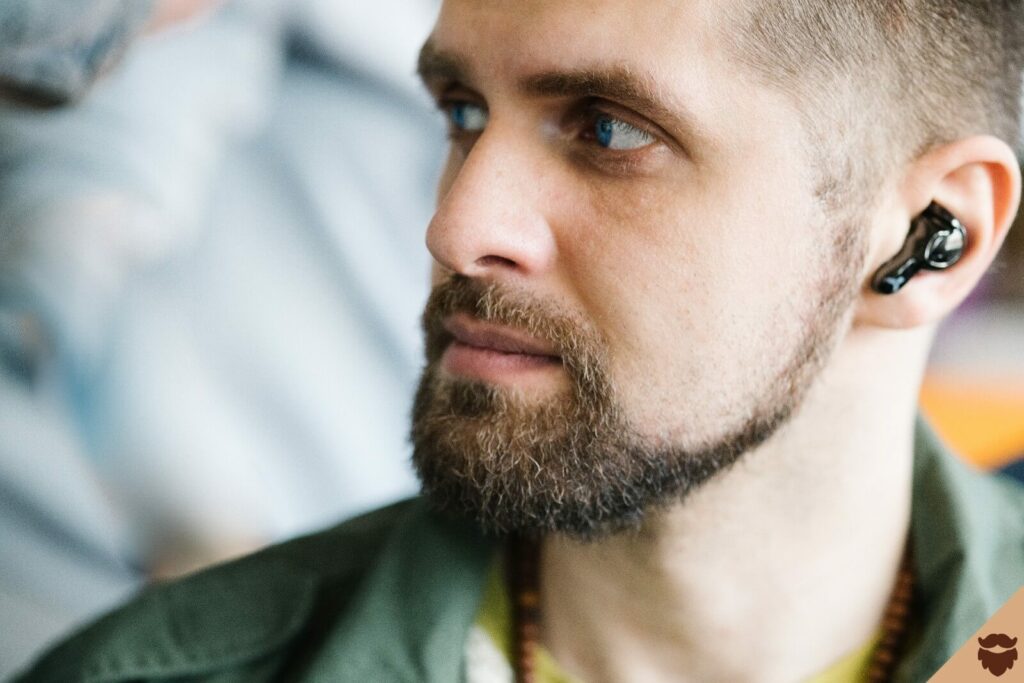 The Beard Necklace
The beard collar delicately frames your round face and accentuates the jawline while adding definition to your features. In short, it creates a contrast with the rounded shape of your face and balances the proportions!
---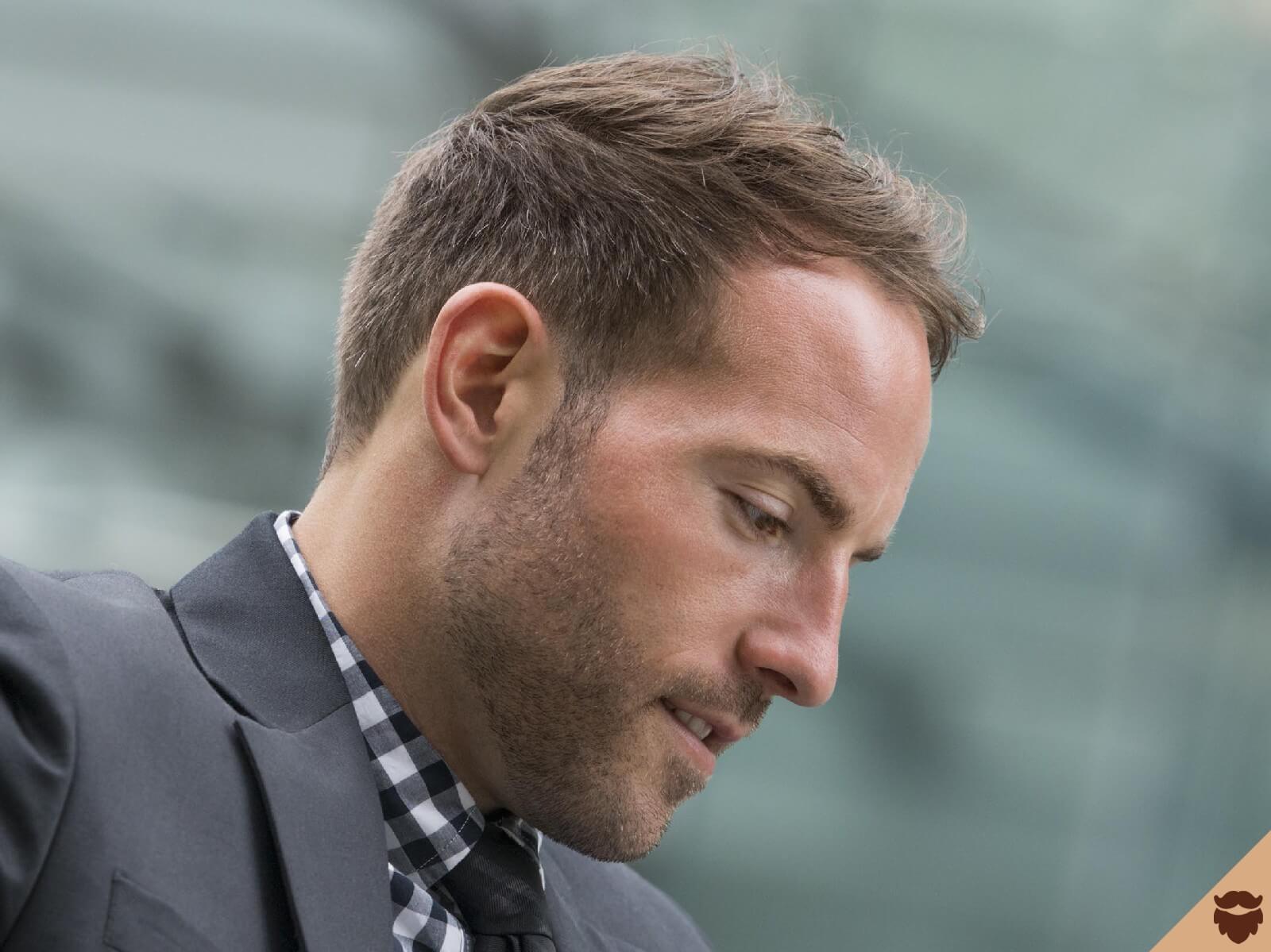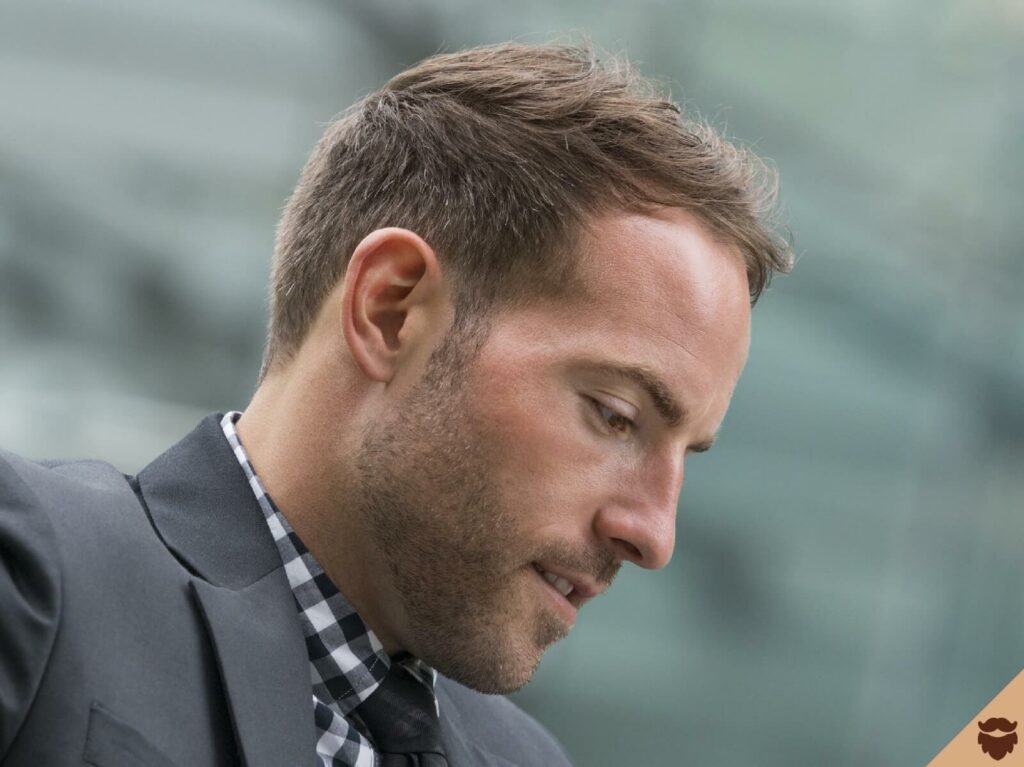 The 3-day beard
The 3-day beard adds perfect definition to your face without weighing down already rounded features. Imagine yourself looking slightly scruffy, but bursting with charm. A real style revolution!
---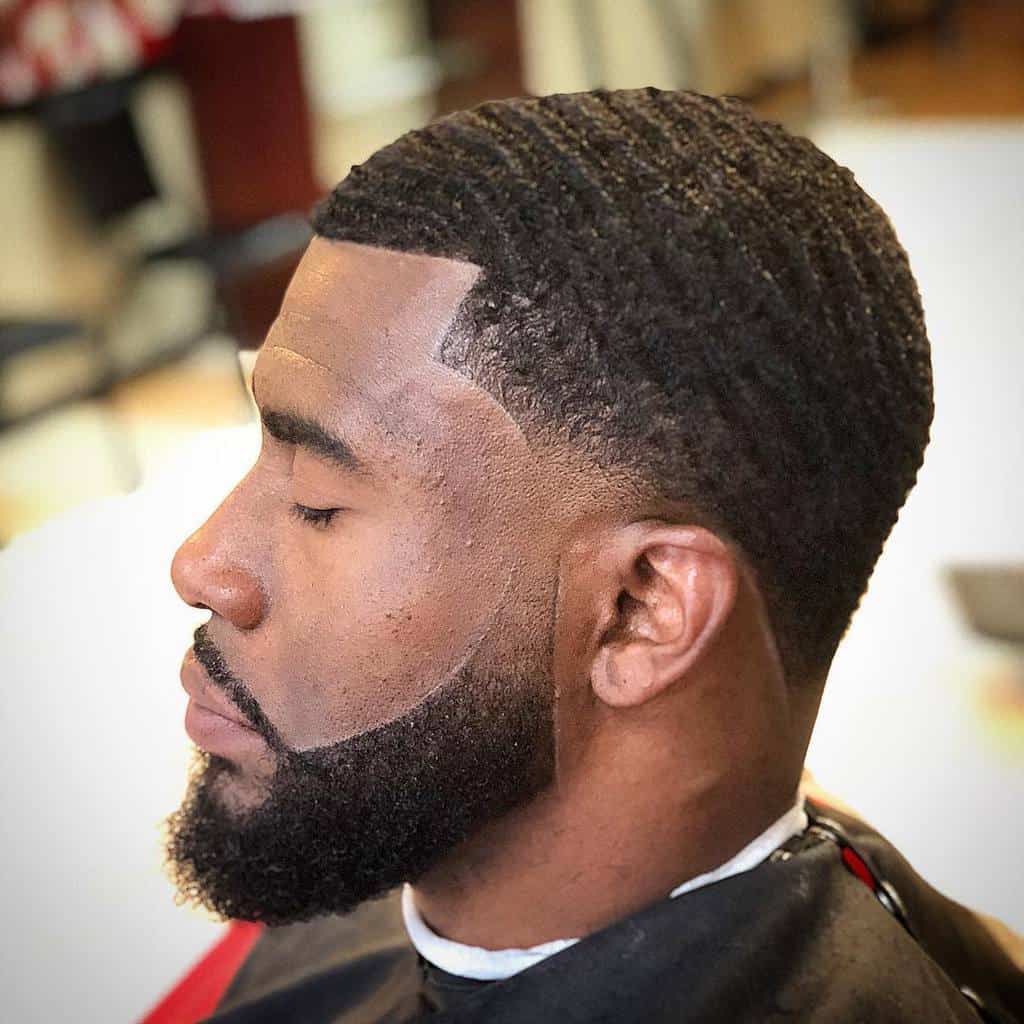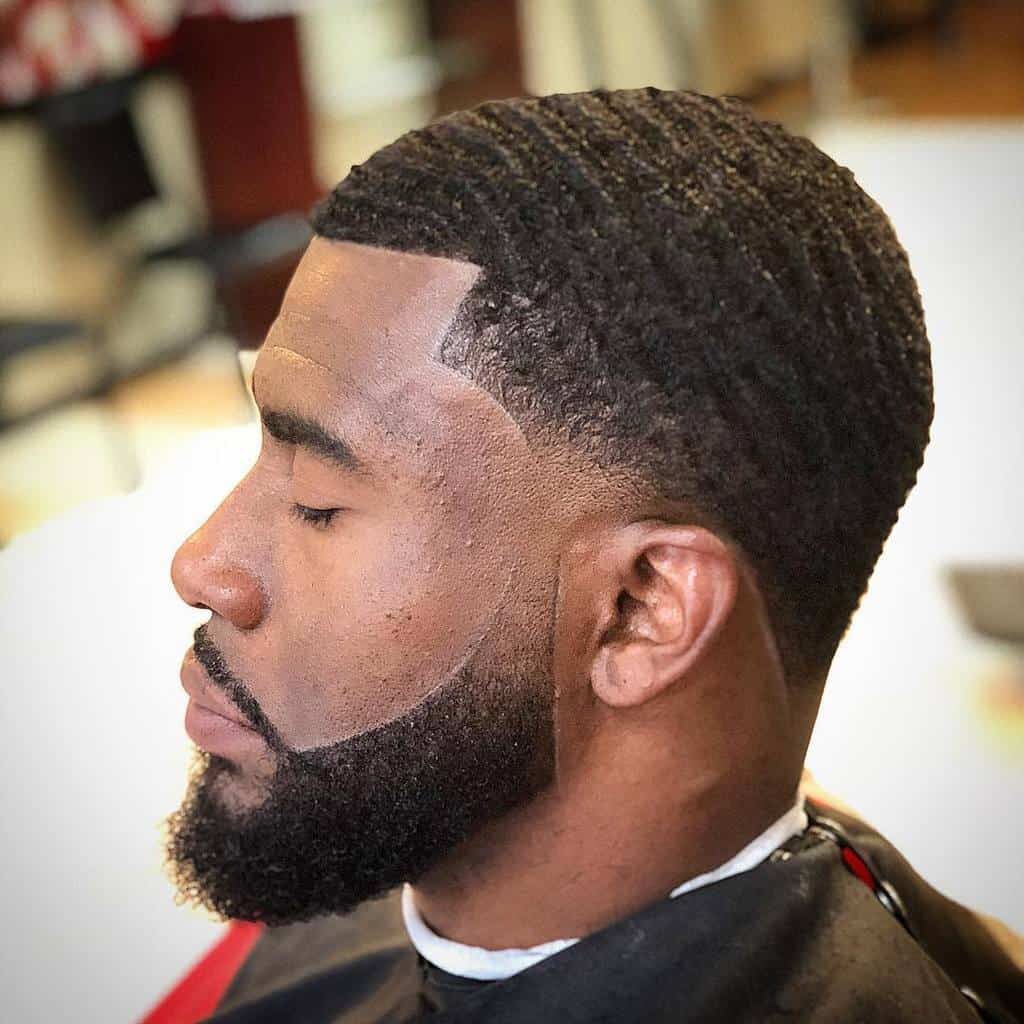 The Degraded Beard
The gradient beard creates a striking visual effect that lengthens and refines your face, adding contrast and structure. By playing on the length of the hairs (shorter on the cheeks and longer on the chin), it creates the illusion of a longer, slimmer face.
---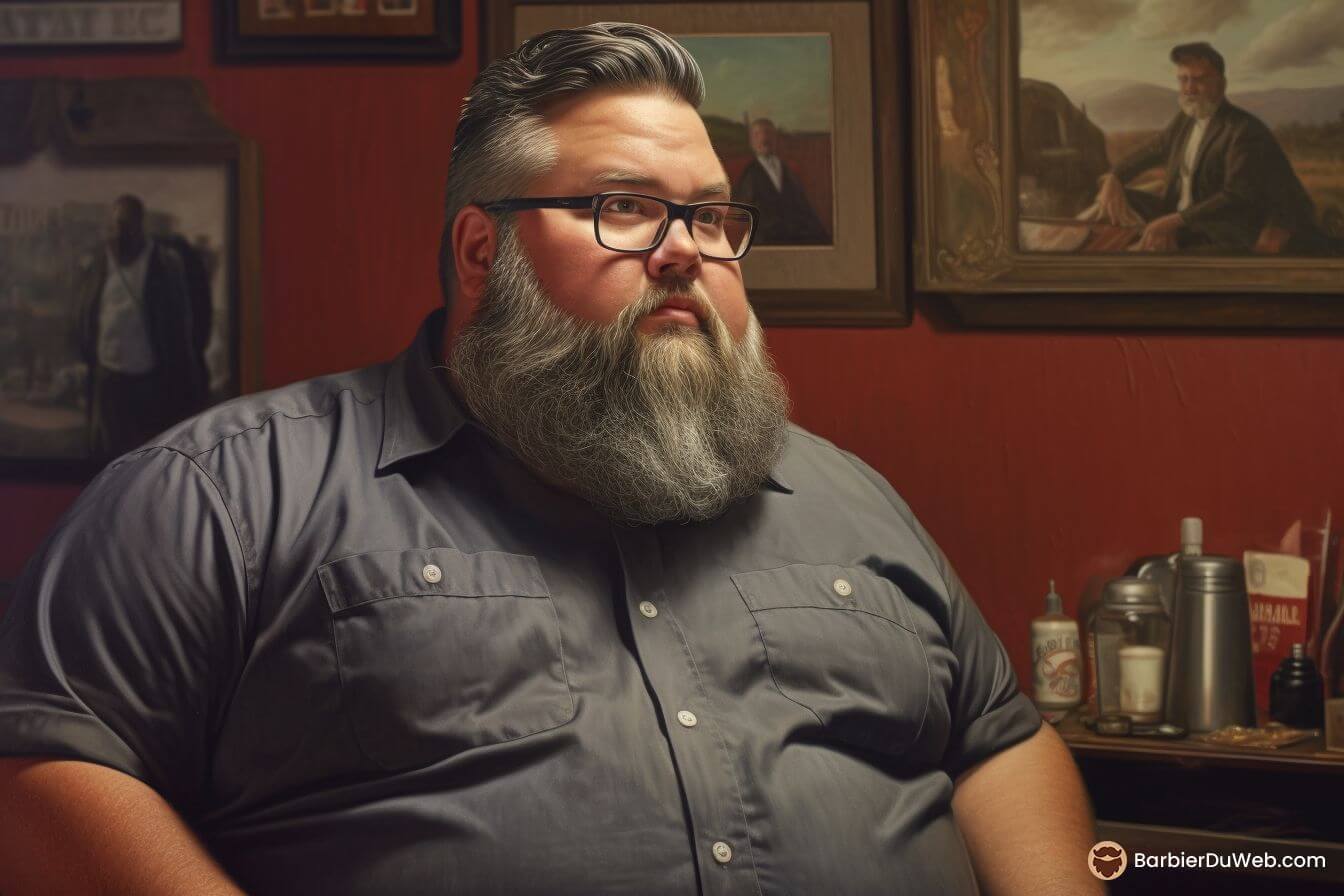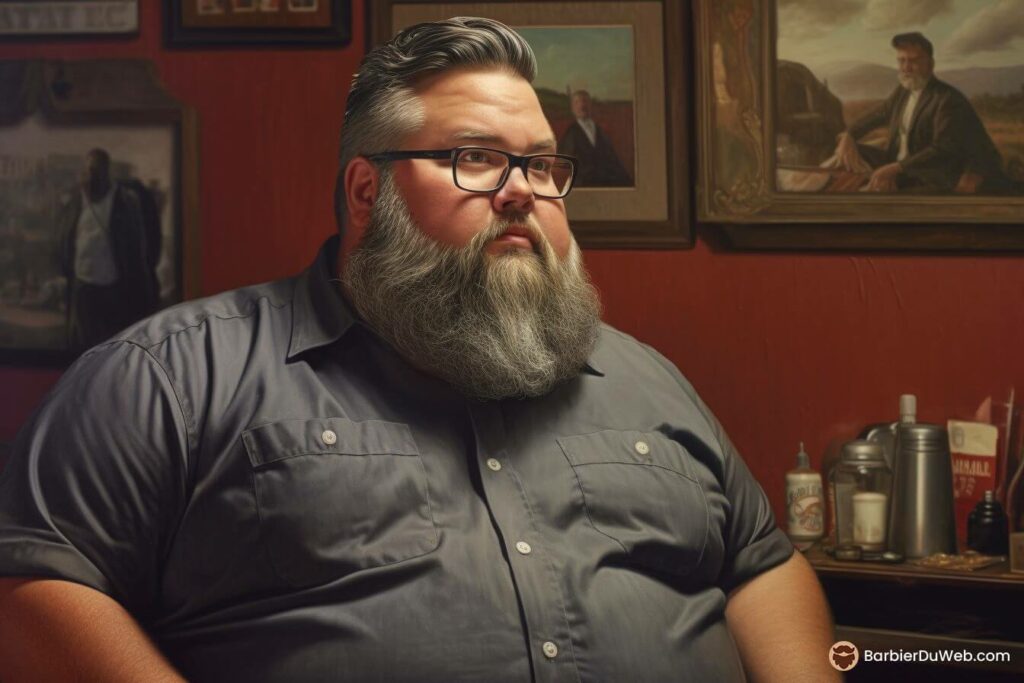 What is a fat face shape?
The term "fat face" refers to a face shape with broad, rounded features. This feature is generally characterized by prominent cheekbones, a less pronounced jawline and a rounded chin.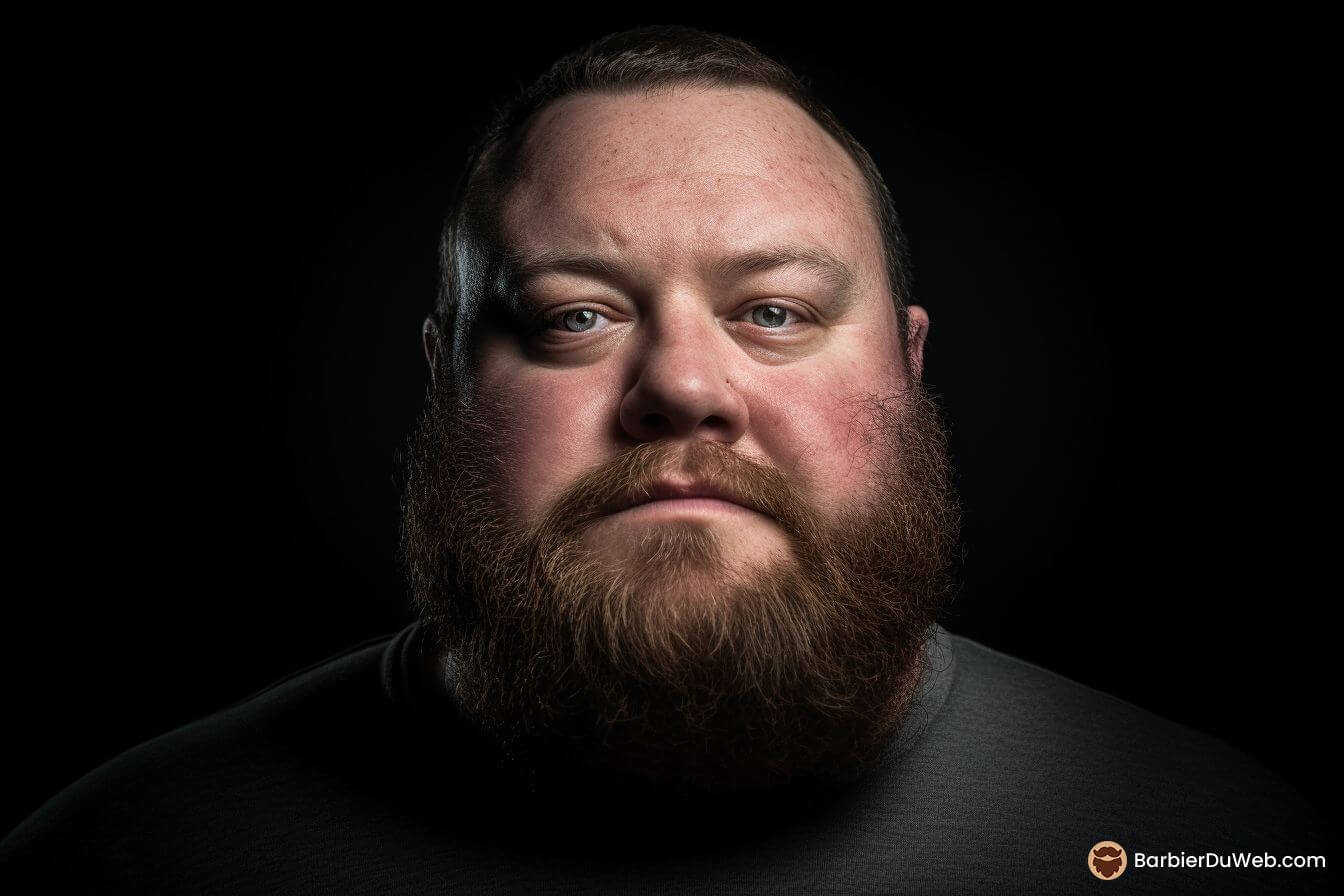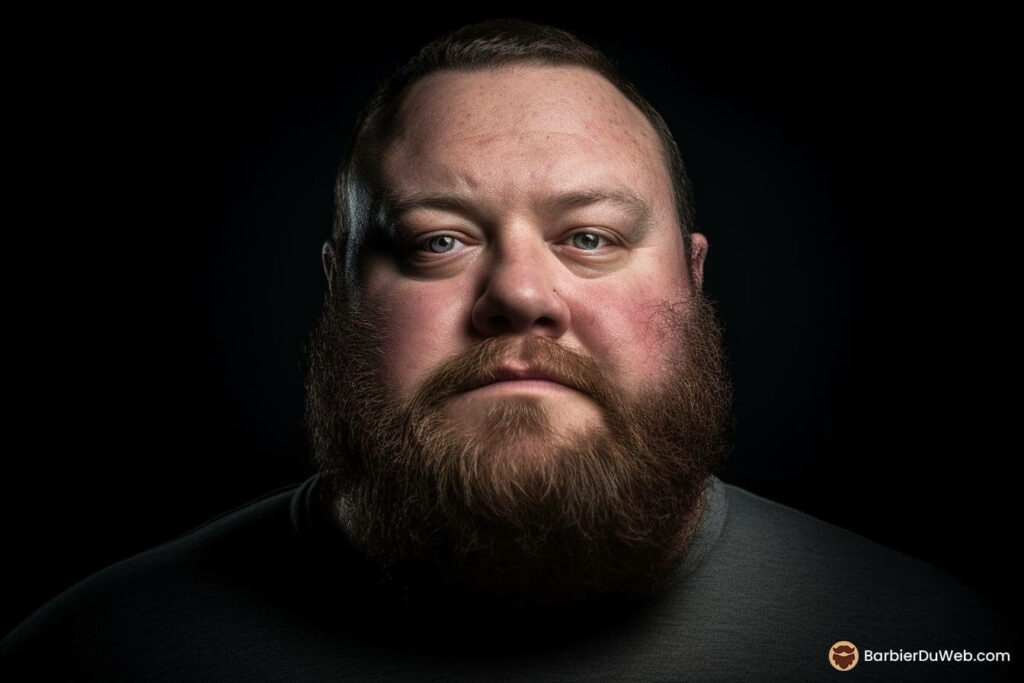 How can you tell if you have an oily face?
To find out if you have the chubby faceIf you don't know your face, you'll simply have to look at your features! Here's how to recognize this distinctive face shape:
Prominent cheekbones and often the widest part of the face.
The jaw is rounded and not very angular, giving an impression of softness.
The chin is also rounded and may have a slightly fuller shape.
The forehead may be slightly widercontributing to an overall rounded appearance.
If these characteristics match your face, you're probably a strong man!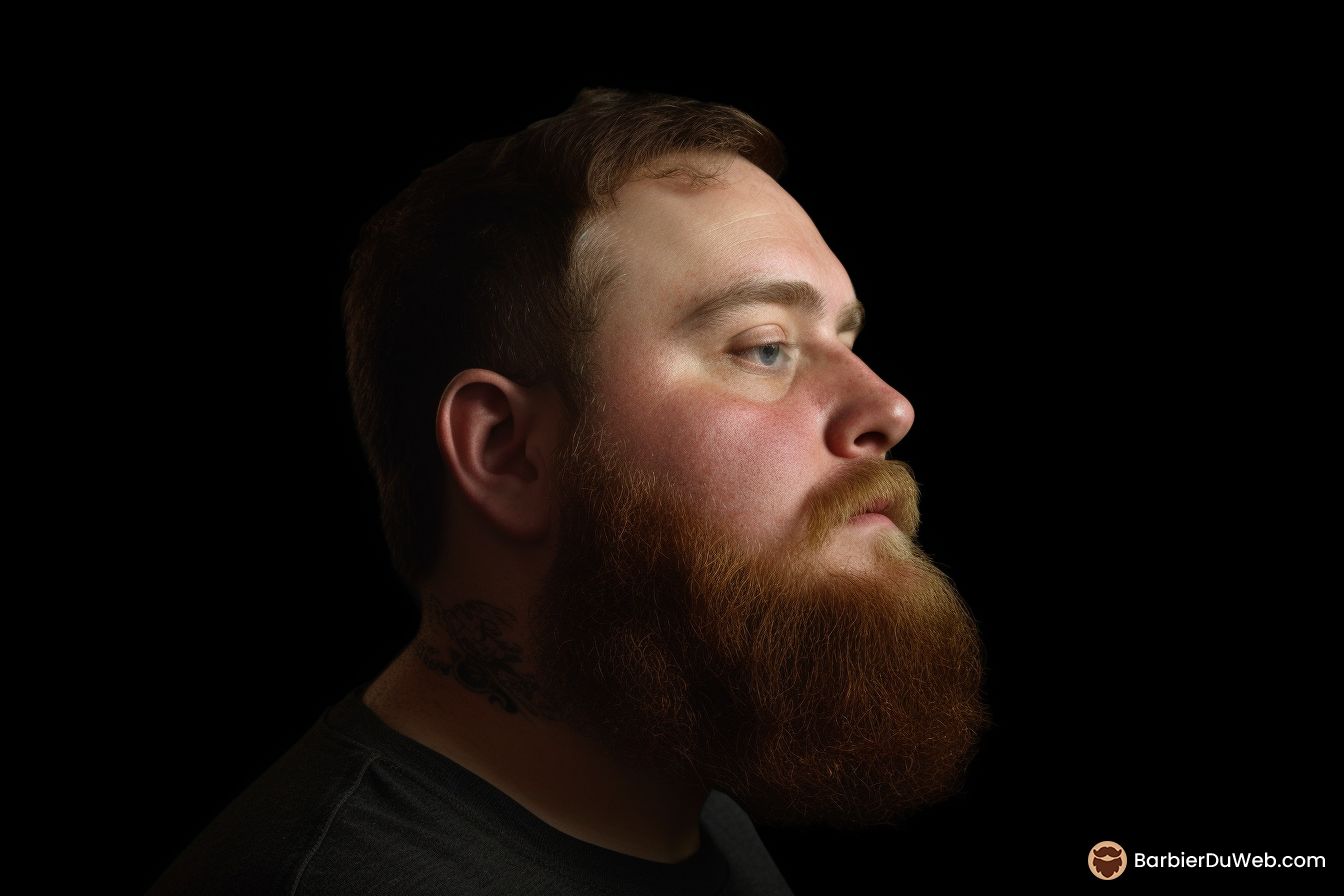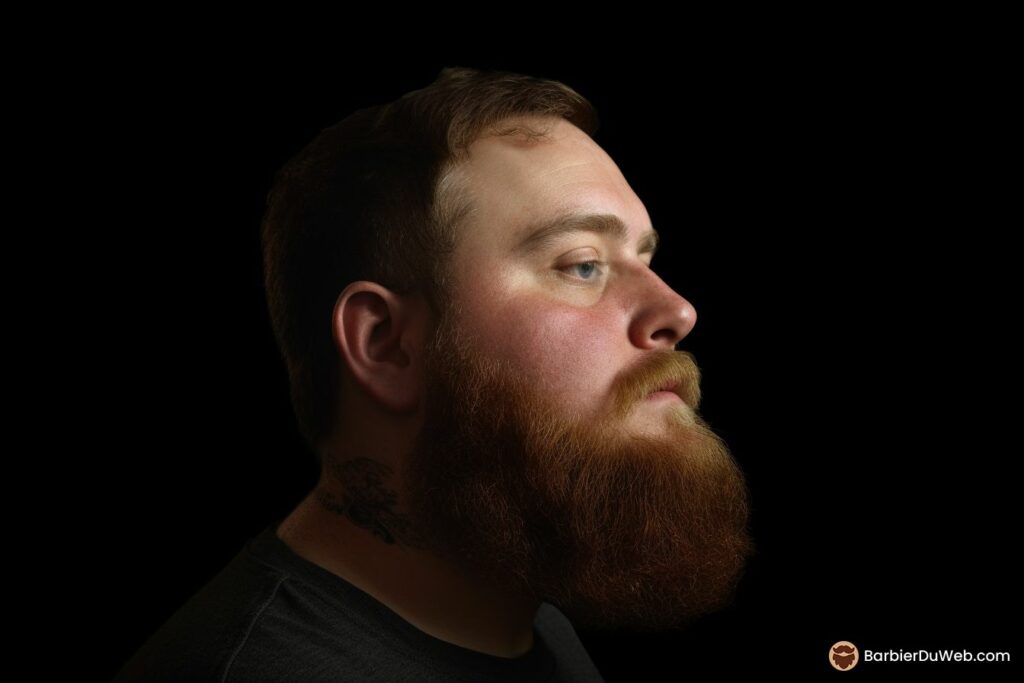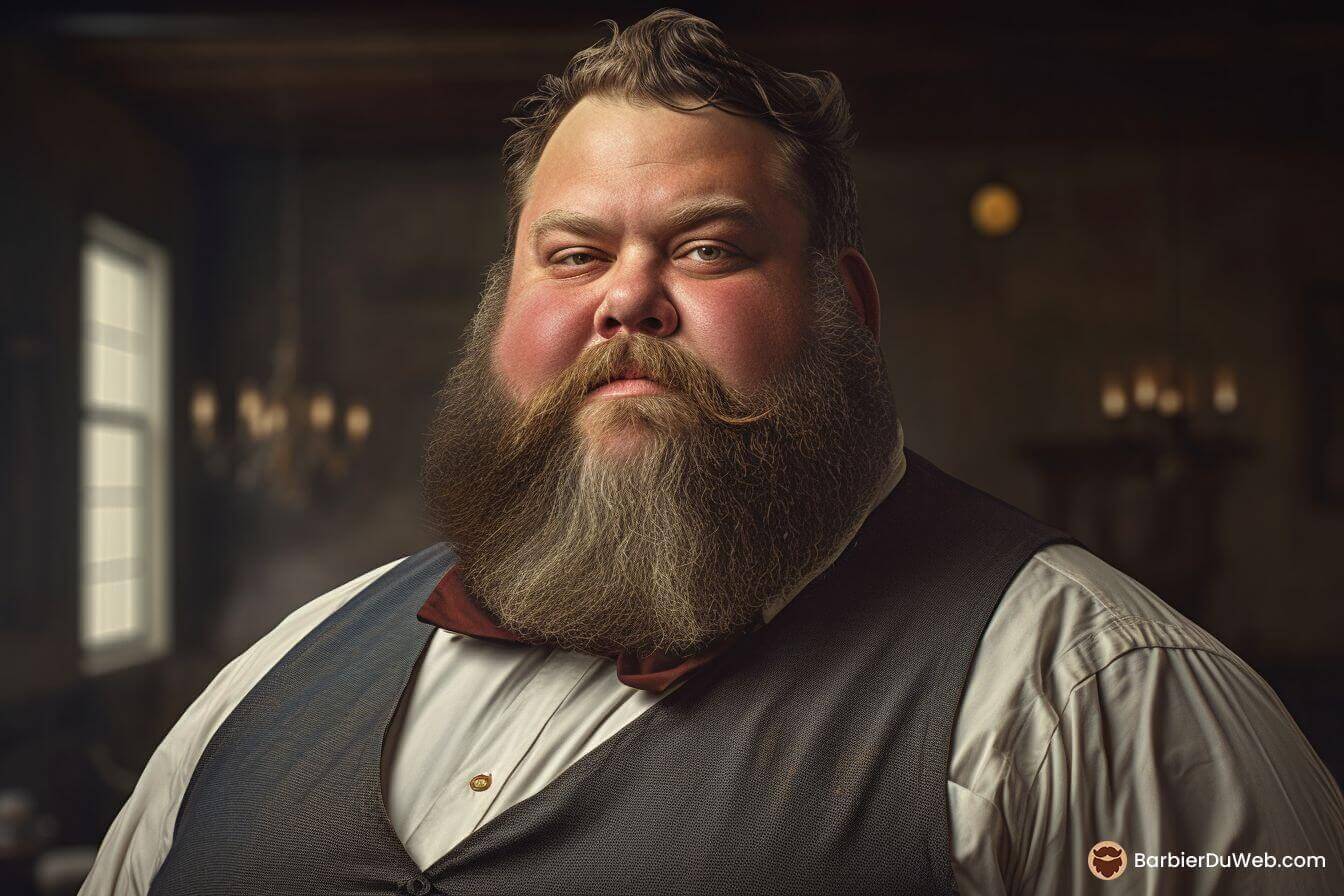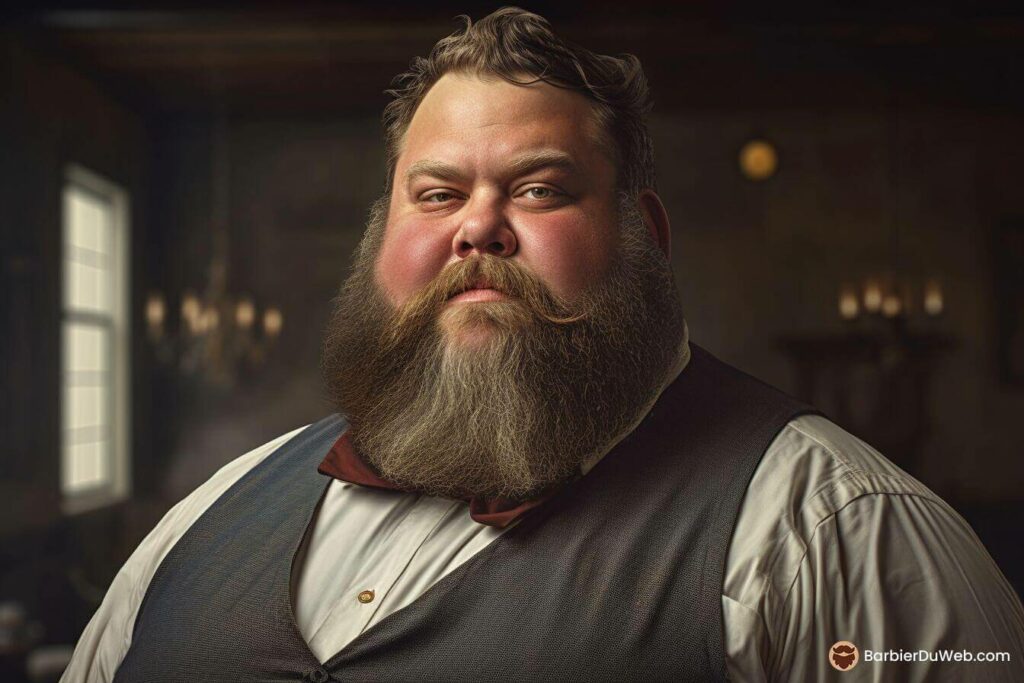 What type of beard is right for a chubby face?
For men with a big faceyou have to choose a style that balances and refines features. Your beard should :
Accentuate and define the jawlineto contrast with the rounded features of the face.
Lengthening the face creating an illusion of length.
Provide structure and definition without weighing down the features.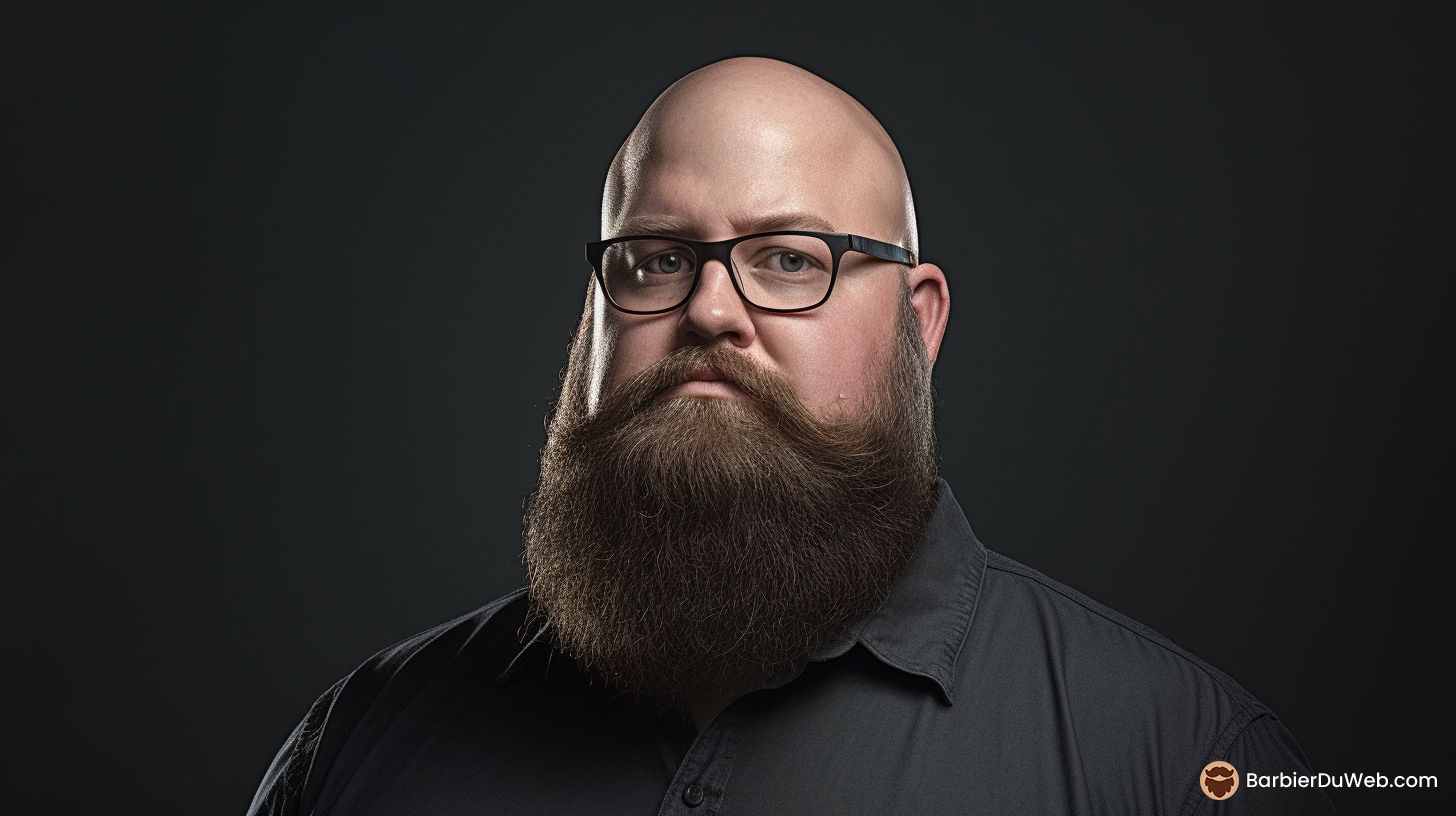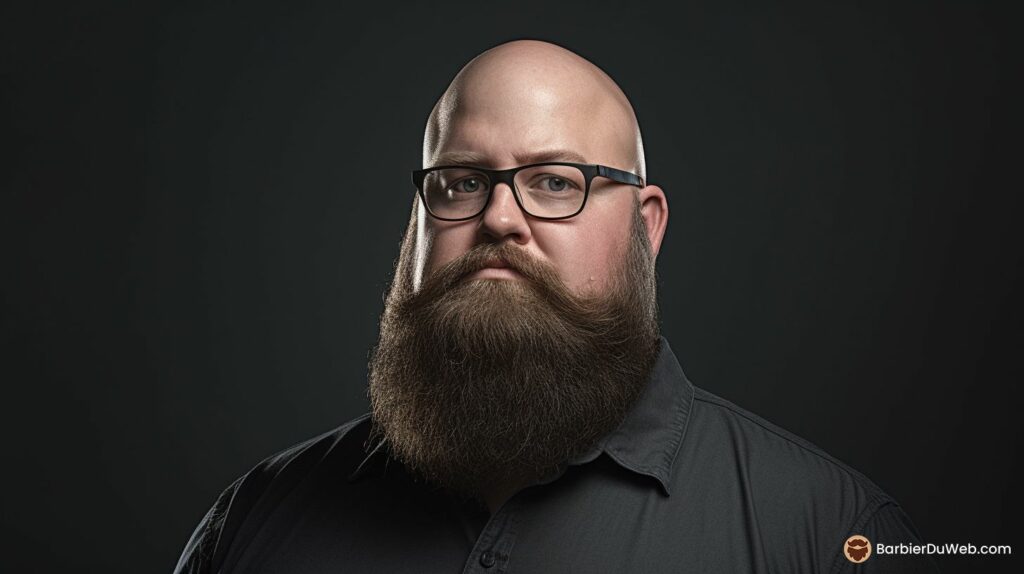 What style of beard for a chubby, bald face?
If you have a fat face and you are bald and beardedWhen it comes to styling, choose a style that enhances your features and creates visual balance.

Here are a few examples of suitable styles:
Short, neat beard: Adds structure and definition.
Pointed beard: Draws attention to the chin and creates an illusion of length.
Degraded beard : Lengthens and refines the face by adding contrast and structure.
Goatee beard: Emphasizes the chin and adds depth.
Van Dyke Beard: Ideal for adding length to the face and compensating for the absence of hair.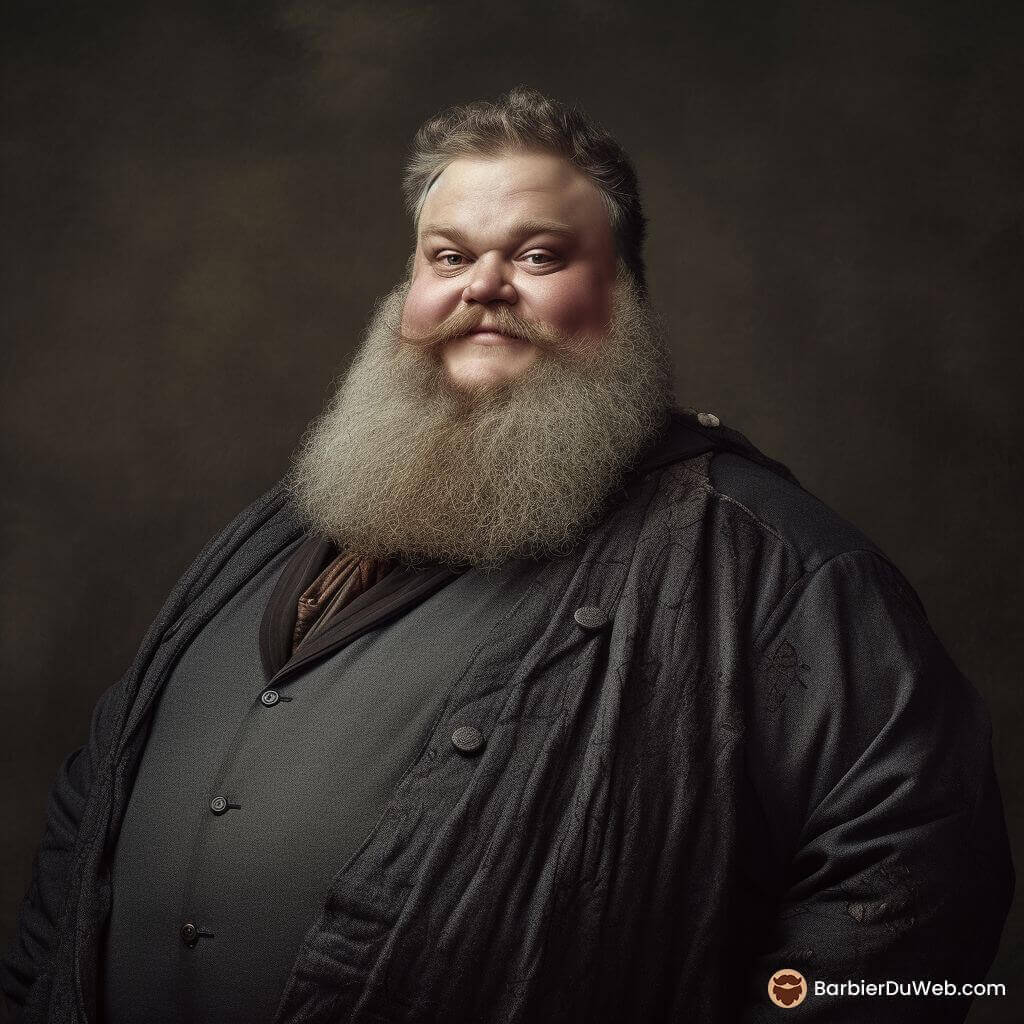 Beard cuts to avoid with a round face
When you have a big faceSome beard cuts can accentuate the roundness of your face and be unflattering. Here are a few examples of beard styles to avoid:
The beard is too long and thick: Can weigh down features and make the face even rounder.
Beard too bushy on the sides: Adds volume and accentuates fullness. Avoid mutton chops!

Moustache alone

: May give the impression that the face is wider and therefore less balanced.
Opt for looks that provide structure, elongate the face and highlight the jawline.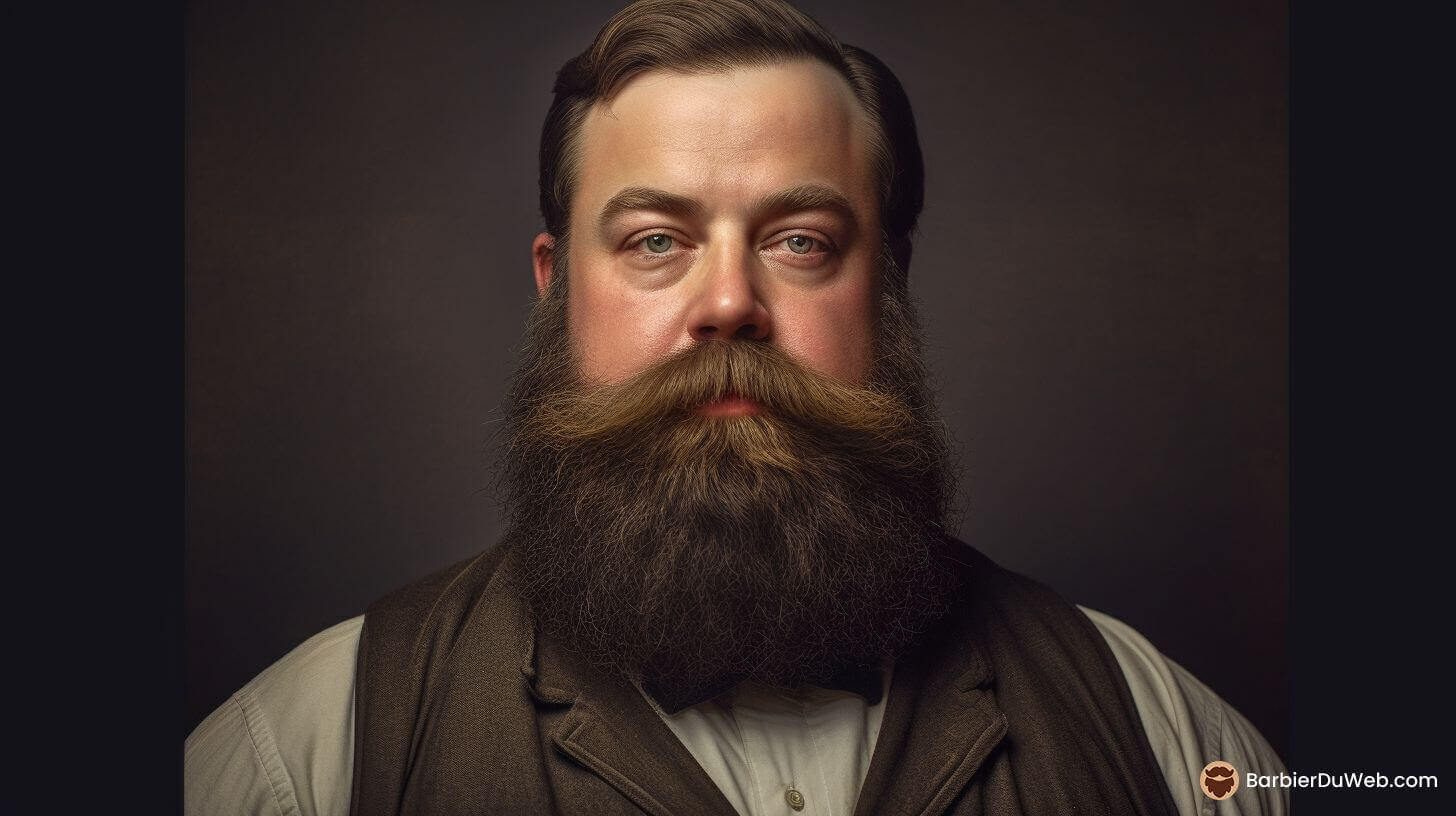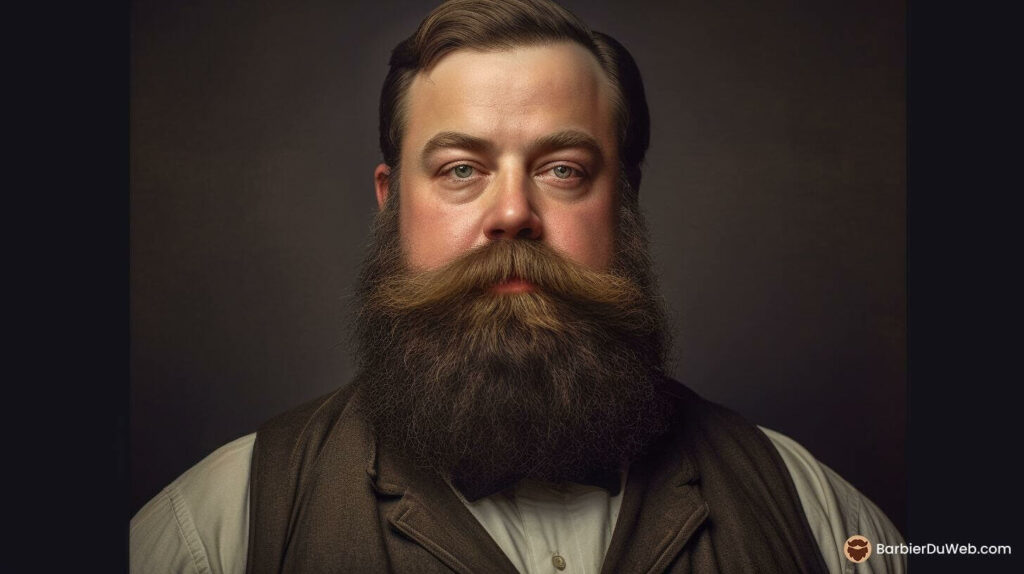 Tips for your beard with a large face
Here are a few tips on how to show off your beard like a pro:
Avoid volume on the sides and don't let your beard get too bushy.
Create a gradient : because it helps to refine and slim the face by lengthening it.
Adapt the style to your personality: Experiment and personalize your beard to suit your preferences!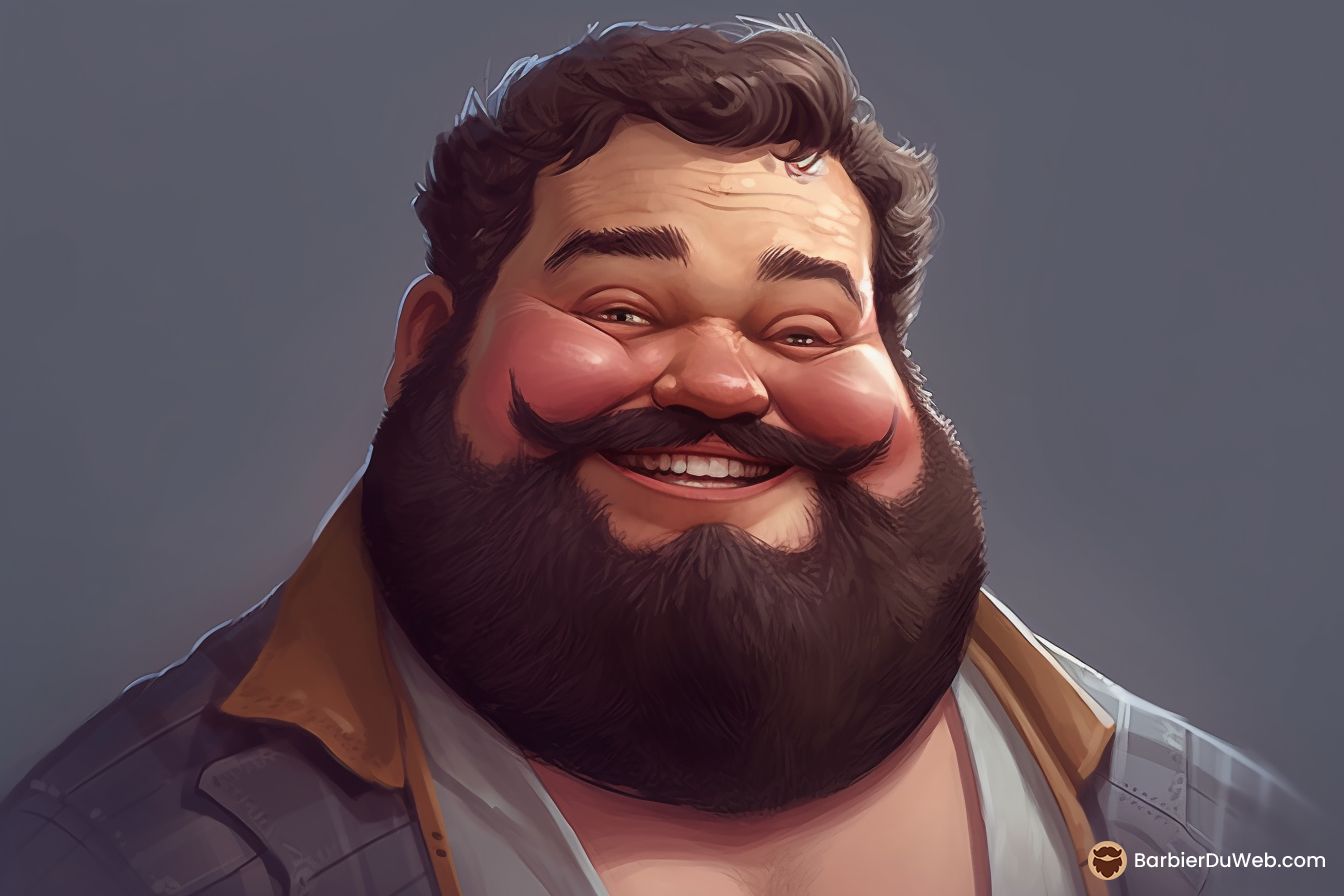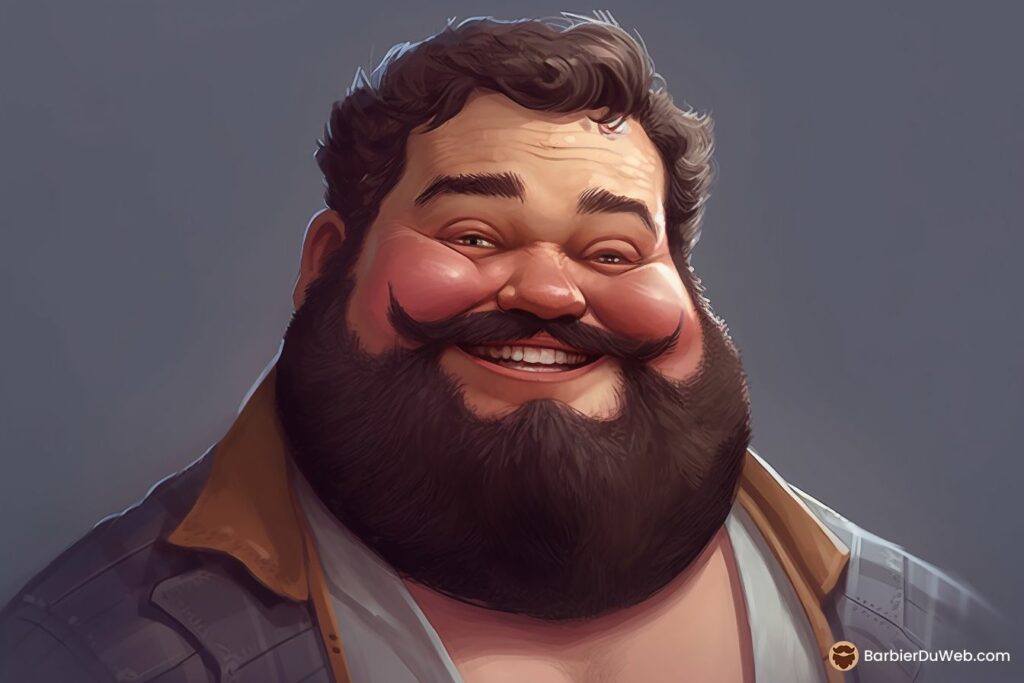 Beard care for a coated face
Here are some maintenance tips for a well-groomed beard :
Regular maintenance : Trim and trim your hair to keep it neat and tidy.
Wash your hair: with a beard shampoo to cleanse the beard without damaging it.
Moisturize and nourish: Apply specific beard products, such as oils or balms, to keep your beard soft, moisturized and healthy.
Moisturize your beard hair with oils to keep it in tip-top shape
Brush and paint daily to detangle your hair and give it a beautiful appearance. A shaggy beard, very curly or poorly maintained can make you look unkempt!
Consult a beard professional: It's always very useful to have personalized advice that suits your desires and personality.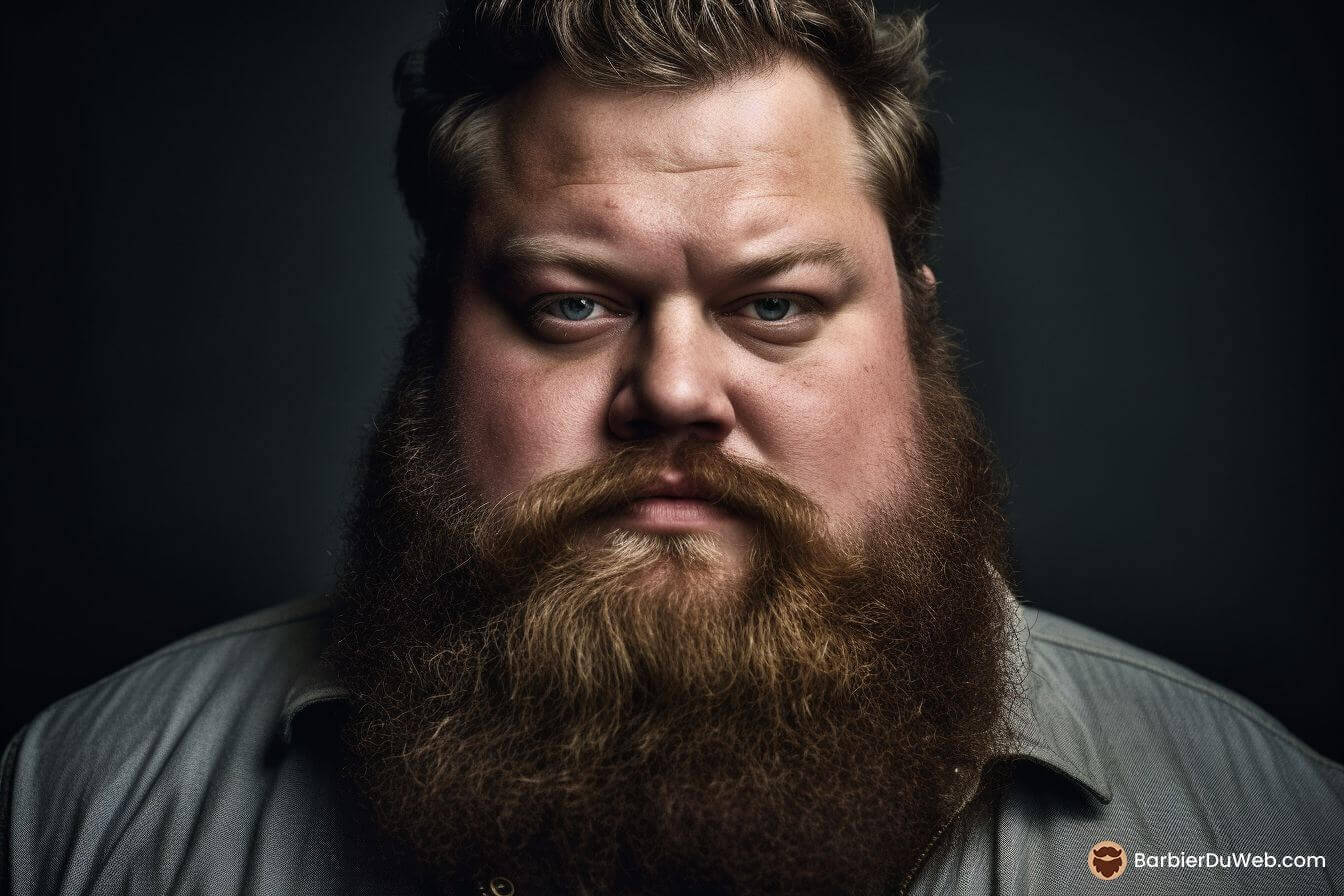 Beard accessories for chubby faces
Here's a list of essential accessories for maintaining and enhancing your facial hair:
Beard trimmer : Indispensable for trimming and cutting your beard to the desired length.
Beard scissors : Essential for precise finishing and

remove stubborn hair

.
Beard comb : Helps you detangle, style and prepare hair for trimming.
Beard brush: Discipline your hair in the blink of an eye!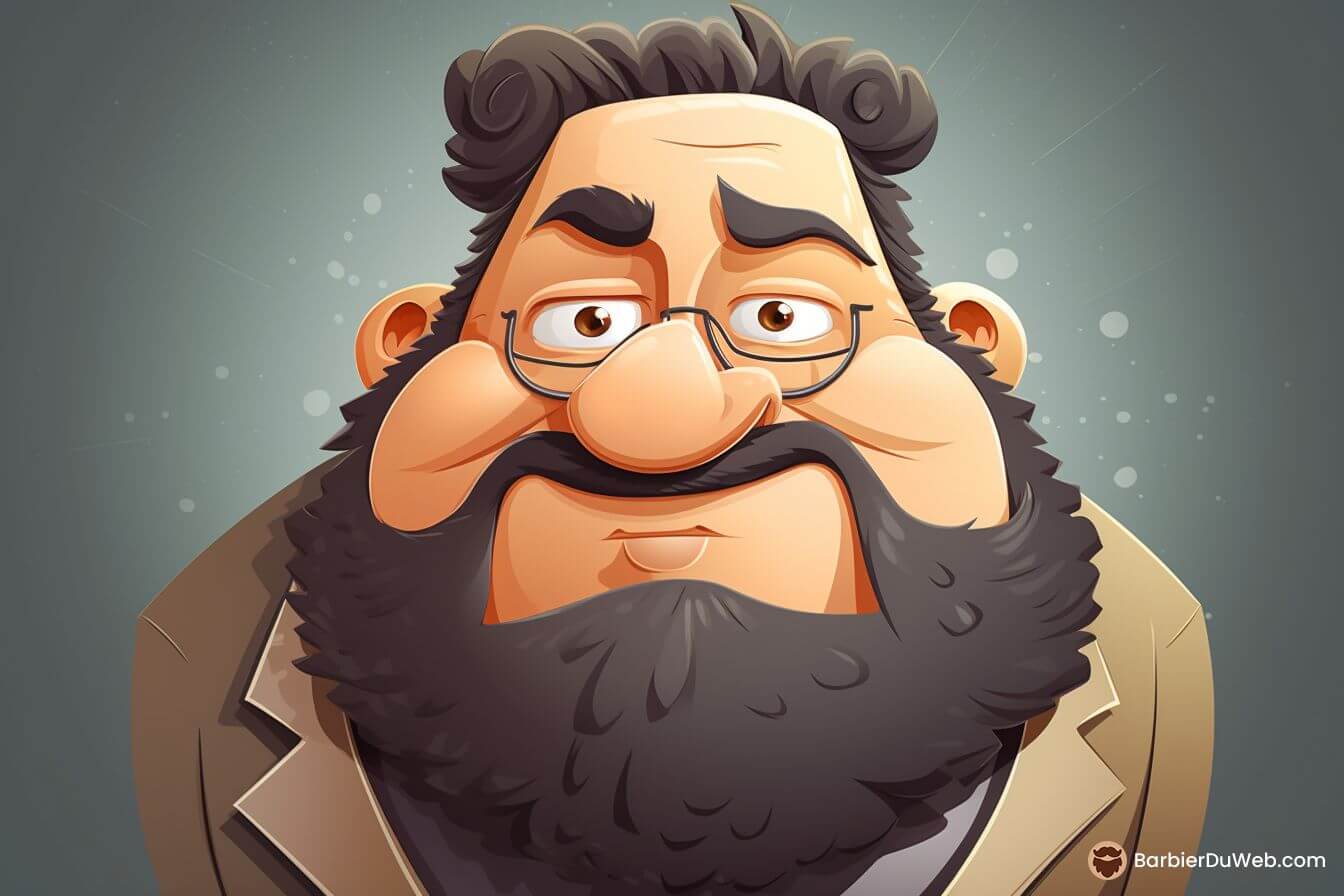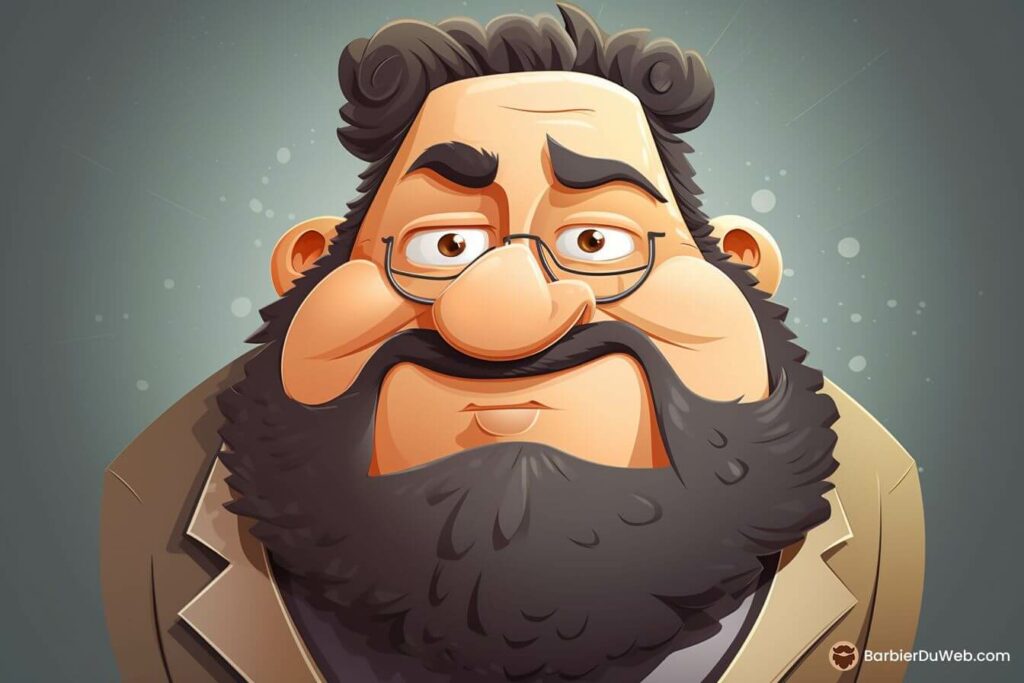 Celebrities known for being strong and bearded
Here are a few celebrities and famous people who proudly sport a beard with a fat face:
These celebrities showed off their thick faces with appropriate styles, demonstrating that beards can be a key element in asserting style and personality!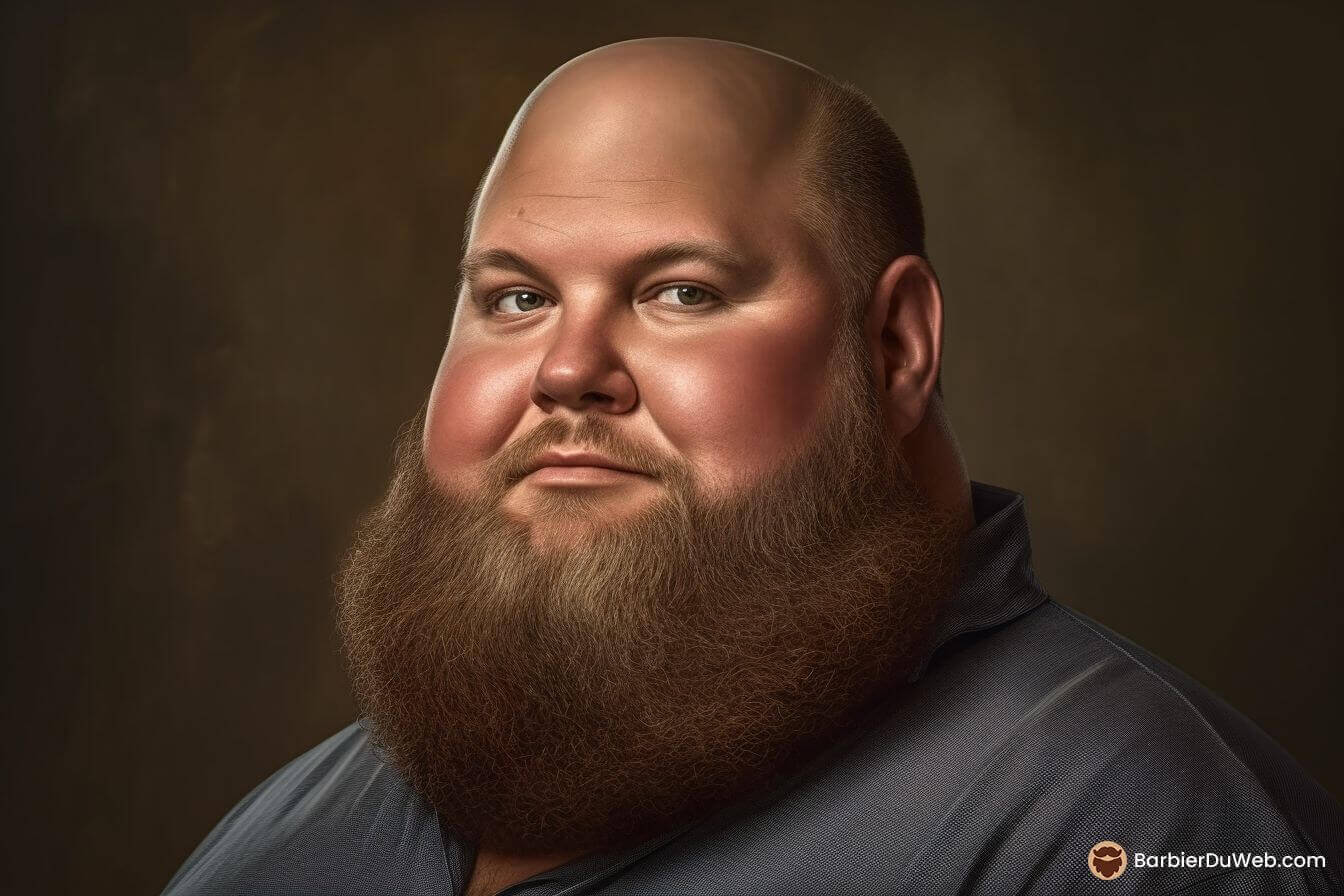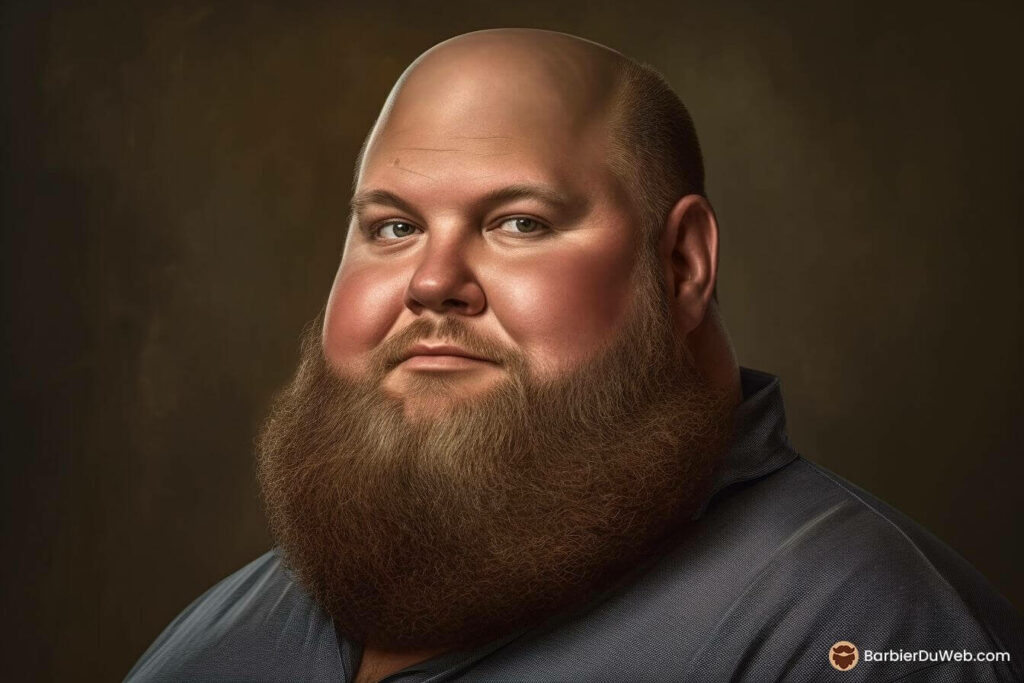 Beard styles for oily faces: the final word
In short, the cut you choose to refine your pudgy face should enhance your features and create visual balance.
Remember that every face is unique, and that experimentation is the key to finding the style that suits you best.
Should men with chubby faces wear beards?
Men with large faces are perfectly capable of sporting a beard, provided they choose a suitable style that enhances features and creates visual balance. A well-groomed beard can add structure and refinement to the face, while expressing the wearer's personality.
Does a beard make you look bigger?
A well-groomed beard can add structure and definition to the face, rather than volume. It's important to note, however, that perception of appearance can vary from man to man.