To go or not to go to the barber? Why go? How does it go the first time? When should I go? At what length of beard can I go?

So many questions a bearded man asks himself before going to a barbershop to get a makeover. And it's normal: whether you're new to this or you're a veteran bearded man, getting a professional beard trim isn't necessarily common.

Let's go for the questions that bearded people ask themselves before going to the barber !
When to go to the barber for the first time?
You've decided to grow a beard. The problem is that you don't know when to go to a barber to get it trimmed and make you look sexy and manly?
Don't panic. Wait about 1 to 2 months of growth (yes, growth never looks good visually, whether it's for hair or beard) and go to your barber! This way, the barber will have some material and can trim something.
Before that, he won't really have the opportunity to do a good job... Unless you want to keep a short beard like the 3-day beard, there you can go much earlier!

Tip: Why not go to your barber Beard Day ?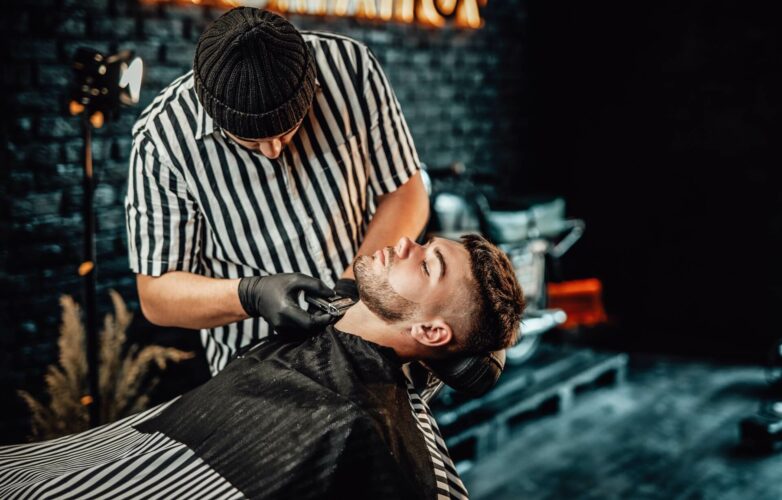 What is the first time at the barber's?
First of all, you'll probably Google the best barber in your city or ask your bearded friends if they know one that does his job well!
Then, it is advisable to make an appointment or to go there directly if the barber in question does not require a reservation.

Let's get to the heart of the matter:
You will express your needs to the barber: what style of cut? what length?
Show him photographs of beards that you like so that he has an idea
Once seated on the throne, the barber will equip himself with his accessories and start trimming your beard. In general, he will start by doing the biggest part and then do the finishing touches (a bit like for the hair)
Minute by minute, you will see your beard trim and take on the shape you want.
Once the shaving and trimming is over, it's time for the pampering: the barber will apply oils and/or care products to comfort your skin after shaving.
At the end, the barber will surely apply styling wax to style your beard
When should I go to the barber?
If you are wondering at what age you can go to the barber: there is no age. You will only be asked to have hair and in the best case... a beard!

If the question is more about how long or how bad your beard is, let's just say there's no good answer. When you feel the need to get pampered and come out looking as good as ever, that's the right time to go to the barber!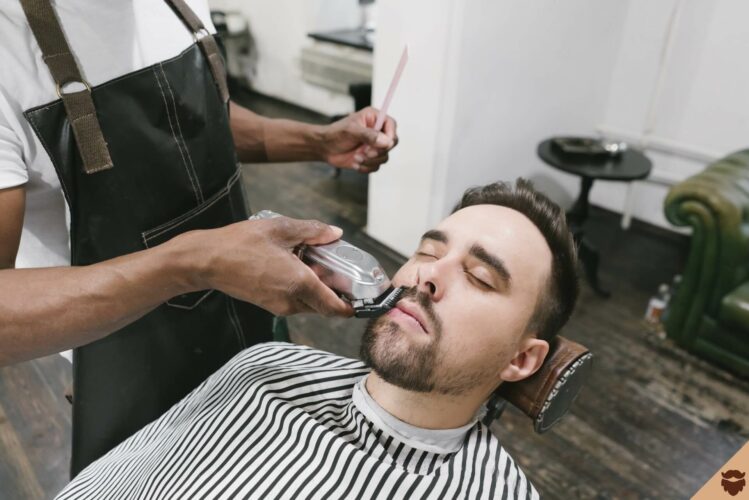 How often should I go to the barber?
For a short beard, it is best to visit your barber every 2 to 3 weeks. This will help you keep a clean result! If you can't go that regularly, consider getting a quality electric trimmer to shave in between.
If you have a long beard, you can go every month, or even 2 months since your beard needs less trimming.

In any case (and even more so for long beards), maintain it at home and take care of it:
Tip: If you are not yet well equipped in terms of accessories to take care of your beard, opt for a Barbershop set which will contain everything you need.
What size beard to go to the barber?
There's not really a beard size to go to a barbershop. While it's a good idea to have a little bit of material to work on your beard look, even if you have a one month beard or 10mm bristlesthe barber will be able to work it and to sublimate your face.

The objective of the barber is to adapt to the constraints and to advise you:
Face shape
Type of hair
Length of the beard
Etc...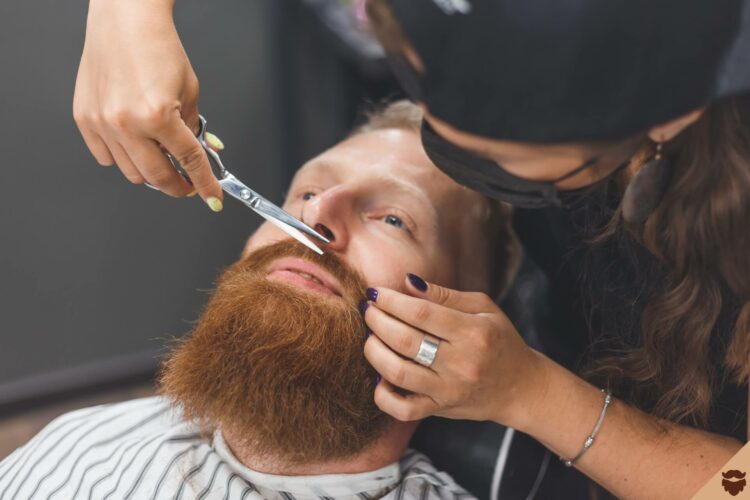 Why go to the barber?
The eternal question that bearded people ask themselves: should I go to a barbershop or shave myself and try to look like a pro?

Rather than discourage you from trimming and shaving your beard at home, I'll list some of the reasons I go to the barber:
I won't be disappointed with the result and I can ask for (almost) any beard cut! For example, it's not at home that I'll be able to get a nice gradient.
The size of my beard will be clean, neat and adapted to my life in the company
I would be advised according to my face and my type of hair and beard
I have the choice between various services and treatments (hot towel, massage...)
It offers adapted and quality products and accessories
We are welcomed and pampered like a king
It is a moment of relaxation and the barbers are friendly in general
You are still not convinced ? Strange... I have only one solution left to give you: go to a reputable barber and come back to tell me that it sucked, go ahead!
What to do before going to the barber?
As for you, apart from letting your beard grow and washing it frequently, there's not much you can do before going to the barber.

On the other hand, if you don't know the barber you are going to, it is best to :
Consult the reviews on the web
Ask a friend if they know the address
Find out about prices
This will avoid unpleasant surprises and don't forget: if the barbershop doesn't seem trustworthy, skip it and go to another one!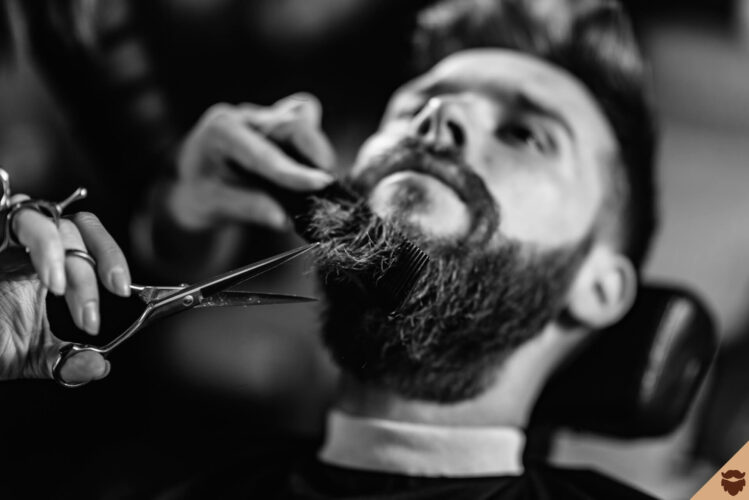 What to ask the barber?
Start by asking if he's okay. If your barber isn't doing well, chances are he won't shave you properly!
No I'm kidding, but you can start by asking him if :
He is used to trimming your beard style
It is at ease with your hair type (curly, frizzy...)
He can offer you products adapted to your beard
He shaves with an old-fashioned cabbage trimmer, a lawnmower or with a manual/electric razor
Regarding your cut, you can ask or specify:
A beard style that you like, that you would like to get closer to (show them a picture, it will be even easier!)
If you prefer a shape rather than a size, it will be less short
The size of the hair you want, it avoids bad surprises
Where you want to see your hair disappear (cheeks, neck line, legs, sideburns...)
The more precise you are in your request, the less likely you are to be disappointed by the result! And if that happens, it's because you didn't go to the right barbershop...
Can I go to the barber with little beard?
Yes, this is not a concern at all! Even if you don't have much beard, the barber will know how to enhance your face. He will simply trim your beard according to your hair mass, don't panic: barbers are creative!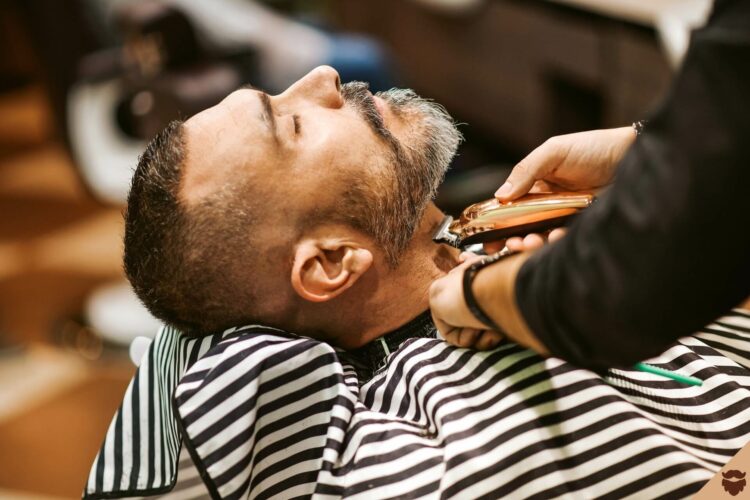 Conclusion on the questions we ask ourselves before going to the barber
In this article, I have tried to answer the questions that bearded people have when it comes to getting a beard trim in a barbershop:
When to go to the barber?
What is a first time in a barbershop like?
When should I start going? At what length?
Why go there?
While some answers may seem obvious, others are much less so. Fortunately, the WebBarber is here to help you and answer them!

And you, what are the questions you have about Barbers?