You let yourself grow a beard, but soon you realized that it was growing messy, with irregular and shaggy hair. In short, it looks like an unkempt beard when it is not at all the case.
It happens.
Fortunately, we have a few tips and tricks to get your "shaggy" beard hair back into shape clean and immaculate. So instead of your beard hair flying around, it can finally land on your cheeks in an orderly fashion. Yes, like the hot guys on TV.
Instead of hiding your scraggly beard, you can finally be proud of it and wear it with confidence and dignity.
Let's start with the small definition of a scruffy beard and then to the solutions I can offer you!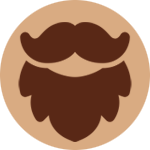 What is a scruffy beard?
The shaggy beard is a type of facial hair whose hair grows unevenly and at different lengths around the lower part of the face. This can also be referred to as a "scruffy" or "spiky" beard.
It gives a scruffy and rough appearance which can make you look messy and untidy. On the other hand, it can also make you look older, in a good way and more masculine.
It all depends on your face and your beard hair!
For the small definition of the Larousse dictionary, a shaggy beard is "Who has a spiky beard or hair".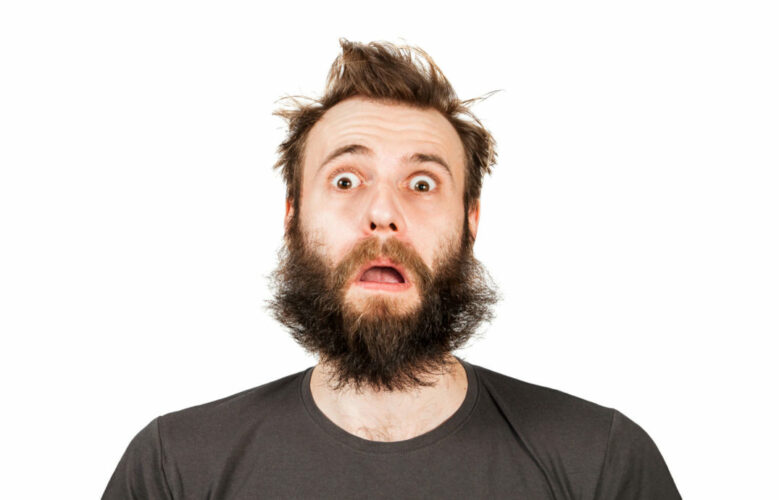 Solutions to fight your scraggly beard hair
Let's get to the heart of the matter with a few tips to get rid of these hairs that go in all directions.
I propose you 9 solutions for shaggy beard, from the simplest and most efficient to the most complicated:
Smooth your beard
Trim your hair evenly
Comb your hair frequently
Brush it with boar bristles
Trim your "neck hair" (the neckline)
Use beard wax
Trim your shaggy moustache
Test other beard styles
If your beard is curly or has a tendency to curlIt is much more likely that it will eventually become shaggy as it grows.
And even if your beard isn't curly, it may have lots of stubborn hairs that refuse to lie flat on your cheeks and grow evenly.
The big question is: How to remedy that shaggy beard?
Very easy! For the first tip, you just need to learn how to smooth your beard with a beard straightener or with a good old fashioned hair dryer.
You might think that straightening a shaggy beard is time consuming and not worth the effort, but that's far from the case.
Over the years, beard straighteners have come a long way (thanks to hair!) and it will only take you 5 minutes to get your beard all smooth.
In summary: One of the fastest ways to tame your unruly beard hair is to use the beard smoothingWhile there are many ways to do this, we recommend the quick and easy heated beard brushes.
Here are the best beard straighteners on the market: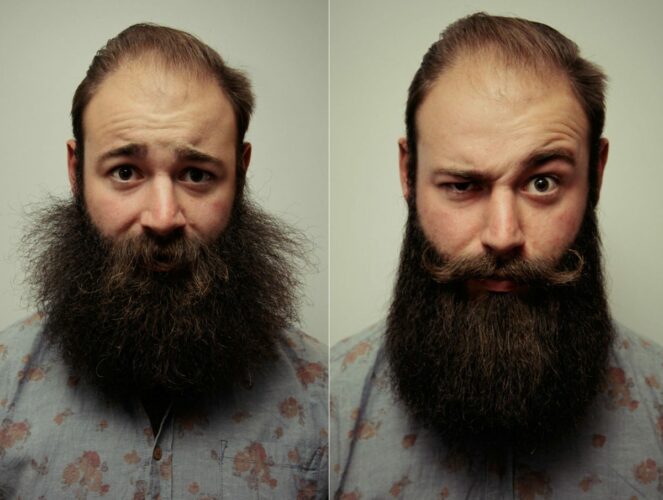 2. Trim your messy beard to a uniform length
If you let your beard grow naturally and think it will grow evenly and be about the same length from side to side, you're wrong. It won't be neat and tidy, it will be more like " shaggy and scraggly ".
Especially if you have young, fragile and fine beard hair.
The solution? Trim your beard, not necessarily in a particular style but to even out the length of the hairs and have a uniform beard.
A quick tip on beard trimming: Let's say that you have a 3 months beard for example, which should be about 3.5 cm long, how do you even that out with a beard trimmer? Well, take a guard comb that is between 2.5cm and 3cm and go through the whole beard to cut the most disheveled hairs.
My advice: Trim your beard hair to a uniform length. You'll get a less disheveled, more even look.
Here are the tools needed (1 mower/razor + 1 stencil):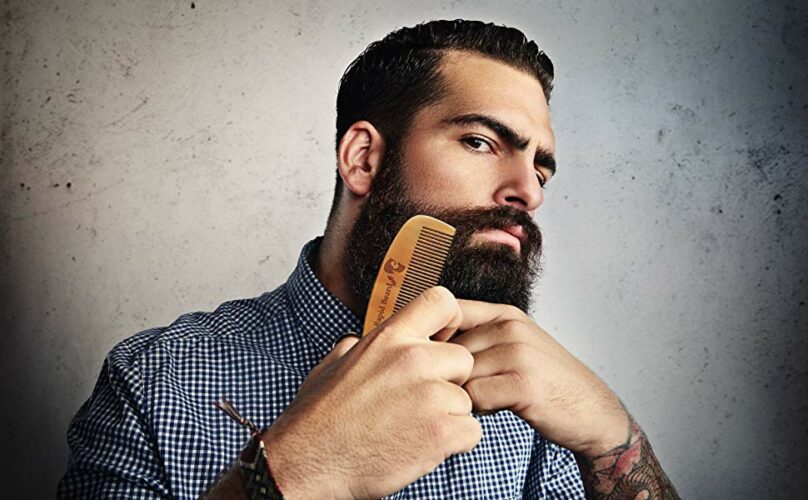 3. Beard combs are your friends
The beard comb will detangle your spiky facial hairs and give your beard a more polished, styled look.
While using a beard comb isn't the most effective way to avoid a shaggy beard, it certainly doesn't hurt to comb your hair regularly to keep it looking good.
Regular combing also helps keep your beard smooth and distributes natural oils (and beard oils) evenly throughout the facial hair fibers.
My advice: Comb your beard at least twice a day (morning and evening, for example) to make it less messy and keep stubborn hairs in line!
The best beard combs of the moment: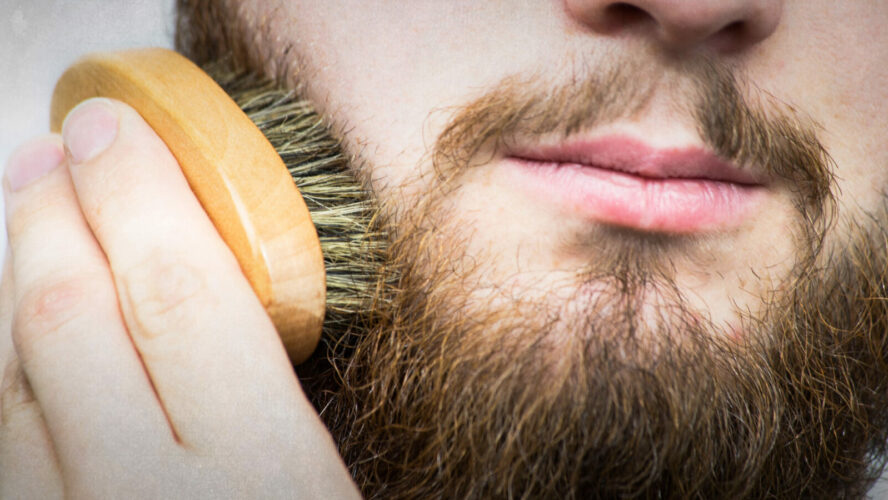 4. Brush it with boar bristles
The boar bristle brush is one of the most useful and versatile beard tools to own.
It helps you keep your unkempt beard in shape, and it's not expensive either.
Here are some of the benefits that beard brushes provide:
Exfoliates the skin under the beard
Stimulates beard circulation to help you grow your beard faster
Moisturizes the beard by stimulating the natural production of sebum oil
Helps keep isolated beard hair in order
Removes dirt and debris from inside the beard hair
In short: only good things for your spiky beard!
Here are the best boar bristle beard brushes:
5. Define the neckline of your beard
To make your beard look less scruffy, less disheveled and cleaner in general, you need to define the "neckline" of your beard.
What is the neckline? This is the place on your neck where your beard hair ends.
The first time you want to trim the neckline, it is quite complicated: you are hesitant, you don't know how to do it. But you will see, the more you do it, the more comfortable you will be!
How to define my neckline?
Place your index and middle fingers on the highest point of your Adam's apple.
This will be the lowest point where your beard should be.
Shave everything underneath and work on your hairline for a clean result.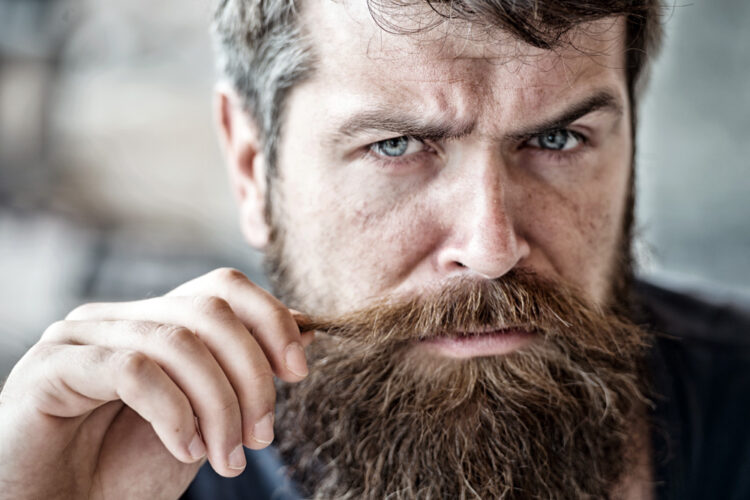 6. Use beard wax
Beard wax (styling) is an excellent beauty product. It will keep your beard trim clean and free of stray hairs that try to get away.
When it comes to styling a shaggy beard, beard wax is a real magic product: it moisturizes, nourishes and styles your hair.
Thanks to its components (generally beeswaxes contain beeswax), the wax will make your hair malleable and you will be able to style it as if you were coming out of the barber!
Why not use beard oil? Well, simply because oils are great as a treatment but do nothing for hair style and hold.
It will moisturize, nourish and protect the beard but will not "style" it.
Seven Potions - Natural and Vegan Beard Wax
Excellent beard wax from Seven Potions, a popular brand in the beard care industry.
Beardilizer - Beard Wax, natural with shine effect
The Beardilizer beard wax is well made and excels in beard care.
Barb'Xpert - French beard wax
Made in France, Barb'Xpert wax will give your hair new vitality while styling it.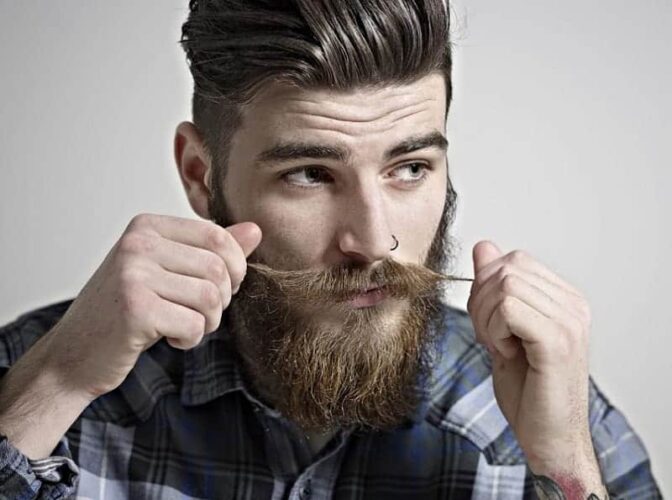 7. Trim your mustache
If you have a beard, you probably have a mustache. And if your beard is shaggy, your mustache will be scraggly too!
The mustache is an integral part of most beard styles, and you can't do without it.
Only, you have probably noticed that the hair above your upper lip is disheveled and gives a sloppy result.
They are uneven, not uniform, you eat them during your meals... In short, it's time to trim that shaggy mustache.
Take your best beard scissors and get to work:
Grab any stray hairs and make sure the mustache hairs are short enough (or styled on the sides) that they don't fall on your lips.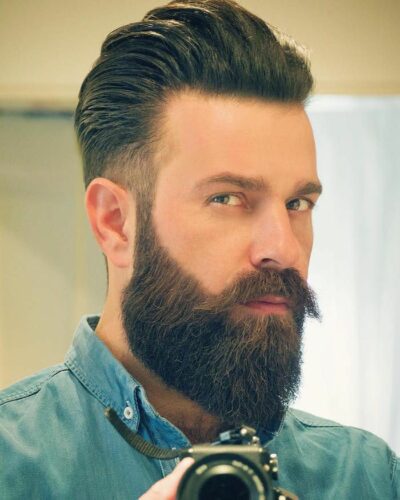 8. Change your beard style
If none of the solutions for shaggy beard I've given you above have worked, it's time to move on to the radical solution: change your beard style !
Often when you grow a beard for the first time, you think that it must be beautiful, like the stars, or that it is better not to have one at all.
Well, you've got it all wrong!
There are many styles of short beardlong or dedicated to certain types of faces that are much less likely to make this "messy" rendering.
Some beard cuts could even make you more beautiful and allow you to have a clean, neat beard... In short, the opposite of the shaggy beard you currently suffer from.
So it's time for you to choose a new beard style (and mustache, at same time).
Here are a few styles I'm particularly fond of for scruffy beards and mustaches:
My advice: If you can't grow a full beard without it becoming an unkempt bush, try something different.
Perhaps a thick beard suits you better or a short square beard.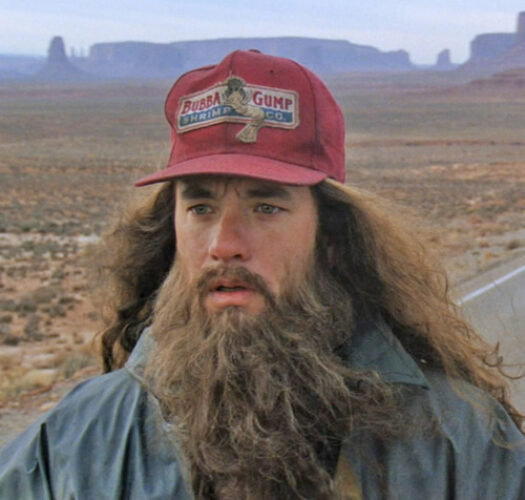 The shaggy beard: we have solutions to avoid it!
So you have a shaggy, unkempt beard? Thanks to the tips I have given you in this article, you should be able to achieve a perfect result! No more unruly little hairs, which do as they please, and no more of that "untidy" look that your messy beard gives you.
To summarize, here's what you can do to avoid having a shaggy beard:
Smooth it out with a hair straightener
Trim your hair to the same length
Use beard wax
Equip yourself with combs and brushes made of boar's hair
Work on your shaggy mustache and shave the neckline of the beard
If after that you still have problems with your shaggy beard, make an appointment at your nearest barber, he will surely know the solution to your messy hair.
Otherwise, one of the most radical solutions is to completely change your beard style to a more suitable cut.
The FAQ of the spiky and messy beard
If you still have some worries with your beard, I answer them here!
Often, it's because of "genetics", as your beard grows in a more untidy fashion than in other men. This results in a spiky, disheveled look that is not as neat and clean as you would like.
Of course you can! To fight your stubborn hairs and make them docile, you can smooth your beard, style and comb it frequently, use beard wax or trim your hairs to the same length, for a perfect result!