L'huile de Chébé est un soin encore méconnu pour la barbe de l'homme. En effet, elle est plus connue pour ses bienfaits sur la peau et les cheveux, surtout chez les femmes.
Il semblerait qu'elle soit un atout majeur pour la barbe de l'homme, où elle apporte ses pouvoirs hydratants, démêlants et nourrissants.
Dans cet article, je vais vous apprendre à l'utiliser pour embellir votre barbe !
Allez, c'est parti pour la présentation de cette huile qui nous provient tout droit du Tchad.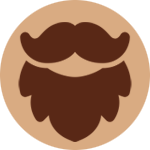 Mon avis sur l'huile de Chébé pour la barbe
Very little known by men for take care de leur barbe, cheveux et même de la peau, l'huile de Chébé vient apporter un renouveau dans les huiles. En effet, elle est moins conventionnelle (car moins utilisée en occident) que d'autres huiles comme le castor oil, l'amande douce or the jojoba.

However, it offers multiple benefits that will inevitably be useful to bearded and hairy people. In short, I recommend it!
L'huile de Chébé à acheter pour votre barbe :
Cosm'Ethics propose d'excellents produits de beauté et cette huile est excellente. Son parfum monoï viendra ajouter une odeur parfaite pour votre barbe. I recommend it!
C'est quoi l'huile de Chébé ?
L'huile de Chébé pour la barbe est une huile végétale extraite de l'arbre de Chébé. C'est un macérat huileux qui est obtenu à partir de la poudre des graines de Chébé ou Croton de Zambèze, plante tropicale d'Afrique.
Les graines sont grillées, écrasées et réduites en poudre. Elle se présente sous forme d'huile solide ou liquide, marron foncé. Ce coloris sombre est dû au processus de fabrication.
Apparemment, elle serait utilisée pour soigner les blessures et les brûlures mais elle est très connue pour ses effets sur les cheveux. Elle excelle d'ailleurs dans le soin des cheveux (et poils) ternes, fragilisés ou cassants.
Souvent, les huiles et graines de Chébé sont mélangées à d'autres soins comme l'huile de pépin de raisin ou encore le ricin.
En général, elle est vendue en fiole dans des huiles végétales ou sous forme d'essence dans un flacon transparent. Elle est souvent commercialisée en pharmacie ou dans les boutiques africaines.
Quels sont les bienfaits de l'Huile de Chébé sur la barbe ?
Very well known for its benefits on the hair, the Chebe brings similarly the same effects to your goatee.
Si je devais citer les meilleurs bienfaits qu'elle apporte :
Moisturizes the beard: son pouvoir hydratant et ses mélanges avec d'autres huiles comme l'amande douce la rend excellente pour hydrater au maximum une barbe et peau sèche
Nourishes the beard: Comme beaucoup d'huiles, elle apporte une bonne hydratation aux barbes sèches et drues. Elle apportera également une douceur inégalée à votre peau !
Detangles the beard: Sa composition fait d'elle un excellent démêlant de barbe
Strengthens the beard and makes the hair less brittle
It smells good and brings a pleasant smell to your beard
Est-ce que l'Huile de Chébé fait pousser la barbe ?
L'huile de Chébé ne fait pas pousser la barbe à proprement parler comme le castor oil or the mustard. On the other hand, it will provide the elements that help the growth of your hair.
Thanks to its properties, it will nourish your hair, moisturize it, feed it and detangle it. By providing all these benefits to your skin and hair, it will maximize the chances of your beard growing.
En bref, la barbe peut pousser un peu plus vite grâce à l'huile de chébé, mais cela n'est pas une garantie qu'elle soit plus fournie que d'habitude.
Comment l'appliquer sur ma barbe ?
Je vous préviens, l'utilisation est très très… Simple. Je ne sais pas si vous vous attendiez à galérer pour l'appliquer mais en tout cas ça n'arrivera pas !

Pour utiliser l'huile de chébé sur votre barbe, il faudra :
Prendre un peu d'huile de chébé avec vos doigts et bien la chauffer dans le creux de votre main.
Masser vos poils avec vos doigts jusqu'à ce que toutes les parties de votre barbe soient couvertes.
Rincez dans 2h si le résultat est gras, sinon laissez jusqu'au lendemain
And now you're ready to show off a powerful, detangled beard that smells great too.
Autres utilisations de l'Huile de Chébé pour la santé
Les bienfaits de l'huile de chébé sur la peau :
Moisturizes: Son action apporte hydratation et douceur à l'épiderme
Protects and repairs : It repairs and soothes the skin thanks to its properties and would even manage to reduce scars
Relieves itching: In case of redness and other aggressions of the skin, the chébé softens and brings comfort to the skin
L'huile de chébé est également excellente sur les cheveux :
Nourishes and moisturizes: it makes an excellent hair care product, as it moisturizes your scalp while providing essential nutrients.
Smoothes hair: smoothes frizzy and curly hair. In addition, it helps reduce hair breakage.
It reduces breakage: it repairs damaged, damaged and brittle hair.
Conclusion sur l'huile et les graines de Chébé pour la barbe
Si je dois revenir sur l'huile de Chébé et spon utilisation pour la barbe, je dirais qu'elle constitue un très bon soin.
Avec tous les avantages que l'huile de chébé a en tant que soin de barbe, je ne peux qu'encourager les hommes à essayer cette huile.
La seule chose que je peux dire est de vérifier avec votre dermatologue au cas où l'huile de chébé pourrait avoir des effets secondaires ou tout simplement de tester l'huile sur une petite partie de votre corps et voir si vous ne faites pas d'allergie.
Dans cet article vous avez appris ce qu'est l'huile et les graines de Chébé, ses bienfaits sur la barbe, les cheveux et la peau. Nous avons ensuite déterminé si cette huile fait pousser la barbe et bien sûr vous avez appris à l'appliquer sur vos poils !