The oil of Chebe is a care still underestimated for the beard of the man. Indeed, it is better known for its benefits on the skin and hair, especially for women.
It seems to be a major asset for men's beards, where it brings its moisturizing, detangling and nourishing powers.
In this article, I will teach you how to use it to beautify your beard!
Let's go for the presentation of this oil that comes straight from Chad.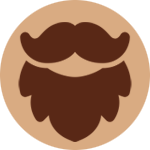 My opinion on Chébé beard oil
Very little known by men for take care of their beard, hair and even skin, the oil of Chébé comes to bring a renewal in oils. Indeed, it is less conventional (because less used in the West) than other oils like castor oil, sweet almond or the jojoba.

However, it offers multiple benefits that will inevitably be useful to bearded and hairy people. In short, I recommend it!
Chebe oil to buy for your beard:
Cosm'Ethics has some great beauty products and this oil is excellent. Its monoi fragrance will add the perfect scent to your beard. I recommend it!
What is Chebe oil?
The oil of Chebe for the beard is a vegetable oil extracted from the tree of Chebe. It is an oily macerate that is obtained from the powder of the seeds of Chebe or Zambezi croton, a tropical plant from Africa.
The seeds are roasted, crushed and powdered. It is presented as a solid or liquid oil, dark brown. This dark color is due to the manufacturing process.
Apparently, it is used to heal wounds and burns, but it is very well known for its effects on hair. It excels in the care of dull, weakened or brittle hair.
Often, the oils and seeds of Chebe are mixed with other care such as grape seed oil or castor oil.
It is usually sold in a vial in vegetable oils or as an essence in a transparent bottle. It is often sold in pharmacies or in African stores.
What are the benefits of Chebe Oil on the beard?
Very well known for its benefits on the hair, the Chebe brings similarly the same effects to your goatee.
If I had to name the best benefits it brings:
Moisturizes the beard: its moisturizing power and its mixtures with other oils such as sweet almond make it excellent to moisturize a beard and dry skin
Nourishes the beard: Like many oils, it provides good hydration to dry, rough beards. It will also bring an unequalled softness to your skin!
Detangles the beard: Its composition makes it an excellent beard detangler
Strengthens the beard and makes the hair less brittle
It smells good and brings a pleasant smell to your beard
Does the Chebe Oil make the beard grow?
The oil of Chebe does not make the beard grow as such as the castor oil or the mustard. On the other hand, it will provide the elements that help the growth of your hair.
Thanks to its properties, it will nourish your hair, moisturize it, feed it and detangle it. By providing all these benefits to your skin and hair, it will maximize the chances of your beard growing.
In short, the beard may grow a little faster thanks to the oil of chebé, but this is not a guarantee that it will be fuller than usual.
How do I apply it to my beard?
I warn you, the use is very very... Simple. I don't know if you were expecting to have a hard time applying it, but you won't!

To use the oil of chébé on your beard, it will be necessary:
Take some oil of chébé with your fingers and warm it well in the hollow of your hand.
Massage your hair with your fingers until all parts of your beard are covered.
Rinse in 2 hours if the result is greasy, otherwise leave until the next day
And now you're ready to show off a powerful, detangled beard that smells great too.
Other uses of the Oil of Chebe for health
The benefits of the oil of chébé on the skin:
Moisturizes: Its action brings hydration and softness to the epidermis
Protects and repairs : It repairs and soothes the skin thanks to its properties and would even manage to reduce scars
Relieves itching: In case of redness and other aggressions of the skin, the chébé softens and brings comfort to the skin
The oil of chébé is also excellent on the hair:
Nourishes and moisturizes: it makes an excellent hair care product, as it moisturizes your scalp while providing essential nutrients.
Smoothes hair: smoothes frizzy and curly hair. In addition, it helps reduce hair breakage.
It reduces breakage: it repairs damaged, damaged and brittle hair.
Conclusion on the oil and seeds of Chebe for the beard
If I have to come back to the oil of Chébé and its use for the beard, I would say that it is a very good care.
With all of the benefits that keb oil has as a beard care product, I can only encourage men to try this oil.
The only thing I can say is to check with your dermatologist in case there are any side effects of the oil or simply test the oil on a small part of your body and see if you have any allergies.
In this article you have learned what Chebe oil and seeds are, its benefits on beard, hair and skin. We then determined if this oil makes your beard grow and of course you learned how to apply it to your hair!