Getting a small trimmer for your beard has only advantages. For example, you will no longer have a problem storing it or taking it with you wherever you go: on a trip, at a friend's house and even when camping.
Now, whether you're on the go, at work, or at Oktober Fest, you can be stylish with the best electric miniature clippers for men.
Let's start the comparison right away to show you the top smallest electric lawnmowers available on the market!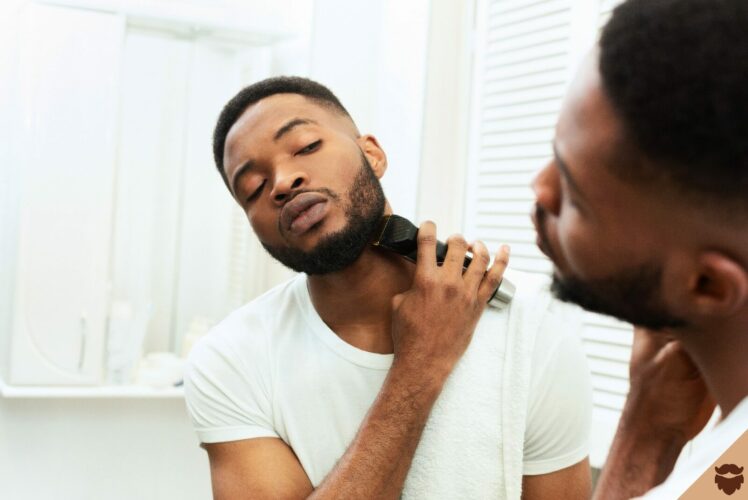 Comparison of the best mini beard trimmers
Philips MG1100/16: the multifunctional mini electric trimmer
Promotion
Philips MG1100/16: the inexpensive mini trimmer
Series 1 from Philips is the equivalent of the BMW 1 Series: ergonomic, reliable and above all designed to be smaller than its counterparts. Inexpensive (unlike BMW) and cordless, the Philips MG1100 will live up to your expectations for a small-sized lawnmower.

Benefits
Not expensive
Wireless (battery operated)
100% waterproof
Disadvantages
Accuracy to be reviewed
No dry shaving
Difficult to disassemble
Philips QP2630/30: the equally professional big sister
Promotion
Philips QP2630/30 - Mini clippers at their best!
If you haven't heard, this is the big sister to the One Blade QP2530! With more performance and even more accessories, it provides a comfortable and smooth shave. It's portable, ergonomic and versatile, making it one of the best value shavers on the market.

Benefits
Easy to use
Excellent value for money
Versatile: can be used on the whole body
Good precision for finishes and contours

Disadvantages
Spare blades are quite expensive
Not for long beards
Braun PT5010: a good little precision trimmer
Braun PT5010: small electric precision trimmer
Braun has proven itself in the field of men's shaving accessories. With the PT5010, the German brand combines efficiency and comfort of use. Supplied with two cutting shoes (also small), it is very light. I particularly recommend it for a close shave.

Benefits
Battery operated
Supplied with a base
Washable with water
Handy and comfortable to use
Cheap

Disadvantages
Limited use when you have a lot of hair
Good quality 4 in 1 mini mower by HT TopHinon
Small 4 in 1 Mower by HT TopHinon
Little known on the market of electric clippers, HT TopHinon has managed to make a small place in the best small clippers on the market. Thanks to its powerful motor and quality blades, you will be able to use it on the whole face. Waterproof, you will be able to wash it with water easily and use it on all your body thanks to its cutting shoes.

Benefits
Powerful motor and quality blades
Can be used on the whole face: nose, beard, mustache, ears...
360° rotating blades
Waterproof and easy to clean
On battery (rechargeable)

Disadvantages
No storage bag
No instructions for use
Philips QP2530/30: the mini model for bearded men
Philips QP2530/30: the classic
A classic pocket trimmer (or razor, as you prefer), the One Blade is simply efficient and has all the right features for the traveling bearded man. Small, handy, light and easily stored. Plus, it's waterproof, and that makes all the difference!

Benefits
Quite accurate
Very good price/quality ratio
Ergonomic and very light

Disadvantages
Price of blade refills
Avoid for big beards
How did we determine the best mini mowers?
We have conducted extensive research to select the best models available on the market! With consumer reviews, our tests and our professional advice, you can be sure to make an informed purchase.
Criteria for a quality travel beard trimmer
Functionality and ergonomics
I've compared the different features offered by electric mowers to help you choose the ones that will give you a quality mowing experience.

The long-lasting battery, LED display and adjustable power motor are essential features to consider for a comfortable and enjoyable shaving experience.
Power and versatility
Power and versatility are essential for long-lasting and efficient use.

A trimmer that can accommodate different cuts and hair types is essential for perfect results. And with a powerful model, you can trim quickly and easily for an efficient and comfortable shave.
Accessories included
The accessories included with electric clippers are many and varied. Cutting shoes, razors, maintenance oils and brushes allow you to style your cut the way you want.
These greatly increase the versatility of your trimmer and allow you to trim, thin and contour your beard.
Superior quality
When you invest in beard equipment, you want the best quality possible.
The electric lawnmowers in this comparison are of high quality and well worth buying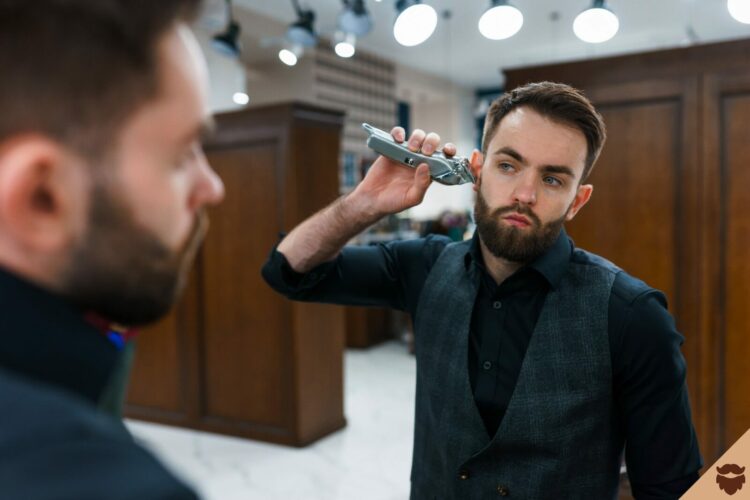 What is a small beard trimmer?
The mini beard trimmer is simply a trimmer made in a small format. Lightweight and convenient to use, it is perfect for the bearded man on the go or for those who don't want to carry around a large trimmer.
It is the perfect combination of performance and maneuverability and will be an ideal choice if you want to take your mower on the road or if your bathroom is small.
How to choose your travel beard trimmer?
Although the first criterion is the size of the electric lawnmower, there are other crucial points before you buy your small lawnmower:
It is important to verify that the engine is powerful enough despite the small size of the device,
Then check the price of the mower : often, the "mini" design leads to higher prices,
The proposed features (adjustable shoe, LCD display, wired or rechargeable...)
The precision is also importantto be able to work on the contours and finishes,
The number and efficiency of the various accessories included : you need some, but not too much ! Otherwise, it will quickly become cumbersome,
Beware of price and availability of replacement blades,
The maintenance and cleaning must be simple,
Consider that a travel mower with a small cutting head may not be suitable for a long, thick beard.
Maintain your equipment: cleaning and lubricating the blades
Care to use after shaving (even when traveling and on the go!)
After trimming your beard, it is customary to use a good care product to moisturize, soothe and comfort your skin and hair.
Rightly so, these products will improve the appearance of your beard, making it stronger and shinier. In short, I really advise you to use these products for a beard... In the hair!

Care to use after mowing:
Everything you need to maintain your face and beard hair.
Shaving alternatives to the small beard trimmer
There's more to using a lawnmower! You can also choose another type of shaving like a straight razor for example, to cut very close. For styling or finishing, nothing is better than a cabbage trimmer or a shavette, two sharp blades at the service of your beard.
Accessories are numerous in the world of men's grooming and the alternatives are many:
Razors (straight, safety, electric)
Manual mowers
Shavette
Cabbage cutter
Of course, price is also a factor: some shaving methods cost less than others.
The goal here is to choose an accessory or accessories adapted to your needs in terms of beard trimming.
Buy a mini electric beard trimmer: practical!
Essential accessory for the bearded man and very useful for the nomadic men or in search of space in their bathroom, the small beard trimmer is an invention which we do not do without.

Hidden away in a drawer or tucked away in your suitcase, it offers comfort, efficiency and performance while remaining accurate.
However, it will not be the best choice for men with long beards. Indeed, the small size of the trimmer is not ideal for trimming a big beard.

In short, I recommend the mini beard trimmer for a shaving accessory that is small in size but also in price!
Frequently asked questions