Buying a corded lawnmower is an excellent choice if you want a robust model that will last for years. No need to worry about checking the charge of your equipment: you plug your lawnmower into the mains and boom! It starts up and begins cutting like crazy.

Battery life? No way! The charge indicator ? Down! The fast recharge? No need.
As you can see, buying a lawnmower that runs on AC power has certain advantages in terms of durability, power and sturdiness.

Let's move on to the comparison of the best AC beard trimmers.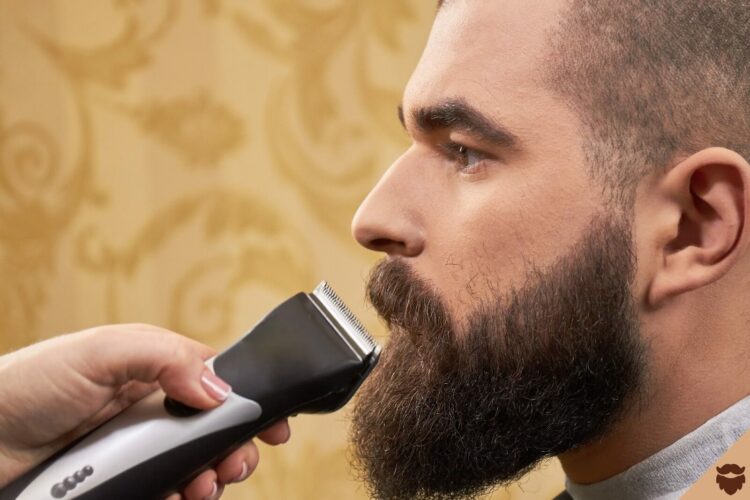 Top corded beard trimmers comparison
Wahl Corded Beard Trimmer #9918-6171
Wahl Wired Beard #9918-6171
If you don't know the brand yet, Wahl manufactures clippers dedicated to hairdressing professionals. The Model 9918-6171 is an excellent clipper for its beard and hair trimming capabilities, its price and the accessories included in the kit! As far as quality is concerned, you clearly have nothing to worry about as this is equipment designed for the long term (barbershops, hairdressers...).

Affordable, it is perfect for trimming beards and hair. I especially recommend it if you are looking for a high quality model at a reasonable price!

Benefits
Excellent value for money
Hair + Beard
Powerful and durable engine
Accessories + mower maintenance kit
Small comb included in the box

Disadvantages
The blade can be small depending on the volume to be mowed
Plastic" finish
Moser 1400 Corded Precision Mower
Promotion
Moser 1400 Corded Precision Mower
Moser is another brand that is very well known for their hair and beard trimmers. The Moser 1400 is multi-functional, which means it will trim your beard and hair. With a trendy finish, it offers a durable motor, comfortable and fast trimming and a very competitive price.

I recommend it to small budgets who want one of the best quality/price ratios on the market.

Benefits
Cheap, excellent value for money
Lubrication and cleaning kit included
Solid materials and no "plastic" finish

Disadvantages
Not designed for precision
A bit noisy
Heats up quickly
Rowenta Driver TN1603 Corded mower with 20 cutting heights
Rowenta Driver TN1603 Corded mower with 20 cutting heights
Rowenta Driver TN1603 Corded clipper with stainless steel blades and 20 high performance cutting lengths with fixed comb, brush and oil, 4 fixed combs with cable
Rowenta doesn't just make good vacuums! Their TN1603 trimmer is a great value! Affordable and well made, it will allow you to trim hair, body and beard. Solid, it offers various cutting heights from 0.5mm to 12mm.

I would recommend it to bearded men who want a cheap, versatile model that clearly does its job well!

Benefits
Not expensive
Ergonomic
Durable equipment and engine
15 settings for all cutting heights

Disadvantages
May appear "small
No shaving at 0 mm
Cleaning a little more complicated than average
PHILIPS HC5100/15 Pro on mains with 7 Accessories
PHILIPS HC5100/15 Pro with 7 Accessories
Philips also has a place in our corded clippers comparison! The HC5100/15 Pro+ is a very powerful hair and beard trimmer! Supplied with a whole kit of 7 accessories + the maintenance kit and small scissors, it has a good arsenal. With its extra-long 2.8m cord, you can take it to (almost) any bathroom.

Benefits
Complete mower kit
Easily mountable clogs
Very long power cord: 2.8m!
Quiet and precise

Disadvantages
No close shave
Heats up quickly
Wahl T-Pro : T-Blade corded beard trimmer for men
Wahl T-Pro : T-Blade corded beard trimmer for men
The Wahl T-Pro is entering the fray! The brand is definitely a leader in corded mowers. In fact, it's their trademark.
Powerful, precise and multifunctional, it is one of the best value for money in this comparison. The T-blades will remove all your hair, from head to toe

Pretty stylish and comes with its cleaning and oil kit, it's a great choice!

Benefits
Multifunction : hair, beard, body...
Precision shaving and finishing
Maintenance kit
Nice design

Disadvantages
Rather noisy
Short power cable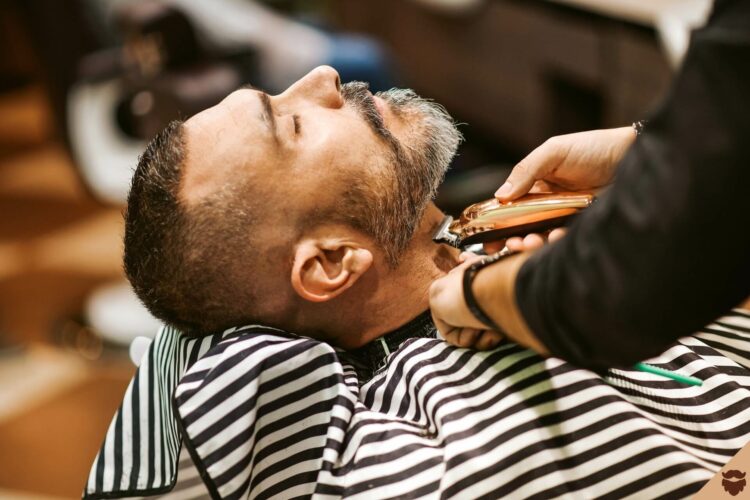 What is a corded beard trimmer?
The corded (mains) trimmer is a shaving accessory that operates with a motor that requires a connection to an electrical outlet to turn on.
This is the type of model that we have known since the beginning of hair and beard clippers, but which is gradually being replaced by battery operated models.

In contrast to cordless clippers (which are the most common nowadays), the corded clippers will only turn on once they are connected thanks to their cord. You can compare it with a wired and wireless keyboard/mouse, it's the same principle!

Nowadays, there are also "2-in-1 corded and cordless" mowers that allow you to use the mower both plugged in and unplugged. It's a happy medium between corded and cordless models.
How to choose a beard trimmer with mains power?
As with most of your purchases, the easiest way is to focus on value for money!
By investing in a corded beard trimmer that meets your needs, you won't risk being disappointed with your purchase. If you don't need the 1,000 and 1 features that a certain model offers, choose a trimmer that does what you want it to do.

In all cases, look for a mower that :
Has a fairly powerful motor (this is often the case with mains powered mowers)
Offers various accessories for all sizes of cuts
Has durable, quality blades that are easy to find and change
Is comfortable to use and fits your needs.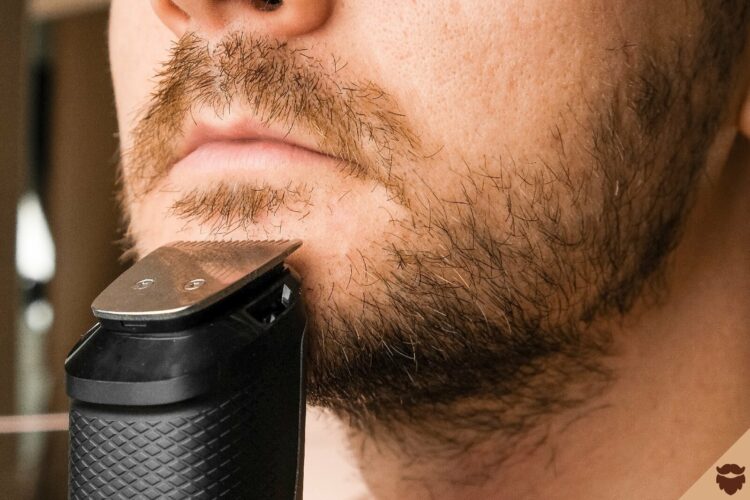 Buy a corded beard trimmer: back to the classics!
While the market for men's electronic accessories is flooded with products with multiple features and especially "cordless" or "battery operated", the corded mower takes us back to basics. I would almost say that it is like comparing old mechanical cars to today's vehicles that have a glitch once the electronics have decided to stop working.

Corded mowers are generally more robust, designed to last over time. The motors can afford to deliver the power needed since they are mains powered and do not rely on a battery which usually has a very limited life.

In short, it's a great choice if you have an outlet near your sink and can use it easily without being bothered by the wire.
Frequently asked questions
Although it is possible to find them in stores and supermarkets like Auchan, Boulanger or Carrefour, I advise you to buy your corded lawnmower on the Internet. You will be able to make a more informed choice and compare each lawnmower for the best value for money. Moreover, you will benefit from a major asset: customer reviews, which are a real source of reliable information on the use and quality of the lawnmower.
No need to bother with a battery that can't hold a charge or that needs to be recharged every time you use it! Back to the classics. In addition, this type of mower generally has a more powerful engine because there are no more limitations on battery life.