Looking for the perfect beard trimmer set? Look no further! We'll compare some of the best beard trimmer kits on the market.

Whether you're looking for a complete package or just a new mower, we've got you covered! We'll discuss the pros and cons of each package, so you can find the perfect one for you. Let's get started!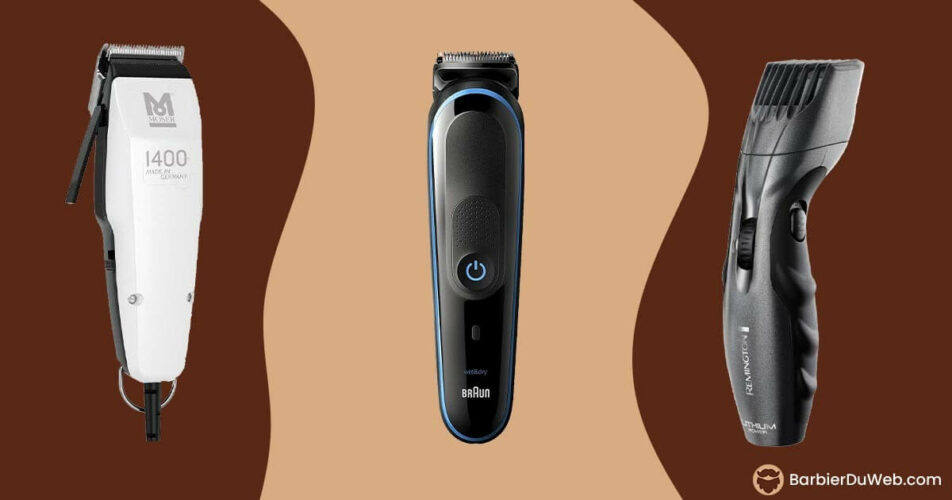 Comparison of the best beard trimmer sets
We will start by introducing the different beard trimmer sets. This will help you decide which set is best for you based on your shaving expectations!

To read: Selection of the best trimmers for your beard
Braun MGK7220 Hair and Beard Trimmer Pack
Braun MGK7220 Beard Trimmer Pack
This professional quality kit comes with everything you need to make your facial hair look its best.

With eight cutting heads, a charging cradle, a carrying case and a Gillette Fusion hand shaver, this trimmer has it all. The cleaning brush ensures that your blades stay sharp and ready to use, while the included Fusion shaver lets you test Braun's premium shaving technology.

Whether you're looking to maintain your beard or create a new look, the Braun MGK7220 is the perfect tool for the job.
Benefits
Equipped with 8 cutting heads, which allows to obtain different lengths.
It is silent and has a fast charge mode with extended autonomy.
Disadvantages
It cannot go below 0.5 mm in length.
Cannot be used when plugged in - must be fully charged to operate.
Philips MG7745/15 Beard Trimmer Kit
Promotion
Philips MG7745/15 Beard Trimmer Kit
The beard trimmer set Philips MG7745/15 is the ideal tool for those who want to achieve the perfect look.
With 14 blades, a charging cable, carrying case and cleaning brush, this trimmer is close to perfection.

DualCut technology offers maximum precision with 2 times the number of blades, which means you can get the look you want with ease. The only downside is that it doesn't offer 0mm cutting, but it's still a great product.
Benefits
A totally waterproof mower.
14 cutting heads, including one designed for three-day beard formation.
Lots of versatility for different styles and lengths.
It also has a great autonomy, with one hour of charge allowing up to 2 hours of use.
Comfortable and easy to handle.
Disadvantages
It cannot be used while charging
Does not have the 0 mm function for very close cuts.
Remington MB4046 Beard Trimmer Pack
Promotion
Remington MB4046 Beard Trimmer Kit
The Remington MB4046 beard trimmer is a premium trimmer that offers self-sharpening blades with titanium coating for a precise and durable cut.

It also features a retractable thumbwheel and an adjustable XL cutting guide (20-35mm) for versatile styling options. Cordless operation with lithium battery provides up to 120 min of runtime on a 4-hour charge, and the charge indicator lets you know when it's time to recharge.

The boar bristle beard brush is perfect for keeping your beard in tip-top shape, and the stainless steel scissors make it easy to keep your beard trimmed and neat. The trimmer is also washable for easy cleaning.
Benefits
Sabot which allows to cut hairs from 0,5 to 5 mm length.
Comes with an extra comb, scissors and cleaning brush for a complete shaving experience.
Braun MGK5280 beard trimmer set
Braun MGK 5280 beard trimmer set
Looking for a premium beard trimmer that will give you a perfect cut every time? Look no further than the Braun beard trimmer.

With seven cutting heads and shoes, it's easy to get the precise cut you want, while the cleaning brush and charger make maintenance easy.
Plus, the included travel bag lets you take your mower with you wherever you go.

And for the ultimate in shaving quality, pair your Braun beard trimmer with the included Gillette Fusion manual shaver. You'll love the quiet operation and perfect finish of this premium trimmer.
Benefits
It offers the excellent quality and workmanship that consumers have come to expect from Braun products.
It includes seven cutting heads and shoes.
Its Li-Ion battery allows for long periods of use without having to constantly recharge it.
Quiet design.
Disadvantages
A high price.
It cannot be used when plugged in.
The cutting height can only be adjusted with the included shoes.
Hatteker Hair and Beard Trimmer Set
Hatteker Beard Trimmer Kit
This all-in-one trimmer comes with 4 different shoes, making it perfect for trimming all lengths and styles. Plus, the adjustable shoe allows you to customize your trimming experience to get exactly the look you want. And for those hard-to-reach places, this trimmer comes with nose and ear cutting heads.

Plus, the precision shaving head provides a close, comfortable shave every time. Best of all, this trimmer is fully waterproof, so it can be used in the shower or on the go.
With its self-sharpening blades and real-time LED display, the Hatteker beard trimmer is a unique tool for all your grooming needs.
Benefits
The best selling point is often its versatility.
Comes with a range of accessories for different cuts and hair styles.
Its USB port allows you to recharge it easily when you travel.
Disadvantages
The battery lasts only one hour, which is not necessarily suitable for long sessions in the salon.
Minimum length of 0.8mm, which means that those looking for a very short cut may have to look elsewhere.
How did I choose the best electric lawn mower kits?
We have conducted extensive research to select the best models available on the market! With consumer reviews, our tests and our professional advice, you can be sure to make an informed purchase.
My criteria for making the best choice
Functionality and ergonomics
I've compared the different features offered by electric mowers to help you choose the ones that will give you a quality mowing experience.

The long-lasting battery, LED display and adjustable power motor are essential features to consider for a comfortable and enjoyable shaving experience.
Power and versatility
Power and versatility are essential for long-lasting and efficient use.

A trimmer that can accommodate different cuts and hair types is essential for perfect results. And with a powerful model, you can trim quickly and easily for an efficient and comfortable shave.
Accessories included
The accessories included with electric clippers are many and varied. Cutting shoes, razors, maintenance oils and brushes allow you to style your cut the way you want.
These greatly increase the versatility of your trimmer and allow you to trim, thin and contour your beard.
Superior quality
When you invest in beard equipment, you want the best quality possible.
The electric lawnmowers in this comparison are of high quality and well worth buying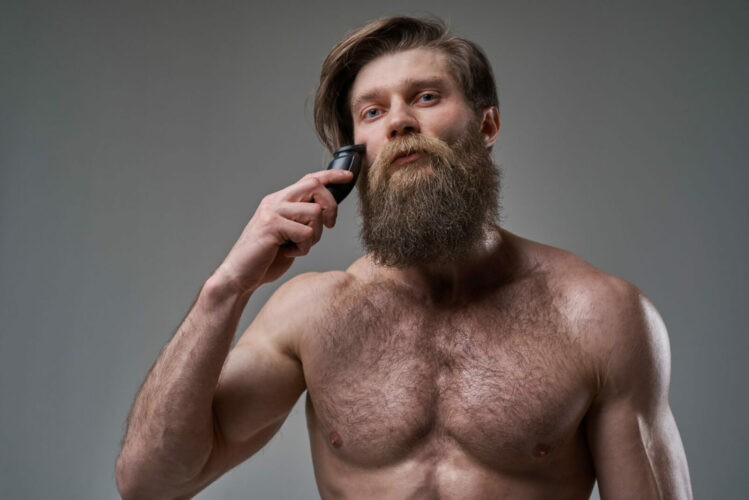 What is a beard trimmer kit?
A beard trimmer set is a convenient way to keep your facial hair trimmed and stylish while getting fully equipped!
Typically, these kits include a trimmer with different length settings, as well as other tools such as scissors and combs for precision trimming or shaping.
Some sets can even come with grooming products like oils and balms to keep your beard soft and lush.
By purchasing a complete kit, you save both time and money on the tools you need to maintain your beard. The next time you need to pamper your beardIf you are looking for a good grooming kit, consider investing in a quality grooming kit for all your grooming needs.
How to choose your beard trimmer pack?
When it comes to choosing beard trimmers, there are several important factors to consider!
Wired or wireless?
A cordless device allows for greater freedom of movement while trimming, whereas a corded clipper may be limited by the length of its cord.
However, it is important to keep in mind that a cordless mower will need to be recharged regularly.
Having a backup battery or making sure the charging time is not too long will help prevent any sudden interruptions to your grooming routine.
Cutting heights
It is important that the mower offers a range of length options, as different styles require different lengths.

Look for a mower with adjustable guide combs that can be easily changed. You can also opt for a mower with an adjustable cutting head, which allows for an even more precise and customized cut.
Quality and durability of the blades
The quality and durability of the blades is another crucial factor in choosing the right beard trimmer.
High quality stainless steel blades provide a smooth cut and last longer before needing to be replaced. It also helps if the blades are easy to clean and maintain.
Easy maintenance and cleaning
Does it come with a brush for easy cleaning? Are there extra combs or length protectors for different cutting styles?

These small details can make a big difference in the efficiency and longevity of your mower. Don't settle for an empty package - look for a mower that includes all the essential cleaning and maintenance accessories you need.
Not only will this save you from buying them separately, but it shows that the brand cares about its customers and wants to make sure they have everything they need for an optimal cutting experience.
Ultimately, when choosing the right clippers, you need to consider your personal preferences and needs as well as these criteria. By taking these factors into account, you will be able to find the perfect clippers to easily achieve the look you want.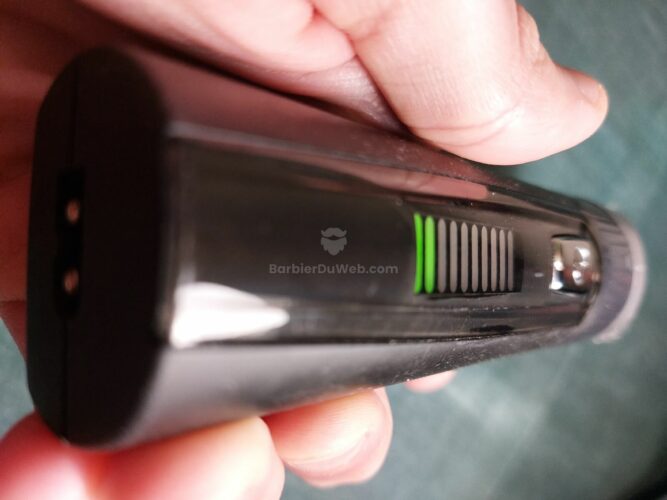 Maintenance of your electric lawnmower
Maintenance of your electric trimmer is very important and must be done regularly if you want to keep it over time.

Indeed, as with a car or any other equipment, it needs to be pampered and kept in its best shape. This will allow you to improve its performance and avoid early failure or problems that could have been avoided.
I advise you to :
A problem, a breakdown? Consult our guide : How to repair an electric trimmer? and find the solution to your trimmer problem.
Care to use after shaving and trimming your beard or hair
After trimming your beard, it is customary to use a good care product to moisturize, soothe and comfort your skin and hair.
Rightly so, these products will improve the appearance of your beard, making it stronger and shinier. In short, I really advise you to use these products for a beard... In the hair!

Care to use after mowing:
Everything you need to maintain your face and beard hair.
Other ways to get a nice haircut or beard
Razor, shavette, cabbage cutter or manual trimmer: shaving accessories are numerous!
Each of them has its advantages and disadvantages, but you can't take away one usefulness: they work extremely well with the beard trimmer to finalize your cut, outline your contours or shave your neck hair.
In this capacity, I have appointed as alternatives and combinations with the clipper :
Shavette
Razor
Manual trimmer
Cabbage cutter
With these accessories and a little practice, you'll finally be able to style your beard like it was just outside the barber shop... just like a professional! Getting an extra accessory costs a little more, but trust me: it is very, very useful.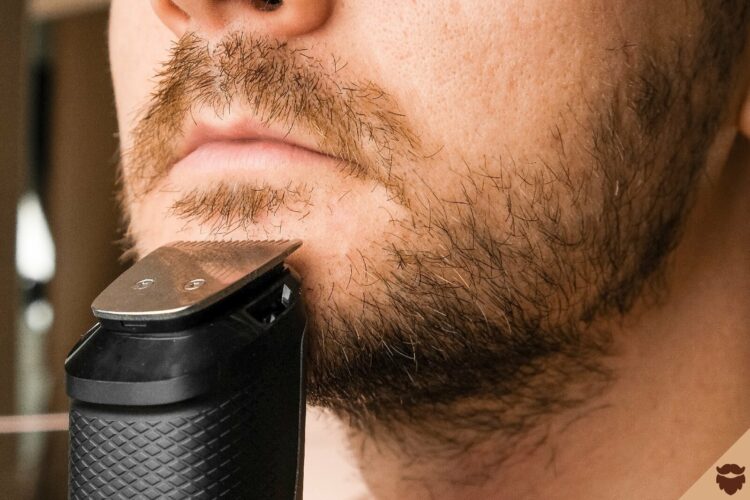 Buy a complete beard trimmer set: practical!
Tired of spending money on individual beard trimmers, scissors and razors? Invest in a set of beard trimmers and save time and money in the long run.

These sets typically include a variety of tools to achieve the perfect cut or shave, from precision clippers to precision scissors. Not only will you save money by buying everything in one set, but you'll also have a convenient way to store all your grooming tools!
Frequently asked questions
According to my various comparisons, the Braun MGK7220 kit is one of the best on the market. Armed with its 8 accessories and the Gillette Fusion5 ProGlide electric shaver, it is versatile and very complete.
You can easily find a variety of options at popular online retailers like Amazon or at a local department store. Just be sure to read customer reviews before making your decision and invest in a high-quality clipper for the best results.
Not only will you save time and money, but you'll also have the ability to control your own grooming routine. With multiple guard lengths, a clipper pack allows you to easily switch between styles and create clean lines without having to use other tools.