Having a frizzy beard is stylish. I'm serious: I'd love to have a curly beard to see what it could do with my face! But like anything else, if you're not in the shoes of the person who has that little thing that's missing, you don't know what it feels like.
Thus, in this article, I will give you solutions to prevent your beard from curling and even straighten it!
This article is for men with beards:
Frizzy
Curly
Wavy
Entangled
Kinky
Who rebicts
What do all these types of beards have in common? They're pretty restrictive for most men who would prefer a straight beard. You know, those beards that seem to stand on their own because they don't curl or frizz.
In this article we will learn how to not to have this kinky beard anymore (straighten your beard) or at least to avoid it !
Why does my beard curl and/or wave?
The growth of your beard and the shape of your hair is defined by the hair follicles. Much like fingernails, hair follicles are the "matrix" of hair. Thus, if your hair follicles are not symmetrical, you will not have a flat, straight beard.
We can say that it comes from genetics more than anything else. Also, black or oriental men are more likely to have curly beards than Caucasians for example. Also, thick hair is more likely to curl.
To prevent your beard from curling, or even to straighten it, you can use accessories such as a beard straightener or techniques such as blow-drying. Brush it more often and use adapted care like oils, balms or a good shampoo.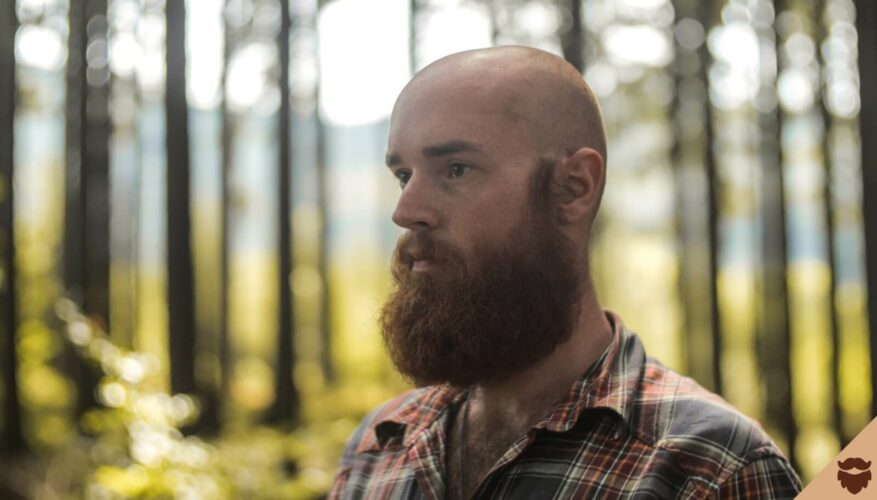 What to do to uncurl my beard? Solutions to straighten it
If your goal is to straighten your beard or prevent it from curling, you've come to the right place! I'm going to show you some solutions to avoid the hassles that a curly beard can bring.

For this, we will mainly use accessories, care and techniques usually used on the hair, but which work wonderfully on the beard!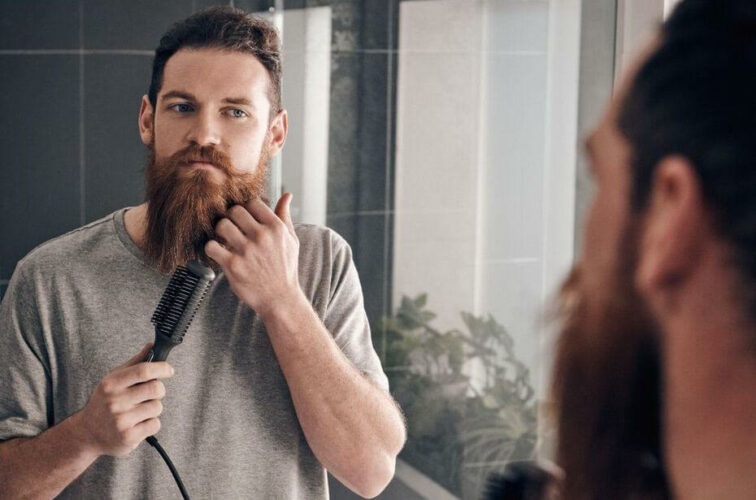 Beard straightener for a straightening in minutes
The beard straightener (or heated brush, call it what you will) is part of the the most useful accessories to prevent your beard hair from curling. Whether it's tangled, frizzy, or you've got a lot of flyaways, this well-known hair accessory will stiffen your hair and keep it straight !
The straightener is an accessory that has only advantages:
It is easy to handle and can be used in a few minutes, perfect for use in the morning before starting your day and have a smooth beard
You can find excellent ones for a really low price (around 30$)
Your hair will not be able to resist the heat and will bow in seconds without flinching.
Vikicon beard straightener: the solution for curly hair
The Vikicon hair straightener is one of the best options for straightening your curly hair and getting the right equipment once and for all!
Highlights:
Wireless (battery operated)
Heats up quickly and offers 9 heat modes
Lightweight and easily transportable
Here is a short video to learn how to use the straightener:
Brushing of beard with a hair dryer and a brush
You surely know this technique which consists in straighten your beard with a brush and the heat of the hair dryer.
To make a good home-made blow-dry, remember to :
Do not heat the same area for too long
Set the heat low enough (but not too low)
You don't use it too close to your face
Here are a few steps how to straighten your beard :
Wash your beard with a suitable shampoo
Dry your beard well and finish by hand to shape your hair
Moisturize with a beard oil and detangle your beard carefully (optional)
Use the hair dryer and blow dryer brush to "roll" your beard down. Use wide strokes from the roots to the ends. The hair dryer follows the movements of the brush and vice versa.
Gently brush your beard with your boar bristle brush or a comb
Use your favorite care (oil, balm...) to bring a finish!
It's not very complicated, but it's extremely effective! And if you're not sure how to do it, ask your girlfriend (or mom), she'll probably know how to handle the hair dryer and brush better than you 😀
If you're not sure how to do it, here's a short video tutorial on how to do a beard blowout: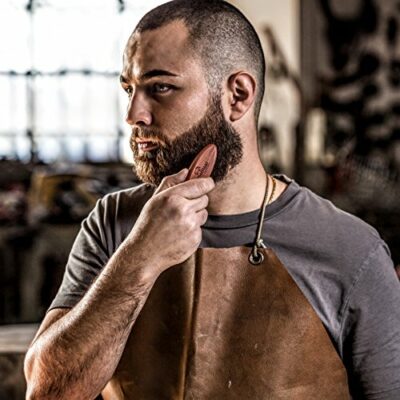 Brush and comb your hair more often
If you haven't already done so, I strongly advise you to use a brush and/or a comb to detangle and keep your beard maintained. And in boar bristles the brush, please!
In addition to exfoliating your skin and removing dead skin (and therefore dandruff), brushing your beard will naturally discipline it, little by little.
Attention all the same: it will be necessary to be assiduous and to brush it daily, even twice a day for that it no longer undulates.
It's worth it, and after all, if you are here, it's to take care of your hair, right?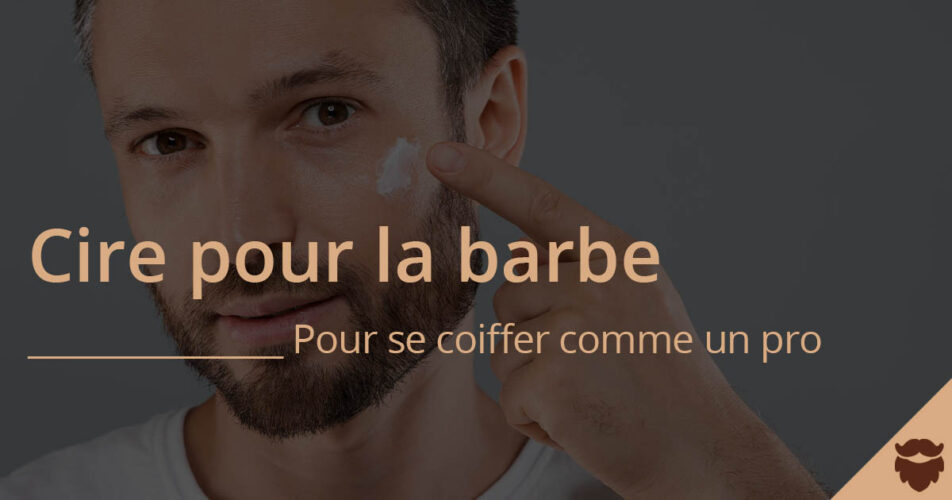 Use a styling wax to fix it all
For prevent your hairs grow in a spiral or swirl and especially that it refreshes once your routine is done, the styling wax is perfect. Indeed, it will come to fix your hairs in a definitive way and the prevent from looping, which would be rather disturbing.
In addition, beard waxes, like hair waxes, take care of your hair by providing the nutrients necessary for good health.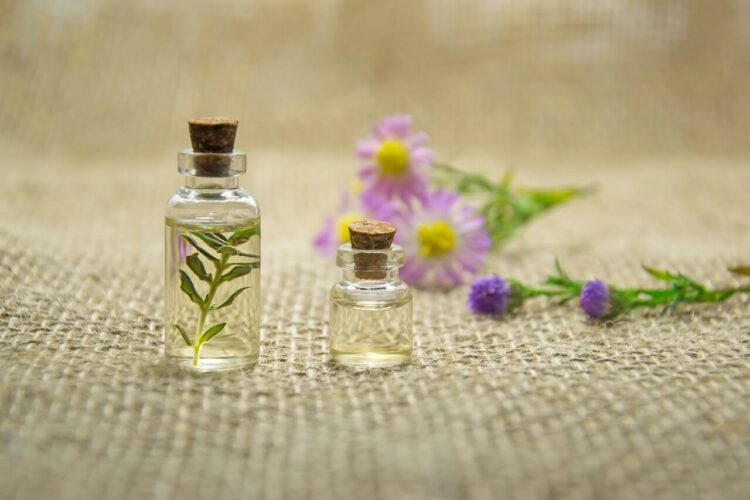 Use oils and balms to maintain a curly beard
The beard oils, in addition to their innumerable benefits for your hair and face, they will make your hair much more malleable. Their thick content and the fatty acids they contain will help straighten your beard. They are also excellent for to discipline the hairs which rebiquent and to avoid having the tangled beard.
But that's not all: the oils are part of the best care for the beard and they are a real ally, essential for any bearded man because they :
Moisturize and nourish
Protect from aggression
Helps hair growth
Make your goatee shiny and full of vitality
The balm brings comfort and softness to your beard and your skin. Its use will also help to avoid a curly beard.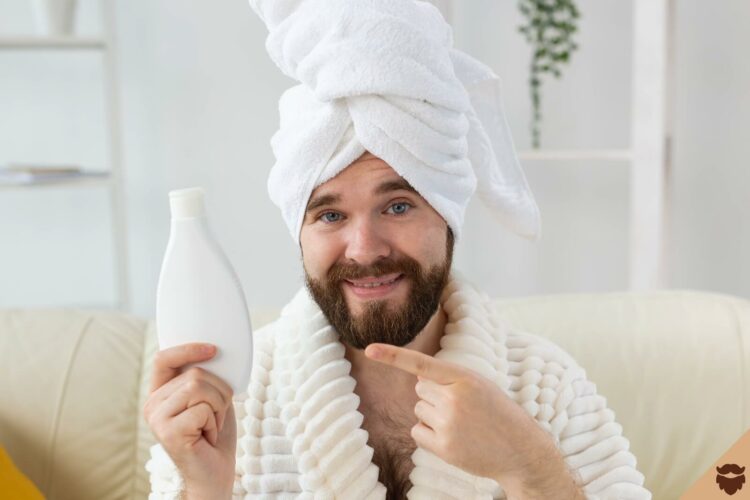 Use a suitable shampoo
Most hair shampoos are either too harsh on beards or simply not suitable. With a beard shampoo, you ensure that the products you use will not not cause curls or wavy hair.

There are even shampoos adapted to afro or long beards that are prone to frizzing or curling beards.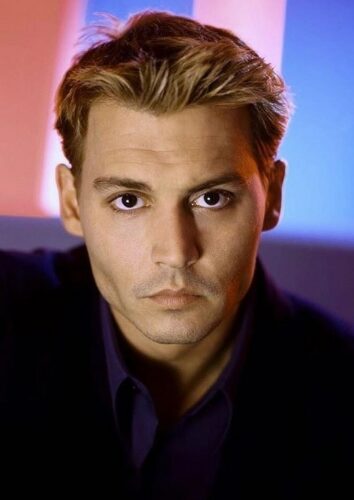 Adopt a shorter beard style
You probably suspected it but
a short beard will tend to curl less
. Not only does it keep your hair straight, it's easier to maintain! Yes, a long beard really does take time to care for. So consider trimming your beard more often to keep a clean line
like Johnny Depp
and prevent your hair from acting up and curling as it does so well!
Products to smooth the beard: to avoid
As for the hair (although they are mainly used in women), there are products that smooth the beard. Some work well, others not so well and often you have to use a product that is "adapted" to your hair type. In general, I do not recommend this type of product which are filled with ingredients with more dubious names than the others.
If you ask me, it's worth it to ask the question to your barber before buying this type of product!
What to do with my curly beard? You know the solutions!
In the course of guiding for straighten your beard and have a straight beard, you have learned the accessories and care to use:
The beard straightener for a result in a few minutes
Blow-drying with a brush and a hair dryer
Brush and comb it more often
Use adapted care and products: oils, balms, waxes, shampoos...
Adopt a shorter beard style to avoid curling
Fortunately, for all the little everyday worries that your goatee puts you through, there are solutions! And you, do you know another technique than those stated in this article?
Still have questions about curling your beard?