Let's not kid ourselves: shaving your beard or hair with a clipper is very messy. You soon find yourself with a sink full of tiny hairs and it's hell to clean.
Plus, if you forget, you're going to get yelled at by the missus, and you know how crazy it can make her to have to walk behind you to clean your little hairs under the faucet.
Beard hair, it gets everywhere and we never completely get rid of it. To solve this common problem of bearded men, you will have to use a beard trimmer with a hair suction system.
So, no more hassle during shaving: the hairs are directly sucked up by a vacuum integrated in your trimmer.
Isn't technology beautiful? Come on, I present you this without waiting!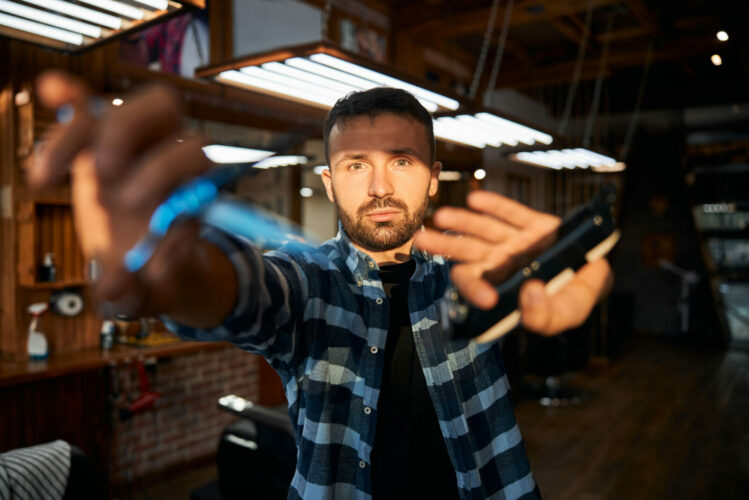 Comparison of the best beard trimmers with a hair extraction system
We now move to the heart of the matter: the best beard trimmers with vacuum and recuperator !
To do this, I do as usual: I analyze the best products on the web on different criteria and I propose them to you in the form of a ranking, from the best to the worst.
Note that the "less good" here is still part of the best clippers with recuperator on the market... 😉
Philips has done a lot of work on its hair removal technology, but we also have very good products from Wahl, Rowenta and Braun. Yes, only classic beard accessories.

To read: Comparison of the best beard trimmers
Here are the best vacuum beard trimmers selected by me:
Promotion
Rowenta Airforce Ultimate TN9310F1
With its futuristic design and accessory storage pouch, the Rowenta TN9310F1 is an excellent choice for easy mowing and vacuuming. For better performance, the mower is equipped with 2 motors (one for the mower, the other for the vacuum system).
The adjustable combs allow you to vary between 17 different cutting heights so that you can trim both short and long beards without any problems.

Originally designed for hair trimming, it is therefore excellent for vacuuming your beard hair. The only small drawback? It's not very precise and therefore won't be useful for precision cutting.
Benefits:
Effective hair suction
Works on mains and not on battery (it is therefore more powerful)
Disadvantages:
Not great for finishing
May cause some irritation
Philips BT7500/15 - 7000 Series
The BT7500 is the entry-level model at Philips and does its job well when it comes to getting a close shave while recovering the hair. Armed with 20 cutting heights, it allows you to style all types of beards without any problem.

The hair suction is efficient, the grip is pleasant and the battery life is very acceptable. In short, you can go with your eyes closed!

Benefits:
Top ergonomics
High performance vacuum cleaner
Low noise
20 cutting heights
Disadvantages:
A little complicated to clean
May appear fragile
Remington MB6850
Less expensive than its Philips counterparts, the Remington MB6850 does its job well and boasts up to 95% of hair to keep your shaving area clean.
Easy to clean and to empty, the suction system is rather powerful. Its battery allows an autonomy of 60 mn for 2 hours of load.
Adjustable combs from 2 mm to 18 mm allow you to mow
short beards
and longer, to suit the greatest number of people.
Benefits:
Detail blade included, useful for precision mowing
Adjustable cutting guide from 2 mm to 18 mm
Easy to use
Removable bristle reservoir (easily removed)
Quick charge
Disadvantages:
Complicated to shave nose hair
Tank a little small
Rowenta Air Force Precision TN4800F1
Atypical design, interesting autonomy and autonomy indicator, the Rowenta TN4800F1 successfully sucks up hair and allows you to stop dirtying your sink while mowing. It can be used without a shoe and when plugged into the mains, it is very efficient and has an excellent grip.

Benefits:
Very good hair recovery
Easy to clean and maintain
Works even when plugged in
Can be used without a shoe
Load indicator
Disadvantages:
Reloading a little long
Not usable on hair
Philips BT7512/15 Series 7000
Versatile and extremely well rated, the BT7512 will allow you to shave with precision. It recovers up to 90% of cut hair and over 20 size settings are available!

Benefits:
20 cutting height settings (
Good battery life + fast recharge
Rather light
Disadvantages:
Lack of precision
A little big
How did I select the best models in this comparison?
I scoured the web, met with barbers and sought advice from dozens of beard professionals to find the best products available on the market.
I have analyzed, listed and compared dozens of electric trimmers through :
Thousands of consumer reviews,
Dozens of tests from hairdressing professionals and beard enthusiasts,
Hundreds of user feedbacks on forums and social networks,
In-store advice from specialized salespeople,
YouTube videos of pogonophiles from all over the world.
Then I listed the models that stand out, the ones that are really worth buying. My goal is to present you with the top clippers through a comparison that contains only the best models.
You may be interested in this: Clippers on the Barber Shop
Criteria for choosing the best lawn mowers with a recuperator
Functionality and ergonomics
Long battery life, LED display, adjustable power motor... I have compared the best features to show you which ones are really useful for a quality mowing.
The ergonomics and ease of use of the trimmer are also crucial to a smooth shaving experience.
Power and versatility
A trimmer that easily adapts to all types of cuts or hairs (curly, disheveledthick, short...) is an essential criterion to buy equipment that will be useful for years to come. The power of the engine is not to be neglected You want a model that can mow quickly and easily!
Accessories included
More and more of them, the accessories (hooves and cutting heads, razors, maintenance oilsbrushes...) are very useful to style your haircut as you wish. Close cutting, clipping, contouring: they increase the versatility of your clipper tenfold!


Superior quality
When we invest in equipment, we want the best quality. Not a product that will fail us after a year or that does not meet our expectations in terms of excellence.
The electric clippers presented in this test are the best in their field. We make it a point to to offer you only models that are worth buying !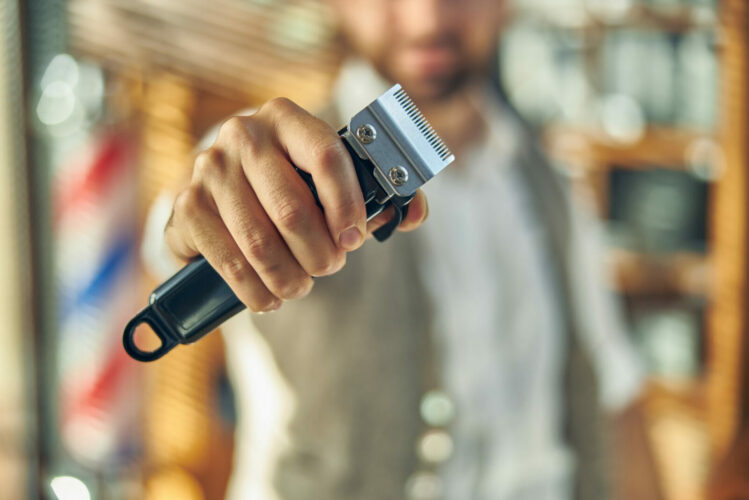 What is a vacuum beard trimmer?
A vacuum beard trimmer will be used to recover the shaved hair during the passage of the mower thanks to a hair suction system. Thus, most of the cut hair will be sucked up by the clipper and stored in a collector, which you can empty afterwards.
The system used is a hair vacuum integrated in the trimmerwhich is located close to the blades and will suck your hair right out of the air while you shave.
Why is it useful?
Simply because you will have much less hair falling into your sink and you will have less cleaning to do post-shave !
Speaking of aftershave, did I ever tell you about the aftershave oils ?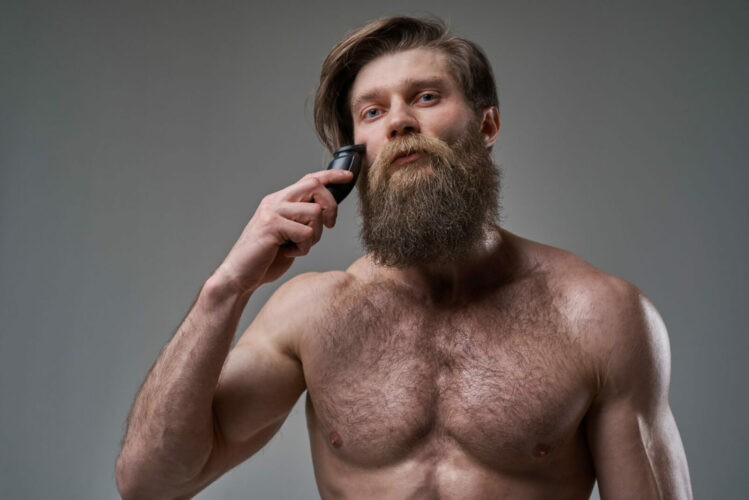 How to choose the right beard trimmer with vacuum?
As you might expect, not all lawnmowers are designed the same, and they can vary greatly from one manufacturer and brand to another.
Here are the most important criteria to check when buying your suction beard trimmer :
Maintenance and cleaning of the electric mower
Once you have purchased your beard trimmer, it is wise to Maintain it to keep it in top shape.

By maintenance, I mean of course :
Washing and cleaning your mower It's also important to clean the hair thoroughly so that it doesn't get clogged with the tons of hair you feed it. This reduces its performance and can wear out its motor (and blades) faster.
Lubricate your blades with oil so that it works like (or better than) when you bought it! The oil reduces friction between the blades by lubricating the area. You might as well say that your clippers will be a blast!
If your lawnmower ever fails, check out our article on mower problems and repairsMaybe your solution is there...
Alternatives to the vacuum mower
There's more to using a lawnmower! You can also choose another type of shaving like a straight razor for example, to cut very close. For styling or finishing, nothing is better than a cabbage trimmer or a shavette, two sharp blades at the service of your beard.
Accessories are numerous in the world of men's grooming and the alternatives are many:
Razors (straight, safety, electric)
Manual mowers
Shavette
Cabbage cutter
Of course, price is also a factor: some shaving methods cost less than others.
The goal here is to choose an accessory or accessories adapted to your needs in terms of beard trimming.
What care to use after beard trimming?
Do you have a hairy grooming routine? After assaulting your skin (and hair) with the clippers, it's time to take care of it! This will avoid any irritation or problems caused by your beard to your spouse or to your skin.
I particularly recommend it to sensitive skins that tend to suffer from shaving:
Gel aftershave or foam to soothe
Oils : specialized in aftershave to moisturize and nourish
Balms for a quick action and a nourishing care
Serums, lotionssprays, creams: for various uses
By taking care of your beard and your skin, you will have beautiful hair and a strong beard, ready to face all its aggressors: wind, wounds, redness, pimples ....
The beard trimmer with hair catcher: practical!
The beard trimmer with suction and hair recovery system is an essential accessory for bearded men with dense or long hair. Indeed, cleaning after shaving can become a time-consuming chore, and you know it: there are always mini hairs left.
And this, the manufacturers of clippers have understood, since they offer us clippers with a more advanced technology, which allows to place the shaved hairs in a recuperator.
You shave, you empty the recuperator, you clean your mower and here we go again!
In short, this is a gadget that I really like and highly recommend.
FAQ about beard trimmers with recuperator