Precise contouring and trimming is not easy if you don't have a trimmer designed for it. And I speak from experience...

With these specialized trimmers for beard and hair trimming, you'll have clean, precise contours, just as if you were leaving the barbershop!

This is the first time you'll get to see a beard trimmer that's as good as it gets...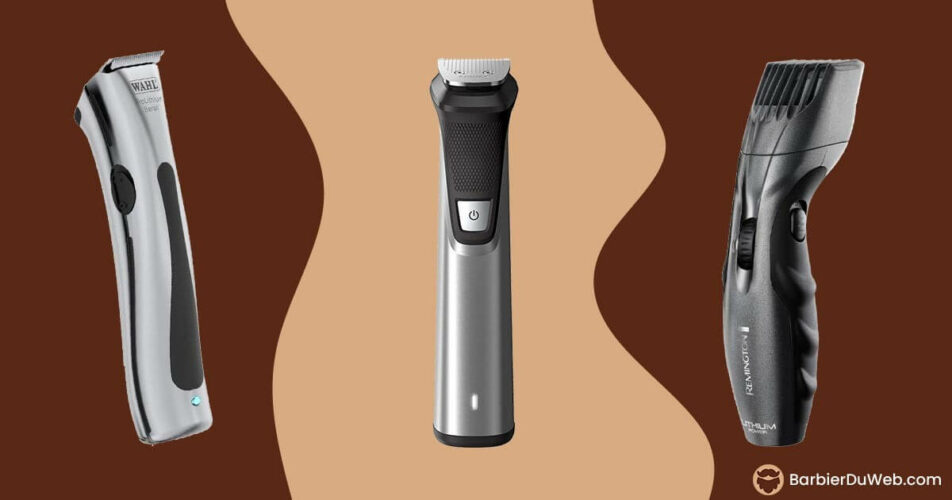 The comparison of the best precision and finishing clippers for contours
Wide Detailer Trimmer
Ergonomic, light and easy to handle, the Wide Detailer offers the "0 gap" (or 0 mm) to work your contours.
As usual, Wahl outdoes its competitors with this model, which is a classic among barbers and hairdressers.
Highlights:
Professional rotary motor for increased durability
WAHL T-Blade high precision blade
Lightweight and very small, suitable for small hands
Powerful and resistant, for continuous work
Andis T-Outliner contour trimmer
Promotion
Andis T-Outliner
The Andis T-Outliner lives up to its name: it allows you to outline and finish with unprecedented precision.

Andis is a brand rather known in the United States that is all the rage in our French barbershops. If you are looking for a top of the line precision trimmer, I recommend it because it is an excellent competitor to the Wahls.

Proven by professionals, the T-Outliner offers a powerful and durable motor and excellent quality blades.

Presentation

Benefits
Professional quality
Wired for maximum power
Maintenance kit included

Disadvantages
Wahl Balding 5 Star Series - Precision Mower
Promotion
Wahl Balding 5 Star Series
The Wahl Balding Star is the replacement for the Magic Clip. This professional trimmer is corded, powerful and specially tuned to trim hair to 0 mm.
Rather dedicated to hair cuts, it can also be used for beards (although a little big to handle). It is THE clipper for men's hairdressers, especially for afro's.
Its particularity, in addition to being one of the most powerful mowers, is that it works only with cutting guides, and not with a height adjustment lever.
Wired
Professional hair clippers
Precision cutting head, stainless and chrome plated
With Zero-Overlap for very short cut lengths
Wahl - Magic Clip Cordless Contour Trimmer
Wahl - Cordless Magic Clip Trimmer
Like its Wahl counterparts, the Clip Magic is a technological gem. Developed to define contours with unparalleled precision, it is a favorite among barbershops.

The Magic Clip is a very safe choice for beard contouring and finishing trimming, I recommend it if you have a little budget to invest in a very good professional trimmer!
Benefits
Professional quality
8 shoes : 1,5mm to 25mm
Beautiful design
Disadvantages
High price (professional product)
Philips OneBlade QP2520/30
Promotion
Philips OneBlade QP2520/30
Philips is also entitled to its place in the comparison of finishing trimmers! The OneBlade is one of the best value in its class.

Comes with several spare blades, so you can contour your beard as well as your neck and back hair! Rechargeable and 100% waterproof, I recommend it if you don't have a huge budget to allocate to your next contour trimmer.

Benefits
Unbeatable quality-price ratio
Handling and lightness
Silent
Disadvantages
Expensive interchangeable blades
May have trouble with large volumes
How did I choose the best finishing clippers?
After conducting extensive research on the web and talking to many hair and beard professionals, I compiled reviews and user feedback to select the best electric clippers available on the market.
I evaluated thousands of consumer reviews, read dozens of tests from professionals and beard enthusiasts. I also asked for advice from my favorite barbershops and specialized in-store salespeople. I also watched YouTube videos of pogonophiles from all over the world to complete my research.
Through this careful analysis, I have compiled a list of models that stand out and are definitely worth buying.
Criteria for buying the right trimmer for contouring
Functionality and ergonomics
I have compared the different features offered by electric mowers to present them to you and help you choose the most useful ones for a quality mowing.
Long battery life, LED display, and power adjustable motor are important features to consider when making your choice.
Ergonomics and ease of use of the trimmer are also key factors for a comfortable and enjoyable shaving experience.
Power and versatility
Engine power and versatility are essential. A clipper that can adapt to different types of cuts and hair (curly, disheveledthick, short...) is essential for a sustainable and efficient use.
A powerful model allows for quick and easy trimming, which is a definite plus for an efficient and comfortable shave.
Accessories included
The accessories included with electric clippers are numerous and varied. Cutting shoes and heads, razors, lubricating oils and brushes are all useful tools for styling your hair the way you want it.
They allow you to trim, thin and contour your beard, which greatly increases the versatility of your trimmer.
Superior quality
When you invest in beard equipment, you want the best quality possible. Not a product that will fail us after a year or that will not meet our expectations in terms of excellence.
The electric lawnmowers presented in this comparison are the best on the market. We have selected top quality models that are definitely worth buying.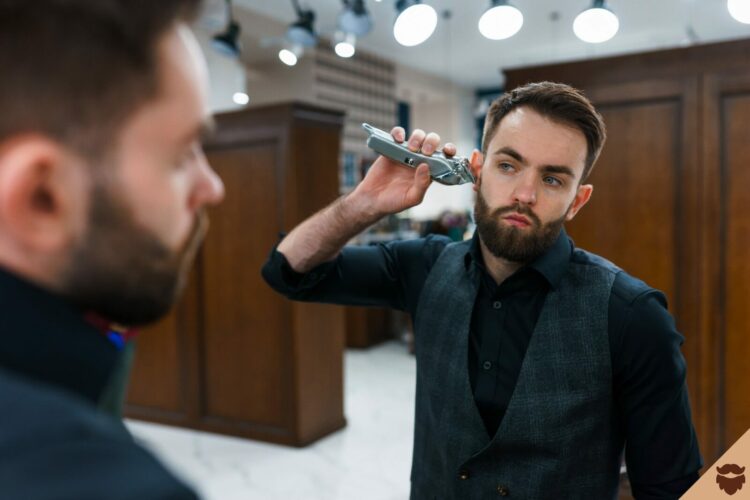 What is a precision hair and beard trimmer?
It is simply a trimmer designed to trim the contours of beard and hair (neck, cheeks, neck, sideburns, back of ears ...) and work your finishes with a precision beyond the norm.
The design of these materials is dedicated to precision cutting for a clean result, which looks very clean to the naked eye.
Generally, these clippers have a smaller head than their homogeneous counterparts and allow for very clean delineation and definition of contours.
To read: The differences between beard and hair clippers
How to choose a trimmer for beard contours?
As you can imagine, the most important thing is to check its capabilities in terms of cutting precision.
We want a model that cuts short, precisely and does not leave any hair behind.
In addition, you should check the quality of the blades but also the motor, which should be made of solid materials that will last for years.
Yes, an electric lawnmower is a real small investment for years: don't skimp on quality!
In other words, we want:
Precision to work with contours and finishes
A powerful and durable engine
Quality and changeable blades for a low price
Handling and ergonomics to be precise!
How to contour hair with clippers?
Here's how to contour your hair with your finishing trimmer:
Start by cutting the hair around the ears and neck. Follow the natural line of your neck and hair growth.

Then move to the sides of the head, making sure to trim the hair around the temples.

Finally, move to the hair on the forehead and check the contours and remove any excess or irregular hair.
How to contour a beard with a trimmer?
Here's how to contour your beard with your precision trimmer:
Start by trimming the beard hair around your mouth and chin. Follow your natural jaw line and make sure to trim the hairs evenly.
Then move on to the lower part of the beard, making sure to trim the hair around the neck and jaw line evenly.
Use the clippers with the precision blade to trim the hair around the cheeks and lower face, following your natural jaw line.
Finally, finish the beard outline by removing any excess or uneven hair.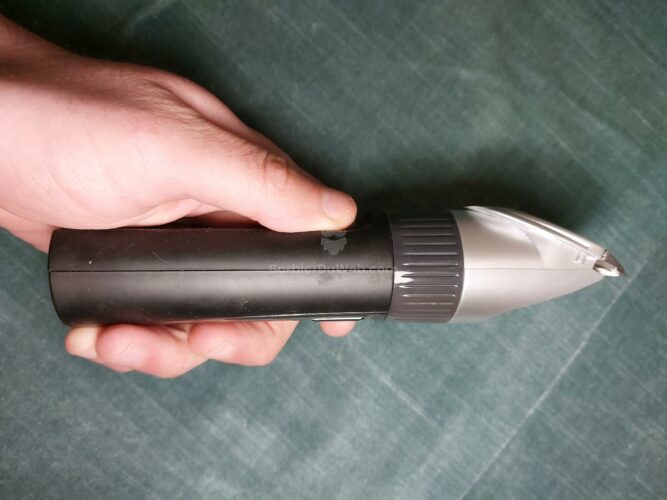 Maintaining and cleaning your finishing mower
Once you have purchased your beard trimmer, it is wise to Maintain it to keep it in top shape.

By maintenance, I mean of course :
Washing and cleaning your mower It's also important to clean the hair thoroughly so that it doesn't get clogged with the tons of hair you feed it. This reduces its performance and can wear out its motor (and blades) faster.
Lubricate your blades with oil so that it works like (or better than) when you bought it! The oil reduces friction between the blades by lubricating the area. You might as well say that your clippers will be a blast!
If your lawnmower ever fails, check out our article on mower problems and repairsMaybe your solution is there...
Take care of your skin, beard and hair after finishing touches
Do you have a hairy grooming routine? After assaulting your skin (and hair) with the clippers, it's time to take care of it! This will avoid any irritation or problems caused by your beard to your spouse or to your skin.
I particularly recommend it to sensitive skins that tend to suffer from shaving:
Gel aftershave or foam to soothe
Oils : specialized in aftershave to moisturize and nourish
Balms for a quick action and a nourishing care
Serums, lotionssprays, creams: for various uses
By taking care of your beard and your skin, you will have beautiful hair and a strong beard, ready to face all its aggressors: wind, wounds, redness, pimples ....
Alternatives to contour like a professional
There's more to using a lawnmower! You can also choose another type of shaving like a straight razor for example, to cut very close. For styling or finishing, nothing is better than a cabbage trimmer or a shavette, two sharp blades at the service of your beard.
Accessories are numerous in the world of men's grooming and the alternatives are many:
Razors (straight, safety, electric)
Manual mowers
Shavette
Cabbage cutter
Of course, price is also a factor: some shaving methods cost less than others.
The goal here is to choose an accessory or accessories adapted to your needs in terms of beard trimming.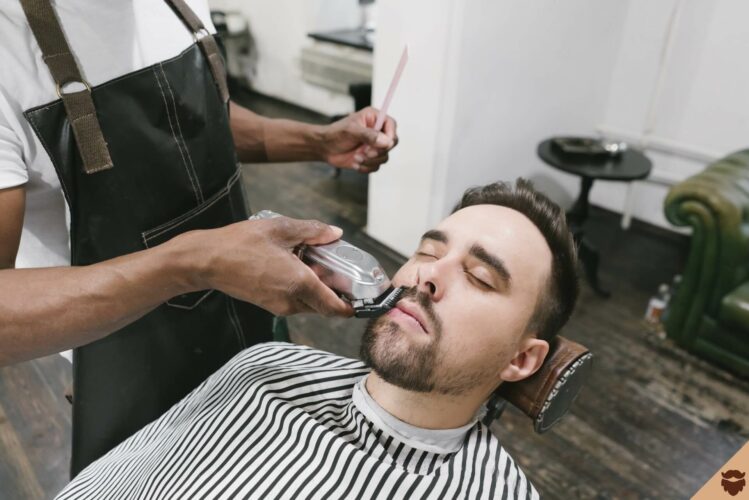 Buy a finishing trimmer: precision for contours, please!
Who hasn't dreamed of being able to have a clean contour at home as clean as when leaving the barber shop? Well gentlemen, this dream is now a reality! Wahl, Andis or Philips has designed clippers dedicated to trimming your contours (hair, beard, cheeks, neck ...), which excel in their field.

By shaving very closely with incredible precision, they allow you to work on your trim with unprecedented ease.

What is your favorite precision mower?
Frequently asked questions