To maintain your beard day after day, you can use a lotion that aims to moisturize the hair, protect it and strengthen it. All this while taking care of your skin without irritating it.
Imperial Beard lotions are ideal for all hair types, they are made with high quality, responsible, eco-friendly products and not tested on animals!
In this article, we'll find out what types of lotions are right for you, which ones to choose, how to use them and where to find them.
Let's go!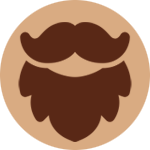 My opinion on beard lotions
Beard lotions are a concentrate of good ingredients for your beard. They have many uses: to grow your hair, to soften it, to boost its volume and to fight grey or white hair.
Leur efficacité n'est pas réellement prouvée scientifiquement, mais ça vaut le coup de tester !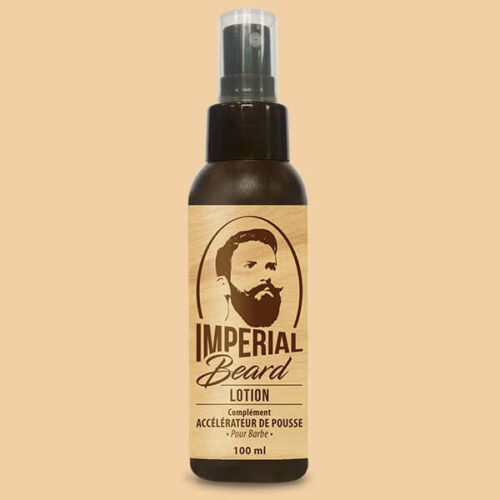 Imperial Beard - Growth Accelerating Lotion
The Imperial Beard Growth Accelerating Lotion is a good option for growing and beautifying your beard by making it softer, more supple and shiny.
Containing the active complexes F1 and Pepsobiol, this lotion is elaborated to accelerate the growth of the hair while perfuming it and protecting it from external aggressions.
Avec sa formule aux ingrédients d'origine 98% naturelle, cette lotion contient l'actif "Cell'intact" formant un bouclier contre les particules fines, protégeant ainsi la barbe de la pollution.
It also fights against itching and irritation thanks to the active ingredient TitreExtract which is an antibacterial active ingredient based on the Hamamelis plant. This plant has the properties of being astringent and purifying.
Pour une barbe plus longue plus rapidement, à l'effet plus fourni, testez la lotion accélératrice de pousse Imperial Beard !
How to use it on your hair?
First of all, you need to clean your beard and dry it.
Then you can apply the spray in the morning and/or throughout the day on your hands
Massage your skin over the desired beard areas, avoiding contact with the eyes.
To grow a beard, I recommend:
Dermaroller Sqin Bloom with 0.3mm needles
The
dermaroller
can be used perfectly with Minoxidil and is known to improve hair growth even more easily. I recommend it with the Minoxidil, it is one of the essential accessories for men with a light or sparse beard.
Promotion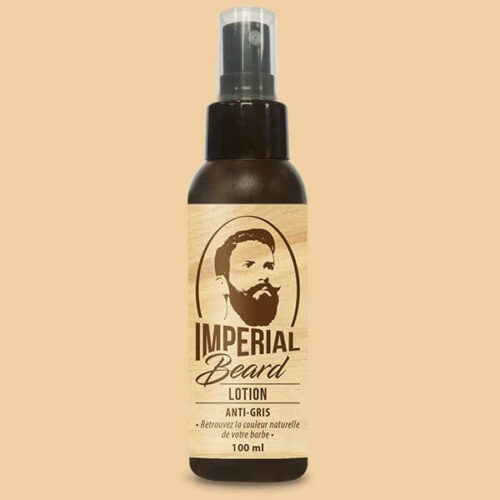 Imperial Beard - Anti-gray beard lotion
To fight against white or grey beard hair that appear on your beard, test the Imperial Beard anti gray beard lotion ! D'après le fabricant, vous optez pour 81 % de poils gris en moins !
This lotion allows you toblur the appearance of white hairs on your beard by stimulating hair pigmentation in a natural and progressive way, without dyeing them.
L'actif Greyverse de cette formule Stimulates the natural pigmentation process of the hair of the beard and targets the two main causes of the aging process.
The lotion would also be a very good natural alternative to dyes 99 % of natural ingredients, it allows you to space out, look at or replace colorations, for bearded people who want to opt for a natural color.
Comment l'appliquer sur votre barbe ?
The use is daily, in the morning on your clean and dry beard, apply the anti gray beard lotion.
Thereafter, a simple use once a week is necessary to avoid the growth of new white hairs at the root.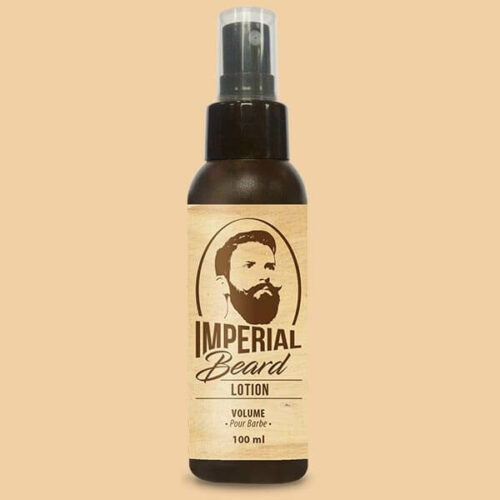 Imperial Beard - Beard Volume Lotion
The volume lotion Imperial Beard naturally restores volume to the beard while perfuming it and protecting it from atmospheric pollution. Au cœur de la formule, l'actif Hair Volume Complex composé de plantes BIO, des graines de Psyllium, de racine de Ginseng, lamier blanc et glycine, contribue à :
Restore beard volume
Provide an astringent and anti-inflammatory action
Stimulate and tone the hair
It also contains the active ingredient TitreExtract, based on the Hamamelis plant, which will provide protection against itching and irritation.
So, for a fuller and more groomed beard, opt for Imperial Beard's volume lotion!
How to use it to give your beard volume?
In the morning, after shampooing, or at your convenience during the day, apply the spray to your hands
Massage your skin over the desired beard areas, avoiding contact with the eyes.
Where to find Imperial Beard lotions?
You can find Imperial Beard lotions in pharmacies, parapharmacy (on the internet and in pharmacies). They will also be available on the Internet on the site "Imperial Beard" or on retailers like "Amazon", "Cdiscount" and many other sites ...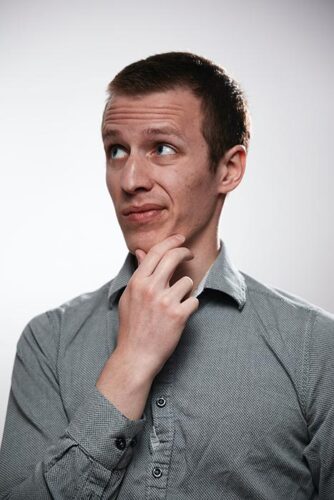 Imperial Beard lotions: long live full, well-groomed beards!
With their rich, natural ingredients, Imperial Beard lotions are suitable for all types of beards.
They are composed of organic plants, essential oils used for their incredible antiseptic and antibacterial properties, and vegetable oils known for their moisturizing and softness.
Assets are also part of the formulas:
an anti-pollution active ingredient to protect your beard from external aggressions and reinforce the skin barrier
a Hair Volume Complex to increase the volume of your beard, tone and stimulate the hair.
Imperial Beard lotions promise to meet the different needs that a beard requires!
Still have questions about beard lotions?
You can keep it about 6 months after opening.
Non, c'est un liquide plutôt fluide et peu gras, ce qui est parfait pour les poils de barbe. Elle pénétre facilement dans la peau et les poils l'absorbent rapidement.
Of course it is! In general, products that benefit the beard do the same for the hair.