If you are looking for a battery operated beard trimmer, you have come to the right place. In this article, we will introduce you to the best battery powered beard trimmers available on the market.

These devices are very popular because of their small size and light weight - making them easy to carry around. In addition, they run on batteries and are therefore very economical to use.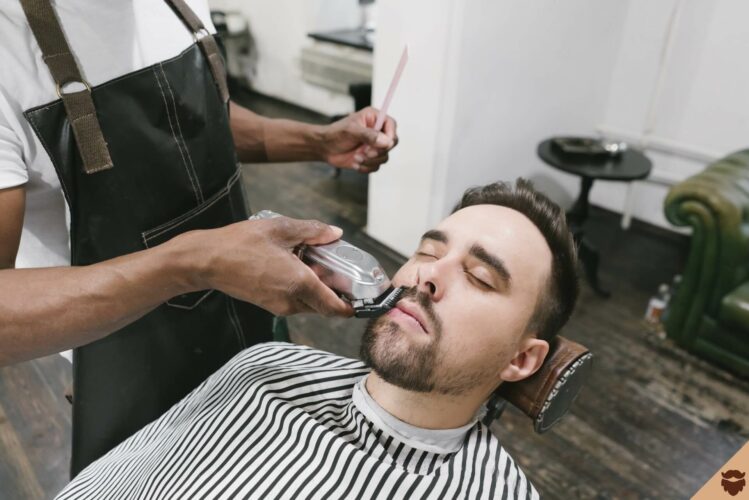 Top battery powered beard trimmers comparison
When it comes to trimming your beard, a good trimmer is essential. But finding the perfect battery operated trimmer can be tricky. To make it easier for you, we've rounded up the best battery powered beard trimmers on the market.
The Remington Precision is the perfect trimmer for mobile shaving!
Remington MPT1000 Heritage Beard Trimmer - Compact, Foldable, Battery Operated Design
Looking for a beard trimmer that's easy to take with you everywhere? Check out the Remington Precision beard trimmer for men. This trimmer has a compact, foldable design that makes it super portable. It's battery operated, so you can use it even when there's no power outlet. The 90-degree opening and automatic blade activation technology make it easy to use, and the included AAA battery allows you to start trimming immediately.
Featuring a precision 0.5mm blade, this trimmer is perfect for contouring and shaping even the wildest beards. And with its dual adjustable cutting guide, you can easily trim and maintain short beard styles as well. Plus, its compact, foldable design makes it easy to store in the included case or take it on the go for touch-ups anytime, anywhere.
Benefits:
Auto-blade technology that automatically turns on when the mower is opened.
Its chrome finish gives an elegant and neat look.
Its compact and light design for an easy and mobile use.
Its precision blade of 2.5 cm for a clean and precise cut.
The integrated cutting guide allows you to trim facial hair with precision.
The best battery operated ear and nose trimmer
Philips NT5650/16 Series 5000 - Battery operated nose, ear and eyebrow trimmer
No more pesky nose and ear hair! The Philips NT5650/16 Series 5000 battery operated trimmer is exactly what you need to maintain your hygiene. It features a detailed cutting attachment that ensures a precise cut without pulling on the hair.

Precision cutting technology includes a fast-moving double-sided blade with 16 slots, making the entire process fast and efficient.
In addition, the clipper is fully washable and waterproof, making it easy to clean and maintain hygiene standards. The textured handle provides a secure grip, allowing for easy handling even when wet.

Not only can this trimmer take care of nose and ear hair, but it can also help you shape your facial hair for a polished look. Say goodbye to the chore of manual hair removal and opt for our nose and ear hair trimmer.
Benefits:
The mower is fast and safe to use.
It comes with a battery, an eyebrow comb and a 5mm precision comb.
The mower is waterproof, which makes it easy to clean.
It is easy to use, even for people inexperienced with this type of product.
Keep your beard looking great with this powerful all-in-one battery operated trimmer from Conair!
Conair - All-in-one battery powered beard and moustache trimmer
Looking for a powerful and convenient way to maintain your beard and mustache? Check out Conair's battery-powered all-in-one beard and mustache trimmer! This handy tool features powerful stainless steel blades that give you a perfect trim, every time. Plus, the nose and ear hair trimmer attachment is ideal for controlling pesky hair. With this trimmer, you'll have everything you need to look your best, wherever you are!


With a 5-position adjustable comb and 3 chin fusion combs, this trimmer can handle any length or style of facial hair. The multi-functional handle also makes it easy to switch between the hair trimmer blade, mustache comb and other included attachments. And when you're done, simply place the trimmer on the storage stand for safekeeping.
Benefits:
Cut hair of any length with precision.
Safe for use on all skin types.
Comes with a variety of accessories for versatile use.
The electric beard trimmer is low noise and low vibration for optimal comfort.
Wahl Battery Beard Trimmer
Wahl - Battery Powered Beard Trimmer Kit with Accessories
If you're looking for a beard trimmer that's both powerful and versatile, look no further than the Wahl Men's Battery Beard Trimmer. This trimmer features high-carbon steel blades that are precision-sharpened to stay that way for the longest time, and can tackle the toughest facial hair. The shock prevention kit ensures that your trimmer will never skip a beat. With battery power, this trimmer can go anywhere with you, making it ideal for on-the-go grooming.


The soft-touch design ensures it won't scratch or irritate your skin, while the three attachment combs allow for a custom, close fit without fear of razor bumps. Plus, the stylish black and red design adds a touch of flair to your grooming routine. Say goodbye to uncomfortable shaving experiences and say hello to a smooth, bump-free shave with this trimmer.
Benefits:
High carbon steel blades that stay sharp longer and offer the best cutting performance.
Ideal for removing unwanted body and facial hair without irritating the skin.
Comes with 3 mounting combs to provide different short style options, from 0.5mm to 4.5mm in length
The design offers a comfortable grip when using the mower.
Remington MB4120 Beard Boss: The Perfect Beard Trimmer For A Clean Look
Remington MB4120 Multifunction Trimmer - Battery operated
This trimmer is perfect for anyone who wants to achieve a polished look with minimal effort. The trimmer offers 11 different cutting heights, allowing you to customize your look to suit your preferences. The blades are also precision engineered to give you a precise cut every time. Plus, the clipper is battery operated, so you can use it anywhere, anytime.


With sharp serrated steel blades and an optimized angle for maximum comfort, this trimmer ensures a clean, efficient performance every time. Its adjustable cutting guide allows for 11 different lengths (from 0.4 to 18 mm), and even has a locking feature for precision styling. And when you're done, the blades are conveniently washable - just use the included cleaning brush.

Benefits:

The stainless steel blades are strong and durable.
11 different lengths, so you can get a perfect fit every time.
Precision-ground blades for a clean, precise cut.
Comfortable-tipped blades prevent skin irritation.
The ergonomic design makes it easy to hold and handle.
Easy to clean - Washable blades and cleaning brush included.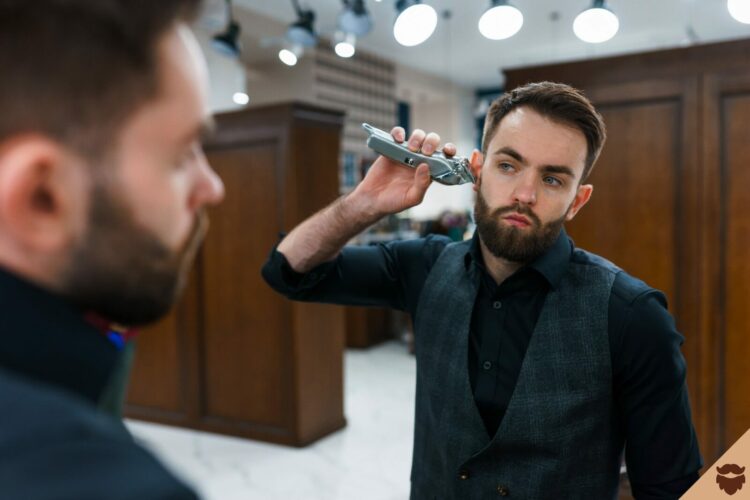 What is a battery operated beard trimmer?
A battery powered beard trimmer is a grooming tool that uses replaceable batteries as its power source.
This offers convenience and flexibility, as the mower can be used anywhere without being attached to a wall outlet. It also eliminates the need to open the mower to change the built-in batteries, saving time and damage.
How to choose a beard trimmer with batteries?
When it comes to choosing a battery powered beard trimmer, it's important to consider the type of cut and style you'll be doing. Are you looking for a precision trimmer, or do you need a tool that can handle more difficult tasks like nose shaving and contouring?

The accessories that come with the mower are also important - do you prefer interchangeable heads, or do fixed blades suit your needs? Once you know which features and functionality are important to you, it's time to compare models and brands.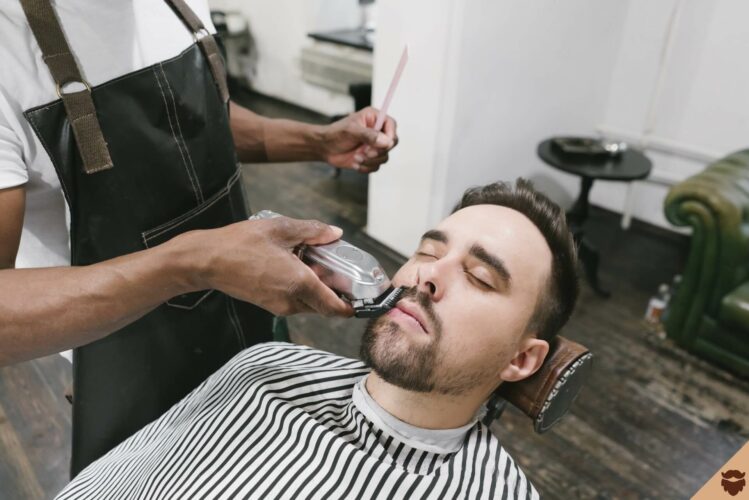 A battery-powered trimmer to trim your beard anywhere!
Battery operated clippers are really useful for nomadic bearded people, who often go on trips or who like to take care of their beard outside. Cheap, good quality and made by the best brands of beard trimmersI particularly recommend them for small budgets and short beards.
Choose a complete kit that meets your needs as a bearded man and your purchase will pay off in every way!
Frequently asked questions
Many online retailers offer a selection of battery-powered lawn mowers. Amazon also has a wide variety of options - just be sure to check the product listing for information on the type and size of batteries required.
Not only are they generally less expensive than their rechargeable counterparts, but they also eliminate the need for additional charging cables and accessories.
Plus, they offer the convenience of being able to replace the battery as soon as it starts to lose power, so you never have to worry about losing your cut in the middle of your grooming session.