If you are looking for a trimmer for your beardYou want a versatile accessory for your body as well.
With the hundreds of models available from different brandsIt can be complicated to make a choice and to get the right equipment.
For you, I scoured the web to find the best beard and body trimmers and compared them to each other to determine their strengths and weaknesses.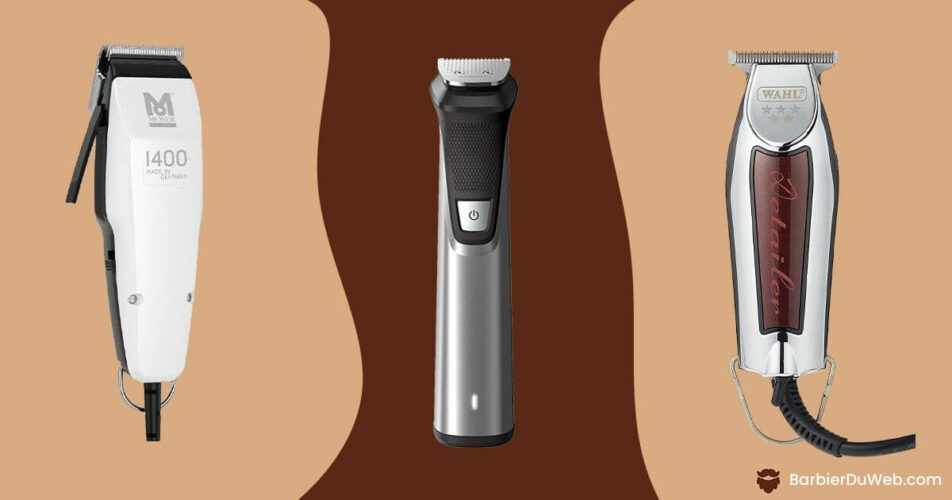 Comparison of the best beard and body trimmers 
Generally, a trimmer kit for shaving and trimming your body but also your beard will contain many accessories and shoes (adjustable or not).
With these, you can reach all the areas you want and shave your whole body with precision without any constraints.
So in this test, we will focus on the quality of the mower, the power of the engine and the number of accessories included.
Philips MG7745/15 14-in-1 Multi-style trimmer: Face, Hair and Body with 14 attachments
Promotion
Philips MG7745/15 14-in-1 Multi-style trimmer: Face, Hair and Body with 14 attachments
Another of the most famous brands for the care of men: Philips offers us its MG7745/15 model with (more) accessories for shaving the whole body, beard and of course hair.

You will have the right to 14 accessories included in this beard and body trimmer kit, enough to shave and trim your hair to the desired height and where you want.
Yes, you can even take the opportunity to shave your testicles.

Benefits
Very complete pack with 14 accessories
Very versatile (body, beard and hair)
8 shoes to cut to any length
Comfortable and easy to use
Storage case
Disadvantages
Mower unusable when recharging
A bit "big" if you want a precise cut
May seem a bit noisy
Braun 5 MGK5280 - All-in-one trimmer - Beard, hair and body
Braun 5 MGK5280 - All-in-one trimmer - Beard, hair and body
You probably know Braun and their fabulous beard trimmers (or shavers). Well, you should know that they also offer an "all-in-one" trimmer, for the body, the beard and even the hair of the man. It's no surprise that the MGK5280 is in this top list, it's a true flagship of technology for an affordable price!

Benefits
Electric shaver included for a closer shave
Waterproof
Kit of 7 accessories
Cordless (battery operated) + Quick charge
Disadvantages
Not usable when charging
Do not shave blank (0 mm)
Tends to discharge when not in use
Braun 7 MGK7220 All-in-One Electric Trimmer for Men (Beard, Hair & Body) + 8 accessories
Braun 7 MGK7220 All-in-One Electric Trimmer for Men (Beard, Hair & Body) + 8 accessories
Another Braun trimmer in our body and beard trimmer comparison. The MGK7220 is the 7000 Series, a more powerful electric trimmer than its little sister, which will take care of your beard, body and hair.

8 accessories are included, with all the necessary attachments and the motor that automatically adjusts to your hair thickness.

Benefits
Automatically adapting motor power
Electric shaver included
8 accessories for the whole body
13 length settings
Fast charge and good autonomy

Disadvantages
May have difficulty on large volumes or very thick hair
The body shoe is not very well designed
Sometimes lacks precision
Hatteker - Beard, Hair, Body, Nose and Ear Trimmer (The Total Package!)
Hatteker Trimmers for Beard, Hair, Body, Nose and Ears
Although the Hatteker brand is not yet very popular in the European hairdressing market, it is a real hit on the web. Their electric mowers are affordable, high quality and most importantly, very versatile.

With just one model, you can shave your hair, trim your beard, but also get rid of hair all over your body: nose, ears and even intimate parts.
Benefits
Very versatile
Waterproof
A large number of accessories (12 in total)
Adjustable shoe
Rather light

Disadvantages
Many accessories = less easy to store
The finish may look a little "cheap".
Not designed for precision
Philips QP6620/20 - Excellent Beard + Body Trimmer
Philips QP6620/20 - Excellent Beard + Body Trimmer
A true innovation in the world of shaving, the One Blade trimmers from Philips are excellent and above all very versatile.

Trim, style and shave your body and beard with ease with this electric trimmer. With its adjustable shoe and dual protection system, you'll be able to trim hair on any part of your body.

Benefits
Versatile and easy to use
Very light
Waterproof (waterproof)
Dry shaving, under water, with or without foam...
14 cutting heights

Disadvantages
A little expensive
It is sometimes necessary to pass several times if there are many hairs
How did I choose the best electric beard and body trimmers?
I scoured the web, met with barbers and sought advice from dozens of beard professionals to find the best products available on the market.
I have analyzed, listed and compared dozens of electric trimmers through :
Thousands of consumer reviews,
Dozens of tests from hairdressing professionals and beard enthusiasts,
Hundreds of user feedbacks on forums and social networks,
In-store advice from specialized salespeople,
YouTube videos of pogonophiles from all over the world.
Then I listed the models that stand out, the ones that are really worth buying. My goal is to present you with the top clippers through a comparison that contains only the best models.
You may be interested in this: Clippers on the Barber Shop
Functionality and ergonomics
Long battery life, LED display, adjustable power motor... I have compared the best features to show you which ones are really useful for a quality mowing.
The ergonomics and ease of use of the trimmer are also crucial to a smooth shaving experience.
Power and versatility
A trimmer that easily adapts to all types of cuts or hairs (curly, disheveledthick, short...) is an essential criterion to buy equipment that will be useful for years to come. The power of the engine is not to be neglected You want a model that can mow quickly and easily!
Accessories included
More and more of them, the accessories (hooves and cutting heads, razors, maintenance oilsbrushes...) are very useful to style your haircut as you wish. Close cutting, clipping, contouring: they increase the versatility of your clipper tenfold!


Superior quality
When we invest in equipment, we want the best quality. Not a product that will fail us after a year or that does not meet our expectations in terms of excellence.
The electric clippers presented in this test are the best in their field. We make it a point to to offer you only models that are worth buying !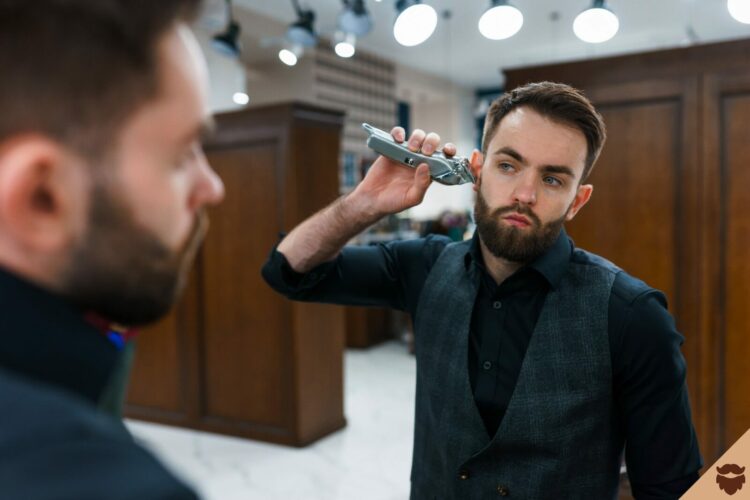 What is a body and beard trimmer?
These 2-in-1 trimmers have one key word: versatility. Thanks to their unique design and accessories, they can not only shave your beard, but also your body (intimate parts, torso, legs ...).

Generally, they also offer hair cutting or nose/ear hair cutting thanks to a powerful motor and adjustable shoes.
How to choose your beard and body clippers?
To buy the right body and beard trimmer, it must have a powerful motor and all the accessories needed for the various cuts. These are really the two most important criteria when making your selection.

Then, we will address the question of price, which is still important not to empty the wallet of the bearded ones! So I tried to find mowers with the best quality/price ratio on the marketWe offer a wide range of products and services to help you get the most out of your equipment at the lowest possible price.

In general, we want our mower to be :
Powerful
Equipped with various accessories
Multifunction
Cordless and rechargeable on battery
Waterproof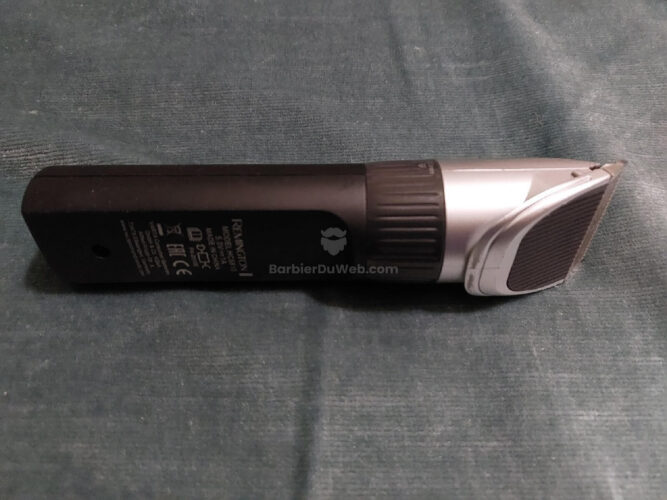 Maintaining your electric body and beard trimmer
Now that you've purchased your new lawnmower, it's time to make the most of your investment by making it last! Indeed, by maintaining and servicing your moweryou will be able to greatly increase its lifespan.

Here's what I recommend you do:
Clean and wash your mower with a special product and adapted brushes to remove a maximum of hairs. Particles are detrimental to its performance and can even wear out the motor, which has to work at full power.
Oil your blades with lubricant to reduce friction between the blades. This will improve its performance, in short it will cut even better than before!
Sometimes a lawnmower stops working or malfunctions, if this is the case : see our guide to lawnmower problems.
Soothe your skin after shaving with the right care
By applying care after your beard is trimmed, you help it regenerate after the aggressions caused by trimming. Even if a clipper with a shoe is not "violent" for your skin, the finishes (generally without a shoe) may irritate your skin and create redness or pimples.
Thus, I strongly advise you to use a few products after shaving:
Oils and aftershave oils for men to moisturize and nourish
Gel aftershave or foam to comfort
Serums, lotionssprays, creams: for various uses
Balms for a care that nourishes and soothes
You'll be sure to have a strong, healthy beard and hair that's ready to show its best side!
What alternatives should I use for shaving my body and beard?
There are other ways to shave and they are all as useful as the beard trimmer. Indeed, depending on your needs (thick beard, close shave, perfect contours), I advise you to turn to the cabbage trimmer or the shavette for example.

Here are some alternatives to shaving with a clipper which will be used to complement or even replace the mower for some:
Razor
Hand mower
Cabbage cutter
Shavette
In other words, if you want a perfect shave, get a perfectly styled beard! Of course, this means a higher budget, even though these other shaving methods are generally less expensive.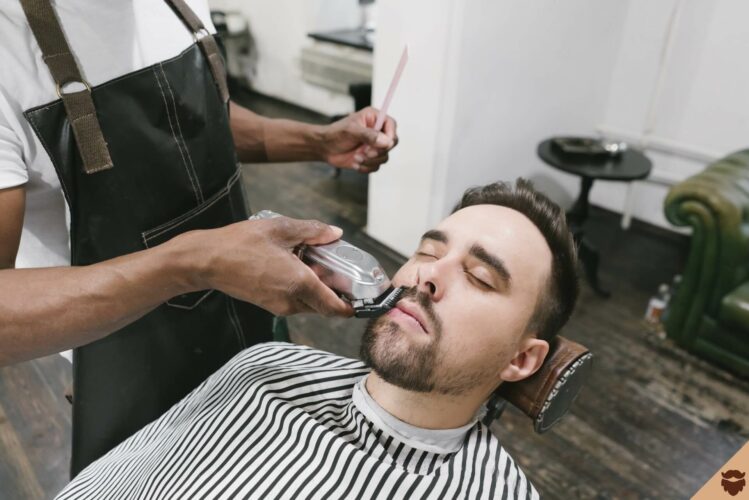 Buy a versatile beard trimmer that works for the body: effective!
As we aim for versatility in our comparison of clippers for your facial hair, but also for the rest of the body, most of the products presented here will come with quite a few accessories.
This is an excellent point since it is mainly these, coupled with a quality motor that will allow you to shave the hair on your body and your beard.
And you, do you have a favorite product to trim your body hair (chest, legs...) and your beard?
Frequently asked questions
One of my favorite models is the Philips MG7745/15 which shines with its versatility and superior quality.
Remember that the best model is not the same from one man to another and that it is important to choose the clippers that match your expectations.
2-in-1 beard and body clippers can be found in supermarkets, but it is difficult to know what they are really for in terms of performance. The easiest way is to go to a specialized hairdressing store or on the web. Indeed, you will have either the opinion of specialists of the beard or bearded amateurs of the whole world. What to make you a real opinion!
Simply because it's simpler (and usually less expensive) than buying two! Plus, they take up less space in the bathroom and are much more versatile and multi-functional than most other models. Of course, if you want a professional (or very good manufacture) clipper for your hair or beard (finishing for example), it will be much better to buy a specialized clipper.