Although one might think otherwise, professional beard trimmers are not exclusively reserved for professionals such as barbers or hairdressers. It is now sold just about everywhere, but beware of scams: just because the manufacturer writes "professional mower" does not mean it is of superior quality...
In this article, we will discover what is a beard trimmer used by hairdressing professionals (for barbershops), what are the best ones and how to choose them.
Let's go!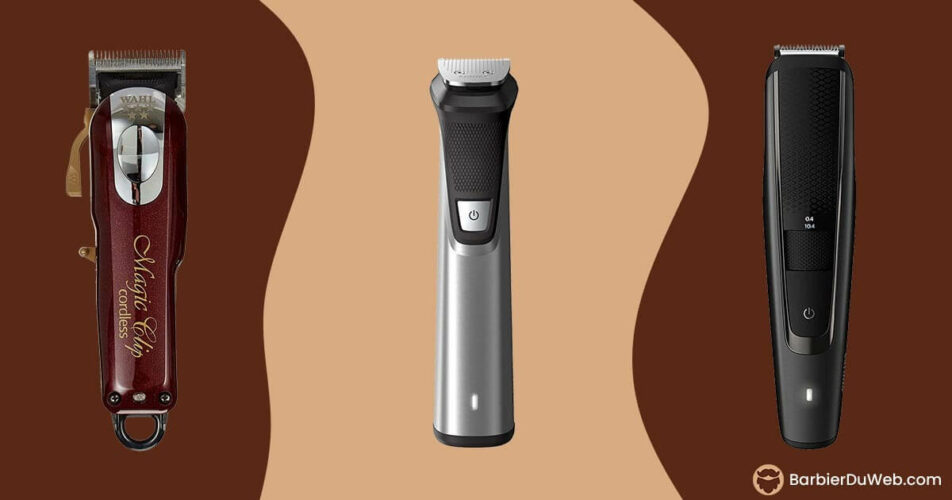 Comparison of the best professional beard trimmers
To choose the best of the best professional beard trimmers that barbers and hairdressers use, I propose a small classification:
Wahl Magic Clip Cordless
The star of the American brand's professional clippers!
If the Magic Clip version was probably the one that equipped the most Barber Shops in the US and in England, its Cordless adaptation is a flawless one.

Hair or beard trimmer (short/long), to cut flush (o mm) or to make the gradations, the Walh Magic Clip Cordless trimmer is how to say, magic ? Typical of professional clippers, it will be sold with several blades but above all, with the adjustment lever allowing you to be precise to the nearest mm.
This trimmer is the most versatile of the 5 offered (along with the Babyliss). It was voted best clipper in 2019!
Panasonic ER-GP82 : Professional beard trimmer
Promotion
Panasonic ER-GP82 for professionals
PANASONIC has always stood for quality and value.
The new ER-GP82 has been developed to meet the highest demands.
Thanks to its perfect design and balance, with a good grip, it will perfectly trim your beard, whether long or short, and also perform most haircuts.

The battery and the 10,000 rpm motor are the strong points of this professional mower.
Its only weak point is its inability to be set to 0 mm cutting height.
Promotion
Wahl Detailer Trimmer
A small trimmer that fits all hands and offers the 0 mm, so you can shave blank allowing you to perfectly trim the contours of your beard or shave your head.
On the program:
Professional rotary motor for increased durability.
WAHL T-Blade high precision blade
Lightweight and very small, suitable for small hands.
Powerful and resistant, for continuous work.
Its only drawback is that it offers only a few cutting heights, which is why combining the Wide Detailer with, for example, the Panasonic Er-1611 is a very good solution.
Wahl Balding 5 Star Series
Promotion
Wahl Balding 5 Star Series
The Wahl Balding Star is the replacement for the Magic Clip. This professional clipper is corded, powerful and specially set for trimming hair to 0 mm.
Rather dedicated to haircuts, it can also be used for beards (although a little big to handle). It is THE clipper for men's hairdressersand in particular for the afro's cuts.
Its particularity, in addition to being one of the most powerful mowersThe only difference is that it only works with cutting guides, not with a height adjustment lever.
You take the best of what Wahl has to offer, put it in a lawnmower, and you get the Balding 5 Star.
Wired
Professional hair clippers
Precision cutting head, stainless and chrome plated
With Zero-Overlap for very short cut lengths
Length of the article: 15,8 cm
Motor: v5000+ electromagnetic
Voltage & Hertz : 120 V - 60 Hz
BaByliss PRO FX872E - Professional Digital Cordless Trimmer
BaByliss PRO FX872E - Professional Digital Cordless Trimmer
Babyliss hits it big with their line of professional clippers. They are designed to be used for beard trimming, hair trimming, are adjustable in 0 mm, and have a beautiful design.
On the functional side:
Cutting height adjustment wheel on 5 levels (0.6 - 1.2 - 1.8 - 2.4 - 3.0) with 8 cutting guides (3 - 6 - 9.5 - 13 - 16 - 19 - 22 - 25 mm)
LED screen with digital display of remaining battery life. Touch-sensitive switch and lock function
Its lithium-ion battery offers 160 minutes of autonomy for only 3 hours of charge. 1 year warranty.
Included in the pack: storage case, 1 charging base, 8 cutting guides, lubricating oil and cleaning brush
The small drawback is that they are quite expensive.
How do I rank the best products?
I scoured the web, met with barbers and sought advice from dozens of beard professionals to find the best products available on the market.
I have analyzed, listed and compared dozens of electric lawnmowers through :
Thousands of consumer reviews,
Dozens of tests from hairdressing professionals and beard enthusiasts,
Hundreds of user feedbacks on forums and social networks,
Notice of my barbershops preferred,
In-store advice from specialized salespeople,
YouTube videos of pogonophiles from all over the world.
Then I listed the models that stand out, the ones that are really worth buying. My goal is to present you with the top clippers through a comparison that contains only the best models.

You may be interested in this: Clippers on the Barber Shop
Important criteria for a reliable purchase
Functionality and ergonomics
Long battery life, LED display, adjustable power motor... I have compared the best features to show you which ones are really useful for a quality mowing.
The ergonomics and ease of use of the trimmer are also crucial to a smooth shaving experience.
Power and versatility
A trimmer that easily adapts to all types of cuts or hairs (curly, disheveledthick, short...) is an essential criterion to buy equipment that will be useful for years to come. The power of the engine is not to be neglected You want a model that can mow quickly and easily!
Accessories included
More and more of them, the accessories (hooves and cutting heads, razors, maintenance oilsbrushes...) are very useful to style your haircut as you wish. Close cutting, clipping, contouring: they increase the versatility of your mower tenfold!


Superior quality
When we invest in equipment, we want the best quality. Not a product that will fail us after a year or that does not meet our expectations in terms of excellence.
The electric mowers presented in this test are the best in their field. We make it a point to to offer you only models that are worth buying !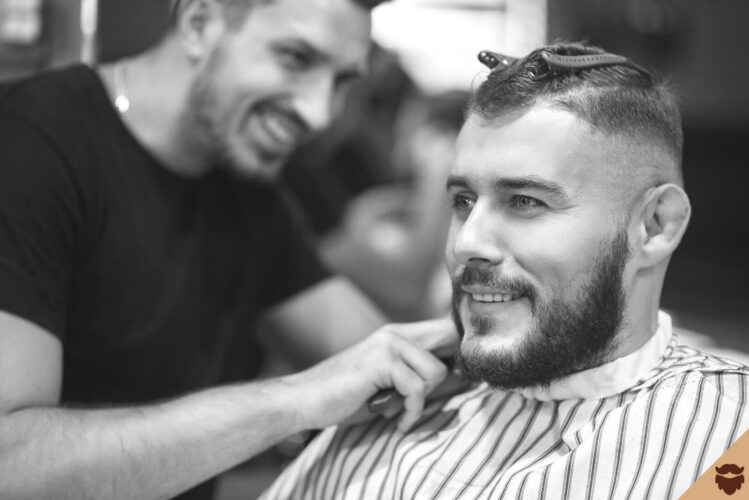 What is a professional beard trimmer?
A professional barbershop trimmer is used daily and reknowned by hairdressers and barbers:
Effective (real quality of cut or mowing),
Robust (persistence of the quality despite intensive use, cutting speed not degraded, quality of the blades and the shoes...)
Pleasant (good grip, few shakes in the hands, repeated use throughout the day not problematic, no pulling of hair on the subject to mow ...).
This type of clipper has simply proven its worth to professionals such as barbers.
How to choose a beard trimmer for barbershops?
It meets all the criteria to be an efficient mower used by the pros:
Engine
Its engine must be powerful and resistant so that your mower will perform well. The engine must run at least 7,000 rpm to be powerful.
The more revolutions per minute a clipper generates, the sharper it is, so goodbye to the feeling of pulling hairs under your low-end clippers.
Blades
The quality of the blades is essential to the proper operation and longevity of your mower. The right cutting head also gives you the assurance of a good cut.
The carbon or titanium blades give your mower exceptional sharpness and strength.
Ceramic blades provide a flexible and resistant blade quality. They also ensure a longer life for your hairdressing equipment.
X-blades have a longer life and are wear-resistant. They promise a clean cut and are ideal for contouring.
Accessories and features
Additional accessories and features are a must for finishing touches. You can find clipper sets with everything you need.
Some models have interesting features, such as speed setting, indicator lights, dials or knobs for changing cutting lengths, LED displays, etc.
We therefore advise you to check each of these aspects before making your choice.
Warranty
If you are unsure, or if you are buying a lawnmower model for the first time, always make sure it comes with a minimum warranty period (e.g., 6 months minimum if you use it often, 1 year if your use is not intensive, for example), because professional lawnmowers can be expensive, and you need to be able to return them if you are not satisfied.
Don't forget to choose the right cutting height for optimal beard care, select the right shoe!
And please, Mr. Beard, maintain your mower! It's essential for a good life span.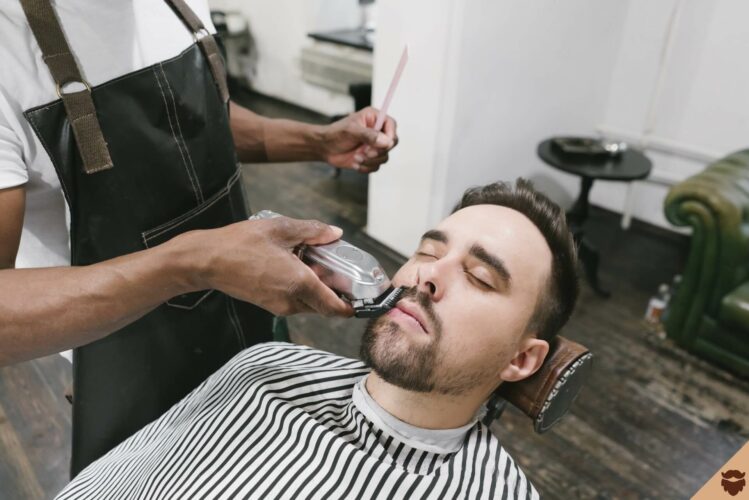 Maintenance, cleaning and lubrication of the beard trimmer pro
Maintenance of your electric lawnmower is very important and must be done regularly if you want to keep it over time.

Indeed, as with a car or any other equipment, it needs to be pampered and kept in its best shape. This will allow you to improve its performance and avoid early failure or problems that could have been avoided.
I advise you to :
A problem, a breakdown? Consult our guide : How to repair an electric lawnmower? and find the solution to your lawnmower problem.
What to use after trimming your beard?
After trimming your beard, it is customary to use a good care product to moisturize, soothe and comfort your skin and hair.
Rightly so, these products will improve the appearance of your beard, making it stronger and shinier. In short, I really advise you to use these products for a beard... In the hair!

Care to use after mowing:
Everything you need to maintain your face and beard hair.
Alternatives to clippers for trimming and styling beards
Razor, shavette, cabbage cutter or manual trimmer: shaving accessories are numerous!
Each of them has its advantages and disadvantages, but you can't take away one usefulness: they work extremely well with the beard trimmer to finalize your cut, outline your contours or shave your neck hair.
In this capacity, I have appointed as alternatives and combinations with the mower :
Shavette
Razor
Manual mower
Cabbage cutter
With these accessories and a little practice, you will finally be able to style your beard like it was just out of the barber... Just like a professional! Getting an extra accessory costs a bit more, but believe me: it is very, very useful.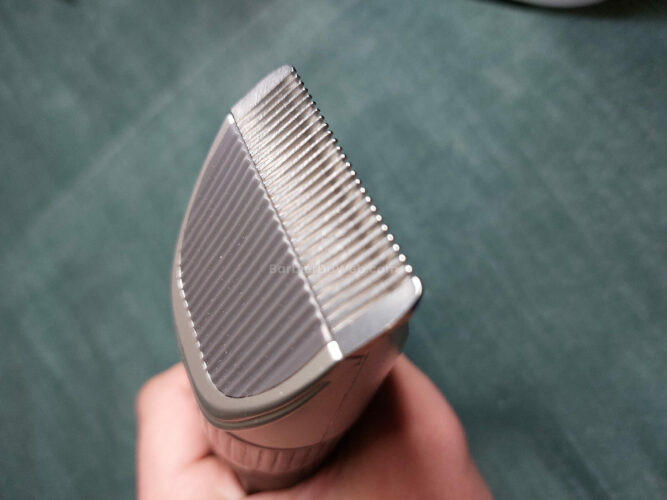 For a beard trimmed like a pro, opt for a professional beard trimmer!
In this article, we have seen what a professional beard trimmer is, what are the best high-end trimmers on the market, and how to choose them with their different features:
The quality of the blade and motor (speed and power)
The use that will be made of it (finishing, intensive daily use...
Comfort of use (ergonomics, vibrations, overheating)

These are essential points regarding the quality of your clippers and the use you make of them on your goatee!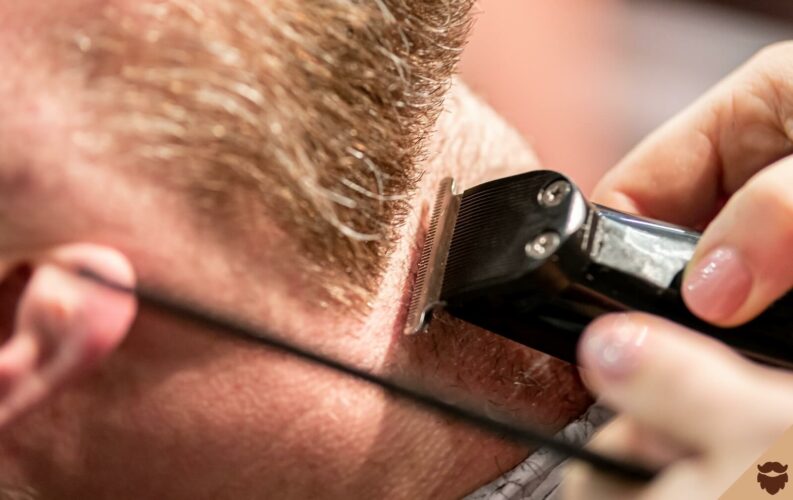 Frequently asked questions