Andis, the premium brand of shavers and beard trimmers, offers a complete line of facial care products.

Among the many models it offers, beard trimmers have always been particularly popular with men.

This review presents the different models of Andis beard trimmers and helps you choose the one that best suits your needs.
Best beard trimmers of the brand Andis
Andis Slim Line Pro Li
The Andis SlimLine Pro Li Professional Finishing Trimmer is an essential tool for any professional trimmer. With its lightweight and powerful cordless operation, this trimmer delivers precision and quality to everything. Equipped with the latest motor technology and a lithium battery that provides two hours of runtime without memory effect, this trimmer delivers amazing results.

The T-blade adds extra precision so you can be sure to get the perfect look with every grooming session. With accessories like four counter blades, a charging base, cleaning brush and oil bottle included, this trimmer is ready to help you take your grooming to the next level.
Lightweight and ergonomic, it works with or without cord and comes with additional accessories.
Powerful and robust motor for optimal precision.
2 hours of autonomy without memory effect.
T-blade for a clean and precise cut.
Andis T-Outliner
The Andis T-outliner clipper has been a classic from the American brand for years and is loved by barbers for its impressive power, precise cutting around the edges and vintage design.

This model is designed with a T-shaped structure of carbon blades and a powerful pro motor to effectively cut through thick hair, making it an ideal choice for barbers needing a precision shave or shading.

But this trimmer could also be useful on a daily basis for the average person who needs to maintain their beard - it's designed with premium quality in mind, but without an overly heavy price tag.


T-shaped carbon blade structure.
A powerful engine.
High quality materials for increased durability.
Vintage design for a unique and professional look.
Andis Slim Line Pro
The Andis SlimLine Pro is the perfect trimmer for those looking to achieve clean lines and precise finishes.

Its professional-grade T-shaped stainless steel head offers unparalleled precision and comfort, while its lightweight design makes it easy to handle and use. Plus, it has a 2-hour battery life so you can groom without interruption.

Get ready to experience the ultimate in detail with the power of the Andis SlimLine Pro - ideal for beard contours and dry hair!


Stainless steel T-blade for easy 0-cutting.
Motor running at 6000 rpm for excellent precision.
Lightweight (140 g) and ergonomic design.
Lithium-ion battery with autonomy up to 2 hours and charging time of 2h15.
Andis Pro Alloy
Constructed from a durable and ergonomic aluminum housing, the Andis Pro Alloy Hair and Beard Trimmer is an essential tool for all barbers and hairdressers. Combining a high carbon steel cutting head adjustable from 0.4mm to 3mm and a powerful 7200 RPM magnetic motor, this trimmer offers both precision and power.


The XTR technology found in the Andis Pro Alloy allows for reduced noise and temperature while maintaining its cutting power, as well as unlimited use with its corded power supply - weighing in at only 626g for added comfort. This reliable trimmer delivers professional results every time and is proudly made in the USA.


High quality carbon steel cutting head.
Aluminum housing and XTR technology to reduce noise and temperature without compromising cutting power.
Corded power supply offering unlimited use with this trusted brand made in the USA.
Promotion
Andis Master AS12480
The Andis Master AS12480 trimmer is the perfect tool for precision shaving and trimming on the go. This cordless lithium-ion trimmer gives you the freedom to move around as needed while providing plenty of power.

The high-speed rotary motor makes up to 7,200 strokes per minute and doesn't slow down, even during tough cuts. Plus, the carbon steel blade is adjustable so you can get the cut you want with precision.

Convenience is key with this device, as it features corded and cordless operation, an LED battery level indicator, and a one-hour charge time. To top it off, a lightweight aluminum body promises durability for years of reliable use.


Durable lithium-ion battery provides 90 minutes of continuous operation with a 1-hour recharge.
High speed rotary motor.
Lightweight aluminum case.
Adjustable chrome-plated carbon steel blade (#000 to #1) for extreme precision and accuracy.
LED indicator to show the current battery level.
For which uses should I buy an Andis beard trimmer?
Andis brand beard trimmers are the perfect choice for barbers who want to create unique and sophisticated looks for their clients. These clippers are ideal for styling, contouring and ensuring that subtle markings stand out perfectly.
With a close shave finish, these clippers will help your customers achieve a polished look that stands out.
Andis guarantees that with its professional-grade equipment, hairdressers will be able to create clean cuts every time, no matter what the hair type. Whether you're working on coarse or fine beards, Andis brand beard trimmers have the power and precision you need.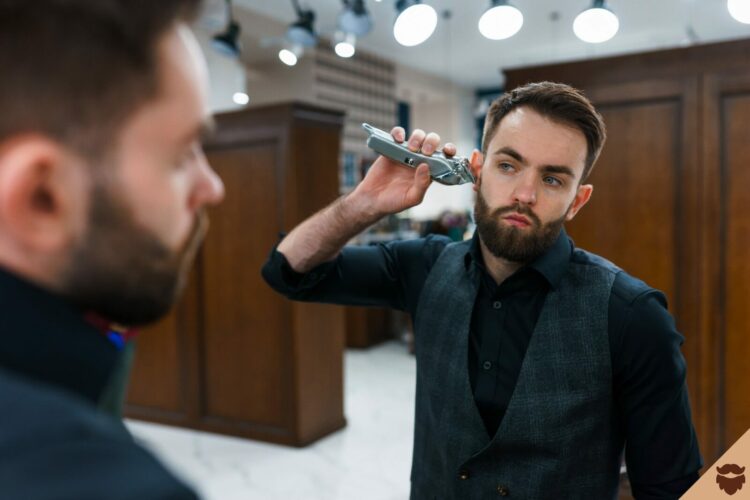 Andis lawnmowers features and functions
Whether you are a professional barber or the average person who needsmaintain your beardAndis is the perfect choice. The brand offers a range of beard trimmers designed to provide unparalleled precision and power without an exorbitant price tag.
Quality and precision of the blade.
High quality manufacturing materials and durability.
Ideal for professionals, barbers and hairdressers.
Sophisticated, modern and classic designs.
Long life batteries.
Andis clippers are perfect for the professional hairdresser
Andis beard trimmers are the perfect choice for barbers who want to create unique and sophisticated looks. The brand offers a range of beard trimmers designed with precision and power, without compromising on quality or price.
Whether you are a professional or just looking to maintain your own personal look, Andis products offer the ultimate hair and facial care experience!

With exceptional durability, these top-of-the-line products are made to last - so don't waste any more time and go with the best option available: the Andis brand!
Frequently asked questions
It is advisable to compare the different models available from the brand and choose the one that best suits your needs.

Each barber has different needs and expectations in terms of clippers for his salon.
Andis offers quality and efficient clippers dedicated to hairdressers and barbers. Check out the models and compare the features to make your choice!