Buying a waterproof beard trimmer is a real advantage for all bearded people. Indeed, being able to shave under the shower and wash your trimmer under water at the same time is a real time saver.
Now you just have to find the best waterproof trimmer to shave your beard. And not only that: most of them are multifunctional and can shave your hair or your whole body.
For this purpose, I have written a guide to best clippers for bearded men for underwater use. Let's get started!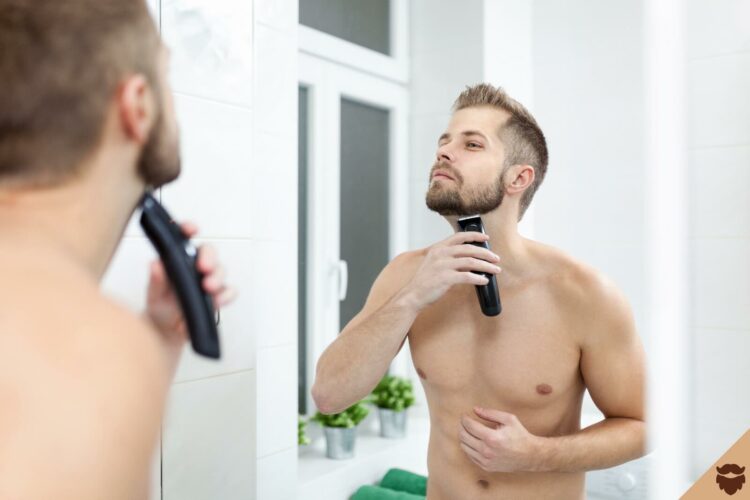 Top waterproof beard trimmers comparison 
The Barber has compared and reviewed for you the best underwater clippers so that you can make the right purchase.

Buying such a shaving accessory is an investment. Therefore, it is important to pay attention to certain criteria such as the quality-price ratio, the manufacture of materials or the number of accessories included in the sets.

You may be interested in this: What are the best brands of electric beard trimmers?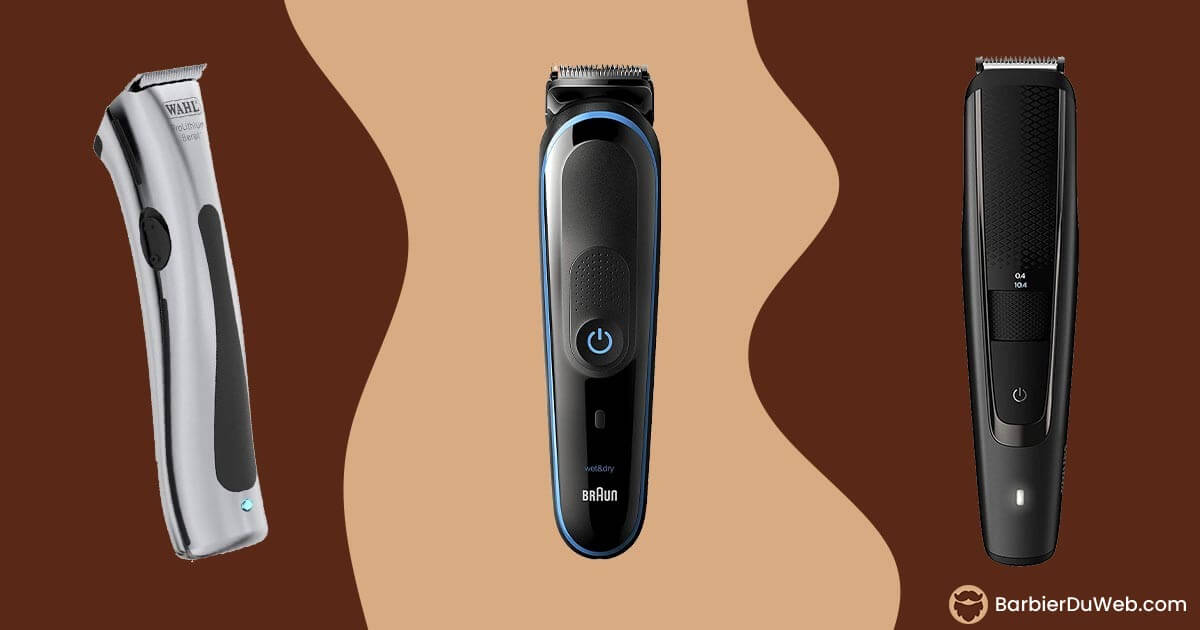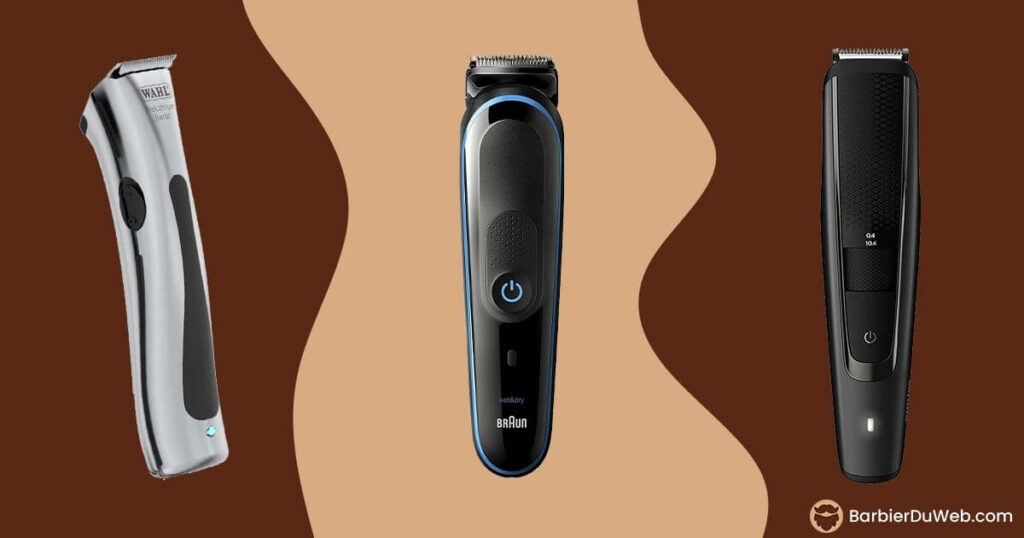 Braun 5 MGK5280 - All-in-one waterproof trimmer - Beard, hair and body
Braun 5 MGK5280 - All-in-one waterproof trimmer - Beard, hair and body
The Braun Series 5 is a proven performer and you'll be hearing about it again and again! With its high-performance trimmer, the included electric shaver for close shaving and its 7 attachments, it makes an ideal shaving accessory for bearded men.

Of course, it can be used underwater and its motor adapts to your hair type and length.

Benefits
An electric razor included for precision shaving
Versatile (Body, hair and beard)
Adaptive power engine
Waterproof for use and washing in the shower
7 accessories included (in addition to the razor)
Cordless (battery operated) + Quick charge

Disadvantages
Cannot be used while recharging
Does not shave to 0 mm
Can be discharged even when not in use
Philips MG7745/15 14-in-1 Multi-style trimmer: Face, Hair and Body with 14 attachments
Promotion
Philips MG7745/15 14-in-1 Multi-style trimmer: Face, Hair and Body with 14 attachments
The mower Philips MG7745 is a real innovation when it comes to multifunctional mowers.
Waterproof, usable on your beard, body and hair... It is difficult to ask for more. With its 14 accessories, it is a multi-style trimmer that adapts very easily to all types of hair.

Benefits
14 accessories (very complete set)
Trims beard, hair and body hair
8 shoes for all cutting lengths
Easy to use and quite comfortable
Bag for storing the mower and its accessories

Disadvantages
Not usable while charging
Quite large, which can be a problem for the finishing shave
Makes a little noise
Philips OneBlade QP2630/30 - Excellent underwater trimmer for Beard + Body
Philips QP2630/30 - Excellent Beard Trimmer + Waterproof Body
The Philips OneBlade has become a classic in modern men's shaving and is known for its comfort and size. With the waterproof 100%, you can shave with wet or dry hair.
Versatile, it can shave the whole body and has a very good precision to work on the contours.

Benefits
Easy to handle and small in size
Excellent value for money
Very versatile: can be used for the whole body
Contours and finishes with acceptable accuracy

Disadvantages
Price of replacement blades
Not suitable for men with a big beard
Hatteker - Multifunctional waterproof electric mower
Hatteker Waterproof Trimmer for Beard, Hair, Body, Nose and Ears
Hatteker is the good surprise of the last few years on the beard trimmer market. The American brand offers products with an excellent quality-price ratio, very versatile and equipped with various accessories to suit all cuts.

You can go there with your eyes closed!
Benefits
Versatile for all cuts and beard types
Waterproof
12 accessories for all your needs
Modular shoe
Cheap and light

Disadvantages
Accessories complicated to store because of their number
Plastic" feel finish
Not very precise
Philips BT5515/15 Waterproof Electric Beard Trimmer with Dynamic Pro Cutting Guide
Promotion
Philips BT5515/15 Series 5000 Beard Trimmer with Dynamic Pro Cutting Guide
Another Philips trimmer in this comparison of waterproof trimmers for your beard hair. The 5000 Series, more affordable than the 7000, offers excellent models. 100% Waterproof, the BT5515/15 is water washable, perfect for a thorough cleaning. It has a good autonomy and offers 40 cutting heights. For the price, it is one of the best models available on the market.

Benefits
Good value for money
Wahl finishing/precision shaver included
Dynamic cutting guide + 40 cutting heights (from 0.4 mm to 20 mm)
Good autonomy
Cleanable under water

Disadvantages
No battery level display
Can be temperamental depending on hair type
How did I choose the best models?
I scoured the web, met with barbers and sought advice from dozens of beard professionals to find the best products available on the market.
I have analyzed, listed and compared dozens of electric trimmers through :
Thousands of consumer reviews,
Dozens of tests from hairdressing professionals and beard enthusiasts,
Hundreds of user feedbacks on forums and social networks,
In-store advice from specialized salespeople,
YouTube videos of pogonophiles from all over the world.
Then I listed the models that stand out, the ones that are really worth buying. My goal is to present you with the top clippers through a comparison that contains only the best models.
You may be interested in this: Clippers on the Barber Shop
Verified criteria for a quality purchase
Functionality and ergonomics
Long battery life, LED display, adjustable power motor... I have compared the best features to show you which ones are really useful for a quality mowing.
The ergonomics and ease of use of the trimmer are also crucial to a smooth shaving experience.
Power and versatility
A trimmer that easily adapts to all types of cuts or hairs (curly, disheveledthick, short...) is an essential criterion to buy equipment that will be useful for years to come. The power of the engine is not to be neglected You want a model that can mow quickly and easily!
Accessories included
More and more of them, the accessories (hooves and cutting heads, razors, maintenance oilsbrushes...) are very useful to style your haircut as you wish. Close cutting, clipping, contouring: they increase the versatility of your clipper tenfold!


Superior quality
When we invest in equipment, we want the best quality. Not a product that will fail us after a year or that does not meet our expectations in terms of excellence.
The electric clippers presented in this test are the best in their field. We make it a point to to offer you only models that are worth buying !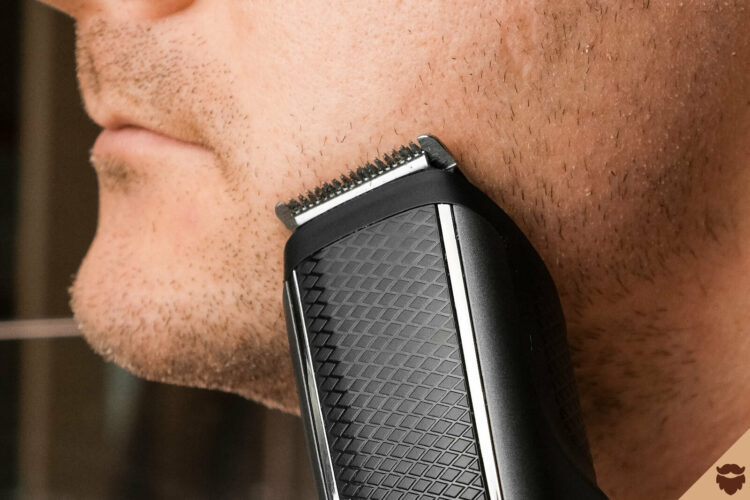 What is a waterproof beard trimmer?
Thanks to its unique design, the waterproof lawnmower is an electric device that can be used underwater. It is waterproof thanks to a system that allows it to operate underwater despite the presence of electronic components such as the motor.

In general, this type of mower runs on battery power when used in the presence of water and can be recharged using the power cord (not to be used underwater!)

This allows you to cut your beard while in the shower or to clean your clippers under water for example.
How to choose a beard trimmer that can be used under water?
Buying a waterproof trimmer is a real advantage for bearded people. To make the most of your purchase :
Choose a powerful motor and quality blades so that it is durable and the blades do not become damaged with time and contact with water.
Choose a model with good battery life so that you don't have any unpleasant surprises when you shave your beard in the shower. It would be silly to have to dry off, get out of the shower, plug in the clippers, wait and finish your shave.
Prefer packages with many accessories so that the mower can meet all your expectations in terms of length, types of cuts, precision...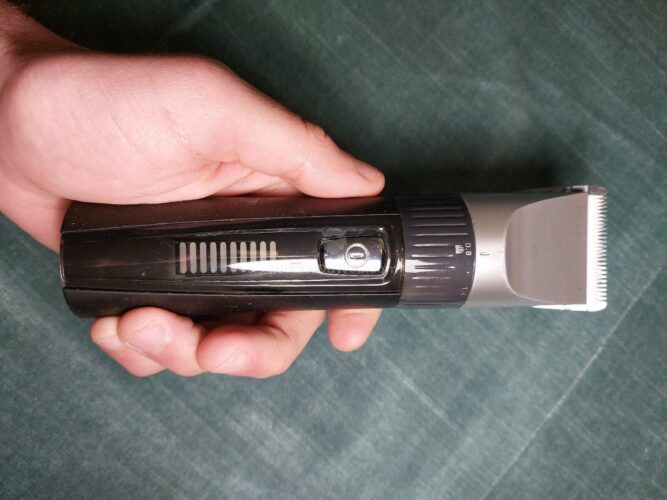 How to maintain your waterproof mower?
Care to use after your shower shave
Using good after-care products for your facial hair is something to add right away to your grooming routine if you haven't already! Shinier, healthier and stronger hair, less irritation... The benefits of after-shave products are great for your skin and beard.
Here are some of them to use after trimming your hair:
Thanks to these treatments, your beard will be beautified, shiny and especially stronger!
Alternatives for shaving underwater
Why is it a good idea to only shave with the clippers? The reason is simple: it does not allow (for most models) to have a perfect cut.
With a cabbage cutter (old-fashioned razor) or a shavette, you can define your contours with precision. No more imperfect finishes: this time, you're playing in the big league.
Here are some alternatives (or complementary products) to the electric mower:
Manual trimmer
Razor
Shavette
Cabbage cutter
This means a slightly higher budget, but at least you'll be equipped to the teeth! Discover our complete guide on the beard trimmer, cabbage cutter, shavette and razor to learn more about their strengths and weaknesses.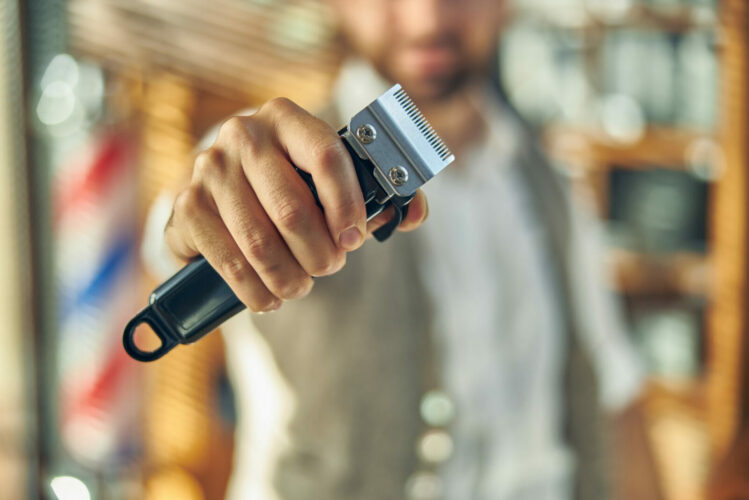 Buying an underwater mower: useful and not necessarily expensive!
Whether you're looking for versatility (beard, hair, nose, ears and even full body) or just a trimmer for your facial hair, there are plenty of waterproof trimmers to choose from.

However, choosing the right waterproof trimmer for your beard can be complicated. So now you know the criteria before making your purchase and especially the best products available on the market.
From now on, you can shave in the shower and even wash your electric clippers under water like any other object.
And you, do you have a favorite model?
Frequently asked questions