If you're looking to adorn your beard with a bead or other jewelry, you've come to the right place!
From Viking beads to Celtic rings or skull and crossbones jewelry, your goatee will be on trend.
You can use them on your long beards, braided, short or on the special Vikings, so you say that you beard jewelry is fashionable for millennia.

All this to say that we will move on to the different types of beads for beards and then we will present our selection of jewelry, rings and charms.

To know: I present in this article the different types of jewelry (rings, pearls, charms...) and best according to their originality, beauty but especially value for money.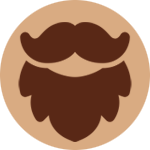 Beard jewelry
Just taking the beads, there are quite a few types, from the Viking bead to the Celtic bead to the bone bead (morbid, right?).
Lovers of goatees or skulls will also be served. There are some for all the styles and especially for the beard braids.
How to put a bead or a beard jewel?
Small tutorial:
Attrapez la mèche souhaitée (assez longue tout de même), tirez-la vers le bas et attachez à l'aide d'un élastique
Use dental floss, string or a rubber tie to make a loop around your beard. This will serve to pull your hair through the jewel.
Faites glisser la boucle à travers l'ouverture de l'anneau, tenez en place et enfilez la de sorte à ce qu'il reste quelques centimètres de poils de l'autre côté de l'anneau.
Tirez sur la ficelle d'une en tenant votre bijou de l'autre main et faites glisser l'anneau jusqu'à l'élastique précédemment mis en place.
And here you are, you have put on your jewel! A little video tutorial because pictures are always more telling:
Viking beard bead
Ah, the famous Viking beard bead, a true emblematic jewel of the Nordic people so well known for conquering fear and I would even say more, frightening the fear itself!
There are beads of many different materials, from metal to wood.

To read: How to make a real Viking beard?
Here is a short video for put your beard beads:
Celtic beard bead
Celtic people have always had very particular beards. You just have to see their deities to understand how much it is anchored in them.
Take for example the Leprechaun, a true symbol:
Beard bead skull
Great classic for beard jewelry: the skull! Findable in bead, ring and different materials, it is loved by many men.
Often associated with metal or hard rock fans and bikers (motorcyclists), it is also used by Nordic peoples like the Vikings.

It will make a more marked effect when worn in iron and will bring a more sober decoration in wood because it shines less. Moreover, the features of the skull will be less marked.


Silver beard bead
Silver jewelry will add a certain touch to your beard. The material is usually quite shiny, well polished and of a very special gray. Of course, we know its primary property: it does not discolor or rust! In addition, it is solid as a rock that has hardened in age and does not
Beard ring and rings
Rings and rings are among the most worn jewelry by men. Whether in beard hair or in the hair, they are all the rage and give a nice style.
Jewelry by material
If you are looking for your beads, rings or beard rings in wood, silver or bone, it's here!
Each material gives a different style and you can even mix and match the looks.


In wood
Wood, in any of its forms, is a beautiful material. In your beard, it will give a rootsy feel. Very worn by the dreadlocked beards, it beautifies your beard but may not be suitable for all places like work.
In any case, the wood is very beautiful but it is usually subject to erosion and discoloration after showers or rubbing with your beard.
In bone
Does this sound creepy to you? It's not! A bone ornament for your beard is a sign of a brave warrior who doesn't back down from any danger. Although some people might look at you sideways on the street (and we don't care if you ask me), bone beard jewelry goes very well with spacers and other piercings of the same material.
In gold
And yes, the bling of your beard had to come out somewhere! I present to you... Gold (and copper) rings and jewelry.
Bead stopper for beard
Stoppers are usually small rubber washers that secure your jewelry. They act as a "bolt" that stops your beard jewelry from going down (or up for that matter).


Jewelry for goatee
You don't need a full beard to put beads or rings on your hair! In fact, beard jewelry goes great with goatees and gives a very personal style. You'll be the talk of the town!
Clip-on beads and jewelry
If putting on your jewelry is a real pain, no worries: there are clip-on beads. No more hassle to put on the pearl or the ring, it hangs like a fake
Conclusion
The great thing about beard jewelry (beads, rings, rings...) is that they are really cheap. Although you can find them at any price, they are usually quite affordable and come in big packs. Feel free to change, use several, or even put them in your hair!
The easiest way is to use a beard jewel stopper but if you don't have one, a small elastic band in the color of your hair will do the trick. Be careful to tighten the whole thing!