Buy the right castor oil is not as simple as it seems. Whether it is for your skin, hair or even hair and beardAll oils promise different magical effects.
Each of them comes in different forms and making your choice is not easy. It's not good enough when you have a choice between 2 products... 😉
To simplify your research, the BarberDuWeb has broken down the different ways to find them as well as the criteria to keep in mind when you go to buy your oil.
To find some, you will have 4 ways You can buy your products on online stores such as Amazon, online skin care and oil stores, in supermarkets or in pharmacies.
Criteria for purchasing, choose a natural organic black castor oil from Jamaica, cold extracted, without chemical additives.
Discover the criteria that really count when selecting your castor oil...

If you are looking for castor oil for beards, it's here !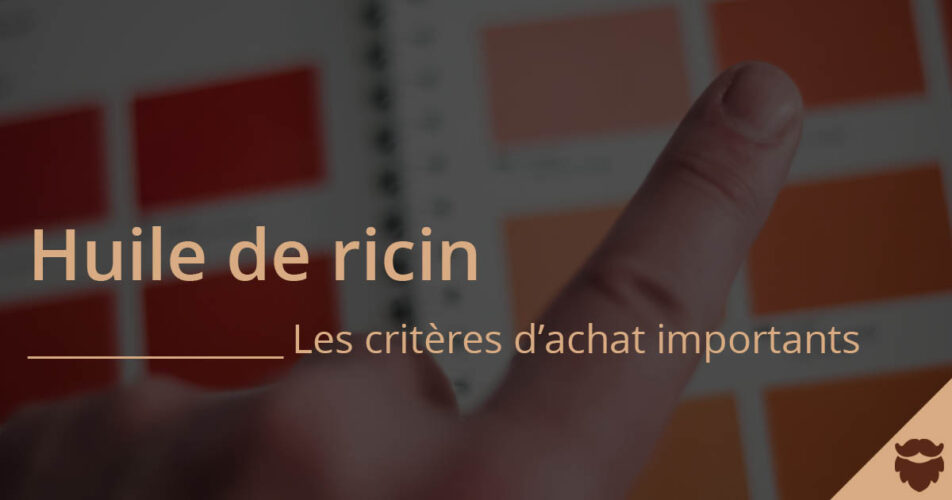 What are the criteria for buying quality castor oil?
Knowing the right criteria for buy castor oil allows you to avoid being ripped off or using a product that is simply harmful, due to its composition and manufacture.
So when you buy your castor oil, make sure that:
The oil is extracted cold (by simple pressure)
It is the most natural way to obtain oilAvoiding chemical solvents and high temperatures, which damage the quality and nutrients of your food.
No added chemicals
Avoid the presence of sulfates, surfactants and other chemicals that are often found in ready-made products. The oil should also be GMO-free.
Castor oil must be "virgin".
This means that the extraction of the oil is done by pressure (not by energy) and no chemicals are used.
Optional: that the castor oil is organic and/or vegan
To buy the best quality castor oil, focus on organic or vegan castor oils.
Although the cold extraction process produces a high quality oilIn addition, some manufacturers may use chemicals during the production of their oils.
In a few words, it will take check the label or the product information! Even if sometimes some manufacturers do not really bother to note the presence of products other than castor...
Let's move on to the interesting part: where to find castor oil ?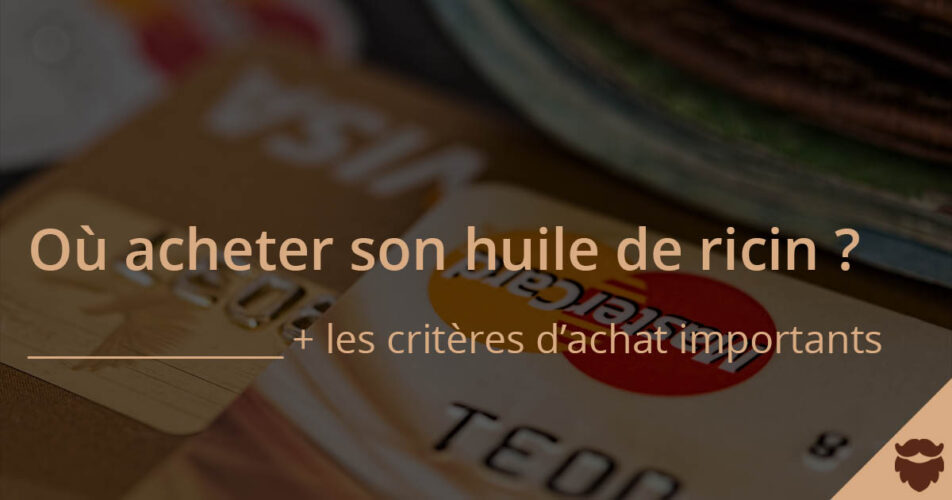 Where to buy castor oil?
Castor oil can be purchased in 4 different places:
Amazon - Pharmacy - Barber - Online Shop - Supermarket
We will detail each of these ways to find castor oil.
Small spoiler: the best mode is Amazon, with a larger choice and generally lower prices. Best value for money!
Amazon: the best place to find the right castor oil?
What's great about Amazon is that you can order it quickly and have it delivered the next day or two.
In addition, you will have the choice between many pure or mixed castor oils and the prices are generally lower. This is due to the number of vendors and stores from all over the world that offer their products.
Quality: ✔️✔️✔️
Choice: ✔️✔️✔️
Average price : 💰 - 💰💰
More choices for organic and vegan products on Amazon
If you're looking for specific qualities like an organic or vegan castor oil, there are many different brands selling great products on Amazon.
Quality: ✔️✔️✔️
Choice: ✔️✔️✔️
Average price: 💰💰 - 💰💰
In pharmacies and drugstores
It is possible to find it in pharmacies, in the oils and body care section.
Unfortunately, the choice is scarce and the prices are generally higher than in stores or on Amazon.
Quality: ✔️✔️✔️
Choice: ✔️ - ✔️✔️
Average price : 💰💰💰
Avoid large surfaces (Carrefour, Auchan, Leclerc, etc...)
It is best to avoid buying castor oil in stores because the choice is not really varied and the products are not the ones I would recommend!
We often end up with a product of poor quality and strange provenance.
Quality: ✔️
Choice: ✔️
Average price : 💰💰
So, is it better to buy castor oil on Amazon, in pharmacies or in department stores?
For my part, the best is to buy them on Amazon, because you will find high quality products, at low prices compared to other ways to find them. Plus, they'll be shipped quickly to your home, if that's what you're worried about!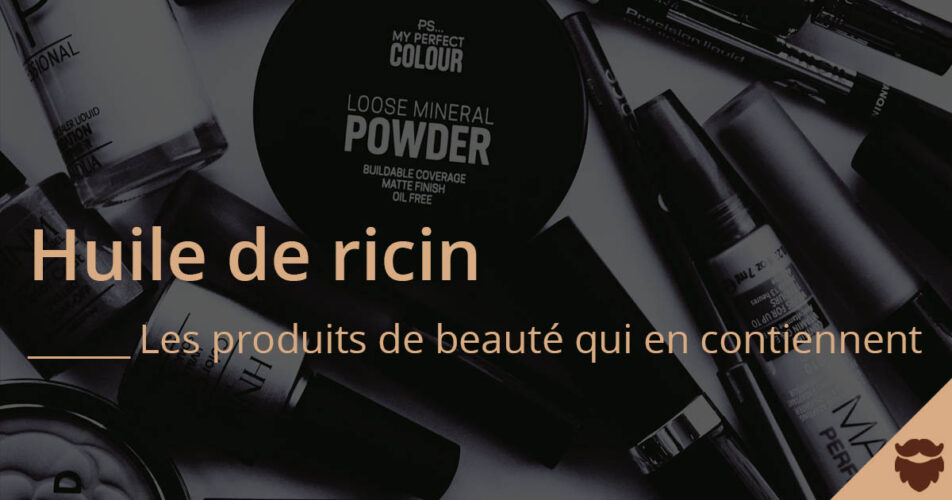 Skin care products that contain castor oil
Since it has many benefits on the whole body (hair, beard, hair, nails, skin ...), it is often used in addition to other components or oils such as :
Castor oil shampoos
A lot of shampoos contain castor oil because it is considered "the ultimate hair oil".
It penetrates deep into the roots of your hair to nourish, moisturize and soften it.
That's why castor oil is a great ingredient in many shampoos!
Castor oil balms
It can also be used in balms with other oils, including sweet almond oilIt is also a rich ingredient in vitamins.
Castor oil has many antibacterial properties, so the balms help fight infections and wounds. They will also be useful in after-shave.
Food: useful for constipation
Castor oil promotes digestion and intestinal transit and will be useful in case of constipation, food poisoning.
Be careful though: it can be a deadly poison when used in excess. I advise you to read this before doing anything and ask your doctor's advice.
Where to buy castor oil: what are the best ways to find it?
As we have seen through this article, castor oil can be found in different forms. It is therefore important to select the right one, from a quality-price ratio or in terms of its composition.
The way it is made and its composition are important, it will be necessary to check them. The oil that you will buy must be cold extracted, chemical free, virgin and optionally organic and vegan.
If you're still wondering where to find it to buy itI advise you to turn to Amazonpreferably in a pharmacy and in a second time in a pharmacy.
The two big advantages that Amazon offers are the choice of products because many stores or resellers offer their oils and the price, which will generally be lower.
I hope this article has helped you answer the question where to buy the right castor oil ! Now it's up to you to choose from the best ones offered through this guide.

Did you know that the BarberduWeb has its own online store ?