So you want to go from "beardless in spite of himself" to "bearded hipster" but your beard stubbornly refuses to cooperate? The terms 'Dermaroller' or 'Minoxidil' may have already tickled your ears...
Despite your assiduous search for answers, you're still wondering if you can use these two products together and how can you incorporate them into your beard routine? In this article, we'll untangle the facts from the facts. explain all about this duo to stimulate beard growth.
But before you rush off to Amazon to order your beard growth kit, take a minute! Using the roulette and minoxidil together requires a clear understanding and careful use.
So, are you ready to turn this fluffy peach into a lush forest?
What is the dermaroller or "beard roller"?
The beard roller is a small accessory with a spiked roller to help your hair grow:
It creates tiny lesions in your skin, stimulating healing,
This results in increased blood flow to the area,
Your growth is boosted by the extra nutrients.
In a nutshell : This is what we call the "microneedling"A common practice in aesthetics! For novices, a 0.25mm Dermaroller is ideal, as it will prevent any injuries or complications.
What is Minoxidil?
The Minoxidil is a topical treatment for hair loss that has proved its worth in many men and women.
Applied directly to the affected areas, it also stimulates blood flow to the hair follicles, promoting hair growth.

Good to know : Studies confirm its effectivenesswith 84.3 % of men rating it as effective in treating hair loss. Here is a another study in 2022.

Please note:
How do I use minoxidil and dermaroller for beards?
Using Dermaroller with Minoxidil is a fairly straightforward process. However, it is essential to follow certain rules to obtain the best results.
Here is a detailed guide to help you through each step:
Step 1: Preparing the skin
Start by washing your hair or beard with a mild shampoo to remove any dirt, oil or product residue.
Brush your hair or beard to remove dead hairs and detangle tangles.. Clean skin and well-tangled hair are essential for effective use of Dermaroller.
Step 2: Using Dermaroller
Take your beard roller and start using it on your skin:
Move up and down, left and right, and diagonally over the desired areas,
Concentrate on areas of alopecia or thinning beard,
Be sure to spend at least 30 seconds on each area to effectively stimulate the skin.
Warning: Don't press too hard to avoid injury.
Step 3: Apply beard oil
After using the roulette, apply an oil of your choice. It helps moisturize, nourish and soothe your skin!
I recommend:
These areexcellent oils for beard growth !
Step 4: Wait 24 hours before applying Minoxidil
Wait at least 24 hours before applying Minoxidil to avoid irritation or adverse reactions.

Warning: It is crucial not to use Minoxidil immediately after Dermaroller.
Step 5: Application of Minoxidil
After waiting 24 hours, apply Minoxidil in 8 simple steps:
Wash your hands Make sure your hands are clean and dry before you start.
Prepare your skin Take a warm towel and apply it to your face to open your pores.
Dry your face Dab your face with a dry towel or a cotton swab. use a small hair dryer to dry it.
Prepare Minoxidil Take the recommended dose according to the brand of Minoxidil you've chosen. In general, this will be 1 ml per application, or 2 ml per day for two applications. Read the instructions carefully!
Apply Minoxidil Apply the product evenly, concentrating on areas requiring growth.
Massage your beard Massage well to ensure maximum penetration.
Wash your hands After applying the product, wash your hands to avoid accidental contact with eyes or mouth.
Rinse your face After leaving the Minoxidil to work for around 4 hours, rinse your face with clean water and pat dry with a clean, dry towel. Once again, read your Minoxidil instructions for application times.
Step 6: Cleaning the Dermaroller
After each use, disinfect your Dermaroller by soaking it in 70% alcohol for at least 10 minutes. Then let it air-dry before storing it in a clean, dry place.
Additional tips
Always disinfect your Dermaroller before and after use.
Wash your skin, hair and beard before using Dermaroller.
Don't use too much force with the Dermaroller to avoid injury.
Replace your Dermaroller every 2 to 3 months to guarantee its effectiveness.
Routine use of minoxidil and dermaroller
To help you out, here's an easy-to-follow weekly Minoxidil + Dermaroller routine, suitable for both hair and beard:
| Day | Morning | Evening |
| --- | --- | --- |
| Monday | Dermaroller + Oils | / |
| Tuesday | Minoxidil | Oils |
| Wednesday | Minoxidil | Oils |
| Thursday | Minoxidil (or Dermaroller if 2 uses/week) | Oils |
| Friday | Minoxidil | Oils |
| Saturday | Minoxidil | Oils |
| Sunday | Minoxidil | Oils |
Routine and frequency of use of dermaroller with minoxidil
Reminder: For the oils, I clearly advise you to use castor oil, black cumin oil or even mustard oil. They are part of the TOP 3 of best oils for a big beard.
Is it possible to use dermaroller with minoxidil?
You're probably wondering whether you can apply minoxidil after using a dermaroller? Yes, you can use the beard roller with Minoxidil.

However, it's important to note that Minoxidil can have side effects, such as dry skin. In addition, to avoid irritation, do not apply Minoxidil less than 24 hours after using the beard roller.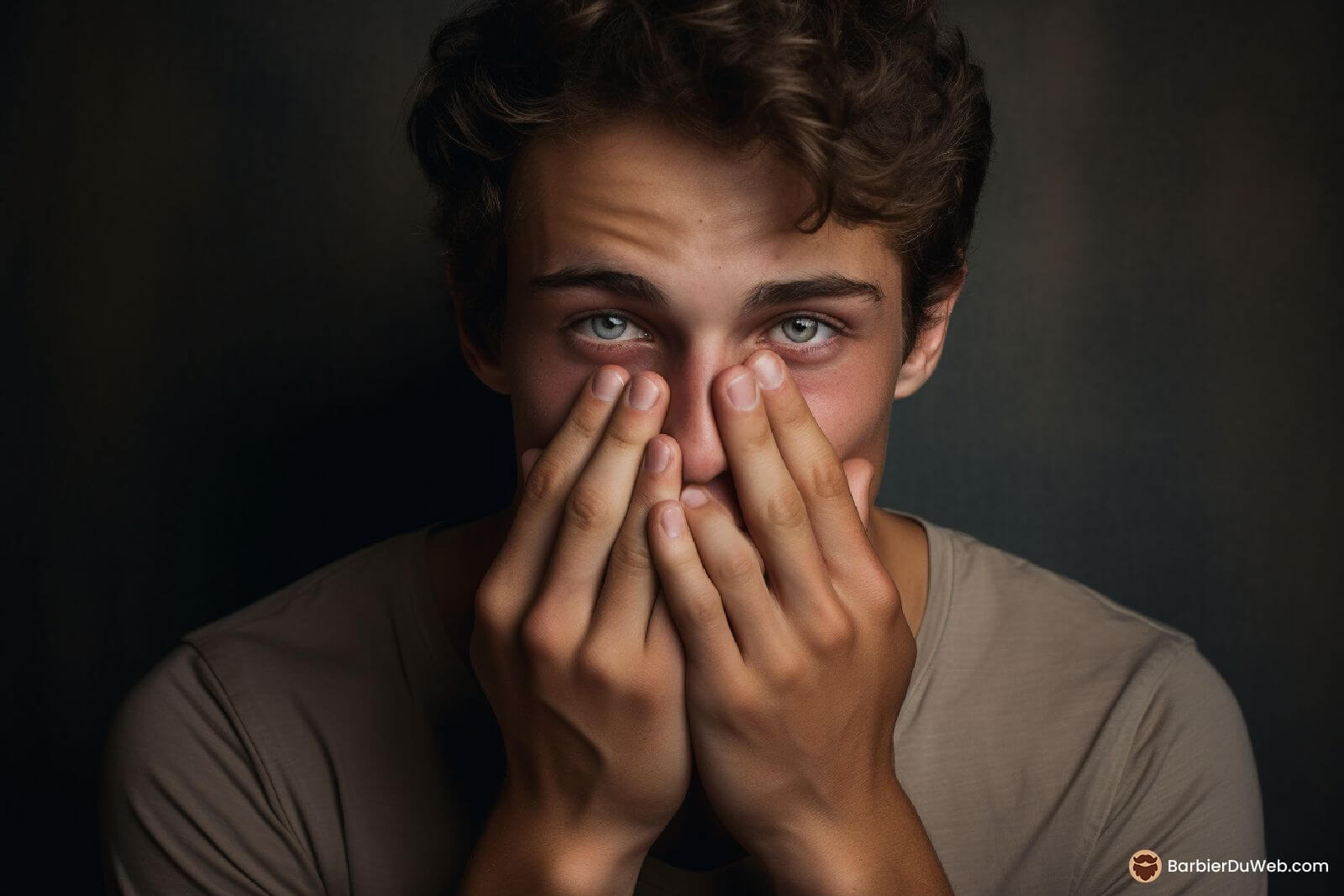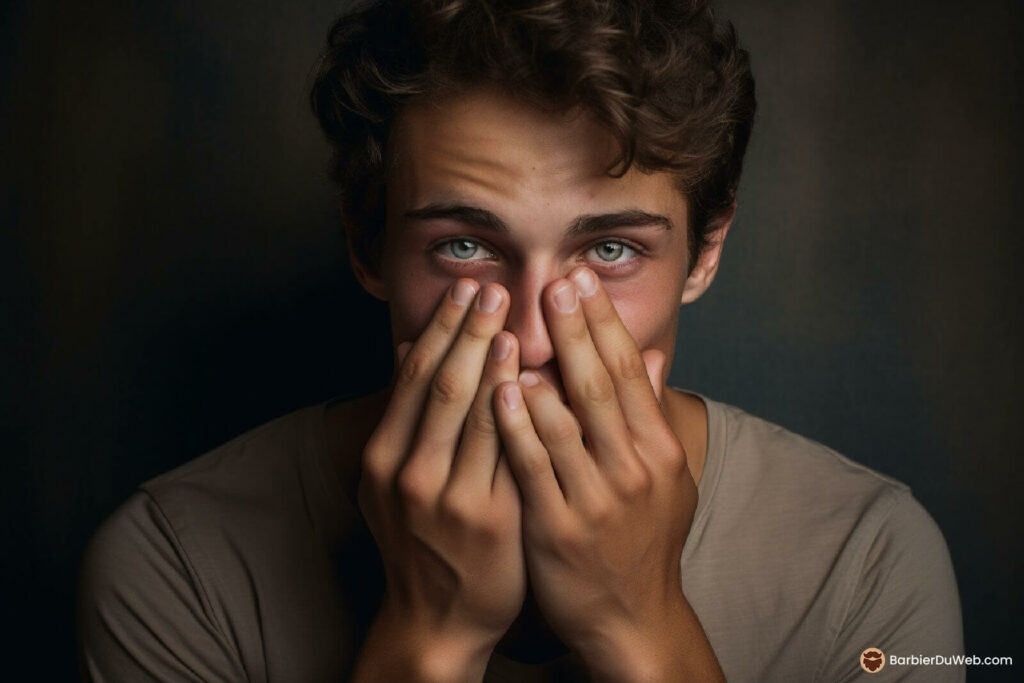 Demaroller + Minoxidil: Does it work?
Minoxidil and Dermaroller, used together, can accelerate beard growth. Research has shown that they work best together to stimulate beard growth.
A 2018 study in the Journal of Cutaneous and Aesthetic Surgery revealed that this combination outperformed the use of Minoxidil alone:
In this study, 60 men with moderate hair loss were divided into two groups One group was treated with Minoxidil alone, the other with Minoxidil and a weekly Dermaroller.
The group combining Minoxidil and Dermaroller saw a significant increase in the number of hairs.
Please note: The researchers were unable to definitively conclude that the combination of Minoxidil and Dermaroller is an effective treatment for androgenetic alopecia, underlining the need for further research.
In short, not only can you use Dermaroller and Minoxidil together, but research and studies suggest that this combination could improve your results.
Before and after & Results
Unfortunately, I don't have any verified photos showing the results of dermaroller and minoxidil combined. Nevertheless, I've compiled a series of images for you that illustrate a BarberDuWeb reader and the effects of minoxidil alone on his beard growth :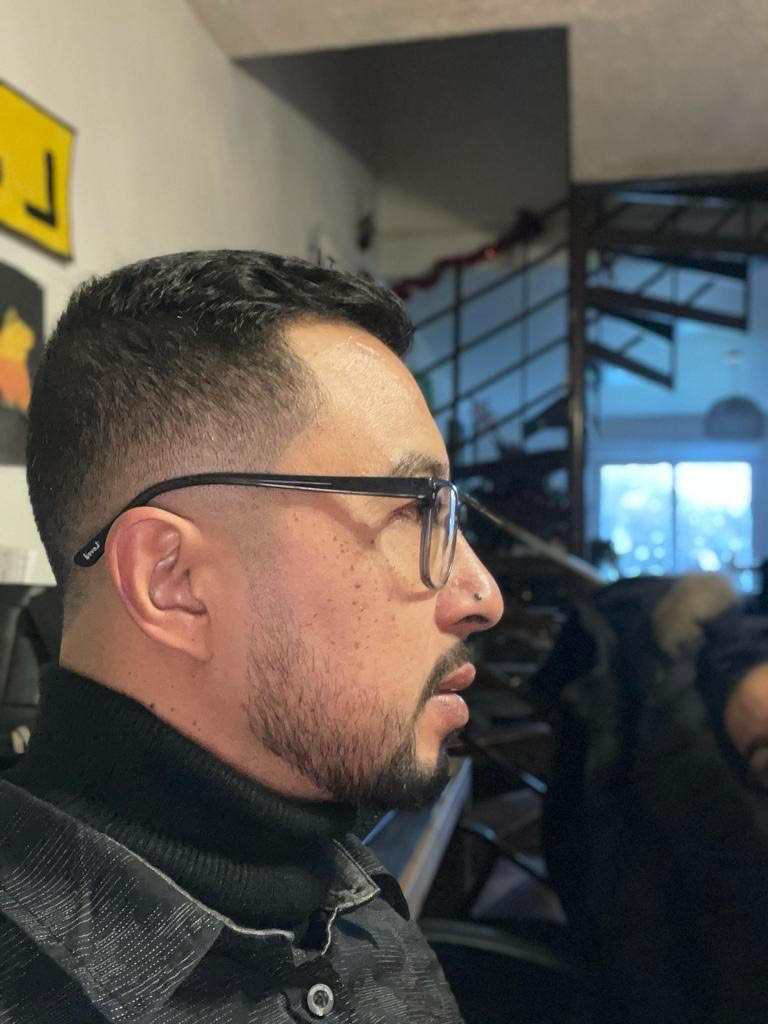 It clearly shows that the progress made with Minoxidil alone is significant, and that adding Dermaroller to one's routine could (potentially) improve these results.
My opinion on Minoxidil + Dermaroller for beard and hair
I haven't personally tested Minoxidil in combination with the beard roller, but in my experience the beard roller gives very good results on its own.

If it were up to me and I had alopecia or a beard with holes in it, and I'd tried everything, I'd try it!

Of course, you have to bear in mind that Minoxidil has known side effects and that you need to be careful with it. Test it first in small doses to be sure.
In any case, the two products combined seem to give very good results according to different studies that can be found on the web.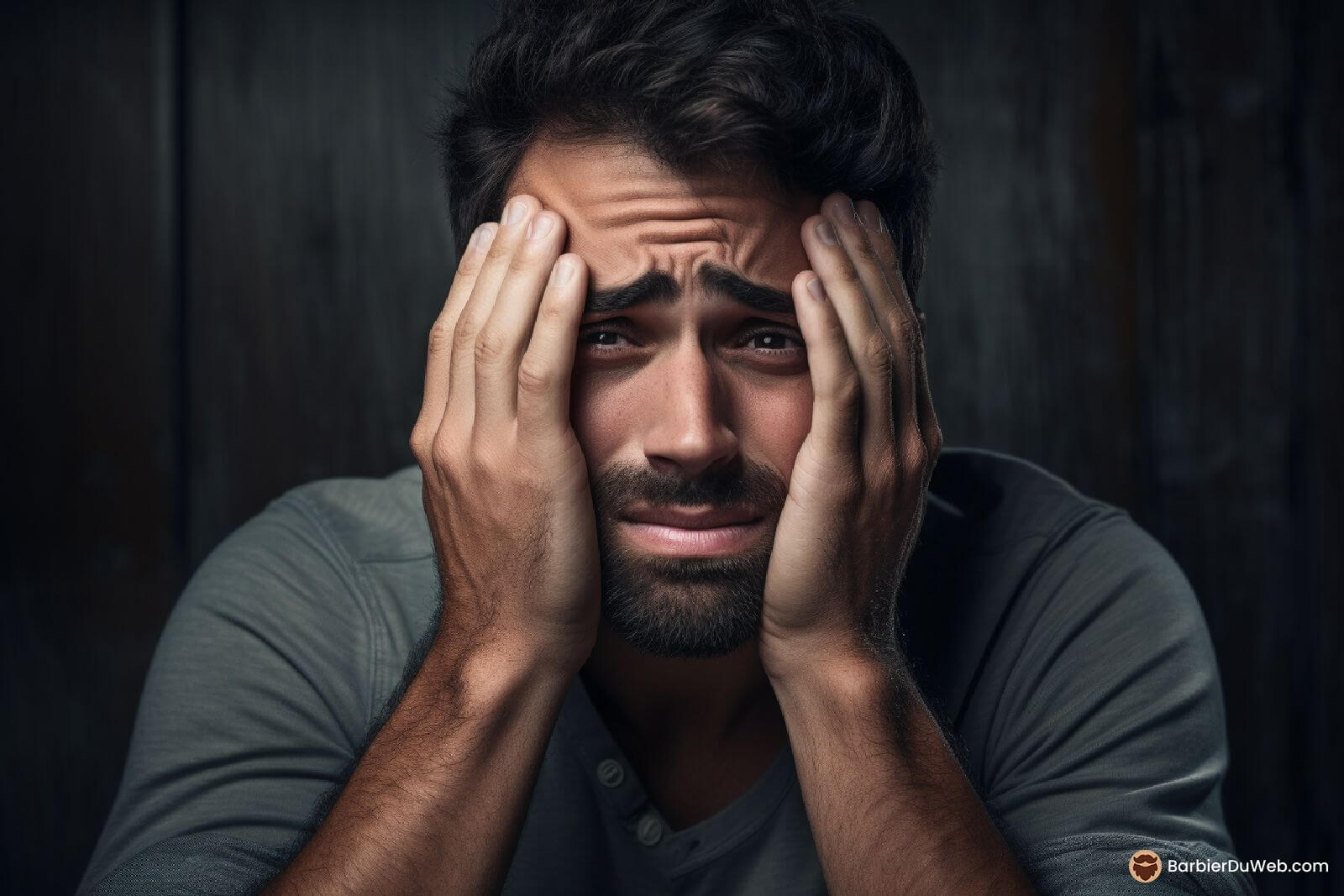 Should dermaroller be used before or after minoxidil?
We recommend using the beard roller before applying Minoxidil. Using Dermaroller helps prepare the skin by creating tiny perforations that can increase Minoxidil absorption, improving its effectiveness.

Reminder: Be sure to wait 24 hours after using the beard roller before applying Minoxidil!
How long after dermarolling can I apply minoxidil?
Wait at least 24 hours after using Dermaroller before applying Minoxidil. This allows the skin to recover and avoids excessive absorption of the drug, which could lead to undesirable side effects.
How often should I use dermaroller on my beard?
You can use Dermaroller on your beard twice a week. However, to avoid any potential irritation, we recommend starting with a single use per week.
You are then free to adjust the frequency of use according to your skin's reaction. This will enable you to observe how your skin reacts to the treatment and adapt it accordingly for optimum results!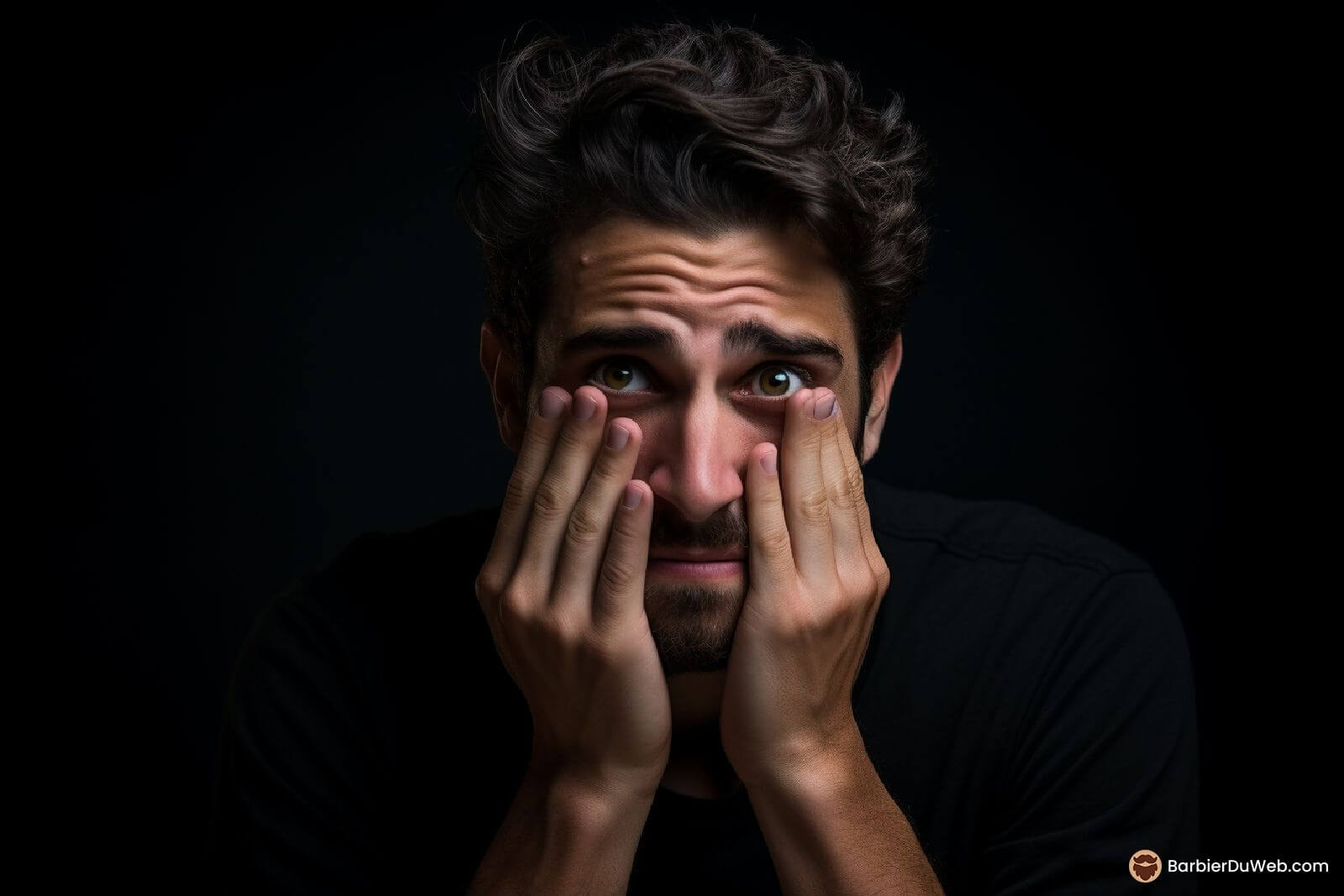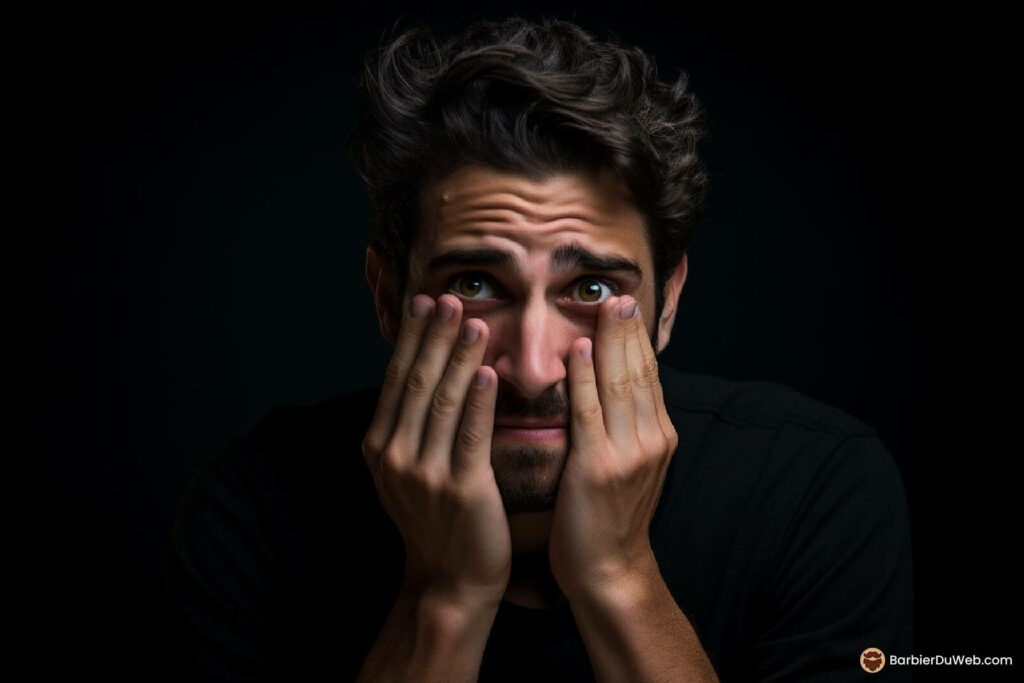 Can the Dermaroller + Minoxidil combo be dangerous?
Yes, it is possible for the combination to cause side effects and other problems.
Mixing Dermaroller and Minoxidil requires knowledge of the side effects of both products:

What are the side effects of Dermaroller?
When used correctly, Dermaroller generally causes minimal side effects such as
Slight redness,
Swelling,
Irritation and discomfort.
Minoxidil may cause :
Redness,
Desquamations,
Itching and irritation.
More serious effects such as heart palpitations, unexplained weight gain or dizziness are rare. Consult a doctor if you experience these effects.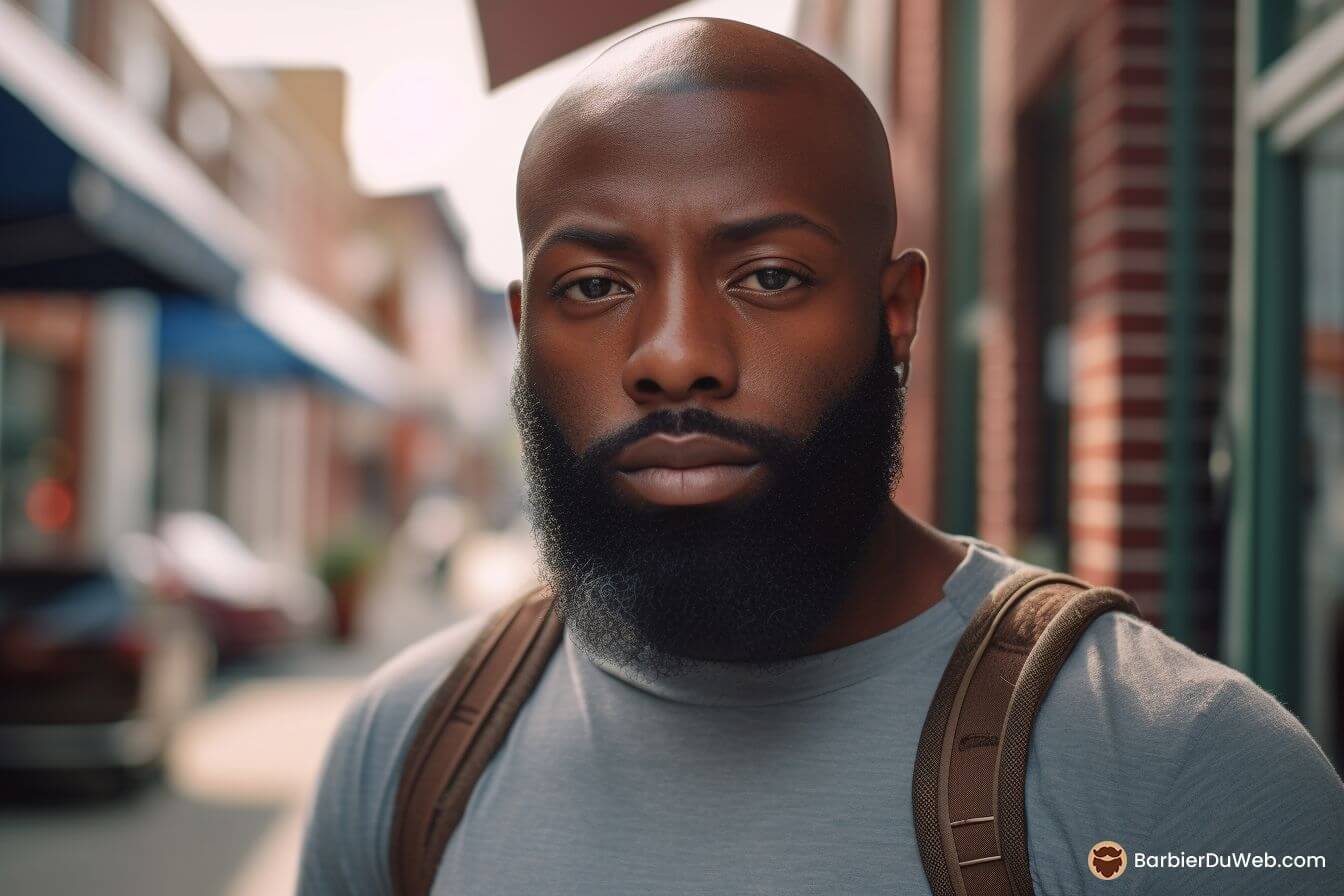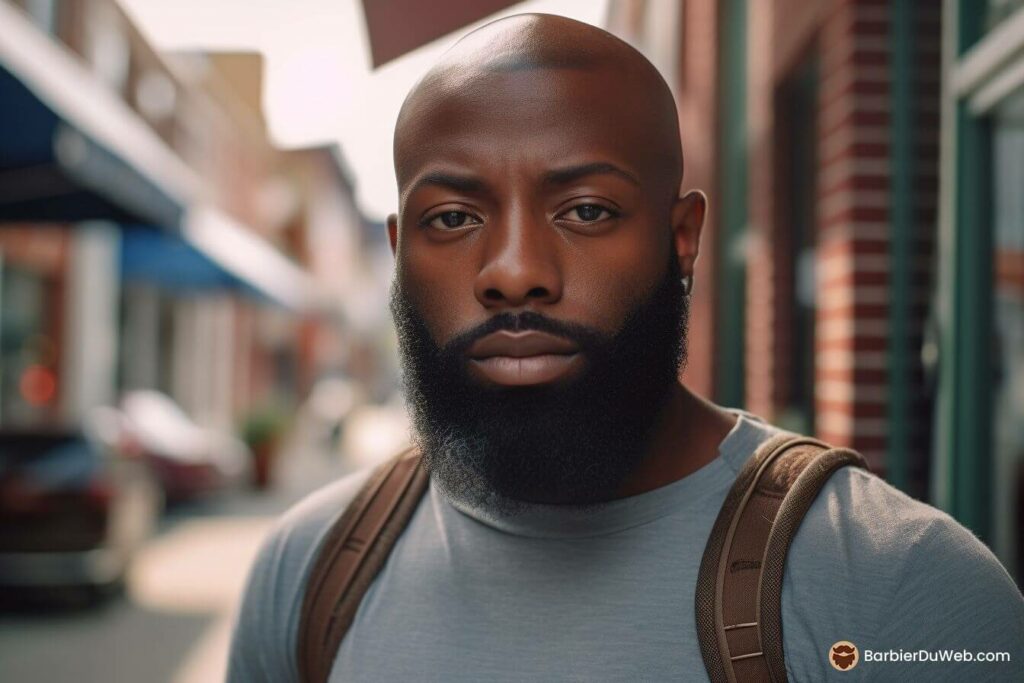 Other ways to grow your beard
Here are a few other ways to stimulate beard growth:
Maintenance : Taking care of your beard Regular maintenance is not only essential for keeping a beard clean and attractive, it can also help stimulate growth!
Adapted nutrition A diet rich in proteins, vitamins and certain minerals can promote hair growth.
Hydration Drinking enough water is essential for maintaining healthy skin and promoting hair growth.
Physical exercise Exercise can stimulate the production of testosterone, a key hormone in hair growth.
Sleep Quality sleep promotes general health and hair growth.
Skin care Keeping your skin clean and exfoliated can help promote hair growth.
Oils for beard growth Some oils, such as castor oil, ljojoba oil or thecoconut oil can stimulate hair growth
Supplements Supplements such as biotin can help stimulate hair growth.
Avoid stress Stress can affect beard growth, so stress management can also be beneficial.
Beard transplant : As a last resort, you can always try!
Remember: every bearded man is unique, so what works for some men may not work for others!
Dermaroller and castor oil: a good natural alternative!
L'castor oil nourishes and moisturizes hair follicles, stimulating rapid, healthy beard growth. The Dermaroller and its tiny perforations improve castor oil absorption by the skin and potentially its effectiveness.
The Dermaroller and castor oil combination offers an effective natural method for stimulating beard growth while keeping it healthy. Moderate use of Dermaroller is recommended to avoid skin irritation.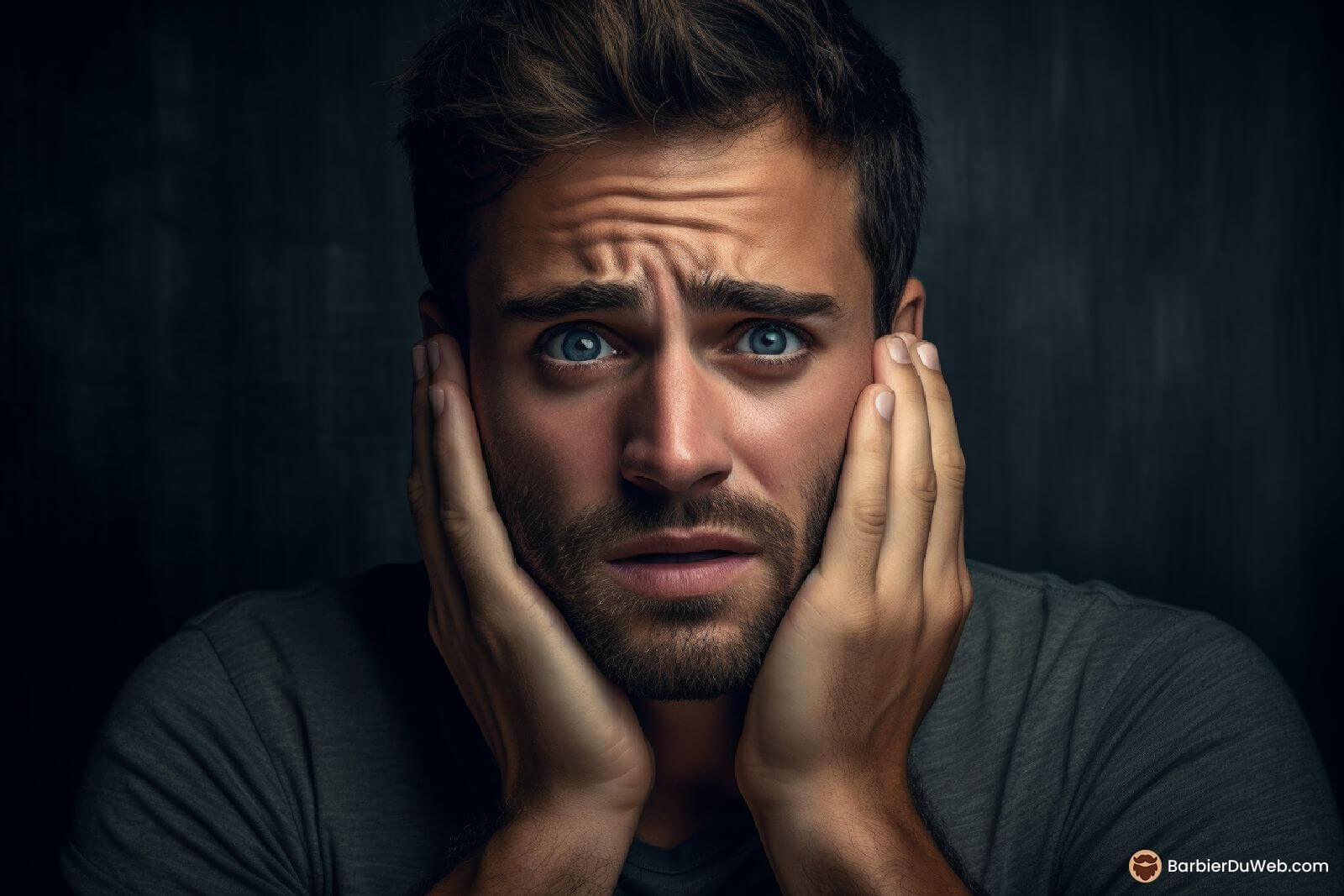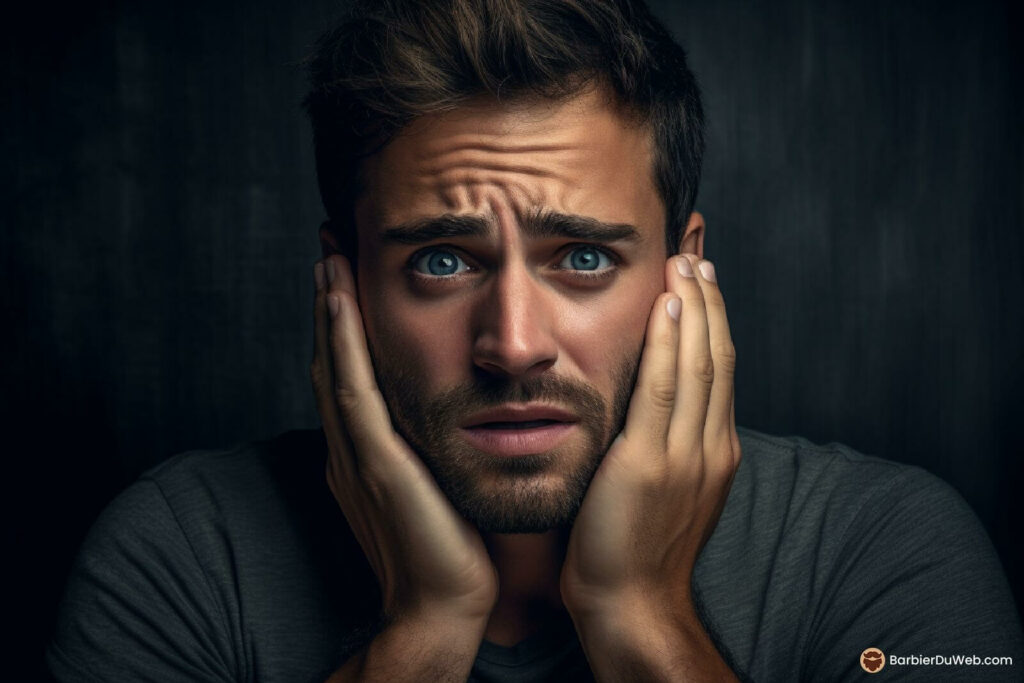 Is dermaroller alone effective for beard growth?
Dermarolle used alone contributes to beard growth by stimulating blood circulation and collagen production, two key factors in healthy hair follicles. These effects are the result of a healing reaction triggered by the microtrauma the Dermaroller creates on the skin.
The effectiveness of Dermaroller can be enhanced when used in conjunction with skin care products such as minoxidil or castor oil.
These products can provide additional nutrients to hair follicles and reinforce the stimulating effect of dermaroller on beard growth.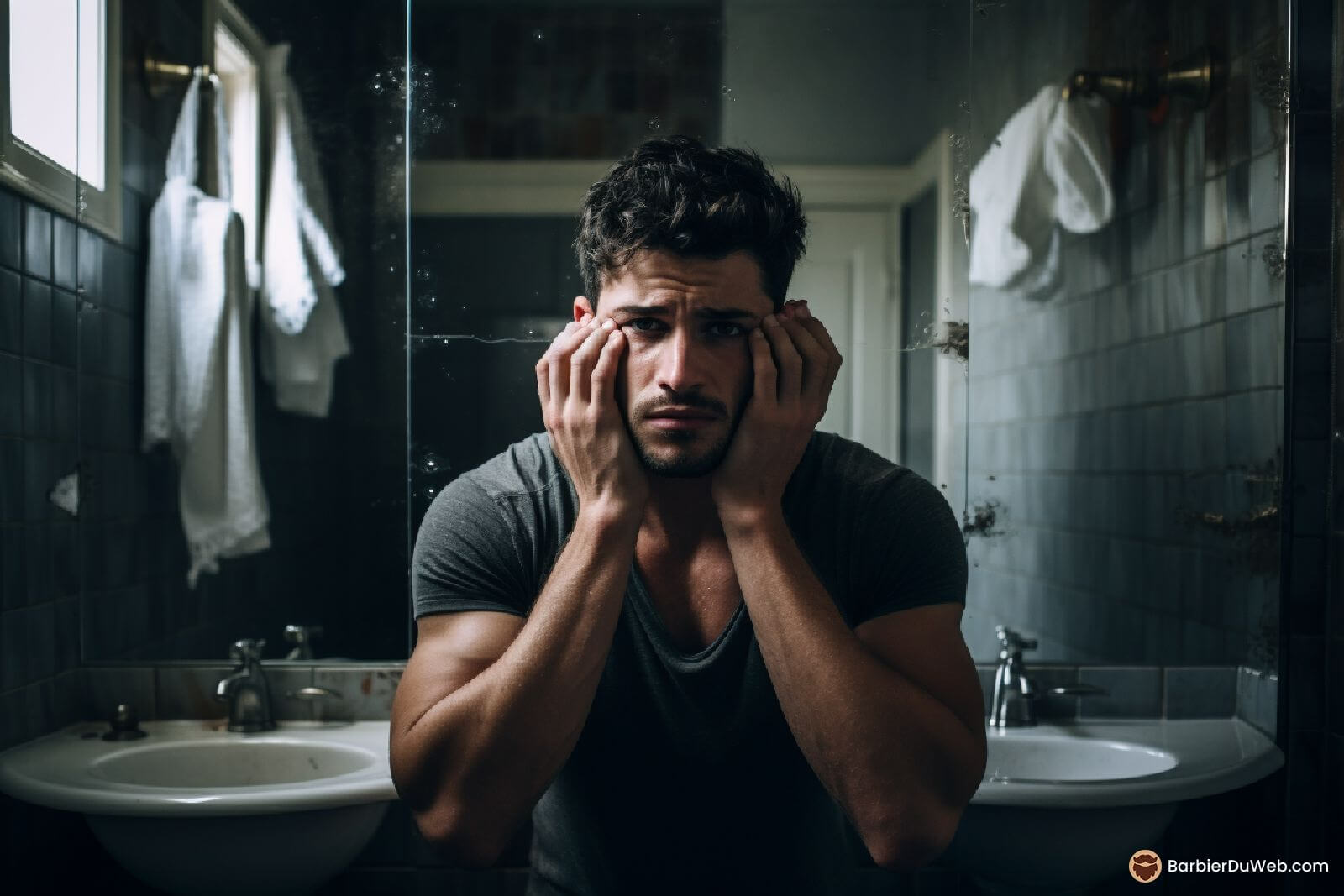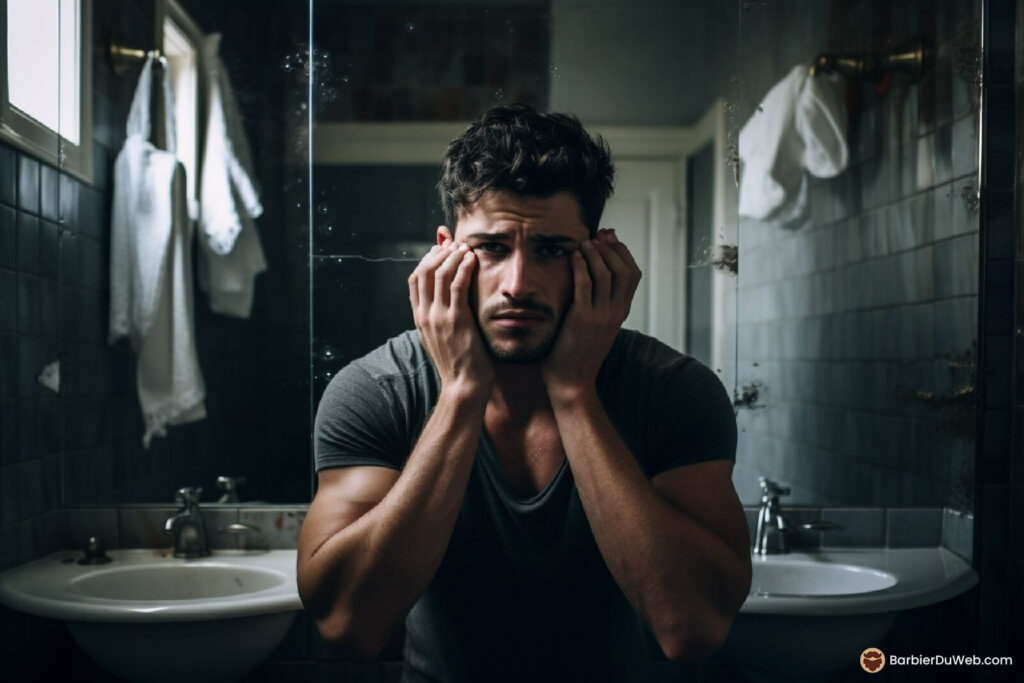 The final word on the famous duo...
The combined use of Dermaroller and Minoxidil can be an effective strategy for stimulating beard growth.
However, it is essential to follow the operating instructions to maximize results and minimize potential side effects.
Don't forget: the patience is the key. Results are not immediate, but with regular and correct use, you can see a significant improvement in your hair density.
Of course, don't hesitate to consult a health professional if you have any concerns or questions about using these products!
Frequently asked questions
How long should I leave minoxidil on my face?
Leave minoxidil on your face for a few minutes. at least 4 hours before rinsing to ensure proper absorption by hair follicles.
Why doesn't minoxidil work for my beard?
If minoxidil doesn't work for your beard, it may be due to misuse of the product, genetic factors, or a lack of patience. Don't forget that seeing results can take several months.
Sources:
https://www.webmd.com/drugs/2/drug-3503/minoxidil-topical/details
https://www.mayoclinic.org/drugs-supplements/minoxidil-topical-route/side-effects/drg-20068750?p=1
https://www.ncbi.nlm.nih.gov/pmc/articles/PMC6691938/
https://medlineplus.gov/druginfo/meds/a689003.html
https://my.clevelandclinic.org/health/drugs/18238-minoxidil-topical-solution-or-foam
https://en.wikipedia.org/wiki/Minoxidil