Description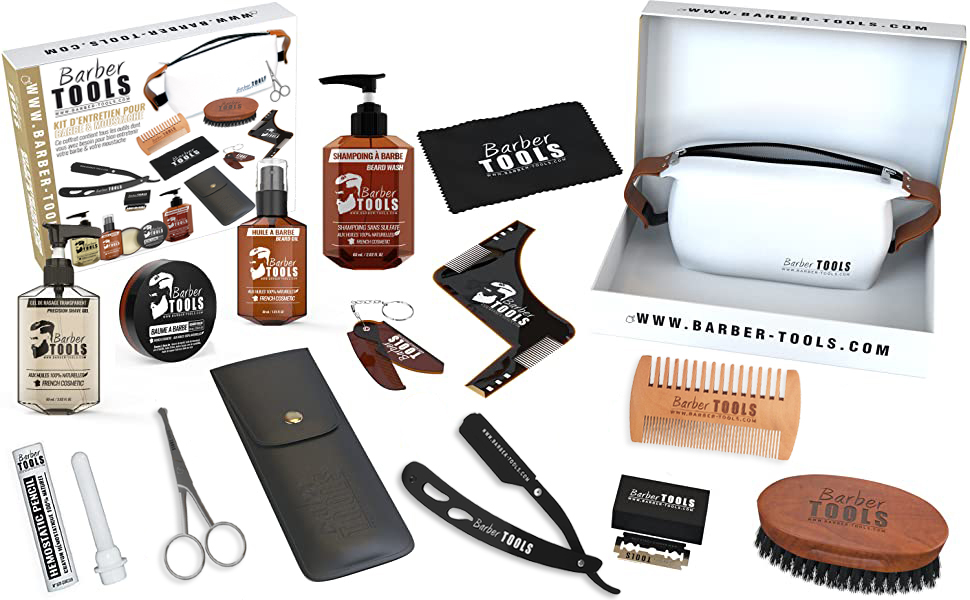 Barber Tools" beard kit : 13 accessories and care for beard and shaving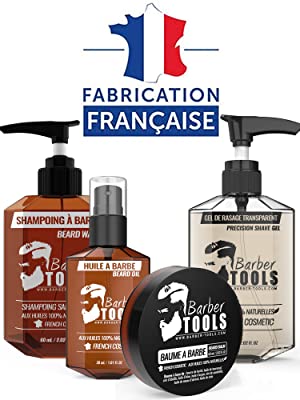 4 cosmetic treatments for beard and shaving
Beard oil
Why is it great?
The natural 100% beard oil will promote the growth of your beard and will bring moisture and softness to your hair and skin.
Ingredients: Castor oilJojoba oil, Argan oilJuniper oil, Maritime pine oil, Eucalyptus oil, Grape seed oil, Olive oil, Sweet almond oilSoybean oil
Beard balm
Why is it great?
The balm brings softness and a fresh scent to your beard. Best used in the morning!
Beard shampoo
Why is it great?
Wash your beard with a shampoo adapted to your hair and face!
Clear shaving gel
Why is it great?
Shave painlessly and gently with shaving gel instead of foam!
9 beard and shaving accessories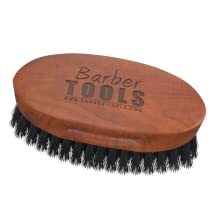 Beard brush
Why is it great?
The BarberTools beard brush with natural boar bristles 100% for a styled and detangled beard in all circumstances!
Useful for : detangle, stimulate the beard, reduce dandruff, curls and frizz, reduce dry skin.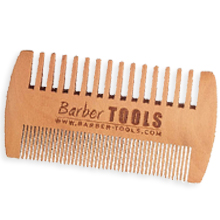 Beard comb
Useful because
Delivered with its pouch, the Barbertools comb in natural wood is perfect for styling your beard at home or on the go.
Materials : Wood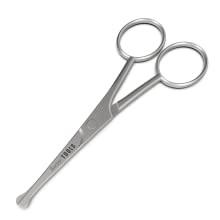 Beard scissors
Why is it great?
Barbertools scissors are of very good quality and are very precise to cut your beard or mustache. The tip is equipped with a protection to avoid injury!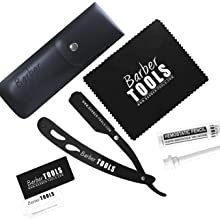 Straight razor
Why is it great?
Barbertools offers us a shaver with interchangeable blades (10 blades included) with a polishing cloth and a storage case.
Easy and precise, it's great!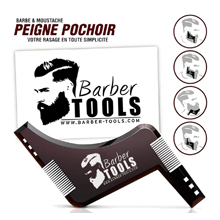 All-in-one comb and stencil
Clever...
Simply because you have two accessories in one: 1 double comb + a stencil to draw your beard like a pro!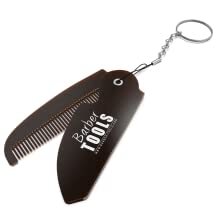 Foldable comb "key holder
Why is it great?
Take this comb everywhere: it will be able to accompany you all day long but also on trips or travel.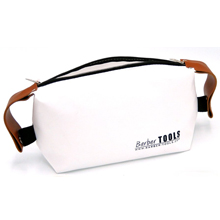 Storage bag
Why is it great?
Take all the accessories in your Barbertools beard set anywhere.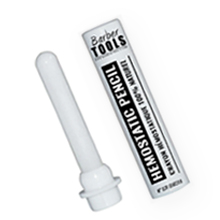 Alum stone (for after shave)
Why is it great?
Purify and soften your skin and beard hair with alum stone, an essential care!
Barbertools : a French 100% brand from Montjoyer
Barbertools is a French brand 100% of Montjoyer which offers products for the care andbeard maintenance as well as the moustache.

The brand has a wide range of products, from hairdressing (brushes, combs) to shaving (scissors and razors) or care with oils, balms and shampoos.