An oil that comes from a cereal, it can only be good for the body and the beard, right? Well yes, wheat germ oil is a real ally for the beard in men. Not only for the beard, as you can imagine: hair, skin and nails are also part of it.
Its regenerating power and anti-hair loss properties will amaze you. Let's find out together right now and learn how to apply it to your beard.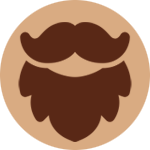 My opinion on wheat germ for beard
Wheat germ oil will regenerate, strengthen and revitalize hair (and skin) that are dry, brittle and damaged by time or external aggressions. Its vitamin and nutrient contents are very nourishing for the beard as well as for the epidermis. It will come to soften and smooth the whole and even proposes an effect which slows down the fall of the hairs.
In other words: use this oil for rough and damaged beards without any hesitation.
What is wheat germ oil?
Wheat germ vegetable oil (Triticum vulgare Vill) is widely used in cosmetics for its natural benefits. Obtained by cold pressing of wheat germ, it is a thick oil that is very nourishing and protective.
It contains a lot of vitamins (A, D, E and K), which allows it to regenerate your hair and your skin. Moreover, its fatty acid contents (linoleic, oleic, palmitic) are excellent, which allows it to nourish a maximum.
It is a rather viscous oil with an oily touch, with a light yellow to brown color. Its smell is rather sweet, with bitter tones.
It contains benefits for the beard but also for the hair and skin, for which it is equally useful.
Let's move on to the benefits that wheat oil can bring to your hair!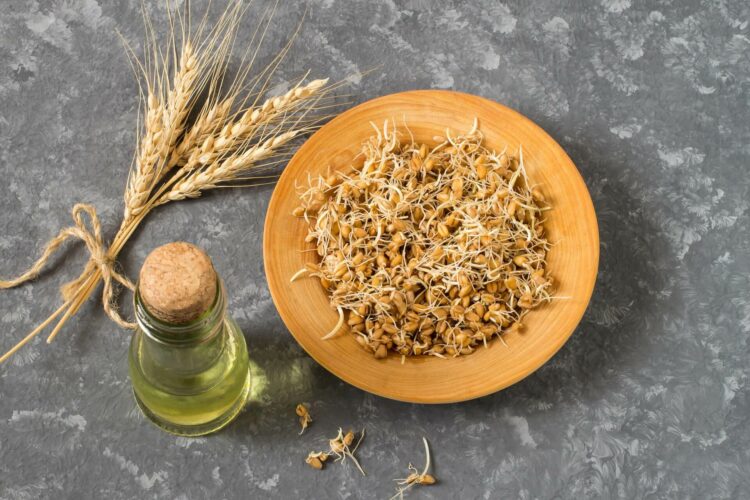 What are the benefits of wheat germ oil on the beard?
Wheat germ oil is one of the oils that will come :
Bring a regenerating effect to your skin and beard
Soften and smooth the hair to give it back its suppleness and elasticity
Nourishing thanks to the fatty acids it contains (and the vitamins of course)
Fight free radicals which are the source of many problems
Bring an "anti-hair loss" effect, it can be good to limit the premature hair loss by stimulating the microcirculation at the level of the hair bulbs
Defend the skin from external aggressions thanks to its anti-inflammatory properties
It will therefore often be used to treat :
dry, rough and coarse hair
hairs that break, that are damaged
split ends
Does wheat germ oil make my beard grow?
Since it is known to fight hair loss, one could say that yes, it grows beard. In any case, it will help a beard that is not full, sparse or downy to materialize and become thicker hair. This is mainly due to its high concentration of vitamin E.
It will thus be necessary to make the small nuance between "it makes grow the beard" and "it prevents the hairs from falling".
That said, I still recommend adding it to your beard routine by combining it with other oils such as carapate (castor) oil, black mustard oil, or black cumin oil (nigella).
Thus, you combine the anti-fall effects of wheat oil with the repellent benefits of other oils !
How to apply it on your beard and face?
I would ask for special concentration when using wheat germ oil on your beard. No I'm kidding, it's just as simple as most oils. In 3 steps, it's folded, you pack up your oil and wash your hands. If it's not beautiful...
To apply wheat germ oil to your beard:
Put a few drops of your elixir in the palm of your hand and rub your hands together. This will warm the oil and make it easier to apply.
Apply to your face and hair while massaging thoroughly. Insist on areas where your beard is dry or your hair is breaking.
Even out by applying it to all your hair, pulling from the roots to the tips.
Leave on for 30 minutes to 1 hour and then rinse. If you don't have an oily beard or skin, you don't need to rinse.
Please note: it makes a very good mix with Jojoba vegetable oil, sweet almond vegetable oil or even avocado vegetable oil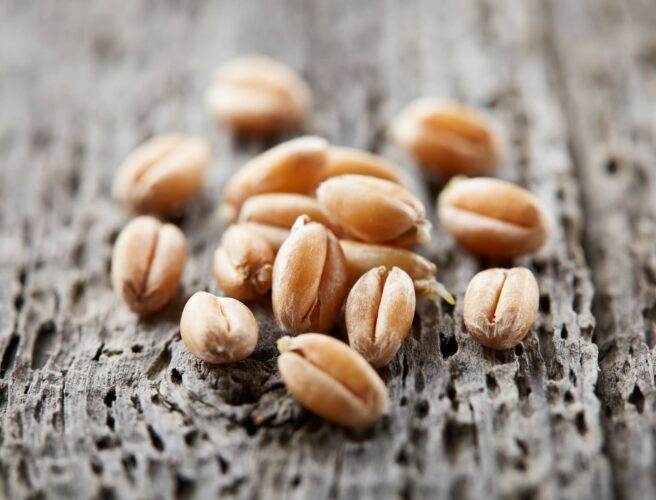 Effective for dry, mature skin, skin and cardiovascular system
You're used to it: oils used on your beard provide various benefits to your body. This is not new, but it's always good to note it and know it when you go to buy your little wheat germ oil.
And after all, if its properties have beneficial effects on your beard hair, why not on the rest of your body?
For the hair, it will be useful for :
Fight against hair loss
Soften very dry hair
Strengthen brittle and damaged hair
For the skin that hides under your hair (and on the whole body), it will be an excellent care:
Nourishing and very rich thanks to the fatty acids it contains: it is therefore preferable for dry skin
Regenerating, protective and repairing, a bit like Argania spinosa oil (Argan)
Softens the skin a maximum
It fights age by fighting the signs of aging
Restores your skin tone to a more vibrant state while firming skin tissue
It fights eczema, psoriasis and other skin diseases
For hair, you can mix it with : coconut butter or ant oil
For the nails, it will harden, strengthen and solidify fragile nails or those that break frequently.
It is even used to prevent cardiovascular disorders and pathologies.
I present to you another oil with a thousand benefits... Wheat germ oil has unexpected properties that are very surprising.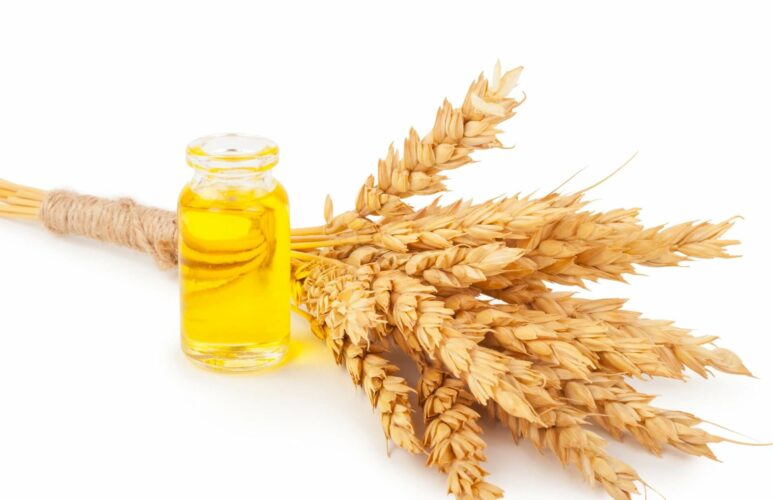 Wheat germ oil: say goodbye to brittle hair and dry beard
If your beard is dry, brittle, split and damaged: take the plunge and try wheat germ oil. In fact, you can also try keratin, which works wonders on beard and hair.
Beauty ingredient for the beard, it will nourish and provide the necessary nutrients to your precious hair (and skin) to regenerate, protect and repair in depth.
Its anti-hair loss properties are important to note, as this can be very useful for bearded people who are starting to see their beard receding or holes forming.
In addition to being excellent for your goatee, it brings enormous benefits to your skin, your hair or your nails.
In short, I think this is an oil that has a place in your beard routine.