Not sure how to get a Tsepa Beard? Need more information on how to create the look of your dreams? It's simply a type of beard that can perfectly give you a chic yet casual look.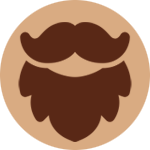 What is the Tsepa beard trimmer?
You have probably already heard of the short beard the three-day beard, the hipster beard or the goatee. But the Tsepa beard style may not be in your vocabulary yet. The goal is simple: if you have a long enough beard, all you have to do is grow the hair on your cheeks, cheekbones and neck.
Why is the Tsepa beard style known?
The Tsepa beard has been known for a few years now: it's a real fashion statement among men! With it, you will have a long beard: it must be maintained and cared for.
This is a style of beard that will not suit everyone. Indeed, some men do not like to have a beard too long, even if it is well maintained and well trimmed. Nevertheless, it remains very fashionable lately. More and more men are opting for this neat, but offbeat style.
If you are interested in adopting the Tsepa, don't hesitate to ask your barber for advice. He or she will be able to tell you whether or not it's a style that can suit your face.
How to trim a Tsepa beard? The Tuto !
When you have a long and sculpted beard, the Tsepa beard cut requires a rather particular technique. If you want your beard to have a beautiful shape, I advise you to Start by going to the barber: he will give you all the advice you need to know for a perfect Tsepa beard style.
Of course, you can trim it yourself at home if you're comfortable with the barber's tools. That's what you'll learn below!
1. The hairs you need to grow
To adopt a Tsepa beard, some hairs must not be cut. You need a solid base of hair to be able to work this style of beard to perfection. We recommend that you let your hair grow out so that it is truly :
Under the chin.
At the level of cheeks.
At the level of the cheekbones.
2. The hairs you need to cut
Once you have a long enough beard:
Start by cutting some hair.
You need to take care of the ones around the edges, on the cheekbones and on the neck.
To properly sculpt your beard, you'll need to create a clear line of demarcation.
All that's left is for you to blend in the cheeks.
You need to reach a goatee length at this point.
You must take care of the cut of your beard, but also the contours of the latter.
3. The finishing touches
The last step in getting a Tsepa beard is simply to do the finishing touches. When you have finished your cut :
It is necessary to detail the rebellious hairs with the help of precision scissors. You should not skip the mustache.
Then opt for a beard oil or wax that you are used to using. This will simply tame and discipline your beard.
What shape of face does the Tsepa beard go with?
The Tsepa beard style is not necessarily suitable for all men. Since the latter is rather long, it is preferable to have a head :
This will simply lengthen and refine the face of the bearded man who wears it. If you already have a long face, we recommend a shorter beard cut so as not to increase the height of your face.
Maintenance of the Tsepa beard
To make sure your Tsepa beard is always perfect, don't hesitate to do some touch-ups when you have stubborn hairs. Indeed: the perfect side of your beard lies in the fact that it is perfectly sculpted.

You must therefore take the time to maintain it on a daily basis:
Otherwise, you can use balm: just apply it after your shower in the morning for an optimal result
Remember to keep the lines and contours of your beard clean, otherwise you will lose the essence of the Tsepa style!
Conclusion: what you should know about the Tsepa beard style
In conclusion, the Tsepa beard trim can give you a pretty cool look. Nevertheless, it is not for every man.

Indeed, some people do not have the time nor the desire to take time to maintain this kind of beard. It should also be noted that the latter requires a maintenance regular as it requires :
Trim stubborn hairs on a weekly basis.
That it is always impeccable.
Take care of it with products like oil, balm or wax.
We hope that with this article you have all the necessary information.
All you have to do is adopt this beard style on a daily basis! If you don't think this is the look for you, here are some others !
FAQ
The Tsepa beard is a real fashion phenomenon. Nevertheless, if you want to learn more, this FAQ is for you!
The Tsepa beard style is simply a rather innovative concept. It was created by John Cafagna and Joris Giovinazzo, who are two members of the Facebook group BarbeChic Le Forum.
The Tsepa beard style can have many benefits:
It gives you a strong style. Indeed, a well-trimmed beard gives you a neat and perfect look.
The Tsepa beard can also be suitable for any occasion: whether you are going out with friends or going to work, it is the style that adapts to all situations.
It's a trendy look that's not going anywhere anytime soon. Adopting this style of beard allows you to easily change your look, while staying trendy!