Do you have a short beard, but it's not always as tidy as you'd like? Don't worry, the beard straightener is here to save the day!

In addition to being your new best friend for a sleek, stylish beard, the heated comb is a great way to show your beard who's boss. But beware: not all straighteners are created equal!
What is the best straightener for a short beard? This is what we will discover in this comparison of the best models.

Get ready to discover the secrets of the perfect beard with our comparison of the best heated beard combs for short beards!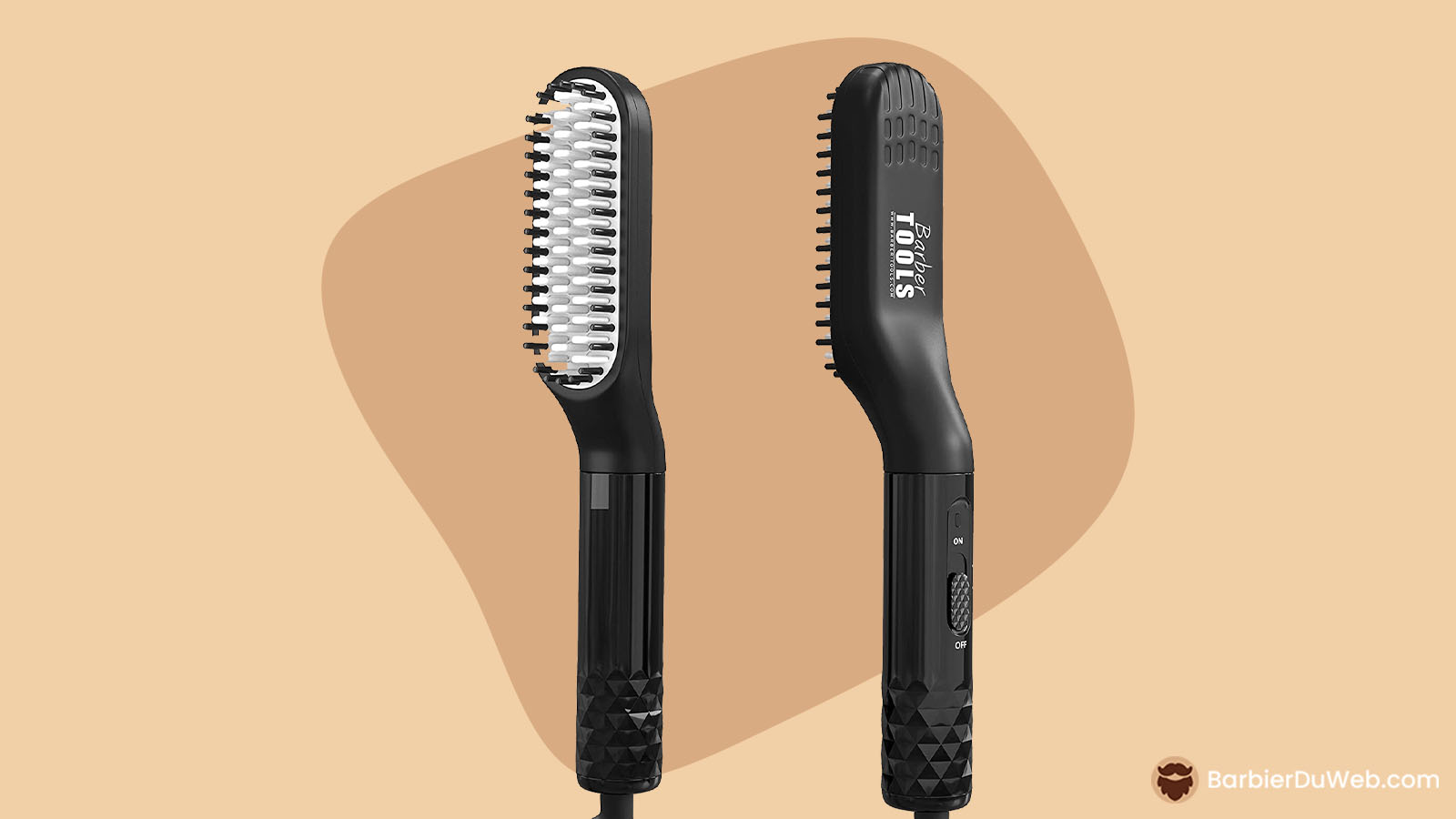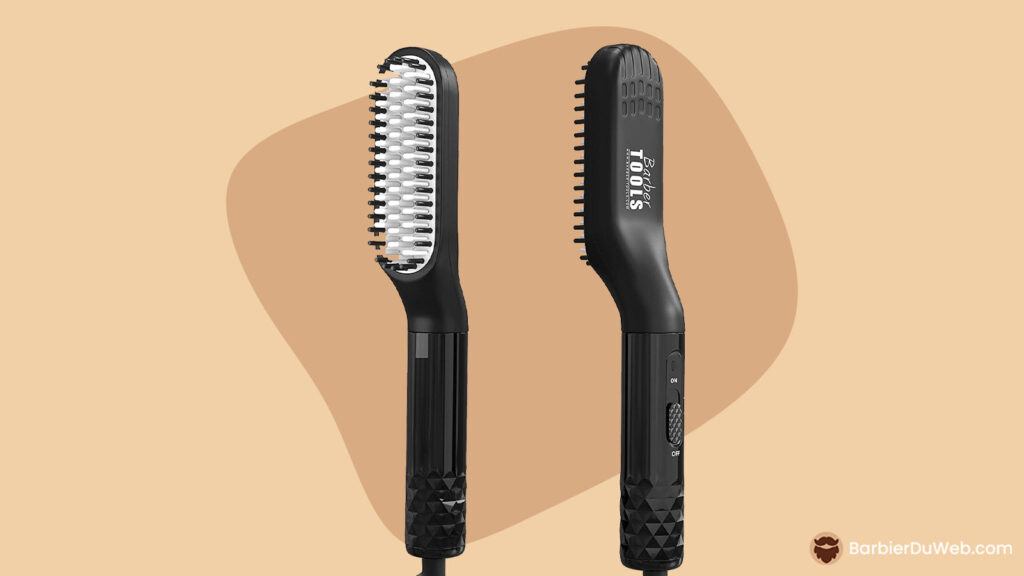 Vikicon - Cordless straightening comb for short beards
Vikicon Cordless Beard Straightener
Want a beard straightener worthy of a Viking that will give you a perfect style without damaging your beard or burning your face? Then check out the Vikicon beard straightening brush, designed specifically for facial hair.
Cordless and lightweight, this heated brush goes anywhere for fast, convenient styling. With its advanced ionic heat technology, you get long-lasting, frizz-free results in one brushing and straightening motion.

For optimal temperature control from 150°C to 190°C, the Vikicon hair straightener has an LED display and a lock function for easy and safe operation.
All in all, this is a great straightening comb that I recommend to all bearded people!
Fayleer - Straightening brush for short beard
Promotion
Fayleer beard straightener
Simplify your life with this 2-in-1 beard straightener that can also style your hair. With its advanced PTC heating element, it guarantees fast and stable heat in just 30 seconds for a neat and natural looking beard.
Custom temperature selection : With 6 adjustable temperature levels (120-220°C), you can easily select the ideal heat for your beard and hair.
LCD display and security features: The LCD display allows you to monitor the setting and the brush automatically turns off when not in use
Ceramic coating for maximum protection: The coating provides perfect smoothness while protecting your beard and hair from heat damage. Silicone combs easily detangle your hair while ceramic heating elements provide gentle heat for safe use.
Small, practical and ideal for travel: Measuring 19.5 x 2.7 x 3.2 cm and weighing less than 280g, this straightener is easy to take anywhere with you.
In short, transform your beard in no time with this Fayleer straightener, the essential tool for a perfect beard!
Benefits
6 temperature settings
Heats up quickly
Smoothes hair and thick hair
Does not burn
Very nice design
Disadvantages
No thread rotation
Less effective on short beards
Barber Tools - Short Hair Straightener Kit
Barber Tools straightener set
For a perfectly disciplined beard and smooth hair, the Barber Tools Straightener is the accessory you need! With its compact size, you can give your beard the shape and length you want without having to call in a professional.
The kit includes everything you need to maintain your beard: a comb, a storage bag, a 100 % boar bristle brush and scissors. Everything is stored in a large, convenient bag so you can take your beard kit with you anywhere.
So don't wait any longer to give yourself the perfect style with the Barber Tools Straightener. It's time to get a tidy beard and smooth hair!
Benefits
Smoothes quickly and effectively
Long enough cable
Lightweight and ergonomic
Disadvantages
May seem a little slow to warm up
"Only" 2 temperature settings
Axceed - Heated Brush for Short Beards
Axceed heated brush
The Axceed straightener is designed for bearded men who are looking to have a neat beard in no time. With its ergonomic shape based on the contours of the human face, it adapts perfectly to your beard for quick and easy styling.
This 2-in-1 straightening comb has 5 temperature settings for optimal use depending on the length and thickness of your beard. It features a ceramic heating element for even straightening and maximum protection against skin and hair damage.
The ergonomic handle and 360-degree rotating power cord ensure easy, tangle-free use. This slim, lightweight straightener can be used anywhere, with a universal voltage of 100V to 240V.
Transform your beard into a neat, long-lasting style in minutes with the Axceed straightener. It's easy to use and allows you to get the style you want in no time.
Benefits
Heats up quickly
5 temperature settings (from 120 °C to 200 °C)
Small, ideal for travel and comfortable to use
Authentic and pleasant design
Rotating cord

Disadvantages
Temperature limited to 200 °C
No ionic system
Anlan - Heating comb for short hair
Promotion
Anlan heating comb
✨ The Anlan Beard Straightener is an innovative accessory to smooth and straighten your beard. It heats up quickly in less than 60 seconds to temperatures between 120°C and 200°C.
🔥 With 5 different temperature settings, you can choose the best temperature for your beard and style it safely without the risk of burning. The heated surface is placed 3 mm lower than the teeth of the comb for more safety.
💈 This 2-in-1 straightener can straighten and comb your beard or hair. It uses ceramic heating elements for a long-lasting effect and the brush rotates 360 degrees for easy use at any angle.
🎁 This straightener is ideal for men who want to straighten their curly hair and style their beard. With its compact size, you can take it with you on a trip to take care of your beard at any time. It's a great gift for bearded men.
Benefits
Heats up quickly
Effective on short beards
Good value for money
Lightweight and ergonomic

Disadvantages
Can feel hot
No carrying bag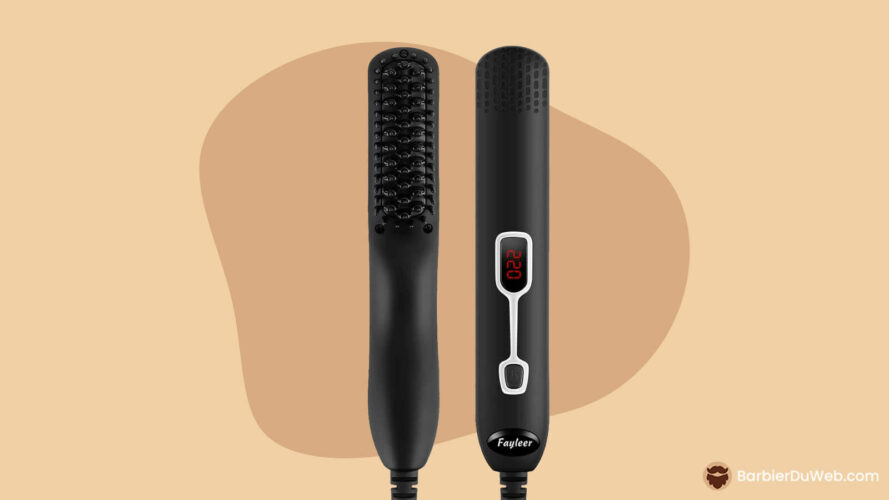 How did I choose the best smoothing brushes for short beards?
As a bearded man, I fully understand how difficult it can be to choose the right product to care for and smooth your beard. That's why I made sure to make a careful selection to help you choose.
I have personally tested some of these products and I have also consulted many user reviews online or test results available on the web. I also watched videos on YouTube and asked for recommendations from experienced salespeople in hair stores.
By choosing among these products, you can be sure to make a wise choice for maintain your short beard.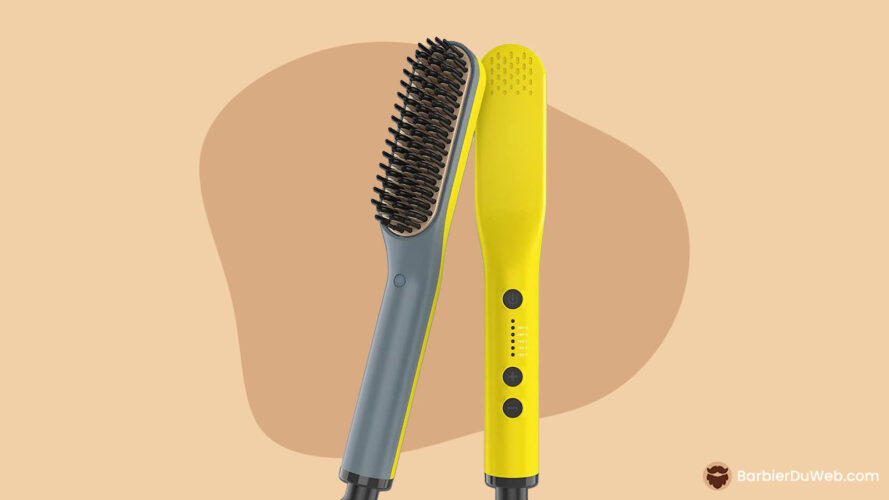 What is a short beard straightener?
A short beard straightener is an electric device designed to help men style and style their short facial hair. It looks like a straightening iron, but with teeth (also called spikes) to accommodate thicker and rougher, albeit short, beard hair.
The benefits of using a short beard straightening comb are many:
Custom Style: With a straightening brush, you can give your beard the shape and style you want and especially adapt your beard to your face shape. Whether you prefer a cleaner, more polished look or a more casual shape, a small beard straightener can help you get it done in no time!
Time saving: Styling your beard can be tedious and time consuming. A straightening brush allows you to style your hair quickly and efficiently.
Comfort of use: Short beard straighteners are usually designed with comfortable handles and an ergonomic shape, making them easy to use.
Skin and hair care: Many heated combs come with skin care features, such as ceramic plates that help regulate heat and minimize heat damage.
In short, a short beard straightener is an essential tool for men who want to have a well-styled and styled beard, even if it's short!
So if you want to give your beard a professional touch in no time, why not invest in a straightener?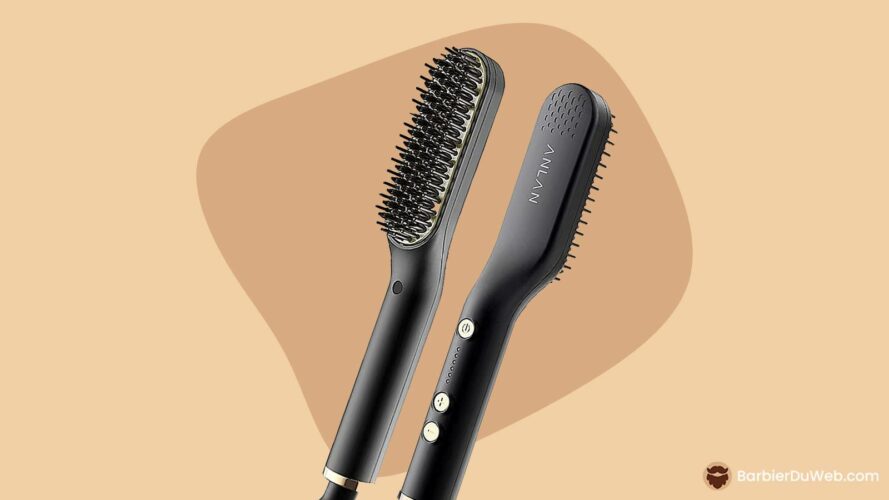 How do I choose a straightening brush for short beards?
Beware, bearded men! If you're thinking of getting a short beard straightener to get a flawless shape in no time, it's important to determine your buying criteria.
To get the best results, it's important to choose your straightener carefully! Consider the size, features like adjustable temperature, grip, or durability. But that's not all!
There are still other important criteria to consider when choosing the perfect straightener for your short beard:
Straightener width and pin size: Choose a straightener that matches the width of your short beard, so that the heated brush can easily contact all beard hairs, no matter how short.
Smoothing technology: There are several straightening options, such as ceramic, titanium or tourmaline plates. Ceramic plates are gentle on hair and distribute heat evenly, while titanium plates are more durable and resistant to wear. Tourmaline plates add shine to your hair while protecting it from heat damage. 
Temperature control: Being able to control the temperature means not burning your precious beard hair. Look for a heated comb that has an adjustable temperature range and a temperature lock function to maintain your chosen temperature throughout the straightening process. Useful for a beard as smooth as a tiktok or snapchat effect !
Ergonomic design: Avoid heavy, awkward straighteners that can cause fatigue and wrist pain. Plus, it makes them much less pleasant to use. Look for straighteners that have an ergonomic handle for optimal comfort during use.
Additional features: Features such as auto sleep mode, overheat protection and temperature lock function can make your life easier. Make sure you choose a straightener that suits your needs and preferences.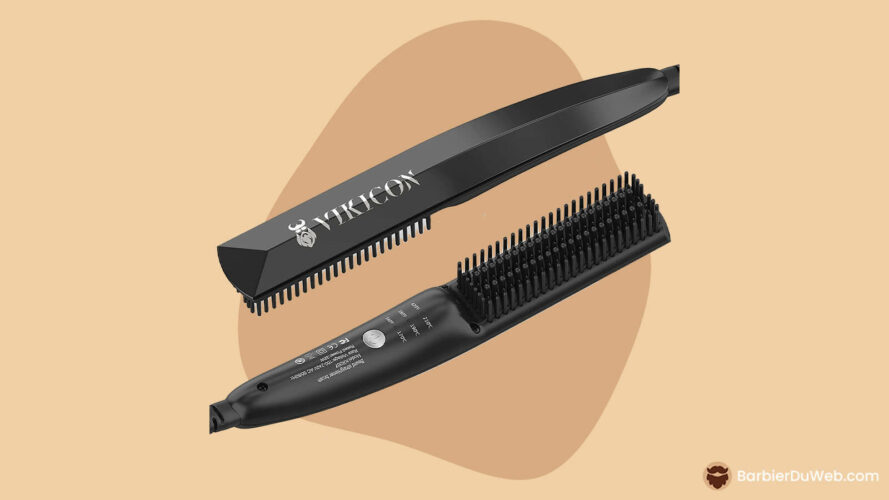 Why buy a straightening comb?
Discover the benefits of the beard straightening brush to care for your beard! This handy tool can help you detangle your beard, give it shape, make it longer and save you time.
Detangle your beard: The straightener is designed to remove knots and frizz from your beard. You'll be able to smooth out your curly beard or brushcutter without damaging it or breaking your hair. Useful to perfectly prepare your beard for the identity photo or for a date...

Shape your beard: The straightening comb is also useful for giving your beard shape and style. You can easily adjust the shape of your beard to match your personal style and doesn't go off in all directions or that it doesn't irritate your girlfriend's chin.
Easy to use: The straightening brush is easy to use: just turn it on, set it to the right temperature and use it to style your beard. Whether you have a 1 cm beard, of a month or more, it's fast and convenient!
Make your beard longer: By using the straightening comb, you can make your beard longer and more groomed. You could have a big viking beard or you can make a nice ducktail beard with a little more length!
Time saved: By using the straightening comb, you will save time. You'll be able to style your beard faster, which means you can focus on other important tasks.
In summary, the straightening comb is a handy tool for taking care of your beard. It can help you detangle your beard, shape it, make it longer, and save time.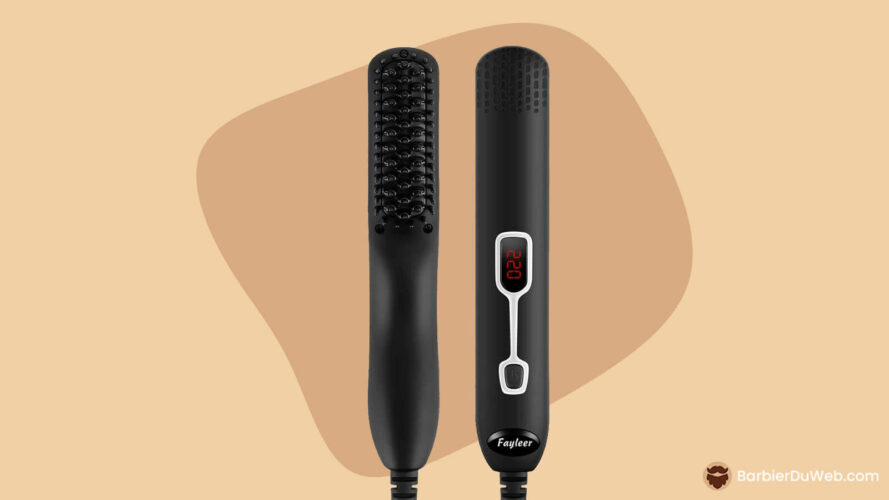 Before and after of using a straightener on a short beard
Let's see how this magical accessory transformed these men's beards in minutes!
Check out these before and after photos that show the complete transformation of their beards.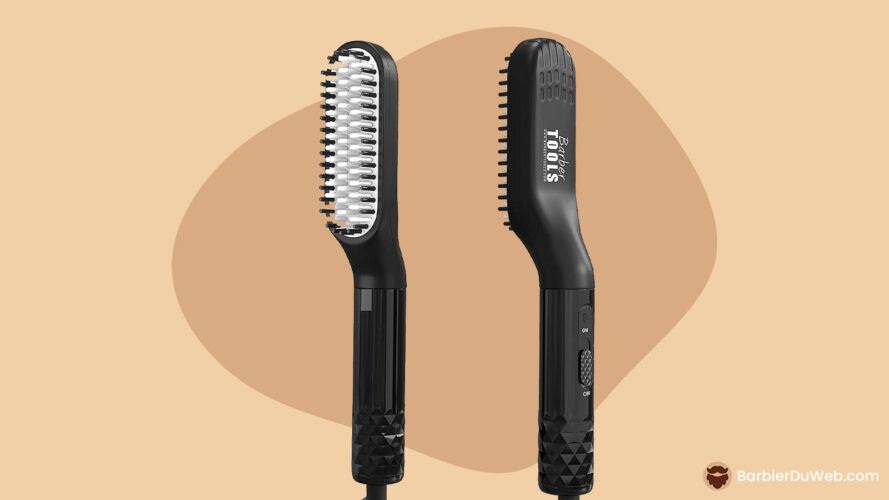 Maintenance and cleaning of the heated brush
It is important to maintain regular maintenance of your beard straightener as this will prolong the life of the device.

Indeed, regular maintenance ensures optimal performance of the straightener, as well as better personal hygiene. A well-maintained hair straightener also provides a more aesthetically pleasing appearance.
Follow these steps for effective cleaning:
Turn off the straightener and let it cool down completely,
Remove trapped hair and fur between the pins,
Clean up with white vinegar, alcohol or clear water,
Rinse with clean water and wipe them dry to remove any residue,
Dry carefully and store the straightener in a dry place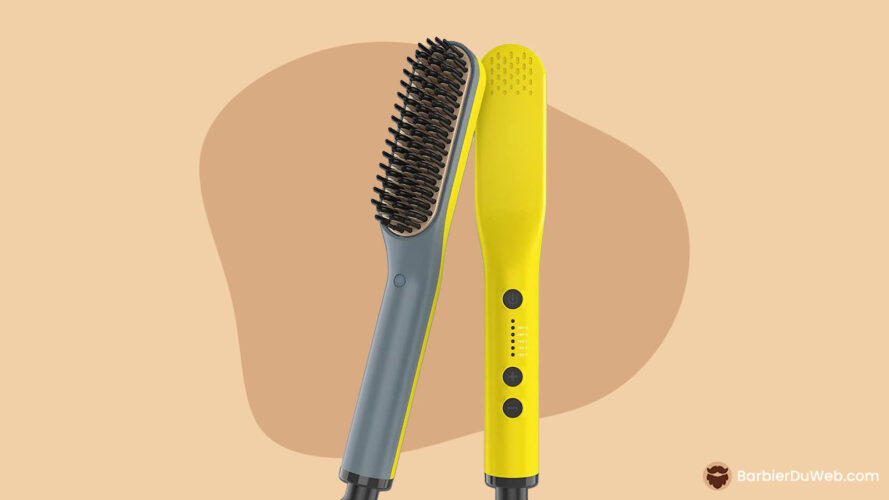 Care to use with the heated comb
Oils
The beard oils can be used before or after straightening to add moisture and shine to your beard. They nourish the hair and leave it soft and supple, while preventing dryness and irritation.
Balms
Beard balms can also be used before or after straightening to provide deep nutrition and control. They help maintain the shape of your beard and leave it smooth and disciplined.
Waxes
The beard waxes are ideal for use after smoothing, as they provide a firm hold for a perfect finish. They can also add texture and definition to your beard.
Gels
The beard gels can be used after straightening to provide additional control and custom styling. They help maintain the shape of your beard while giving it a smooth, shiny finish.
Serums
Beard serums can be used after straightening to provide intense nourishment and shine. They can help strengthen hair and leave it soft and shiny.
Sprays
Beard sprays can be used after straightening to provide moisture and hold. They can help maintain the shape of your beard and leave it soft and supple, while giving it a shiny finish.
Lotions
The beard lotions are often used before straightening to moisturize and nourish the beard, which can help reduce frizz and split ends.
They can also be used after straightening to give the beard a soft, shiny finish.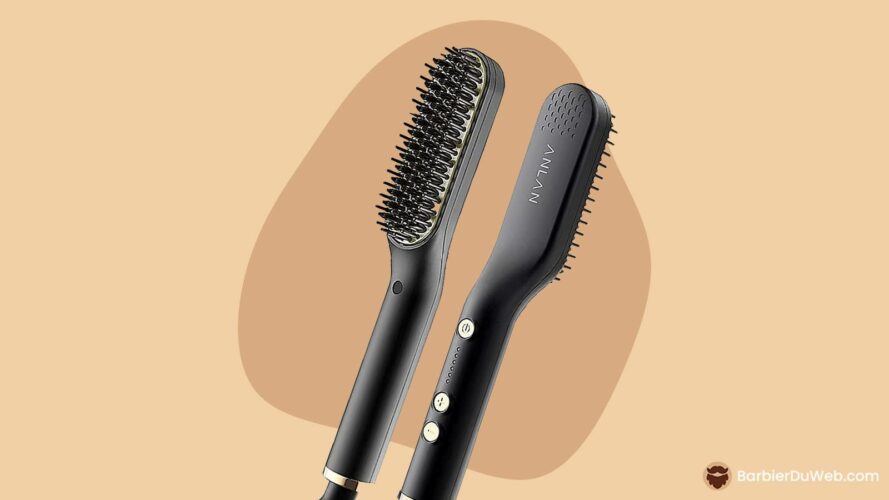 Alternatives for a smoothed beard
Hair dryer for beard
The beard dryer is a must-have accessory to achieve perfect straightening without a straightener! It can be used in combination with a brush or a comb to obtain even more satisfying results.
It shapes the beard by directing it in the desired direction with a comb, thus avoiding unwanted frizz.
Beard brush
The beard brush is a must-have grooming accessory for men who want a well-groomed, silky beard. The beard brush helps detangle and style hair, while stimulating blood flow for a healthier beard. It can also help eliminate dandruff and control frizz, making it a great choice for people looking to avoid frizzy hair.
Beard comb
The beard comb is a must-have accessory for men looking to style their beard with precision. With its beard-friendly teeth, the beard comb is ideal for detangling hair and combing it in the desired direction, while eliminating tangles and frizz.
The beard comb is also perfect for everyday use, as it can be taken anywhere for a quick and efficient combing of your beard at any time of the day.
Short messy beard and straightener: the winning combo!
We've gone through the best beard straightener models for short beards, highlighting their unique features and benefits.
As you can see, the heated comb is an indispensable tool for any man who cares about his appearance and wants a well-groomed and stylish beard.
To choose the right model, it is important to take into account your personal needs and the necessary features.
Regular maintenance and cleaning of your straightening brush is also important to ensure optimal long-term performance.
For extra care, use a beard balm or beard oil to smooth and care for your beard!
Finally, don't forget that the beard is a key element of your appearance and deserves your full attention: take care of it and show the world your unique and confident style!
Frequently asked questions
It all depends on the length and texture of your hair! Try to use it on a minimum of 1 cm to 1.5 cm in length. In general, the longer the hair, the better the result. Be careful not to burn your face if your beard is very short.
More info in this video!