Finding castor oil mixed with other body care products is easy! Buying the right pure and organic castor oil is another story.
To choose your castor oil, it should be virgin, 100% pure and preferably organic or vegan, to be sure to know its origin and its manufacturing method.
So I've selected the best pure castor oils to make your job easier!
The choice of the BarberDuWeb
Why choose pure castor oil?
First of all, it's a matter of principle. If you're going to buy a good castor oil, you might as well buy it 100% pure !
Then it's good because we know the origins of the product, its components (only castor oil) and its manufacturing process.
So you can use your pure castor oil in a mixture with other oils or even in your shampoos. It even works on the skin!
Where to buy pure and natural castor oil 100%?
Although the best way to find it is Amazon, you can also find them in pharmacies and supermarkets. You will also find online stores more or less specialized in oils.
I will therefore present to you the best pure, natural castor oil 100% and for the most part organic and/or vegan to buy on Amazon :
What oils should I mix it with to get the best benefits?
It is possible to mix pure castor oil with other vegetable and essential oils to maximize the effects on the whole body:
Mix them together in equal amounts to make the perfect elixir for your beard, skin or hair!
Castor oil 100% pure for beard, hair and skin
Castor oil has many benefits, such as moisturizing, extra-nourishing or its "magical" function: grow a beardand hair!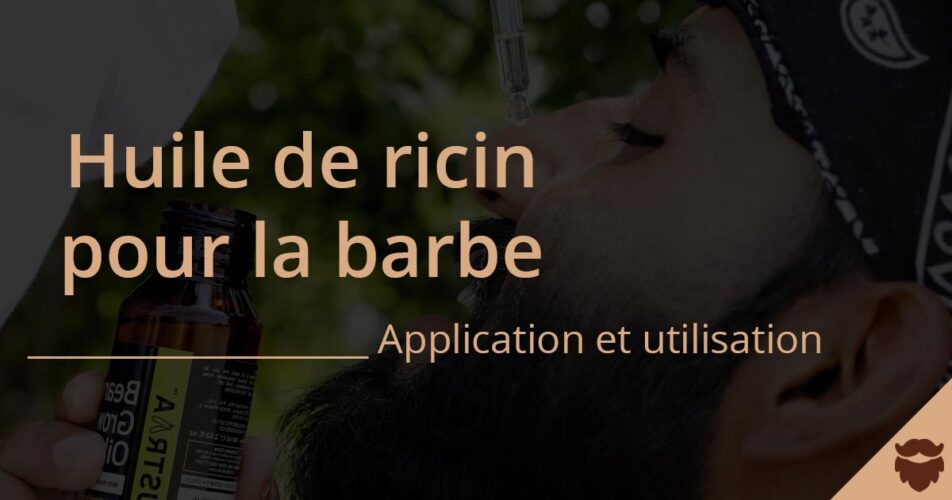 Use organic castor oil for your beard
It will be an incomparable ally! Its properties and benefits make it the perfect beard oil. She will know moisturize and nourish your hair and your skin and it makes your goatee grow.
In aftershave as in daily oil, it will know how to make shine and soften your beard while making it more dense and powerfule. It even has protective properties, which allow to strengthen your hair.
How to apply it on the beard?
First, start by washing your beard with a shampoo for the beard.
Next, dry with a small hair dryer and brush your beard with a beard brush and a bath towel.
Apply a little castor oil all over your dry beard.
Then, cover your beard with a warm, moistened towel and leave on for 30 minutes while the oil penetrates deeply.
Finally, rinse thoroughly with warm water and repeat with cold water for blood circulation.
And TADA! A dashing beard!
If you want to apply it like a pro, depending on your beard the steps may change, read our article to know how to use castor oil on your beard !
Pure castor oil is excellent for hair
Castor oil can be applied to all hair types, whether thin, thick or curly. It nourishes your roots and makes split ends grow.
It helps thicken your hair, strengthen it and make your strands grow. It will also be an essential ally to regenerate the skin in depth!
How to apply it to the hair?
Castor oil use on dry hair.
Being very thick, it is advisable to use it in a mixture with coconut oil or sweet almond to make it more fluid.
Then, it is necessary to coat the hands with the mixture andapply carefully to your entire scalp, in a homogeneous way.
Gently massage your entire skull to activate its action.
Once your entire scalp is soaked, spread the castor oil to the lengths and ends using a hair brush or your fingers.
Put your hair in a bun or braid if it's long.
Leave on overnight, then wash your hair twice with a mild shampoo, paying special attention to the roots.
Natural castor oil is effective for the skin
Its nourishing, regenerating and restructuring properties make it a excellent oil for skin care. Indeed, it will know how to moisturize your dry skins and repair the effects of time.
It has anti-aging propertiesThese products help to slow down the process of wrinkles appearance or fight against the loss of firmness.
For the skin of the lipsIt will feed them and improve their general condition!
How to apply it on the skin?
Spread the castor oil in circular motions for two minutes to deeply penetrate your skin.
Use a glove soaked in warm water and leave it on your face until it cools.
Once cooled, use the glove to remove excess oil from your face and rinse.
Then, you must moisturize your skin with a moisturizing cream that best suits your skin type.
Organic, pure and natural castor oil? Great for the whole body care!
As we have seen in this article, pure castor oil is not found everywhere and it can be complicated to find the right one to buy.

It will be of great use for the whole body: your beard, skin or hair thanks to its many hydrating and nourishing benefits.

Indeed, castor oil has many virtues, whether it is used on the beard, hair, skin, nails etc. ..., it is a real remedy for many concerns!