In these boxes, you will find a range of tools to trim and maintain your beard. But be careful: in these Barbershops boxes you will find quality products and sometimes even accessories that you would never have thought of...
Between accessories and products, you will find your happiness in these kits, and if you are a beginner in beard, they will be a great help, for sure! For the more experienced bearded men, these BarberShops packs will be a real help to take care of the beard and maintain it over time.
Let's go ! I'm going to show you the best care sets I've selected for your favorite hairs.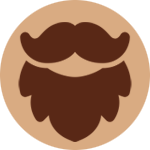 The best barber shop sets for the pros
A good kit is a professional kit is versatile and contains mostly useful accessories and products for daily beard care.
You will have to choose:
A complete set with a variety of products and accessories
Quality at a reasonable price
Good evaluations of the bearded ones in person (surely the most important point)
FullLight Tech Beard Care Kit with Dermaroller "Beard Growth
The kit FULLIGHT TECH is perfect for all your daily beard care, grooming and trimming needs! The ingredients in the care products are 100% pure, which is perfect for all beard types. As for the accessories, they are of very good quality.
It contains 7 quality products and the price is still very affordable: it is one of my favorites!
Contains:
60 ML of beard shampoo
2.30ML beard oil
40g of beard balm
A pair of scissors
A brush
A wooden comb
A beard model (electronic guide)
Its small storage pocket
Highlights:
Natural and quality products
Attractive price
Complete kit
Camden Barbershop Company Maintenance Kit
The "ORIGINAL" barber shop set from CAMDEN BARBERSHOP COMPANY is the perfect kit for all beard wearers: indeed this beard care set contains the most popular care products of CAMDEN BARBERSHOP COMPANY and is intended for everyone and for all types of beards.
Contains:
A beard oil (awarded several times)
Beard balm
Beard comb made of pear wood
Ergonomically shaped beard brush with natural bristles
Pouch to carry all your products
Isner Mile Barbershop Beard Pack
The beard care pack ISNER MILE offers you professional products to take care of your beard. In 2022, the brand even updated its beard set to meet the needs of all bearded men, because of course each beard has its own character...
The ISNER MILE beard kit is also very complete with a variety of products and accessories.
Contains:
A professional stainless steel straight razor
A beard shampoo
A beard oil
A beard balm
A boar bristle brush
A natural mahogany comb
Stainless steel scissors
A beard model tool and a travel bag
An electronic beard book
Highlights:
Contains many products
Very good quality products
A reasonable price
What will I find in my barber shop package?
It depends on the kit you choose, in general the barber shop kits contain some professional care (waxes, balms, oils, shampoos...) and some accessories (brush, comb, scissors...)
The pack can also contain a trimmer, a razor, a cabbage cutter or a shaving brush, useful for the first hairs that are on the lookout or those that are already in their prime.
Not all of these products and accessories are necessarily included in the same pro beard pack... Again, it all depends on your use! Even with luxury beard boxesThere is no pack with ALL the possible accessories and treatments.
A little advice: If you are a beginner, choose a very complete set, with a variety of products and accessories to take care of your beard or make it grow and maintain it daily!
How do I choose my Barbershop beard pack?
To properly choose your beginner barbershop package, I recommend a package that :
Contains the necessary elements (products and accessories)
Has a reasonable price
Offers quality and natural products
Be well rated (if possible, look at the evaluations given by other bearded men on the kits).
The perfect Barber Shop set: a kit of quality natural products and diverse accessories!
We have studied together the various beard care sets offered by different brands, and we have found that it is possible to equip yourself very well for not too expensive.
All kits are different, but they always include a few products and accessories that your beard will love. Whether it's to care for, trim or grow your beard, they always meet your beard's needs.
There is nothing left to do but ! Go ahead Mister take care of your goatee and prick the heart of Madam...
Frequently asked questions
With an average of 20 euros, you will get a kit more or less complete with good products, no need to be rich to take care of his goatee.
If I had to pick 3, I would say:
They are complete, affordable, of very good quality and appreciated by the bearded ones!