Jack Sparrow's beard, the famous captain of the Black Pearl, is a hit with bearded men, because of his very particular and pirate style.
If you still don't know what it is and where it comes from, its origins... You're in the right place.

If you also want to have a pirate beard like the captain of the Black Pearl, you have followed your treasure map... You will even learn how to maintain it (not like the pirates who had to let themselves go...)!

Come on, let's go Sailor! ☠️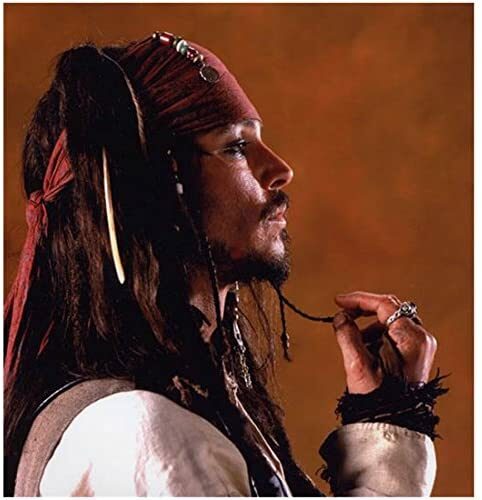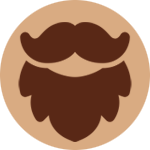 What is the Jack Sparrow beard?
Jack Sparrow's beard is composed of 3 elements: a mustache, a relatively short goatee and long braids.
As you may have guessed, the iconic element of this pirate beard is the beard braids and beads (or other jewelry).
Since the thing most people remember about Jack Sparrow's beard is the braids, so you can afford to play around with that to make your own pirate beard.
Also, this style has a mustache and a disconnected "soul patch".
There is no hair on the cheeks or sideburns and has a clearly defined neckline.
On the side of the chin hairs, we are quite close to the dreadlock beard which offers a similar result on the dreads of our pirate friend.
Where does the style of Captain Sparrow in Pirate of the Caribbean come from?
Captain Sparrow's Beard is based on several different themes. If the braided beard and beads were seen on 18th century pirates, this style was also common among many traveling merchants.
The braided beard style actually dates back to much earlier times and is believed to have originated in Scandinavia. Indeed, the Vikings braided their beards as the pirates did later.
In the end, it is surely from these great Nordic sailors that the pirates were inspired for their braided beards.
The "Sparrow" and other pirate beard styles
The pirate beard is the general term to describe many different styles. Some pirates had a braided beard like Jack's, while others simply had a very thick, full beard. A full beard, rather ruffledlike the pirates.
In reality, it depended a lot on the time and even the country they came from.
While some pirates had epic beards, other hardcore pirates, like Henry Every, had a small pointed mustache and a pointed goatee.
Let's make a little video of our favorite captain?
How to trim a beard like Jack Sparrow?
The beard worn by Johnny Depp aka Captain Jack Sparrow takes more time and skill than most other beard styles.
It combines both short and long hairs, so it requires a long growth (to get the braids).
You will then need to do some careful trimming to shorten the parts around the braids.
If you are not very experienced in trimming this type of beard, try practicing or stop by your favorite barber!
For the more daring and determined, here's what you need to do to get the beard of the famous Captain Jack Sparrow:
Shave your cheeks and "cleavage (the part at the bottom of the neck)
Do not touch the mustache and soul patch and do not trim the chin.
The mustache should be allowed to grow just above the edges of the mouth.
With the help of a beard liner, give the soul patch the shape of a triangle.
The hair at the bottom of the chin should be allowed to grow to a length of more than 10cm.
The last step is to separate the chin hair into two braids and use beads to tie them. If you are not sure how to make the braids, you will have more details about this article!
Use wax to keep your braids in place
Tips for Jack Sparrow's beard
The best advice to make the beard in Sparrow is towait for your hair to grow as much as possible then move on to cutting.
Grow chin hair well to have enough beard to make the braids.
Use beads or rings for your braids. If you don't have one, use a hair elastic as a first step!
Although Jack Sparrow's look is meant to represent the life of a pirate, you are not necessarily one and can choose to make your Sparrow much more defined and "clean".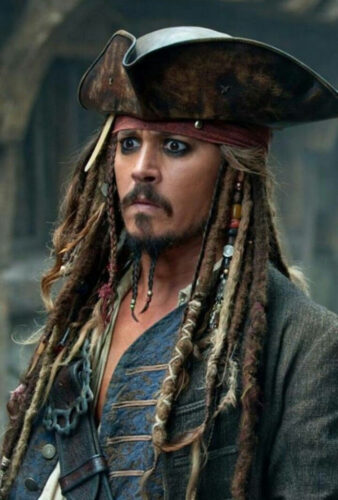 Conclusion on the beard of the captain of the Black Pearl
So Pirate, are you growing that beard or not?! 🏴‍☠️
If you want to enter the real world of piracy, you'll have to go through the beard, an essential element for any self-respecting buccaneer.

In this article you have learned what a pirate beard is, which consists of a mustache, a goatee and beard braids.
We also saw where this rather atypical style comes from and then how to cut it, to become a sailor.

And no, you won't become a captain just by growing a couple of hairs... 😉
ON BOARD! I see a beard merchant with lots of new accessories and products to take care of my beard...