The English moustache continues to be the talk of the town. Worn by actors and other celebrities, it is timeless and gives a distinguished and very sophisticated air. Moreover, it makes very gentleman.

You want to learn more about it? This is the place to do it!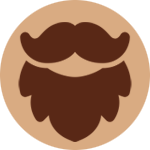 What is the English mustache?
What characterizes the English moustache the most is simply the fact that it is thin, long, straight, divided in two and the points go up slightly.
It is therefore a rather atypical mustache that can still give you a crazy charm when you wear it.
The English moustache is particularly appreciated in noble and bourgeois circles.
It is often compared to Dali's moustache with the only difference being that it is split in the middle and less curved.

Thus, with the latter you can have a very British look, hence the name " English mustache ".
It is also a particularly worked moustache. Indeed, this last one requires a certain meticulousness for the size.

If you really want to have an English-style mustache, you will also need to have patience: the mustache should be long enough for you to give it a fine or pointed shape according to your desires.
It looks a lot like the pencil mustache (Italian style) which is also thin, except that it is very straight, the points do not go up and especially it is not separated in the middle.
How to trim your mustache the English way? The Tutorial !
You want to trim an English style mustache and you want to get all the necessary advice?
Here are the different steps you need to take to make it perfect:
The first step is to simply grow your mustache. In order for it to give you the desired result, the base must be neat and clean.
Note that you don't necessarily have to wait for a particular season to trim an English mustache.
In any case, the only thing you need to have is patience. Indeed, the latter must be long enough for you to easily work it.
Once it is the right length, you need to prepare the ground.
At first, you may have some fine, unsightly hairs, but that's not a big deal. Don't hesitate to shave it off so your mustache can look great.
Note also that these hairs will grow back and will therefore be thicker.
By the time your mustache reaches the desired length, you can easily grow a beard: it will give a little neglected-chic look that we can only advise you.
Once you have a long enough mustache and fairly thick hair, you can start trimming your mustache.
You can use a moustache scissors, a trimmer or a razor. It all depends on your habits.
Some tips for a perfect result
To have an English mustache that can perfectly meet your expectations, here are some tips:
A mustache can completely change a face. Don't hesitate to imagine what you will look like before you start growing it.
It is important to remove volume. Indeed, it is a rather thin moustache and should not be too thick.
With a comb, lift the hairs of your mustache "up" and then trim the part of the hair that sticks out of the comb. In fact, it's better to use scissors than clippers here.
You must also to refine your moustache considerably and the features of the latter. The goal is to remove all the rebellious hairs that stick out and to cut them.
The third tip we can give you is simply to trim the contour of your lip.
Start at the ends of the mouth and cut just above the upper lip. It is really important to respect the shape of your lip as much as possible.
As you can see, it takes patience and rigor when you want to get an English mustache.
However, once the latter is done, all that remains is to maintain it properly.

To do this, use products such as beard oil or balm and apply them daily (or almost daily). You'll see your hair and skin grow stronger and more beautiful over time.
Two types of English moustaches: long and thin and the one that goes up
If you want to wear an English mustache, you should know that there are different shapes.
Here are a few examples to help you find your way around:
The long and thin English mustache It is very thin above the mouth, but also extends on both sides of the cheeks. It can be left straight for a guaranteed British look.
The English mustache that goes up: the second way to wear the English mustache is simply to bring the sides up. Again, you'll get a very swaggy, almost perfect look!
Of course, the way you style your mustache depends on your desires and needs.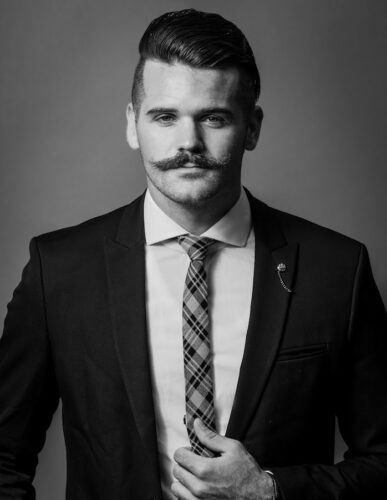 Why wear the English Mustache?
We are not going to hide it, wearing the English mustache has different advantages.

Here is a list of these:
You'll look great. Whether you want to go to a fancy party or just go out to dinner, the English mustache offers a chic, gentlemanly look.
The English mustache can suit many men. Of course, you have to have the right style of dress, but it is still a popular mustache style.
Why not take inspiration from Peaky Blinders to get the perfect English gentleman look 😉
Conclusion: what to remember about the British Moustache
The English mustache is a very chic and authentic element. Always in vogue at the moment, it can perfectly fulfill your desires and expectations.
Don't hesitate to dress accordingly when you wear an English mustache. It will make you look classy and sophisticated like a modern day gentleman...

And you, have you ever done the English mustache? Will you cut it?
Frequently asked questions
Actually, it's not that it's fashionable, but rather that the English mustache is timeless. This last one allows you to have a rather sexy and very distinguished look. You will be able to be part of the high society!
The English mustache is worn by many men:
Those who are part of the nobility (or who wish to be part of it hehe)
Those who appreciate the English look and its sophisticated side
Those who simply want to break the codes and have their own style
An English moustache is simple to maintain :
You must clean your moustache frequently. A soap or shampoo can be more than enough.
It is also necessary to nourish and moisturize the hair and your skin which undergoes frequent shaving with an oil or a balm.
You will also need to trim excess hair that can dull your mustache size.