If you're looking to take care of your beard and maintain your hair with a cheap beard kit, you're in the right place!
I've found you the best cheap kits with quality accessories and products!
Fortunately, "cheap" doesn't mean poor quality! Anyway, I'll show you in this little buying guide from the WebBarber.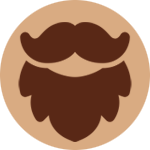 The best cheap beard kits for broke bearded men
We enter the heart of the matter with my selection of cheap kits to maintain your beard. Whether it's to make your hair beautiful, to make it grow or to trim and shave it, you'll see: there's something for everyone!
As you would expect, since they are the cheapest on the market (but beware, the quality is there !), the packs will be less provided than others. On the other hand premium beard kits which generally offer more accessories and care.
But it's a good thing: you can buy the kit that suits your expectations and needs:
Come on, let's go, I'll show you what I found for you!
FullLight Tech Beard Care Kit "Beard Growth" with Dermaroller
Honestly, a pack with a beard roller and so many beard products at such a low price, I didn't think it could exist. Full Light Tech has done it and comes to break the bank with its box simply "WOAW".
It will not be 4, not 6 but 8 accessories that you will have in this pack intended for the growth of beard.
Contains:
Shampoo (with argan)
Oil (with grape seeds, sugar and  jojoba, of the castor oil...)
Balm
Brush
Comb
Scissors
Storage bag
BONUS: E-Book (PDF) to take care of your beard
Highlights:
Extremely comprehensive
Kit to grow a beard
Unparalleled value for money
Barber Tools box : 6 accessories Made In France
Barber Tools is doing great with its pack of products and accessories made in France. For about twenty euros, you will find yourself with 6 essential products to maintain your beard hair.
The kit will allow you to style, trim, cut and comb your beard while keeping it moisturized and cared for with the oil and balm.
Contains:
Brush
Comb
Scissors
Oil
Balm
Carrying pouch
Highlights:
Made in France
Quality-price ratio
Complete
Bulldog Beard Care Set
The pack from Bulldog (a well-known brand in the world of pogonophiles) is one of the most interesting. For less than 20€, you will be able to take care of your hair thanks to a box that contains 4 accessories and products.
Composed of natural ingredients such as Aloe Vera and made without the use of artificial colors or fragrances, the Bulldog Beard Care Kit is a great way to take care of your beard without paying the high price.
Contains:
Shampoo
Conditioner
Oil
Comb
Highlights:
Beard care and maintenance
Low cost and excellent quality
Natural products and not tested on animals
Beard care set for men by GoldWorld
GoldWorld, which is gradually making a place for itself in the world of bearded men and beard lovers, has released a very interesting pack. The kit is well supplied, the products seem to be of good quality, the packaging is classic but rather cool.
In short, nothing to complain about: for the bearded man who is broke, this cheap beard kit will be a safe choice.
Highlights:
Very complete
Makes a great gift
The little e-book that makes you happy
L'Oréal Men Expert grooming kit (BarberClub)
L'Oréal and its BarberClub Men Expert range offers us a complete pack for hair and beard at a ridiculously low price!
With L'Oréal's inexpensive grooming kit, you'll be able to maintain your beard with great products without burning a hole in your wallet.
It contains everything you need in terms of products and care, from shampoo to balm to oil. The gel is known to be very effective thanks to its 3-in-1 action.
The composition of the products is very good with essential oils as the cedar wood.
Beard care and trimming kit by Fixget
With 5 products, the Fixget set offers an excellent quantity-quality-price ratio: it contains everything you need.
You want to take care of your hair? The oil, containing JojobaTea Tree, Grape and Orange is of good quality.
Styling your goatee? Equip yourself with the comb, the brush, and the wax styling and tame your ruffled hair at any time! Finally, you can trim your hair with the beard scissors.
We can say that it is an extremely complete pack, still for less than 20 euros and that is crazy! The only accessory missing is a clipper but I doubt you can find a mower pack at this price...
Highlights:
5-in-1 pack
Natural, organic and pure ingredients
Makes an excellent gift box
Beard care pack by iFudoIt
The iFudoit men's skincare kit is pretty comprehensive: for $20, you get 8 accessories. I think it's hard to do more for such a small price.
he big positive point is that despite the number of products, we do not skimp on quality and we remain in a good quality/price ratio, even if it is not worth brands like Man's Beard or Bulldog.
Contains:
Shampoo
Beard oil
Beard balm
Comb
Badger
Brush
Scissors
Carrying bag
Highlights:
Ultra complete 8-in-1 pack
Natural and organic ingredients
Quantity to price ratio
King C. Complete Beard Kit Gilette: quality at a low price
King C. Gilette, a brand that is rather well known in the world of bearded men, is doing very well with a very nice box. Although it contains only 4 products and accessories, you are sure of the quality and the toiletry kit is rather pretty.
In short, it's high-end at a low price, everything you need to take care of your beard for a low price.
Highlights:
Highest quality
Pretty toiletry bag
Didn't find what you were looking for in my cheap beard packs?
No worries, there are others. For my part, I tried to select the cheapest ones with the most products without skimping on quality. Because in the end, it's a bit useless to buy products at a very low price if they are of poor quality.

If you wish to see other cheap beard kits, it's here !
What will I find in my cheap beard pack?
Since the price is lower, you will generally find fewer accessories and products than in higher-end packages.
Fortunately, I've tried to select the best quality/quantity/price ratio for you so that you get the most for your money!

Of course, it depends on what the above packs can contain:
Oil
Balm
Scissors
Razor
Trimmer
Cabbage cutter
Brush
Comb
How to choose my cheap beard kit?
The simplest (and most useful) way is to choose a kit that contains what you REALLY need.
If you already have some accessories and they are still in good condition, it's a bit pointless to change them! On the other hand, if you find a pack with accessories that you are missing and that also contains care products, jump on the opportunity!
Barbus: get the right equipment for the right price!
We have reviewed the different boxes offered by the different brands and we can come to a simple conclusion: it is possible to equip yourself without burning a hole in your wallet.

Although all kits are different, you will find everything you need to care for, trim or grow your beard. In addition, you will have a toiletry kit or a storage bag to go on vacation or simply not to spread out too much in the bathroom. Be careful, the lady doesn't like it too much in general!

And you, which pack did you order?
Frequently asked questions
With an average of 20€ for a kit more or less complete with good products, you can equip yourself without breaking the piggy bank.
If I had to name three, they would be:
They are complete, affordable and of excellent quality!