Every day, Bob Baker spends 20 minutes taking care of his mustache. Very popular, he keeps his extraordinary beard since 2018. He even gave his mustache a name, Elliot Norris.
But for such a long mustache, Bob can't drink, eat or sleep like everyone else.

Want to know more about the mustache of this national mustache champion? All the details in this article.
What is the story behind Bob Baker's mustache?
A resident of Greene County, Virginia, Bob Baker is no ordinary man. A national mustache champion, he has one of the longest mustaches in the world. The story of his mustache begins when one of his colleagues challenged him in 2018. He was not to trim his beard for a year.
Bob Baker didn't just accept the challenge. By the end of 2019, he was already sporting a six-inch long beard. His wife couldn't stand the beard. He promised her he would shave it off after the 2020 National Beard and Mustache Championship.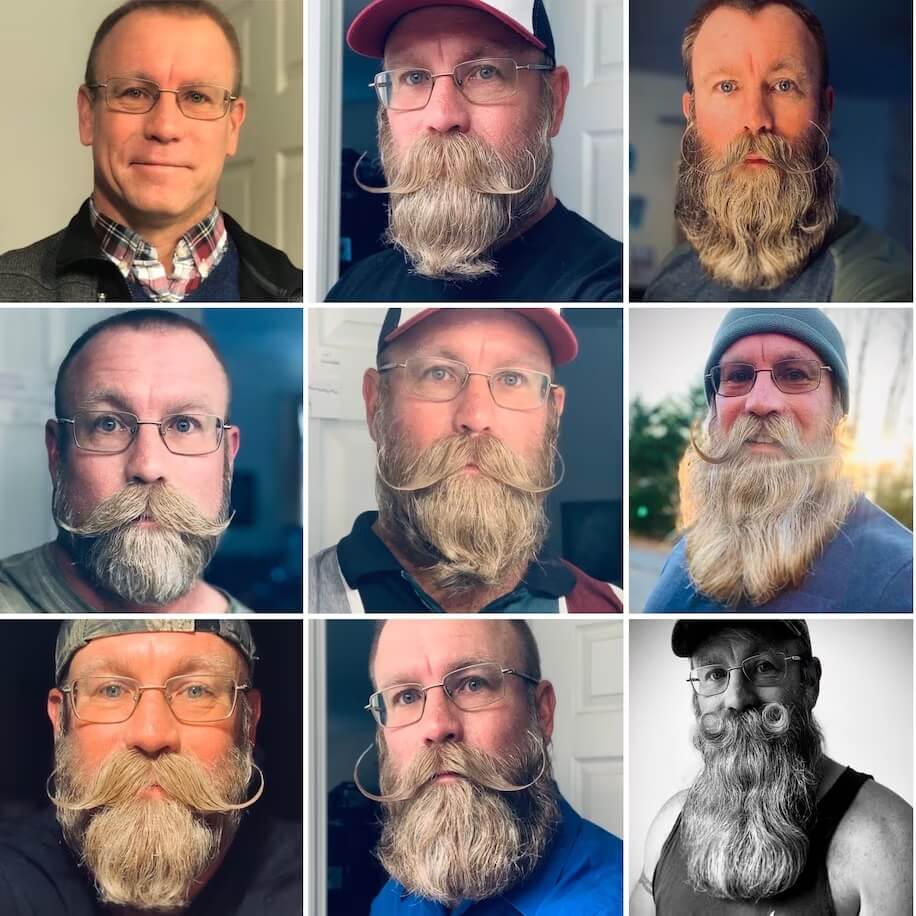 Bob never managed to keep his promises. Indeed, being declared first of the championship in the handlebar moustache categoryThe moustache man could no longer turn back. He had discovered the potential of his facial hair: "I was so shocked when they announced I was the winner that I almost fell out of my chair.... I decided right then and there that I would continue on this path," he said.
In 2022, Bob Baker stood out among 200 competitors and won again the prize for the best freestyle moustache. But be careful not to swallow the mustache!  

To read: Tom Holland grows a little beard and mustache
How does Bob Baker live with his huge mustache?
With a moustache this thick and bushy, Bob Baker can afford all the follies. He spends 20 minutes a day to do her hair. "Styling my mustache has become a passion of mine," he says. He gives his mustache all shapes, varying between imperial, classic or casual looks.
He even gave this facial accessory a name. He called it Elliot Norris, a name inspired by Sam Elliot and Chuck Norris. However, he can no longer eat, drink or sleep like everyone else. He admits that he drinks "a lot more through straws".

Related: Jason Momoa without a beard: the Internet reacts
Virginia resident Bob Baker spends 20 minutes a day styling his mustache. At night, he'll sleep with a pillow under his jaw to preserve the shape of his whiskers. https://t.co/ti0oVYh3pT

- The Washington Post (@washingtonpost) February 5, 2023
And when he has to eat, he has to be very careful not to get sauce or soup on his face or to swallow his hair. Also, when he has to sleep, he has to place a pillow in a ball under his jaw to preserve the shape of his masterpiece.

Have you ever seen Nick Offerman without his beard ?
Now famous, he communicates a lot on the networks
Today, Bob posts videos on TikTok where he shares tips on mustache care and how to grow one with his 1.3 million followers. He participates in events promoting mustache contests and is even asked to star in some commercials. It must be said, this facial ornament has been very profitable!
Image sources: Washington Post