Vous êtes passé à l'action : vous avez acheté votre huile de ricin ! Si ce n'est pas encore fait, voici notre guide d'achat d'huile de ricin pour la barbe.
La prochaine étape ? L'appliquer avec soin sur votre barbe afin d'en tirer tous les bienfaits qu'elle peut apporter.
À travers cet article, vous apprendrez ce qu'est l'huile de ricin et surtout comment l'utiliser sur votre barbe.
I will also give you the fréquence optimale pour l'utiliser and the temps qu'il faut la laisser agir.
Spoiler : Ce n'est pas très compliqué et cela ressemble fortement à la plupart des huiles utilisables sur les poils du visage.

What is castor oil?
Castor oil is a non-food vegetable oil with translucent liquid with a yellow tint.
Also called "Castor Oil". It is obtained from the castor bean (Ricinus communis).

Très populaire ces dernières années, l'huile de ricin comporte numerous benefits for the human body skin, face, hair, nails...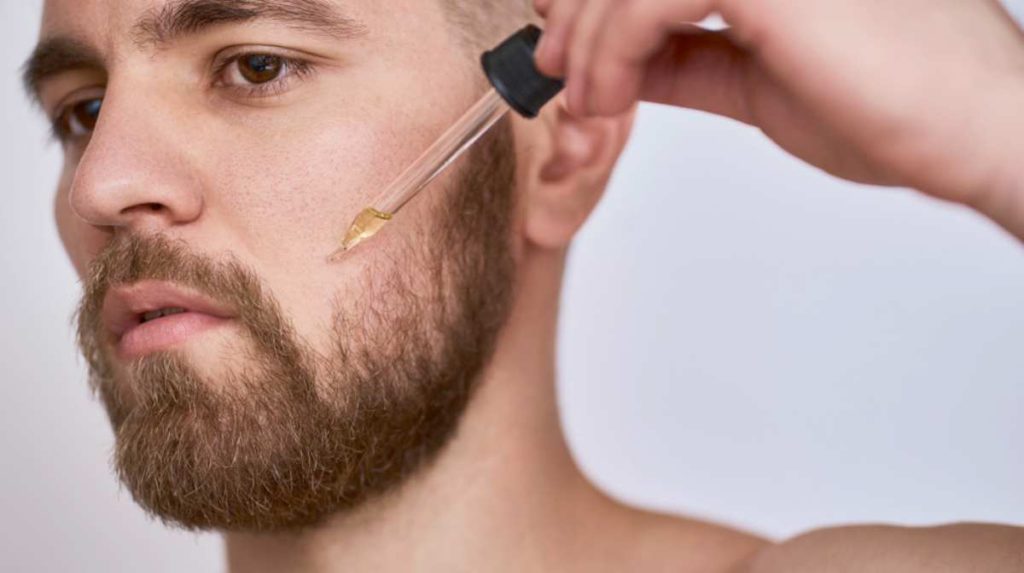 Comment appliquer l'huile de ricin sur sa barbe ?
Voici notre marche à suivre pour mettre l'huile de ricin sur votre barbe comme un professionnel :
Wash your beard

Utilisez de l'eau tiède et un bon beard shampoo for clean your beard.
Cela aidera les follicules (racines des poils) à s'ouvrir et permettra à l'huile de mieux pénétrer.
This way, your hair will be more nourished and hydrated (and your skin, by the way!).

Dry and detangle your beard

Use a clean towel or a hair dryer specially designed for beards to dry your hair.
À l'aide d'une beard brush or a beard combBrush to remove untangle your beard hair.
Cela la rendra plus malléable et agréable à travailler pour l'application de l'huile.

Appliquez l'huile de ricin et massez doucement

Prenez quelques gouttes d'huile dans le creux de votre main et chauffez-la en frottant vos mains entre elles.
Massez votre barbiche des racines jusqu'aux pointes et assurez-vous d'spread evenly the famous beaver oil.

Optional:

Take a dry towel and pat your beard to remove excess oil.

Optional:

Attendez 10mn à 30mn (en journée) ou le lendemain matin et rincez votre barbe à l'eau claire ou en utilisant un shampoing.
Videos to learn how to use castor oil on your beard
Promotion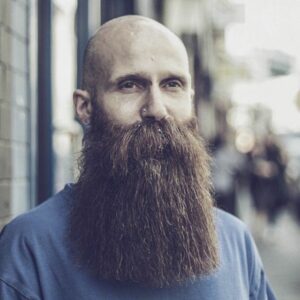 Application on long beard
Pour les barbes longues, il faudra bien démêler la barbe, la rendre malléable puis appliquer l'huile des racines jusqu'aux pointes.
L'huile de ricin permettra de rendre vos poils plus forts, plus denses et moins cassants. En effet, grâce à ses propriétés et ses composants, les vitamines et acides vont rendre votre barbe puissante comme celle des vikings !
Application: Des racines jusqu'aux pointes
Temps d'application : 5 minutes
Frequency: every other day to avoid greasy texture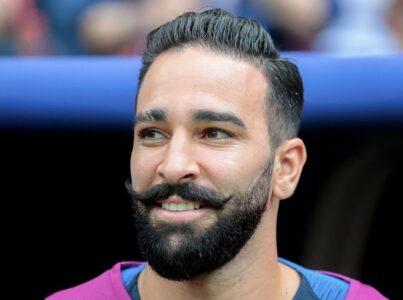 Use on short beard
For the short beards, focalisez-vous sur un massage long (10 minutes) et sur l'ensemble de votre barbiche. Ainsi, l'huile de ricin pourra nourrir l'ensemble de vos poils (et de votre visage) et vos poils en tireront tous les bienfaits.
This will promote growth and make it denser. After a while, you'll be able to sport a beard like your grandfather's: full and thick.
Application: Long and deep massage
Time: 10 to 15 minutes
Frequency: every day or every other day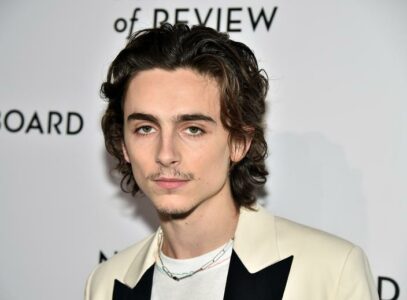 Use on beard fuzz
Pour les duvets, prenez soin de bien étaler uniformément, à l'aide des bouts de vos doigts sur vos débuts de poils, en massant longuement et en faisant pénétrer dans votre peau.
En procédant ainsi, vos racines de poils et votre peau vont absorber un maximum de vitamines et d'acides, ce qui aura pour effet de les nourrir et de les hydrater.
Type: Long and uniform massage on the whole beard
Time: 10 to 15 minutes
Frequency: every day or every other day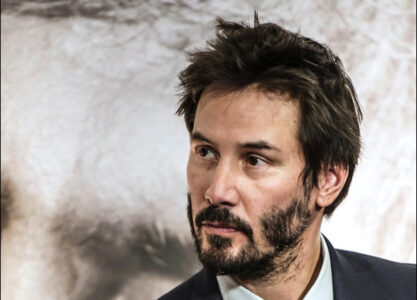 Application for holes in the beard
Si vous avez des trous dans la barbe, l'huile de ricin pourra être d'une grande utilité et permettra, petit à petit, de les combler.
En effet, son pouvoir "boost de pousse" permettra aux poils autour des trous, mais aussi à ceux qui n'ont pas encore poussé de montrer qu'ils sont vigoureux et pleins de ressources.
Type: Targeted massage on the holes and surrounding area
Time: 10 minutes
Frequency: every day or every other day
Si vous le souhaitez, nous avons écrit un article complet sur l'utilisation de castor oil for down, beard holes and hairlessness.
Vous y retrouverez tous nos astuces et conseils pour les barbes encore peu fournies, qui ont besoin d'un coup de boost !
Quand appliquer l'huile de ricin ?
Il est mieux de l'apply at night, avant d'aller dormir afin qu'elle agisse toute la nuit. Ainsi, le lendemain matin vous serez tout beau !
Otherwise, vous pouvez l'utiliser le matin before starting the day.
À quelle fréquence l'utiliser ?
In general, use it on your beard three to five times a week.
La fréquence d'utilisation de l'huile de ricin dépendra de votre type de barbe : longue, courte, duvet ou encore jonchée de trous.
Vous pouvez également l'utiliser tous les jours si votre barbe ne semble pas assez nourrie et que l'aspect gras n'est pas présent.
Tip: It is best to see for yourself the frequency at which your hair has besoin d'être nourris et hydratés. Vous pourrez ainsi faire un planning d'application pour votre barbiche !
Quel temps d'application pour l'huile de ricin sur la barbe ?
Pour le temps d'application, il est préconisé de masser sur a duration of 10mn, pour bien faire pénétrer l'huile.
Si vous vous demandez combien de temps vous devez la laisser sur vos poils, pas d'inquiétude : c'est normal ! Rincer ou ne pas rincer ? Grande question !
How long should I leave it on?
Vous pouvez laisser poser au moins 10mn si vous êtes pressé ou que l'huile fait un effet gras sur vos poils.
Sinon, laissez toute la nuit pour qu'elle agisse comme un masque !
Si votre barbe n'est pas grasse après usage, pas besoin de rincer avant votre douche !
Faut-il rincer ou laisser poser l'huile de ricin ?
Une fois l'huile de ricin appliquée sur la barbe, wait between 10mn and 30mn avant de rincer votre barbe à l'eau claire.
Sinon, en cas d'application le soir, vous pouvez laisser agir jusqu'au lendemain matin.
Note: Je préconise de ne pas la laisser longtemps en journée car il est possible qu'elle donne un aspect gras à votre barbouze.
Si vous n'avez pas ce soucis, libre à vous de laisser vos poils l'absorber sans rincer, cela devrait améliorer ses effets.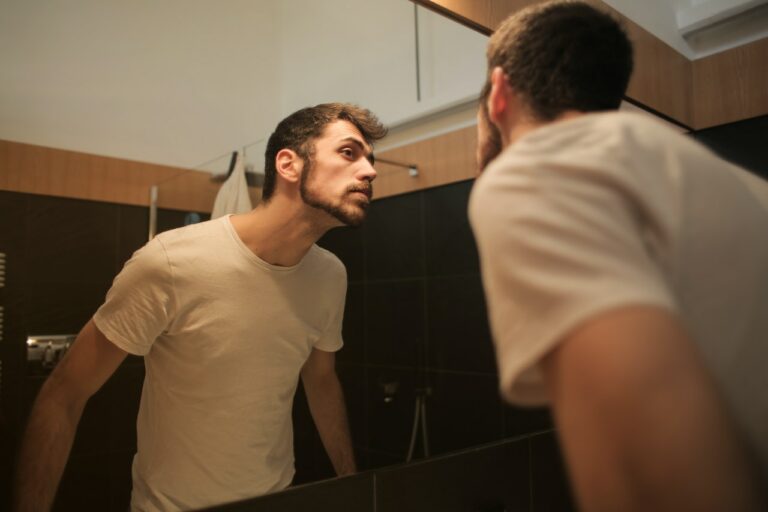 Application d'huile de ricin pour barbe : pas si compliqué !
You now know comment utiliser l'huile de ricin et l'appliquer comme un pro to have a healthy beard.
By regularly applying this treatment to your beard, you will quickly feel the results and your beard will shine!
To recap:
Appliquer l'huile de ricin 3 to 5 times a week
Massage for varying lengths of time and in a targeted manner according to your beard type (short, long, down, holes)
Leave act at least 30mn before rinsing or jusqu'au lendemain matin
I have already told you about my guide sur l'huile de ricin ?
FAQ sur l'utilisation de l'huile de ricin sur la barbe